Greetings from Australia and a big hello to you all my lovely sew'ist friends. Here where we live we are having a lovely and warm early Autumn and it truly is a time of year to celebrate all things Brenda !!!
As you know – being regular readers of our Rock Star Roadies Round-ups – this is the time where I love to SHOW YOU all how absolutely marvelous all of our Roadies are. As you know they are my diamonds – with a pearl added in this time – as you will be literally BE_DAZZLED by the final Brenda makes. One of our members in our FB community – Saundra R – described it as a BRENDA SYMPHONY. And it surely is my friends !!!!
The Brenda Dress is all about the SLEEVE.
At the moment sleeve design, shape and styling are a HUGE trend and the Brenda has you covered for 3 unique styles.
The First sleeve is a Bishop Shape but with a tapered upper bicep area.
The Second sleeve is a gorgeous statement length Petal Sleeve.
The Third shape is a mid length Pleated Sleeve onto Lower Cuff.
And add into the MIX Designer Stitches fabulous signature FIT and you have a dress – the Brenda Dress – that will look amazing on all figure types.
So lets start the
Brenda
Dress Tester (Rock Stars) Roundup Part 1 – and hold on tight my friends for something extraordinary. Love you all xx
Our roadies would like to share the following with you all :
If you could share with the readers ?
1. Your name and where you live ?
2. What fabric did you choose and where did you purchase.
3. What sewing tips can you share when sewing the
Brenda
?
4. What was your style choice for the
Brenda
?
5. What fit alterations did you have to make to the
Brenda
?
6. Have you worn your
Brenda
yet and what compliments did you receive.
7. Social media URLS
(AU/UK) 6 – 30
(US) 2 – 26
(EU) 34 – 58
Cup Sizes – B, C, D, DD
On Sale for a limited time only – $9.50(US)
Very Confident Advanced Beginner and Above Sewing level
Brenda Dress
---
Greetings from
Allison and Megan
. We are in Milwaukee, WI, USA.
I, Allison, am the mom and one who sews. Megan is my teen daughter and frequent model.
Between, the two of us there are three
Brenda
dresses. All of the dresses utilize the cup sizing option as we are both full busted. I love never having to figure out an FBA.
All three are made from a scuba crepe.
Megan's dress is a blue with red and ivory floral design. The fabric was purchased from Surge Fabrics. Megan, while very tall, is also very high waisted and needs a notable sway back adjustment. She has the 3/4 sleeves, round neckline, and a line skirt. I choose not to add the zipper to any of the dresses.
The other two
Brenda
dresses are mine. One is a mauveish-gray floral from Boho Fabric. This dress has the Bishop sleeves, v neckline and a line skirt.
The final dress is made from a black crepe scuba with a slight texture to the right side of the fabric. For this dress I added the Bishop portion of the sleeve from lace and added a cuff. Ann will tell more about that later. It also has a straight skirt with the round neckline. This dress is such a classic dress perfect for a semi formal outing or special date night.
The
Brenda
dress has so many options making it appropriate for a wide variety of occasions. I can see it worn in the office, to a wedding, for a date night or even for a semi formal event. It would be cute for a day on the town with a pair of sandals.
Now admittedly Megan is much cuter than I, so every time she wears her dress she has received a multitude of compliments on her dress.
---
Hello, I'm
An Ca
and I live in a small village in Belgium, not that far from the sea. I was honored to be able to sew the beautiful
Brenda
dress! I used Scuba crêpe from "De Stoffenstraat".
My advice before you start sewing is: measure your upper bust and choose your size based on that size!
I sewed the
Brenda
dress with the pencil skirt, the cuffed sleeves and the V-neck. The only adjustment I had to make was my usual swayback adjustment. I have not worn my
Brenda
dress yet because I have mainly worked from home lately, but I am convinced that I will enjoy it a lot in the future ❤️!
---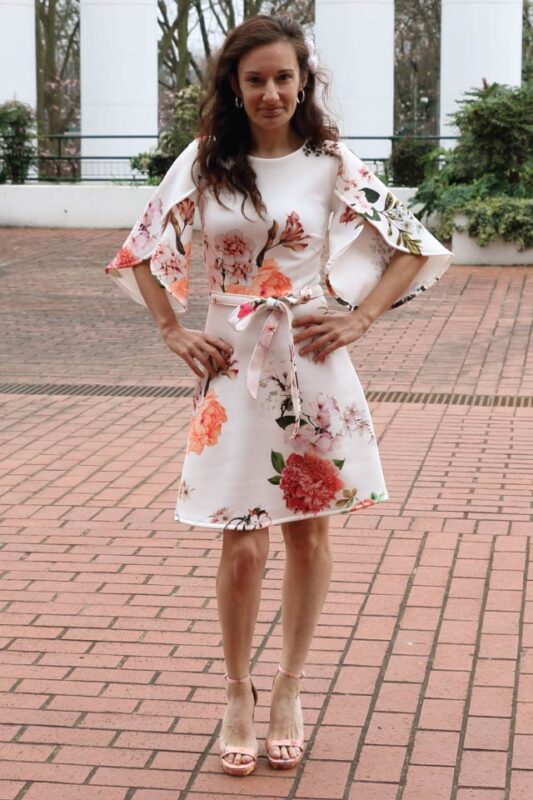 Hi I'm
Ashley R
from London.
Now lets talk about the amazing
Brenda
dress.
I had to make 3 dresses so showcase the fantastic sleeves that come with
Brenda
. I used scuba/ scuba crepe which i found to be the best fabric to work with this pattern. Seen as summer is coming i went for a polka dot and floral prints. Fabric came from a UK facebook group CoalvilleFabrics .
I will always say to measure yourself and go but the measuring chart to make sure you get the right size I would always say make a test run first in case any adjustments need made, you want the best fit you can.
My favourite part about the
Brenda
pattern is to see the end finish and how good it made me feel in it. The sleeves also have a big part each sleeve makes the dress have a different look but i have to say the elastic bishop sleeves are my favourite in the polka dot.
This patterns is great for a birthday night out or could be worn to a special occasion. I'm waiting for a good night out the get theses dresses back out. They pair great with a heel, this dress makes me feel amazing and i hope you all feel the same in yours.
---
Hello all! This is
Brenda
from The Netherlands.
It is not every day that Ann names a dress after you, but it did happen! I was and still am so honoured.
I've made 3 dresses, to showcase all 3 sleeve options. Used both necklines and I've also used 2 lengths and 2 different skirt options. My personal favourite is the bishop sleeve with V neck and the A line skirt. I love that each option gives the dresses a total different look.
Being a little bit taller than average, I lengthened the dress a bit and for the best fit I combined a 2C bodice that I've graded to a 4 waist/hip.
As a tip for sewing the
Brenda
Dress I would say, keep measuring yourself before cutting. It gets old, saying something like that over and over again, but it is so important! You will love your dress more because of it.
Since we are still in lockdown I've not worn my dress on other places than my own home, but when we are finally able to go to the office I'm so gonna wear ALL the dresses!
---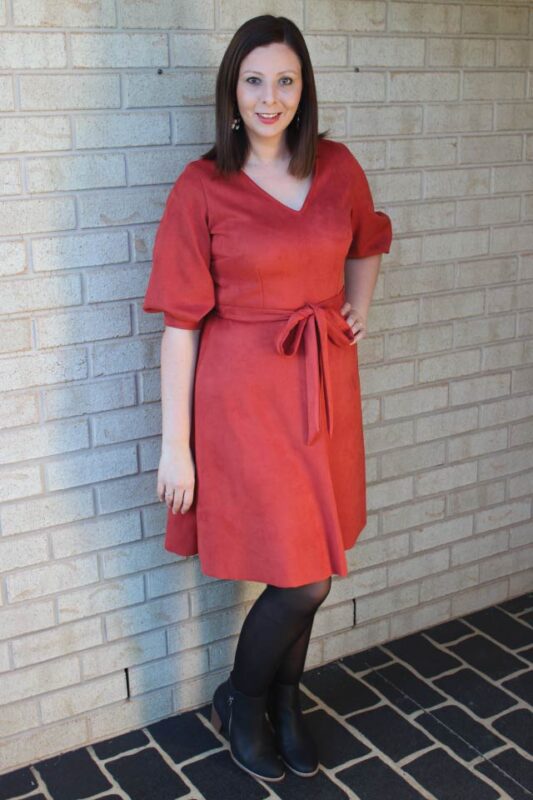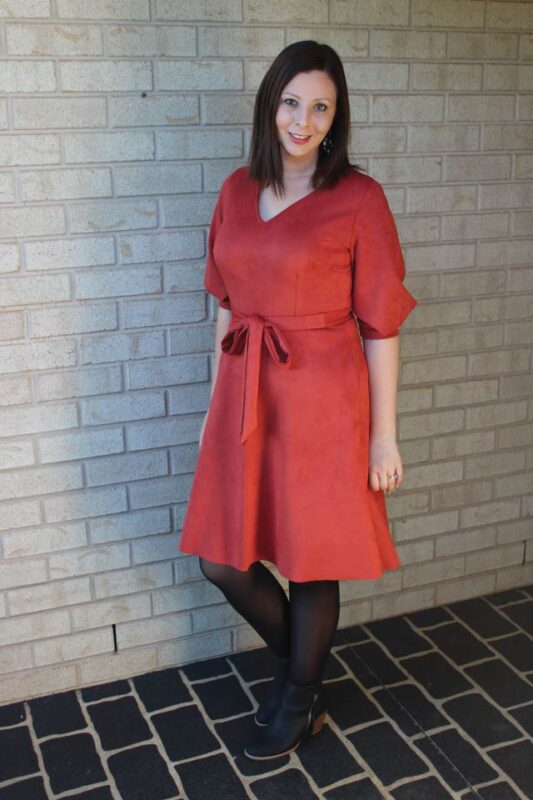 Hello I am
Elise
from Queensland, Australia. My
Brenda
is made from stretch Suede which is super funky. I chose the pleated sleeve option and paired it with the A line skirt, I love an A line skirt. I made a couple of alterations to perfect the fit which includes a sway back adjustment and shaving an extra couple of cms off the shoulders. I wore my dress to an Autumn long table feast and I felt perfectly Autumnal. I received lots of compliments, people especially love the sleeves….such a statement piece.
https://www.instagram.com/seweliseium/
---
Hi my name is
Jennifer L
and I am in Oklahoma. The fabric I used for my
Brenda
is scuba that I actually found on Amazon! The style choice I made for this lovely dress is one for an upcoming event I have in June. I wanted something flattering, in a style I haven't made before! I don't normally make or wear V-necks so I went for it this time. Plus those tulip sleeves, who can resist? I had to do a sway back adjustment for my perfect fit which with the fitting guides included really helped make them not intimidating. I am so excited to wear my new dress!
---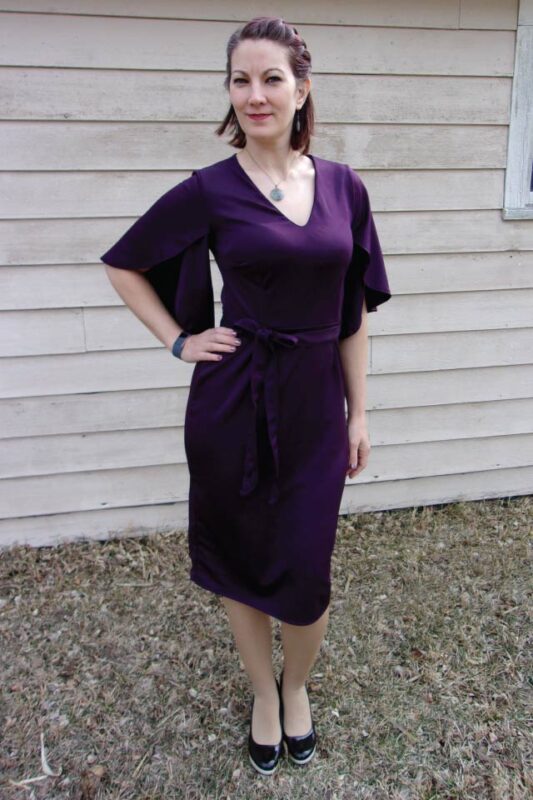 hello. I am from South Dakota and I loved mixing and matching the
Brenda
dress. I did 3 versions. A longer flared skirt with petal sleeves in a sparkly cotton lycra blend, a shorter flared skirt with the 3/4 sleeves with a grey base and a mesh overlay for the sleeves, and finally a long fitted skirt with petal sleeves in a bullet. I am a hug fan of the v neck and this allowed me to forgo the zipper in the back. I recommend playing around with different fabric types and you will get a totally different feel in the same dress. Please check out my instagram to see all 3 versions, and more as – get them sewn up.
https://instagram.com/goatislandseamstress
---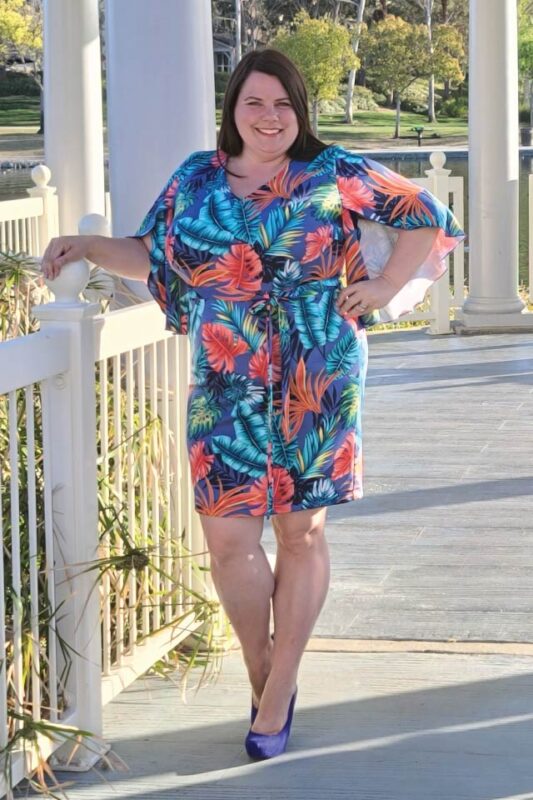 Hi everyone,
Kelly
from sunny California here ☀️
I was so excited to see the
Brenda
dress coming up for testing – I immediately went to the National City Swap Meet in San Diego and stocked up on some scuba and scuba crepe fabric. I knew with the different sleeve options that I would be making more than one, so I grabbed a variety of prints/solids.
I love having the bust darts on the
Brenda
– just make sure that they're in the right spot for your own bust. My toile showed me that the dart was originally too high for me, so I changed that for my next version. I also lengthened the bodice (front only) about an inch, and shortened the skirt by an inch for my height
I have made a bishop sleeve dress and a few petal sleeve versions as well (so far!) all with the v-neck and above the knee.
My
Brenda
dresses will be perfect to wear for visiting our nearby wineries – I can't wait for the opportunity to arise.
---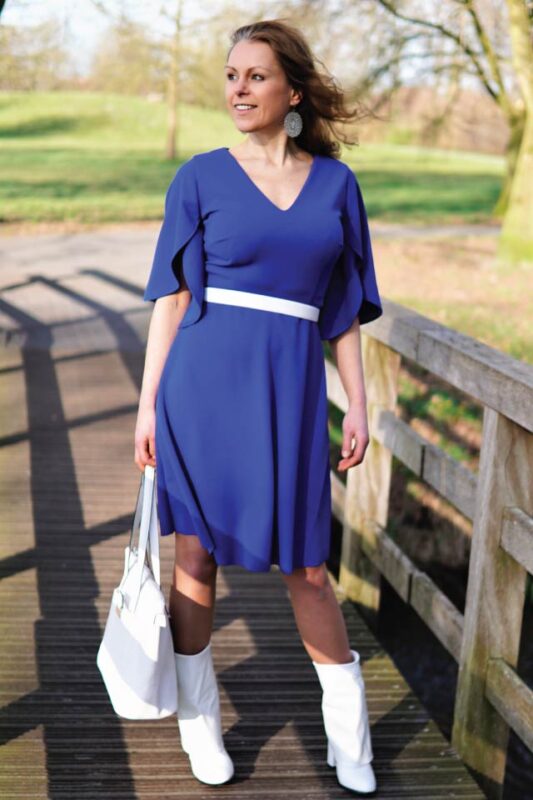 Hello, here is
Marieke
from the Netherlands.
Well, spoiler alert….This is thé dress!
The choice of sleeves you have is extraordinary special, 2 skirts and different lengths, there are cup sizes and when you take your time for a toile you'll end up with a perfect fit.❤️
My personal favorite is my brown scuba suede dress. The fabric is a little heavier then scuba crepe, so I decided to make the straight skirt, longest length with cuffed sleeves and a v-neck.
My favorite boots are my brown suede knee boots and the result is: brown…But I think this is my most stylish outfit I ever had.
I used a scuba crepe with print for the same dress; cuffed sleeves, longest length and a v-neck too. As you can see the whole look changed with just using different fabric! Some high heels and hello party!
The royal blue scuba crepe I used to make myself a 70's inspired look. You can play with your belt and shoes and create a different look over and over again.
I decided to make only v-necks. I am larger on top then at my bottom and the attention goes to the dress now instead of my top.😄
It isn't a hard sew, just pick your favorite fabric and start sewing!
Ow, and last tip: when you haven't worked with scuba crepe before….Try it! It's one of the most comfortable fabric I have ever worn. It doesn't wrinkle, it is form fitting and scuba crepe is light, flowy and perfect for summer. (Regular scuba can be quite warm though, so use it for other seasons😃)
Use a little bigger stitch then you are used too and be happy.😀
---
Hi, I am
Priscilla
from Illinois. This is my first fitted dress using a base. New to me-scuba crepe. I am surprised how easy this dress was to sew. I made the bishop sleeve with elastic and V-neck with the shortest pencil skirt and I was very pleased with the outcome that I made another with a double knit (red and black houndtooth) with the cuffed sleeve version. I didn't make any alteration and the fit was great. Key to sewing the perfect fit
Brenda
is to measure the upper bust and choose size accordingly. I would suggest making a toile first to make all the necessary adjustments.
The dress with
Brenda
sleeve is Scuba crepe I got from Textile Twins and the cuffed sleeve is a double knit I got a while back.
This dress is so gorgeous and feminine and each sleeve version gives it a very different look.
I got compliments from complete stranger when I went to pick up my online orders at the local grocery store. I see many more
Brenda
s in the future❤ .
---
Hi there! I'm
Shilyn
, living in Florida, US. I used a neoprene scuba from a local shop and a glitter tulle from Joann Fabrics. This is such an easy make, but the biggest tip is to make sure the fit is perfect! (Ann is amazing at helping with that!) Once the fit is perfect, you'll have the perfect work or date night dress.
I chose the round neck with pleated sleeves, and used the tulle for the sleeves to get a more romantic look (hello date nights!)
The only fit alteration I made was a sway back adjustment, which is the normal adjustment I do for DS patterns.
---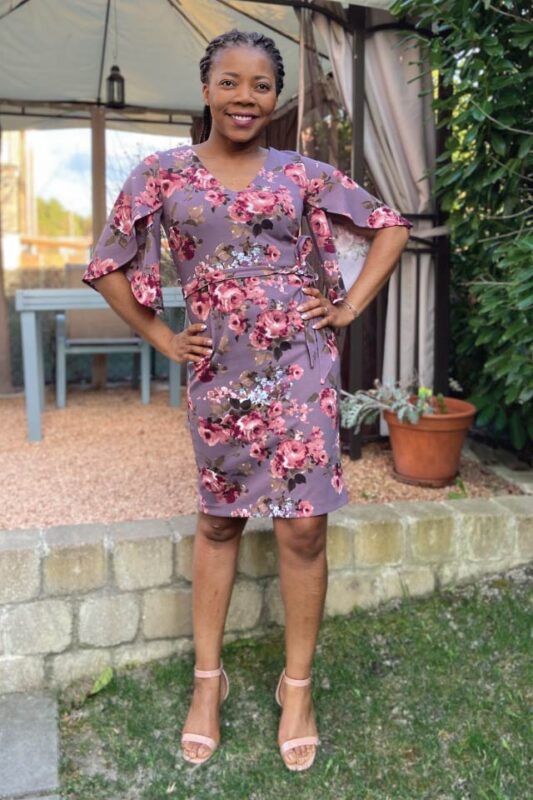 Hi y'all! My name is
Sophie
and I live in Vienna, Austria. I made the petal sleeve version of
Brenda
with a floral scuba knit I got from a destash group about a year ago.
The
Brenda
is a pretty fast sew, choosing what option to make first will probably take the longest 😅
I did my usual 3/4" sway back adjustment and the fit is a dream!
I hope to wear my dress with cute strappy heels when we get to go out again.
Looking forward to seeing your makes ❤️
---
Hi! I'm
Sue Glas-Parrot
t and I live in the State of South Dakota in the upper Mid-West in the USA. For my
Brenda
, I used a Scuba Crepe purchased from Fabric.com. I thought it was the perfect weight for this dress. The
Brenda
is an easy sew, but make sure you take your time to get the details nailed such as with pressing for the narrow hems on the sleeves, mark your darts carefully, that sort of thing. And always, make a test garment. My style choice for the
Brenda
was work chic, if there is such a thing. Almost every garment I make I want to wear to work as well, so this is highly appropriate, especially if you have an important meeting. I made zero alterations to my
Brenda
. I made a size 5, B cup. I have not yet worn my
Brenda
, but my husband approved, so I expect to receive many compliments!
https://www.instagram.com/sue_glasparrott/
---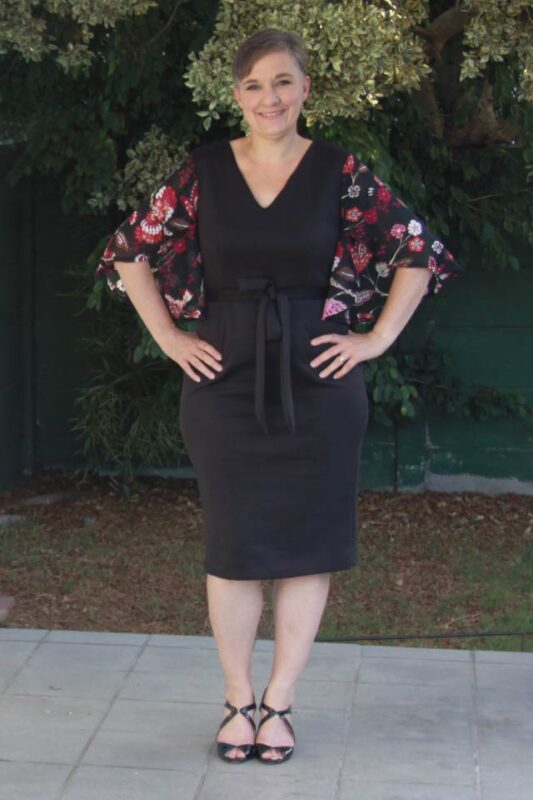 Good day to all. My name is
Taryn
from Cape Town South Africa. I used a zebra print scuba for my first
Brenda
and a plain black scuba with printed mesh for my second
Brenda
. Both the zebra print and mesh were already in my stash. The black scuba I got from one of my favourite stores in Hermanus, a popular seaside town just outside of Cape Town. When sewing my
Brenda
I found it best to hand baste the kick pleat in place before machine sewing. For the first dress, I made the round neck with the pleated sleeve. I love how the scuba holds the shape of the sleeve. My second dress was inspired by a little black dress I spotted in a boutique window. It was a simple black dress with a v-neck that featured an attached sheer floral draped shawl. I set out to create my own version using the printed stretch mesh in my stash for the petal sleeves and really love how it turned out. For both my dresses, I chose the longer-length straight skirt as I love how glamourous I feel in it. I think it adds a bit of extra drama to the overlook look. I did not have to make any fit alterations. I have worn my zebra print
Brenda
out to dinner with my husband and was showered with compliments by my husband as well as my folks who were on babysitting duty for the night. Even though it is a busy print, I feel like the fabric and pattern are a perfect match. I feel amazingly confident in both of my dresses – definitely how every woman deserves to feel. To see what I come up with next, keep an eye out on my social media at
https://www.instagram.com/creatazzly
or
https://www.facebook.com/creatazzly/
---
1. Your name and where you liv
e ? Jamie west coast United States
2. What fabric did you choose and where did you purchase
– scuba from Joanns
3. What sewing tips can you share when sewing the Brenda
? For the thicker scuba use lots of pins because it doesn't go willingly.
4. What was your style choice for the Brenda
? The v neck with the bishop sleeve
5. What fit alterations did you have to make to the Brenda
? I made a straight two
6. Have you worn your Brenda yet and what compliments did you receive
. Wore for a family get gathering and received complements
---
Hiya, my name is
Meiling
and I live in Perth, Western Australia.
I chose scuba knit fabrics. I purchased from Lush Fabrics. Www.lushfabrics.com.au
Some sewing tips when sewing the
Brenda
would be that it was a very easy sew. Scuba is a delight to sew with. Make sure you use your stretch stitches when sewing.
I chose to make the Petal sleeves and straight skirt and the pleated sleeve and straight skirt.
Some alterations that I had to make were some slight taking in to the back middle seam and slightly at the sides to take the hips in.
I have worn my
Brenda
s to work multiple times. Colleagues always comment on how they like my dress and then are pleasantly surprised when I tell them its 'Me made' 🙂
Social media URLS – Sewaholic Creations