Hi Ho !! to you my friends and welcome  to Part 2 of the Eden Jumpsuit Combo  tester round-up.
I hope you have enjoyed reading my series of posts in the past few days and if not be sure to check out yesterdays post – Eden Jumpsuit Combo Tester Roundup Part 1
or the previous post – Eden Jumpsuit  Influences and Inspiration  post.
The Eden Jumpsuit combo is such a fashionable easy wearing garment.
Make the Eden with either its Cold Shoulder Sleeve, Sleeveless option, Play Suit Leg option or the Easy Wearing Elastic Waist Pant.
The finer details : On Sale for a limited time only – $8.00 (US)
multi-sized pattern :
(AU/UK) 6 – 26
(US) 2 – 22
(EU) 34 – 54
Advanced Beginner/Intermediate Sewing Level.
All types of light to medium weight fabrics can be used. The Eden looks great made in a soft and flowy rayon right through to a crisp and gorgeous linen.
And the pattern also offers cups sizes for fine-tuning the fit of your garment. Cup Sizes – B, C, D, DD.
https://designerstitch.com/shop/eden-jumpsuit
Kind Regards. Ann at Designer Stitch
---
Hi, I am Camelia from The Netherlands.
I think rayon is perfect for the Eden jumpsuit. I made the cold shoulder option and that little sleeve is perfect in the drapey rayon, I love it. What I like about the pattern is that even if you have the elastic in the waist there is not a huge amount of fabric to make you feel puffy, it is just perfect.
I wore my Eden a few times already and it is so easy to wear and super comfortable.
I blogged about my Eden at http://calcedoniasewing.blogspot.de on my new Youtube Channel you can even see Eden in motion here https://youtu.be/hvQy-slkhdY
my Instagram account is https://www.instagram.com/calcedoniasewing/
---
Hey there! My name is Becca Olson and I live in the sunny state of Florida.. My Eden was made with a lovely Kaufman Brussels Washer Linen Blend in an Ocean color from Fabric.com..Honestly I saw the color name Ocean and that was all I needed to see! I am so happy I chose it as the feel and flow is spot on…I honestly had to think about the pattern before I decided to try. I am not the easiest to fit in jumpsuit/romper type patterns..I can honestly say though that I did NOT have to alter this pattern even a smidgen! Thats a first for me. Wearing the Eden out on the town I feel glamorous. Having others compliment me and ask where I purchased it is so amazing and makes it hard not to wear it everyday! https://turtletraxtoo.blogspot.com
---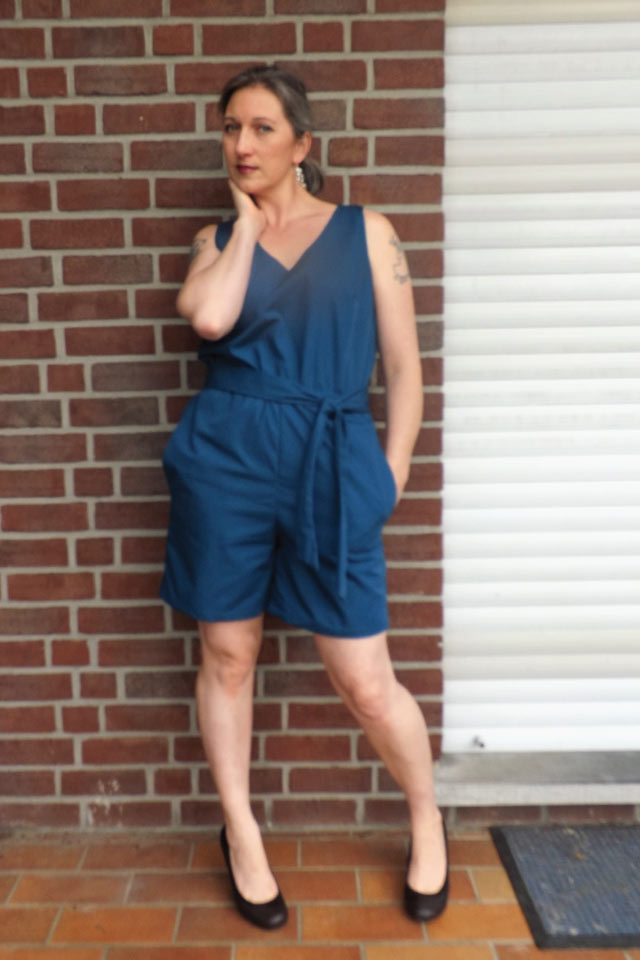 1. Rebecca Watson, currently live in Germany
2. A medium weight cotton blend that moved nicely and loved the color.
3. Summer is here so I will wear this with a short sleeve sweater for work (love the length is 'school appropriate' and with nothing out and about.
4. I have one friend considering commissioning their own and another who is looking at the pattern to create her own style!
Facebook.com/StitchedandStapled
IG @katbatgirl
---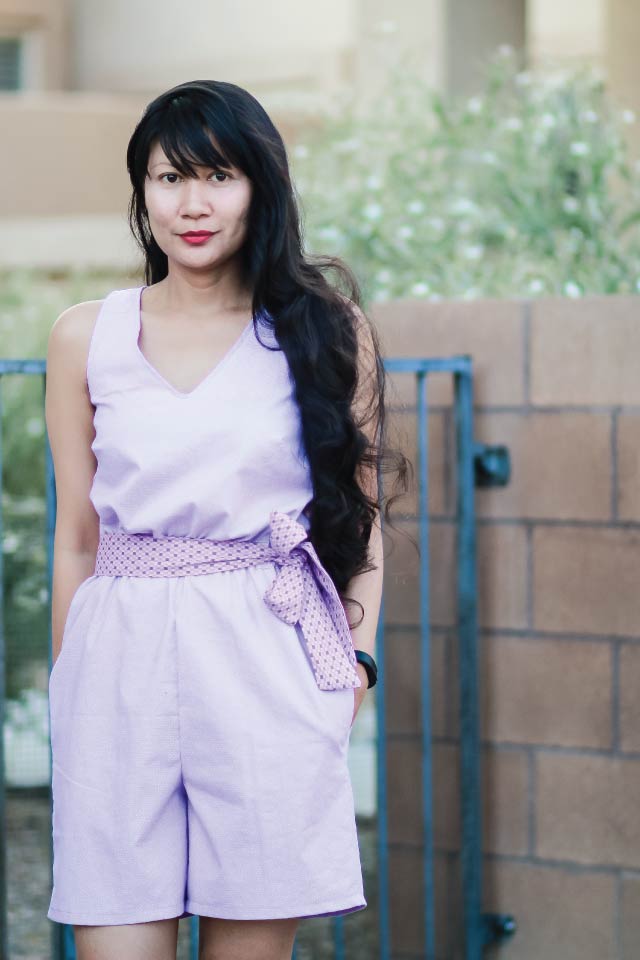 I am Gabz Jefferson, born and raised by a seamstress/stuffed toy maker/cook/saleswoman mom in the Philippines and migrated in New Mexico, USA.. Married to a brave retired combat Army and a mom of 16 year old daughter.
I always enjoy sewing for Designer Stitch just like this newly released Eden. For this project, I used 100% cotton from Joann's. It is tiny polka dots in lilac background, which I really love. This Eden is perfect for picnic or just a simple luncheon with my family. My husband said that it is such a lovely outfit for me. If you want to see some of my Designer Stitch projects, you may visit my personal sites.
Blog: https://itsewcolorful.wordpress.com
Instagram:
www.instagram.com/itsewcolorful
Pages:
www.facebook.com/itsewcolorful
www.facebook.com/GABZNAILART
---
Hi, I'm Carmen from Adel, Georgia. I decided to use a textured linen blend in Caribbean because Ann suggested linen for this pattern. I'm so glad I did. The fabric felt wonderful and cool even on a hot day. This chic jumpsuit is equal parts modern and sophisticated. Featuring a v-neck and flowy wide-legged silhouette, I recommend finishing the look with a pair of glitzy heels or wedges. The Eden is perfect for a day on the beach with a large sun hat or even during a family picnic. Purchase the Eden today and wear it with confidence. Visit my blog to see my other Designer Stitch projects at https://happilysewnafter.wordpress.com
---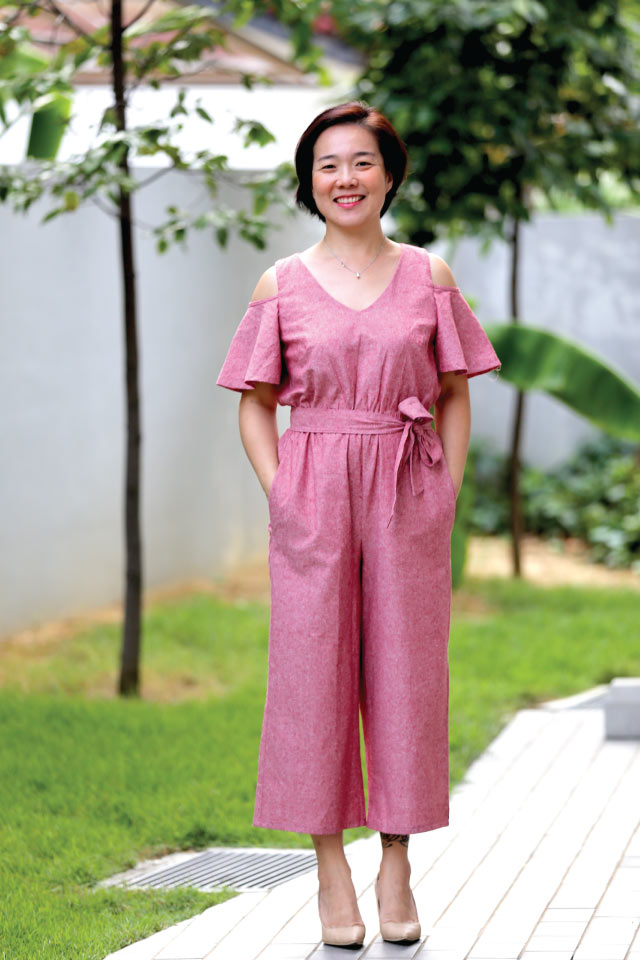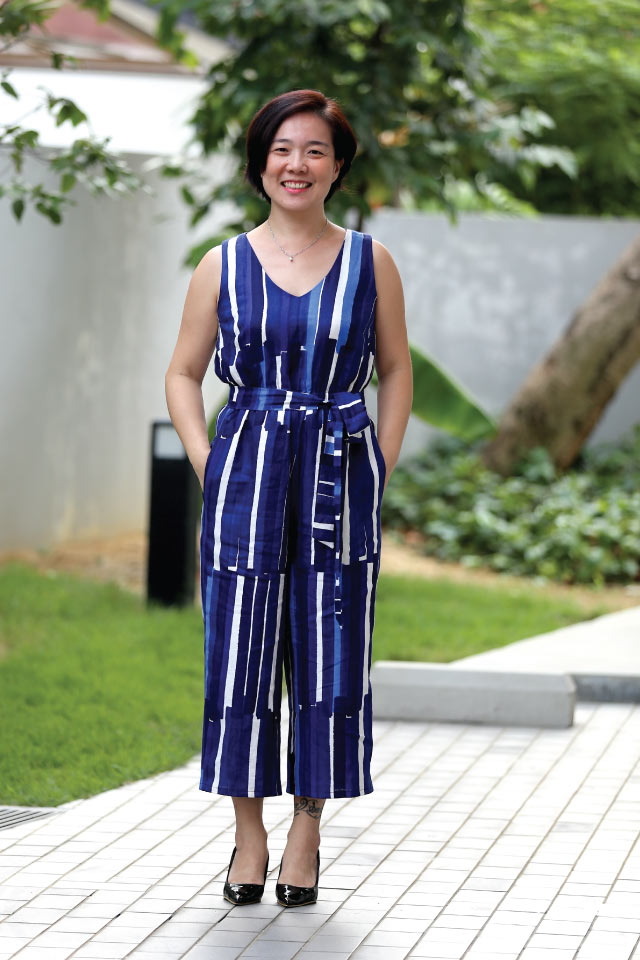 hi! I'm Boon Kuan, born n bred in Singapore.
I have had only 1 jumpsuit ever, and I loved it even though I only got to wear it once before the fabric came apart. * store bought, totally lost how the fabric can disintegrate as it did *.
And so when the chance to make my own jumpsuit came, I *jumped* on it! 😆
Started on a Robert Kaufman linen-cotton blend as toile cuz that's the closest weight to linen as I can get. but it was so fitting n good that I didn't think it should be just a toile.
then I used my favourite ever Japanese linen from Nani Iro for the 2nd piece. simple n classic ❤
Both Edens are wearable to work and after work events!
I personally love the blue. but my daughter n friend prefer the pink. 😁
IT challenged I am, so I am usually just on FB. and limbksews is my IG profile.
---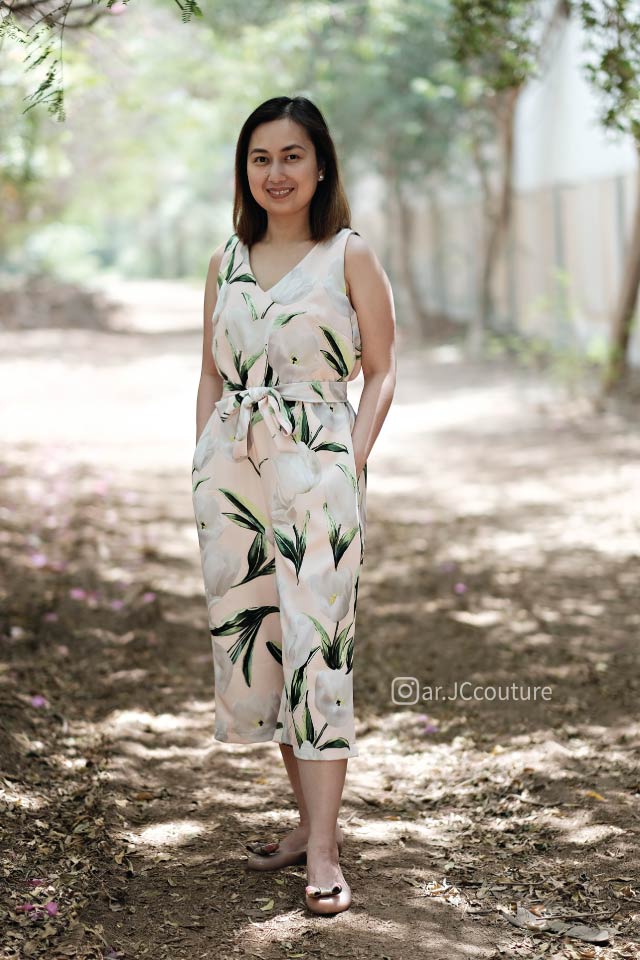 1. Joanne Castillo, born and raised in Philippines but currently working in Bahrain <– tiny island in the Middle East.
2. I used a thicker kind of crepe that I've been hoarding for quite some time. When I saw Eden, I knew they are perfect match.
3. I wore it last April 29, my birthday! A special outfit for a special day of course 🙂
4. Oh, I can't tell. Hubby used my photo wearing them to greet me on my birthday. They greeted me and so as complimenting my Eden. (Don't worry, I don't have any sewing friends)
5. https://www.instagram.com/ar.jccouture/
---
1. I'm Jenn and I live in Wilmington North Carolina.
2. I made my Eden out of a Chambray in my stash that was given to me by a friend's grandma who was cleaning out her sewing room.
3. I think Eden is a great summer outfit for dinner dates or just a day of shopping!
4. I haven't worn her out yet!! But my husband loves it on.
5. Blog: https://thecubanthimblecrisisblog.wordpress.com/
Instagram: https://www.instagram.com/thecubanthimblecrisis/
Facebook: https://m.facebook.com/jennmeitinwilliams…
---
My name is Tiffany and I live in Atlanta, GA. The bodice of my Eden jumpsuit is 100% linen while the pants are a cotton/linen blend. I will definitely be wearing my Eden from spring to fall.
Tipstitched.com
Instagram.com/tipstitched
Facebook.Com/tipstitched
---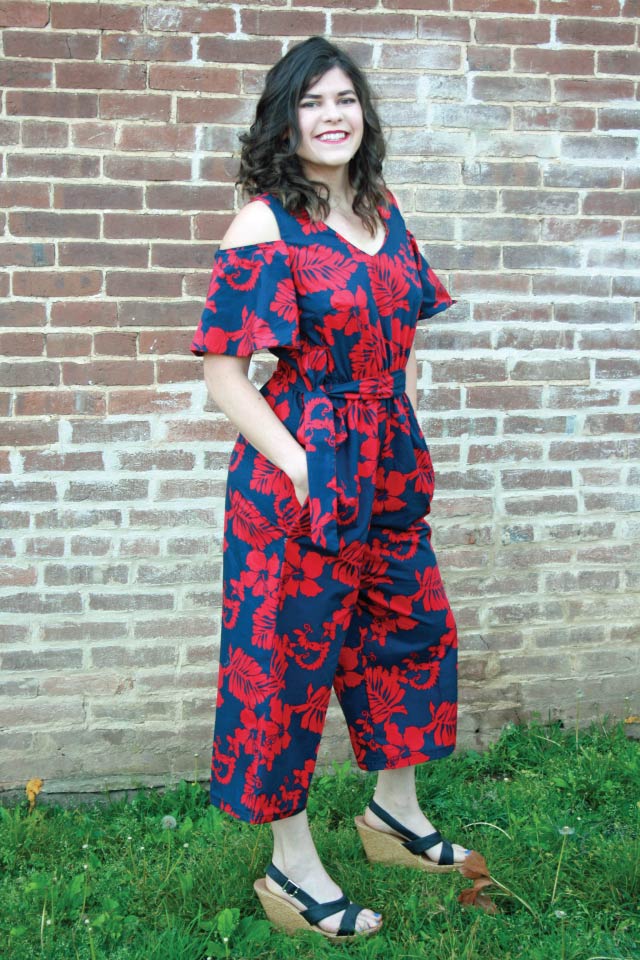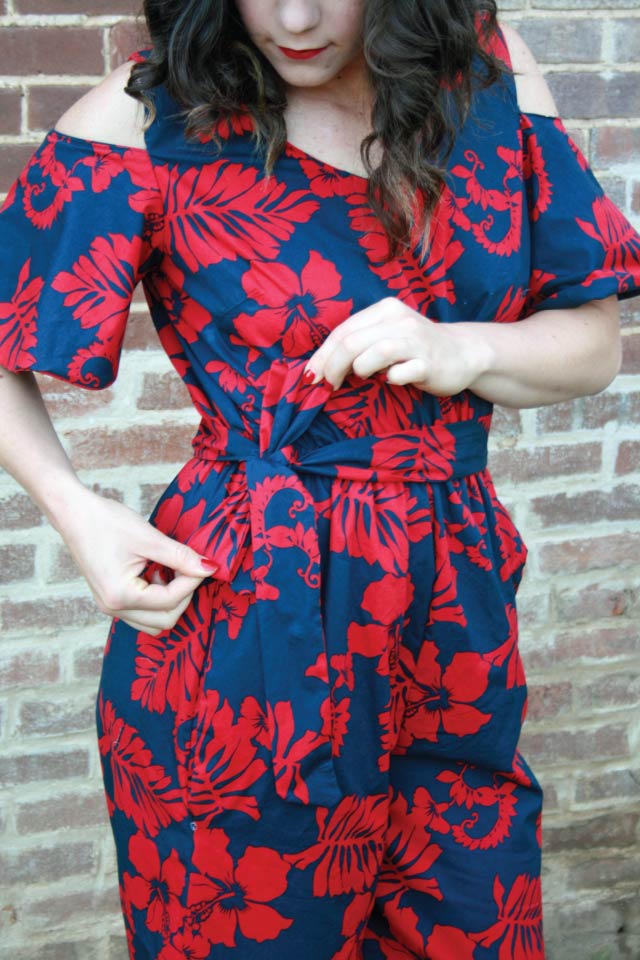 My name is Brittany Lowery and I'm from Fayetteville, Arkansas. I made my Eden from a cotton blend/linen weight fabric. I plan to wear my Eden all summer to the farmers market, craft fairs, etc…as it's a breezy garment. I've had compliments from my friends, lady at Joann's fabrics, and my mom has requested a matching one
Instagram.com/fabergehen