Hello again and thank you for visiting with me today for the JoJo Top Tunic and Dress Tester Roundup Part 2.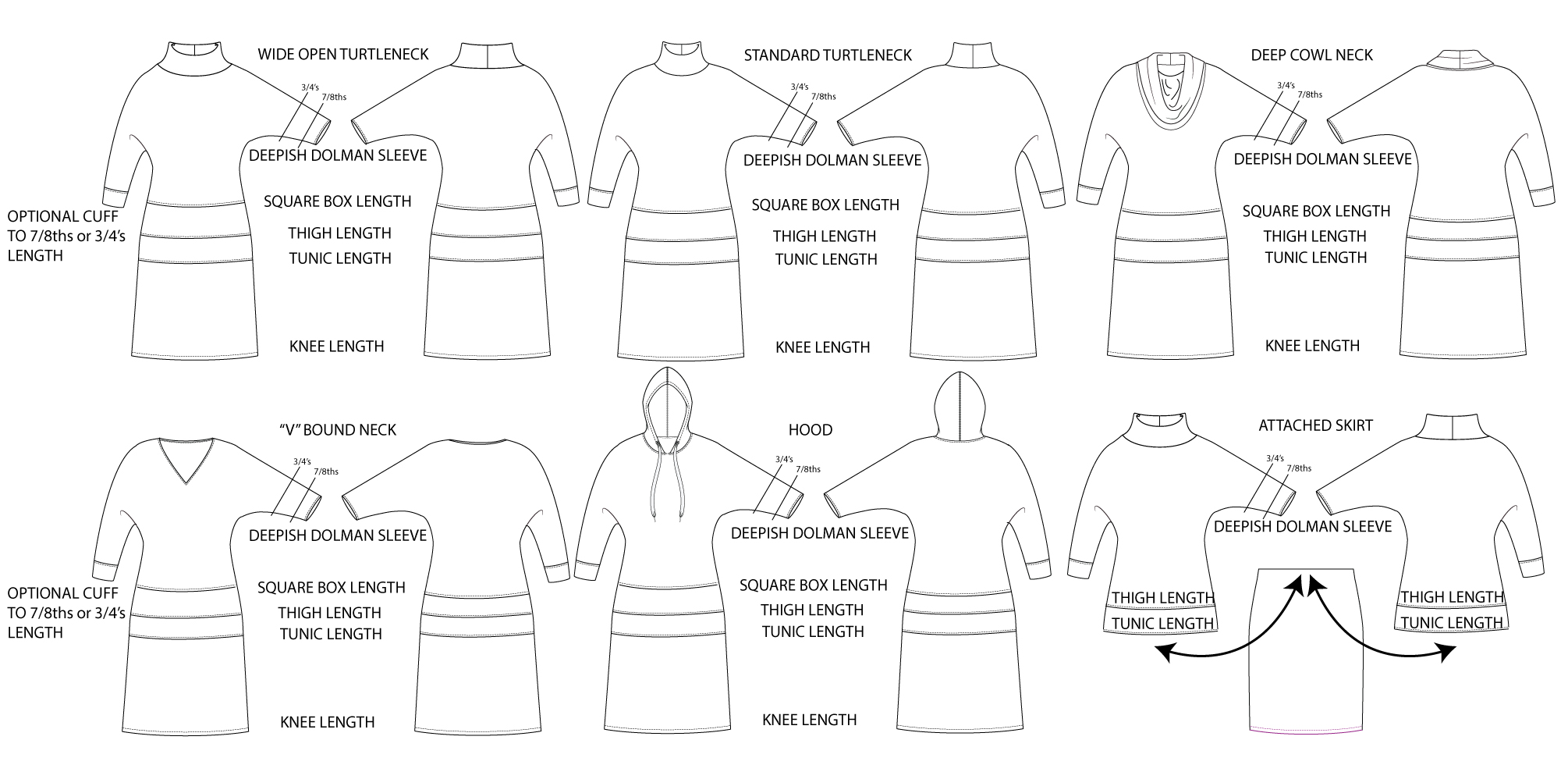 The JoJo Top, Tunic and Dress is a fabulous transeasonal pattern that offers an amazing choice of options and is suitable for wearing all year.
With a deep dolman shape the JoJo is comfortable and easy to wear while still retaining its fashion chicness with on-trend shape and styling.
Any weight jersey knit fabrics with some degree of drape are BEST for the JoJo with at least 25% stretch. Choose from :
Rayon and Rayon types
Silk and Silk types
Bamboo and Bamboo types
Cotton and Cotton types
Wool and Wool types
And the best thing about the JoJo is that it is for sew'ists who have a confident beginner and Above Sewing Level
The finer details : On Sale for a limited time only – $7.95 (US)
(AU/UK) 6 – 26
(US) 2 – 22
(EU) 34 – 54
Confident Beginner and Above Sewing level
https://designerstitch.com/shop/jojo-top-tunic-dress/
So without further ado – Drum roll !!!! – here is part 2 of the amazing tester roundup. xx
I have asked my beautiful "roadies" to share with you the following;
1. Your name and where you live
2. Your choice of style for the JoJo and why – did you make more than one ?
3. What fabric did you choose and where did you purchase – make sure you add affiliate link to fabric seller if you are able
4. What was your favourite thing about making the JoJo.
6. Have you worn your JoJo yet and what compliments did you receive.
7. And how are you styling your JoJo ?
8. Social media URLS
Love to you all xx
Ann at Designer Stitch
---
My name is Kate and I live in Australia, near Sydney.
My fabric and the weather dictated which style of JoJo I made. I had some lovely soft interlock on hand, and the weather was rather warm. So I went for a boxy JoJo top with a wide turtleneck, and 3/4 sleeves. It was cool enough to wear during summer, but transitions well into autumn.
The fabric was from Textile Traders – who have just about stopped closed all their stores. 🙁
I like that the JoJo is so versatile, and so quick to sew.
I've worn it a few places (even camping), and has compliments on the style and the fabric. I like to wear it with my distressed jeans, but have also worn it with shorts and skirts.
I blog at https://katewillknit.blogspot.com.au
You can also find me at Instagram.com/katewillknit
and https://facebook.com/katewillknit
---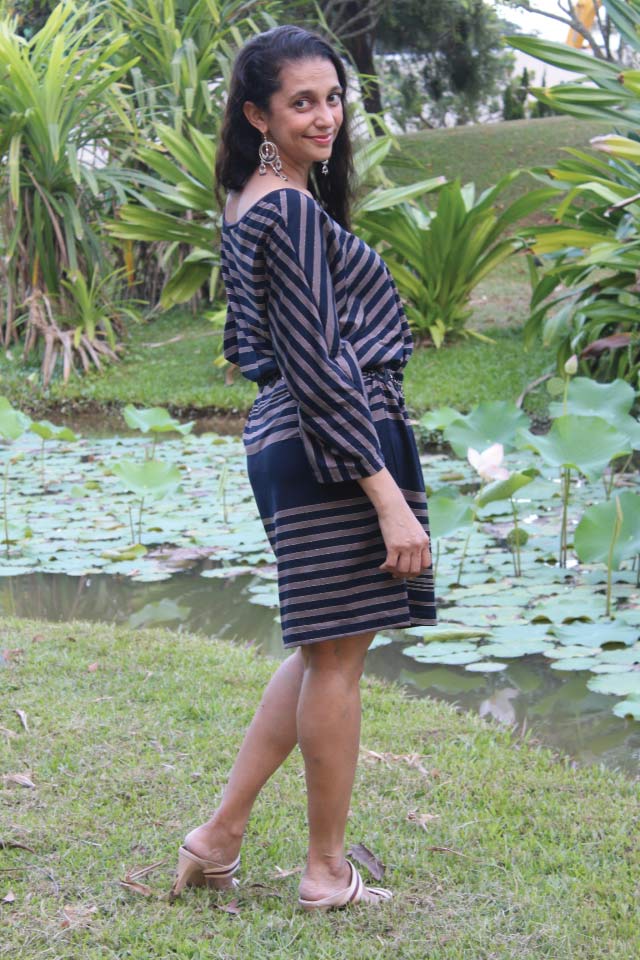 Hi y'all, I'm Kiran from Singapore. I love reading the tester round-up and seeing all the lovely makes from everyone in various corners of the world.
I chose to sew my Jojo in 3/4 sleeve and dress length. It was so hard to choose which one to sew because there are so many options available. I wanted something that would highlight the stripe broad/slim stripe pattern on my fabric. So i went with the dress length. It was an easy sew and i was able go wear my Jojo just that afternoon. What I love about this pattern is that it is so versatile. You could wear it formal, with some sturdy knit and a pearl necklace or you could tone it down with a patterned knit and some fun accessories. I went for a retro look here with a chunky belt and some large hoop earrings.
I can be found hanging out at www.instagram.com/gloopygoo
---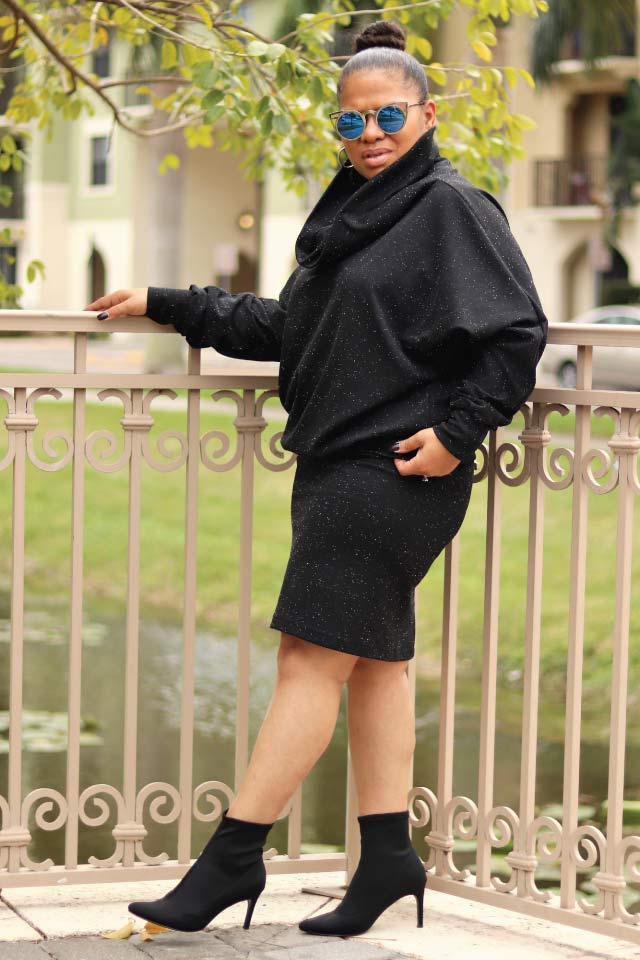 Hello, my name is Johanna and I live in Fort Lauderdale, FL. I decided to make the tunic length JoJo with a cowl neck. I then decided to shorten it and add a waistband.
I made my JoJo using a a black flecked ponte knit fabric I purchased at JOANN Fabric.
My favorite part of my top is the drape of it and how easy it is to make. I have not worn my JoJo yet, but I can't wait to wear it on a date night. The JoJo is so easy to style. I simply wore mine with a matching pencil skirt, some booties and a pair of cute sunnies.
..
Blog: www.soveryjo.com
Facebook: So Very Jo
IG: www.instagram.com/soveryj
---
Hi again! I am Manda and I live in the Netherlands. The weather can be quite moody during the year, so I love to have patterns that I can use for every season. The new JoJo brings all that to me. I picked a tunic length at first and turned that into dress length later on. I used a reliëf jersey jacquard for my JoJo, that brings me a bit of extra warmth.
I knew I wanted to wear my white belt with this JoJo, because I love the look of those two together. And I added a skinny jeans and some brown shoes to complete the look. I feel so comfy and stylish wearing my JoJo!
Insta: www.instagram.com/sewingambi
---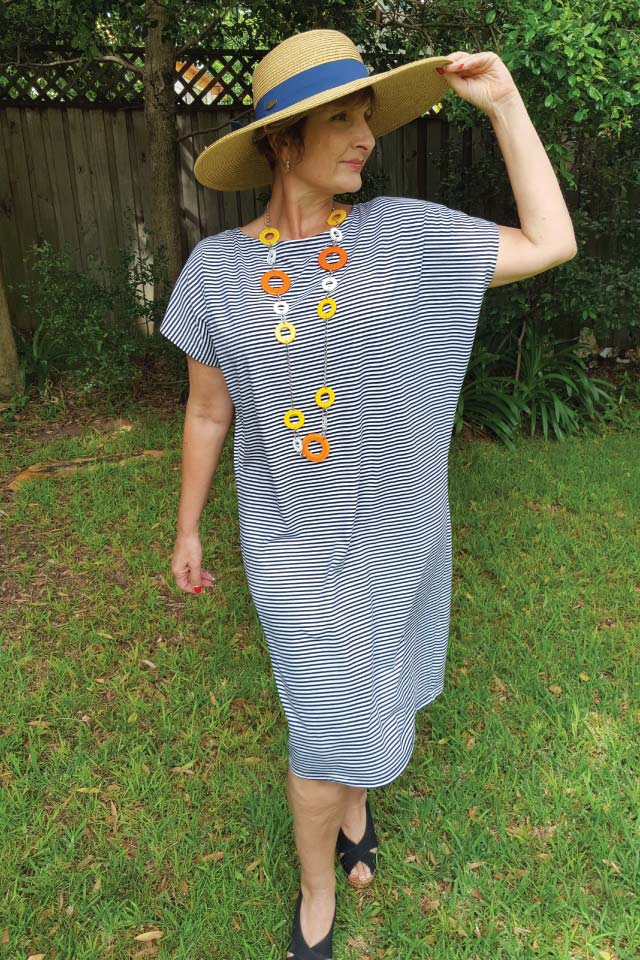 i, I am Nieves, I am from Sydney and I made a summer version with a beautiful cotton and Lycra knit. As it was a very hot summer here, I wanted something that was cool,
I raised the underarm a bit as Ann had suggested so that a bra wouldn't show.
Instagram @nievesozz
---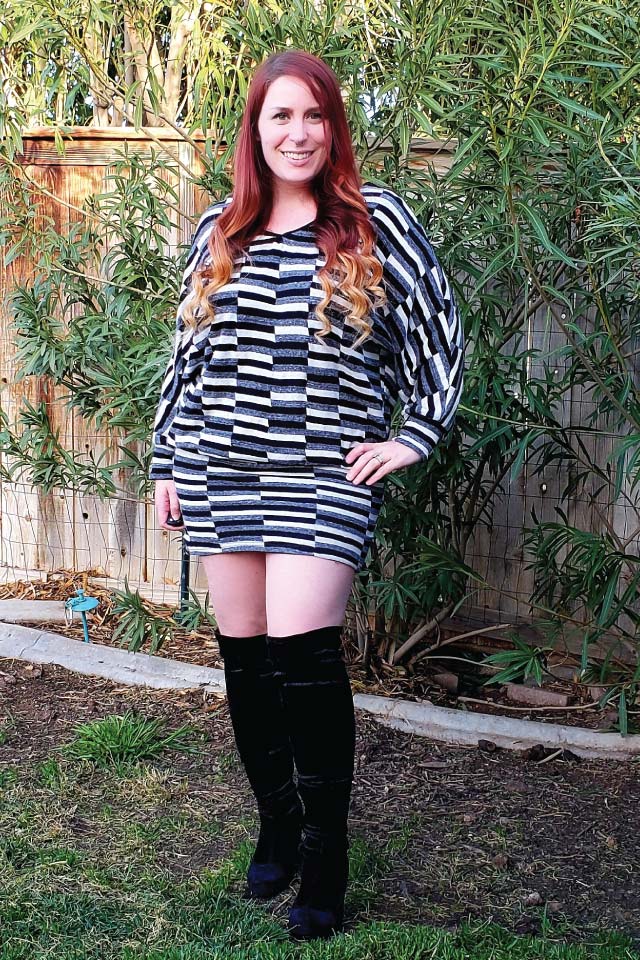 Hello all, I am Shannon and I am from Southern CA. I made two Jojos, one in the dress form and one in a crop form. Let me tell you, the crop is so on trend right now! I used a lightweight sweater knit for the crop and a double knit for the dress, both from So Sew English. The Jojo is SO easy to put together, it will take you an hour or less but will still look like a million bucks. If you want to see my sews feel free to follow me on
instagram at www.instagram.com/ahhhitsshannyn !
---
My name is Stacey and I live on the south coast of England.
I made two JoJos, one thigh length in sweater knit with a standard turtle neck – which makes a great staple ' throw on with jeans top'. My second I made with the short skirt add on and cut at the wide turtle neck cut line, but just hemmed the neckline. I made it from a black jersey with a hint of sparkle, this will be a great 'going out dress'!
All of my fabric came from my local fabric shop (Fabricland UK)
I love how quickly all the styles are to sew and with so many options, it's really easy to customise to your own style.
I have worn my thigh length JoJo and all my friends really liked it. I haven't had an occasion to wear my dress version yet, but hope to do so soon!
I like to wear my thigh length version with jeans and a belt round my waist and for the dress I will just keep it simple with tights and boots and a bit of blingy jewellery!
Allsewnupbystacey.blogspot.co.uk
www.instagram.com/all_sewn_up_by_stacey
---
Hi, Im Suzi Nasoor from Sri Lanka. I chose to make the tunic length cuffed sleeve version of jojo bcoz i always prefer my tushy covered along wth a loose fit. I chose a cotton lycra for it bought frm a local store in vicinity.
My favourite thing about making the JoJo is how quickly it comes together n yet hw wonderful it turns out!! I wore it to my in laws place n boy they were gawking n obviously struck..they loved hw loose n comfy it was!! I styled my jojo wth my favourite culottes n the combo was quite chic.
My fb link is https://m.facebook.com/fs.nasoordeen
IG handle is https://www.instagram.com/bnb_customclothing/.
---
Hi, I am Synthia L Gerritson, I live in Central California. I made two JoJo's, both were the turtle neck version. My first JoJo was made from a sweater knit stripped fabric, tunic length, fabric from an Ebay shop. The second JoJo, also a turtle neck, with the dress version, fabric top part is Cotton Lycra and bottom of dress is a shiny metallic fabric from Joann's. I chose the turtleneck version because at this time, it is very cold where I live, lol. I love sewing up both JoJo's because they are a quick sew. Another great design from Designer Stitch.
https://sewsynsewn.blogspot.com/2019/01/the-many-versions-of-jojo.html
https://www.facebook.com/Synthia20000
---
Hello! I'm Tamara Straetemans from Belgium. I made the dress add-on with wide turtle neck because I didn't have anything like that yet and I love the look. I will certainly make more JoJo's because it's such a great pattern and for the next one I'm thinking about a comfy sweater, hip length. For my first one I used a soft knit with a beautiful rib, in a dark blue with just a hint of a sparkle. This fabric was waiting in my stash for this project 😉 What I loved about the sewing was that I had a dress in no time! I have been wearing the dress on and off and I got lots of compliments, especially that it's not only really beautiful and feminine but comfortable and cosy at the same time. And that's exactly what I love about it and why I'm wearing it so often. I just combine it with a pair of high heels and I feel great!
https://www.facebook.com/lunatiekblog
http://lunatiek.blogspot.com/
https://www.instagram.com/lunatiek/
---
1. Sharon from Texas
2. I made one. A box cut with the wide turtleneck.
3. I used a striped jersey fabric from Knitpop. http://bit.ly/2oEwaEh (aff link)
4. The JoJo is a very quick sew and very cozy!
6. Yes, I wore my JoJo to the grocery store. My husband told me that it looked beautiful on me. I noticed a few random guys staring at me when I lifted my arms to reach something. Maybe I should have made the tunic version. Haha!
7. I have worn it with a pair of jeans and a pair of leggings.
8. My blogpost on the JoJo will be here:
http://www.sweetmamalife.com/2019/02/designer-stitch-jojo.html
My Instagram is here: https://www.instagram.com/sweetmamasharon/
---
Allison Falkey Greeting from Milwaukee, WI! I made the dress length Jojo for my teen daughter. She choose the wide turtleneck because she likes the way it looks. At first she was very unsure with the dress length and we were considering altering, but once she styled with with a belt ad scarf, it was love. Her Jojo is made from a light, confetti sweater knit that was purchased from Surge Fabric Shop. When all was said and done it pulled in an 80's vibe so we paired it with leg warmers and tennis shoes for a bit of fun.
She said it is super comfortable. It was definitely easy to make and flattering on her. I was planning one of my own, but seem to not have the piece of fabric I was sure I had. So, I guess I will have to find myself a different piece to make one for myself.
---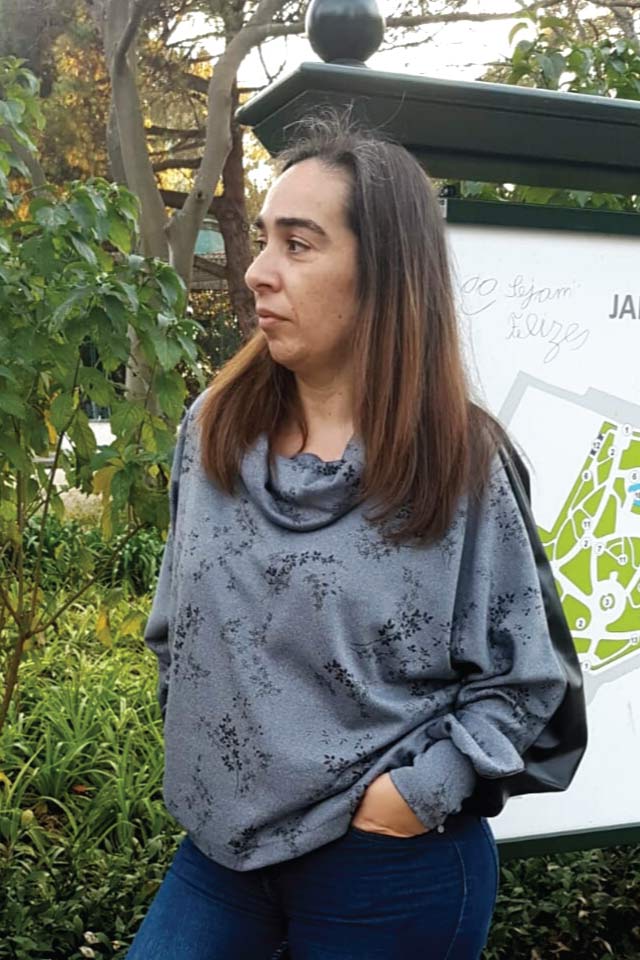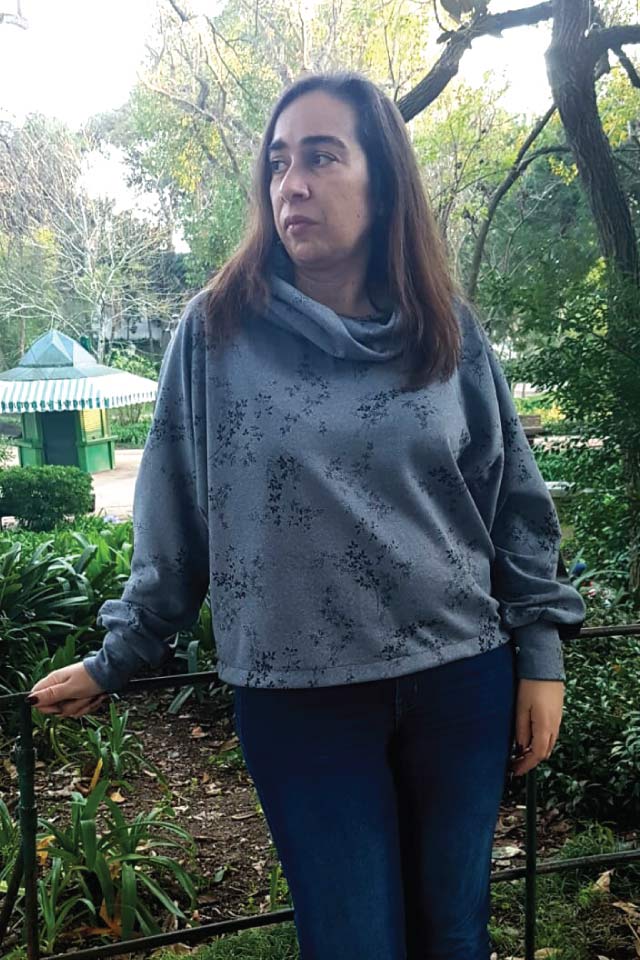 Hi! I'm Dora Serrano and I'm from Portugal.
I chose to sew Jojo in the shortest length with the wide collar for three reasons:
– I really like large necklines
– Wasn't sure I had enough fabric to make a longer version.
– I was looking for a classy motorbiker look and the shortest length seemed perfect to me.
I made two Jojos in this length and I love them both.
One was made in knit (a stable ponte de roma) and black faux stretch leather and the other one in wool with very little stretch. They both worked fine. The one in wool is very thick and doesn't drape very much, but I like the way it came out. I'll blog about it.
I purchased my fabrics a long time ago in a local store.
My favourite thing about making the JoJo is that it's such a quick sew with such an awesome result. More, you're sewing one version and you're actually wondering what's the one you'll sew next. You can make a full capsule wardrobe from this pattern alone.
I have worn my JoJo to work and to go out with my husband. In both situations I had lots of compliments.
I'm a practical kind of woman, so I style my Jojos with some jeans and a nice pair of black boots.
You can find me on www.sew4five.wordpress.com or www.instagram.com/colourbymim
---
Lim Boon Kuan Hi hi! I'm from Singapore where it's sunny all year round. Jojo is perfect for a summer top but I envisioned something heavier for my coming spring holiday. With Jojo being so versatile, I was able to create a ultra-chic tunic for my travels. I made my Jojo out of a quilted knit, and the texture gave the clean lines of Jojo added interest. With the wide turtle neck and wide sleeves, it was such a stylish outfit that even my teenage daughter liked and requested one for herself!