Greetings my lovely sew'ist friends. How amazing was the first roadies round-up !!!…and I am sure you all were amazed by each and everyone in their variations of the absolutely bloody fantastic Sleep Set combos. xx …. I think I heard a collective gasp from around the world. xx
And as I always say – and I will repeat myself yet again – The Designer Stitch pattern roadies are the best in the industry by 1000 %. And I sure you all agree.
If you have missed yesterdays post – Sleep Set Tester Roundup Part 1 – click here my lovelies xx
You won't get any more luxe than this combo of 3 patterns that make up the Sleep Set.
Cut them is a beautiful pure cotton for those hots and steamy nights – or cut them in luxurious satiny silk for those "other" hot and steamy nights…(wink wink )lol….
The finer details : On Sale for a limited time only – $8.95, $8.95 and $7.95 (US)
And if you purchase all 3 together please use this extra special 10% discount code – bundlex3
Believe me your Sleep Set will become your new ISO uniform !!!
And the finer details;
(AU/UK) 6 – 30
(US) 2 – 26
(EU) 34 – 58
Confident Advanced Beginner and Above Sewing level
https://designerstitch.com/shop/marieke-robe
https://designerstitch.com/shop/ashley-cami-slip
https://designerstitch.com/shop/barbara-shorts-lounge-pants
And they would like to share the following with you all :
1. Your name and where you live ?
2. Your choice of leg width of the Sleep Set and why ?
3. What fabric did you choose and where did you purchase ?
4. What sewing tips can you share when sewing the Sleep Set ?
5. What was your favourite thing about making the Sleep Set ?
6. Have you worn your Sleep Set yet and what compliments did you receive.
7. And how are you styling your Sleep Set ?
---
Hi im Ashley R i live in london. I chose for my sleep set the baby doll Ashley cami and high cheeky Barbara short to go with my Marieke robe.
I went for this set as im only short and wanted to feel a little cheeky so this set worked best for me.
I chose this beautiful dark floral satin fabric to make my sleep set which i got from a facebook group called Coalvillefabrics.
My only tips for this set would be to make sure you go for the right fabric and iron all your darts and just take your time and measures yourself well.
My favourite thing about this sleep set is that it makes you feel sexy and good about yourself. I hadn't worked with woven so was a little scared but don't be i was so happy with the end result. It's fun picking trims to go with your fabric.
I've worn my sleep set so many times it just feels so good on and my partner approves as well. I do have another set planned to make a cami dress to be worn out in the summer.This is a pattern i think you will all want and love.
https://www.instagram.com/madebyashleyriley
---
Happy almost Fall here from lovely Colorado USA. I'm Melissa D and I sew for my daughters.
I made the lovely baby doll set and the longer length beautiful robe. It's summer here and so shorts are a necessity.
My Olivia chose this incredible red satin and black lace from Hobby Lobby. By the way it is poly satin and washed beautifully!!!
I found each piece very easy to complete, however my lace application varied a bit because it was pieces and not an appliqué. Don't be afraid to make these lovely garments and embellish them freely.
I did not cut away the underlying garment because of my lace choice, but I am very excited to add the beautiful new scissors to my collection and make many more sets for my girls.
As always Ann makes easy work of what looks complex and difficult.
I just love that!!!
Olivia loves wearing her dream set and though she has only worn it at home everyone is incredibly complimentary on the FB pics, her sisters are. anxiously awaiting theirs and the beautiful Marieke Robe pattern will most definitely be under the Christmas tree of cousins and Aunties.
Get your patterns and get sewing! You will Love your Dream Sets!
I promise!!!!!!❤️
https://www.facebook.com/melissa.deeg.3
---
1. Your name and where you live ? Becky, from Maryland
2. Your choice of combo for the Sleep Set and why ? I made a cami length top and full length pants because these were most versatile for my wardrobe. I like full length pants so my ankles are covered on cool evenings and mornings, and the cami length is good for me because it doesn't ride up.
3. What fabric did you choose and where did you purchase – make sure you add affiliate link to fabric seller if you are able. I used a textured poly woven from Joann Fabrics
4. What sewing tips can you share when sewing the Sleep Set? The fabric can be tricky because it can be slippery. Also, my fabric didn't want to hold a press at all, so i used a ton of pins to keep the hems folded under while sewing the hems.
5. What was your favourite thing about making the Sleep Set ? How easy it was! The pants especially were a breeze to sew.
6. Have you worn your Sleep Set yet and what compliments did you receive. My hubby loved my sleep set 🙂 i also wore the cami over a lacy bralette during the day and it was comfy, cool, and sexy
7. And how many more Sleep Sets are you going to make – any requests from friends or family ? Definitely going to make many more sleep sets, especially pants!!!
8. Social media URLS ( please DO NOT tell me @erin on Facebook or similar)…please detail http:…..
Blog
www.squiddlysews.com
IG
instagram.com/squiddlysews
---
Hi, I'm Genevieve and I live in Horsham, in the UK.
I chose to make the top length Cami and shorts for my Sleep set as I wanted to be really comfortable when wearing it and that is my most comfy combination.
I used satin for my Cami and shorts and viscose for my robe. All bought from Driessenstoffen.nl
As the sleep set required beautiful soft fabrics, I used my iron to steam everything in place but make sure to test the temperature on a scrap piece first. I also pinned a lot!! The fabrics slip so go slowly.
These patterns really captured me and I loved choosing the fabrics, trims, combinations.
I have worn my sleep set a few times and my husband is very complimentary every time I do.
I am planning more with some long pants and my daughter definitely wants some too.
Http://www.instagram.com/gegiegrossmann
---
Hello, my name is Johanna Ali and I live in Fort Lauderdale FL.
I made the Ashley Cami, the Barbara Lounge Pants and the Marieke Robe because I wanted to make sure I made the set. I don't really wear shorts so I decided to make the lounge pants.
I used a poly satin yellow fabric for the top and bottom purchased from my local fabric store.
The Marieke robe was made using gift fabric my friend purchased for me while in Paris. It's a charmeuse satin fabric with every color of the rainbow. My sewing tip is if you don't have a serger or want your seams to show, I would suggest using French seams.
My favorite part of the Sleep set are the fabulous sleeves on the Marieke Robe! They are everything! The sleeves truly elevate the look of the robe.
I have not worn my Sleep Set yet, but I can't wait.
Confession time. I posted a sneak peek on my Instagram and my followers went crazy!
I posted it when the pattern was released and I really received a great reception. I had someone ask me if I really made it. I know I'll be receiving some requests for one.
Blog: www.soveryjo.com
FB: www.facebook.com/soveryjo
IG: www.instagram.com/soveryjo
---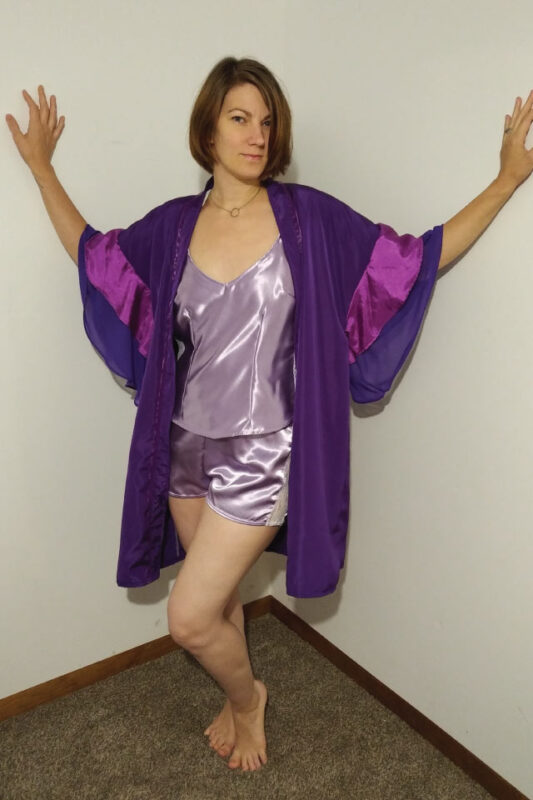 Hello yall. I am Kaitee and while I grew up in the south, I now claim South Dakota as home.
I made the shorty shorts and both the cami length as well as the mid length slip.
I love the variety this pattern offers from sweet to sexy while being comfortable in all categories.
I did the short robe but did add a few inches as I am nearly 6 foot tall and wanted just a tad bit more modesty.
I used a medium weight satin for the robe due to cold nights and a light weight cotton blend for the other items.
I definitely recommend lots of pins if it is one of the slippery fabrics and test stitch along with test iron on scrap pieces.
This is such an amazing pattern and can be adapted for any personality, age, and gift need.
https://www.instagram.com/lucilupus/
---
Hi everyone, im Kiran and I am from Singapore. For my sleep set, i chose the cami, short shorts and the knee length Marieke overcoat.
My cami set is made of Kokka lawn fabric purchased from www.nekoneko.co
and the gorgeous overcoat is made with fabric lovingly gifted from Minervacrafts.com
Im sewing my sleep set, i sewed all of the edges with a rolled hem. It does take a little extra care but i love the lettuce edge it gave my edges. Also, don't let the three piece set fool you. Its an amazingly quick sew once you have everything set and ready to go.
I never felt confident enough to sew anything Lingerie-ish and im so happy that my first sew in this department was such a success. Just ask the hubby haha
Check out more of my sewing adventures over at https://www.instagram.com/sew_kiran_sew
---
Hi, I'm Lieve D from Zwijnaarde in Belgium.
I chose the Ashley, combined with the Barbara shorts and lounge pants, because on a lazy Sunday I love to walk around all day in pyjamas.
If it's a bit sexy, my hubby is happy too. Win-win, right?
I made the set in a supple crepe, which I bought from a sweet market vendor from the Netherlands, Shanitex. This sexy sleeping set is easy to make.
If you choose a sober fabric, you can go in all directions with lace applications. For my sets this was not necessary: I let the fabric speak for itself.
With the heatwave that hit Belgium at the beginning of this month, I wore the set almost every night, because it's wonderfully airy. I also feel very sexy in it!
That's why I'm definitely going to make more sets. I've got a nice dark blue viscose lying around and I'm going to look for matching lace for the applications. To be continued! Curious about my creations? You can find me on instagram under the name @girlsinuniformblog, or on the website https://girlsinuniformblog.com/2020/08/20/barbara-en-ashley-designer-stitch-patterns
---
Hi, here is Marieke from the Netherlands.
When I saw the testercall for this outstanding lounge set, I didn't know immediately what to make.
I normally dive into my stash, but Camelia showed her her new fabrics from her fabric guy (his name on Instagram where he also sells: Shaniosdorp) and there it was laying: 'my' new fabric!😆
Well, I started with my toile, a cami cut on 45 cm length and a cheeky shorts, both sewed from a soft crepe satin. To it a robe on longest length. The robe is made from chiffon and completely finished with french seams.
The fit was immediately spot on, so the set made it to the finals too.
But I wanted more and something glamerous too! I got an really special embroidered tulle with hotstones on it and a matching duchess satin. It was breathing luxery!
I doubted quite some time and waited till the best idea was coming into my head…yes, that sometimes happen.😁
And then I started sewing…and it turned out spectacular! I was absolutely surprised about myself.😆😆😆 It was pure joy making this and wearing it is….fantastic!
I just sewed on embroidered parts to the cami (also a 45 cm length) and carefully cut the tulle away.
My original idea was making the robe entirely out from the tulle, but at the end I only used it for the sleeves and I think this was a good decision. It's more subtile now and the robe is showing the fabric better.
Because it's also getting cold here…unfortenately… I sewed another cami, cropped length, with a ankle length pants to it. This fabric has an awesome color which match with the robe too!
Well, I wear my sets daily, it's comfortable, good looking and it makes me feel beautiful (and sexy too)
I am pretty sure some family members are receiving some me made gifts this christmas….
These are patterns for life!
My Instagram when you would like to see some more me made creations:
Https://www.instagram.com/jongdesign
---
1. Mary Alexa L, from a tiny California town 2 hours south from San Francisco.
2. I chose the Ashley in babydoll length and the Barbara shorts in cheeky length, because it's super hot here in California! I wanted something comfortable but fresh. And the Marieke robe ties it all together for the fresher mornings and evenings.
3. I have a huge stash of fabric from when I went to school at FIDM. I used a rayon challis, which was SO perfect. Super soft Ashley and Barbara shorts and the Marieke robe sleeves look amazing.
4. Working with slippery fabrics can be a bit tough. I love rayon challis, but it moves around a lot! A rotary cutter would've been super helpful, but I had to make-do with just my scissors.
5. My favorite part was seeing it all come together! The entire set just goes so great together. I also like that you have the option of French seams for a clean look inside.
6. Yes! I've worn both my toile and my final garment around the house. Hubby approved! 😉 they're so comfortable and look so good!
7. I plan on making it my lounge staple piece! I also love that the pattern is so versatile. I will be using the Marieke robe as a lightweight cardigan to go over my outfits and the Ashley cami to make a slip dress for layering.
8. Blog: http://www.sewmuchlovemary.com
(Getting a makeover soon!)
IG: http://www.instagram.com/sewmuchlovemary
---
Hey All…Im Suzi Nasoor from Sri Lanka..I was lucky enough to test the The Sleep Set pattern trio for Designer Stitch..I chose to sew a full length pants n top version and settled with mid thigh length for the robe. They turned out just perfect i think!!
I got a lush some printed satin from a local boutique for my ashley cami and settled with viscose for the barbara n marieke robe because it's so hot here to wear all silk 😁
The first thing I'd say most important when sewing the Sleep Set is to read the tutorial thoroughly, get the necessary fabric and notions all in hand so that you wont get distracted part way…n most of all be patient when doing rolled hems on silk and applying lace 😊😊
My favorite thing about making the Sleep Set is the simplicity of instructions and how soon the trio come together to give the most comfy n flattering fit.
I made 2 sets (one is a fit toile) and wear them alternately in the nights..my hubby specially loves the silk one paired wth the robe..he says the robe beats all robes I hv got in the past and I totally agree!!!
I hope to make several more for everyday..they r perfect to lounge around the house and just the answet to the freaking hot weather here.
You can see more of me in my fb profile,
https://www.facebook.com/fs.nasoordeen or my insta account
https://www.instagram.com/suzi_nasoor/
---
Hello to the most awesome global sewing community ever! I am Taryn HS xx
When I saw the tester call for the Sleep Story, I just had to get it on it as making my own glam pjs was definitely on my sewing bucket list. I chose to go with the long lounge pants in the Barbara and cami without body darts for Ashley.
I found the most beautiful soft pink, black and white matte satin in a local destash and as my main fabric for Ashely and Barbara and grabbed the white bow satin from my favourite local Facebook enabler (NewMoon Fabric) for a coordinating Marieke robe (long length).
I was just a little short on length of the floral for the Barbara lounge pants so rather than compromise on my desire for the full-length pants, I improvised and added a band in the coordinating satin. And I really love how they turned out.
I kept my applique simple with the black flower trim I had in my stash adding it to the front neckline as well as adding a few individual flowers in a cluster at the back and one side.
My tip on this one would be to test the fit first making it up in a test fabric similar to your ultimate fabric choice – this is a great way to know exactly what adjustments you will need to make to get the perfect fit.
And you don't have to work it out on your own either – the Designer Stitch Pattern Group is a great place to get all the advice you need. Through my toile, I knew to skip the body darts and go up on the pants for a little more lounging comfort. I also did a little back rise adjustment to ensure the perfect fit.
My favourite thing was seeing the vision in my head come to life and being able to check that item off my bucket list. As it is winter here still, it has not been quite warm enough for my Sleep Story as yet but Spring is just around the corner and I can't wait – it is going to be just perfect for wearing in the evenings after a workout and shower.
I shared a sneak peak with my sister who would happily wear PJs all day every day if she could, and it got her thumbs up.
I am seriously tempted to up my Christmas Eve PJ game this year – normally I make pjs for the kiddies each year which they get to unwrap on Christmas Eve while waiting for Santa.
I am considering going all out this year and adding a special PJ parcel for my mom and sisters.
After this year, I think we all deserve some glamourous loungewear.
Want to know what else is on my sewing bucket list? You can keep an eye on those adventures at
https://www.instagram.com/tarynhaynessmart/
https://www.facebook.com/taryn.haynessmart
---
Hi everyone, I am Kim from the Netherlands.
I had the pleasure to test the Sleep set and I am so happy I finally made something for myself. I made the Marieke Robe, the Ashley cami skim fit and the Barbara short shorts with high waist. I just think this is an amazing combo. I've bought my fabric from the amazing 'fabric guy" Shani (you can find him on Instagram https://www.instagram.com/shaniosdorp/
I used a uni taupe crepe, a satin crepe with a amazing floral print and pink lace. It was so amazing to sew this beautiful pieces, I felt sexy while I was sewing 😉
My best tip is to go slow, enjoy the process of making an luxuriance sleep set for yourself, and your partner😋
I've worn my set all the time at home, it is so comfy and feminine at the same time. I definitely gonna make more sets, because 4 friends already ask for a set 😉 but first I am gonna make a long Barbara and an Ashley slip to finish my own set hihi.
I've you like, you can follow me on Instagram to see more sewing projects at https://www.instagram.com/kimgringhuis
---
Hello, I'm Michele A-C, from Oregon, USA. I enjoying sewing for myself, husband and grandkids. I have to say getting the opportunity to test the fabulous sleep set is like a dream come true for me.
I made myself the cami in waist length, short length in the pants and the shorter length on Robe.
Fabric is used is like a poly satin that I found at Joann fabric.
I found each piece easy to make, I did not add any additional lace, as I love the floral print of my robe and cami, they pair with the solid pink pants so beautifully.
While this sleep set has only been worn at home, my husband really loves the set and how sexy it is.
www.instagram.com/soapyelephant