To the sounds of 1000 drums my lovelies – a BIG WELCOME and hello to Part 2 of the Olivia Bralette Knickers Briefs Panties Tester Roundup Part 2.
I am sure you have been ABSOLUTELY gobsmaked with the beautiful roadies modelling their Olivia's from yesterdays blog post. xx
The Olivia is a stunning shape and as you have seen it looks AMAZING on everyone.. SPECTACULAR !!!
If you missed the previous post yesterday be sure to read: Olivia Bralette Knickers Briefs Panties Tester Roundup Part 1.
The Olivia Bralette-Knickers/Briefs/Panties is for a sewing level of Confident Advanced Beginner and Above.
The finer details : On Sale for a limited time only – $9.45
(US) (AU/UK) 6 – 30 (US) 2 – 26 (EU) 34 – 58 . Cup Size – B, C, D, DD(E), F
https://designerstitch.com/shop/olivia-bralette-knickers-briefs-panties/
So my friends prepare yourself again to be BLOWN AWAY with our amazing roadies – Part 2 – and their STUNNING Olivia's !!!
I have asked each of my roadies to share with you the following:
1. Your name and where you live ?
2. Your choice of style for the Olivia and why ? (ie leg heights etc) And what changes if any did you do to the pattern – ie splicing etc
3. What fabric did you choose and where did you purchase.
4. What sewing tips can you share when sewing the Olivia ?
5. What was your favourite thing about making the Olivia ?
6. Have you worn your Olivia yet and what compliments did you receive.
7. And how many more are you making ? What plans do you have ?
8. Social media URLS
Love to you all xx
Ann at Designer Stitch. xx
---
My name is Johanna and I live in Fort Lauderdale, FL
2.For the bralette I didn't make any adjustments to the pattern it's self. I made a size 4 and lined it with power mesh for more support. I also added power mesh to the side panels for added detail. For the panties I made a size 3 and I cut the pattern where indicated if using exposed elastic but I used folder over elastic for the waist.
3. I used a scuba knit fabric I had in my stash that I purchased at A to Z Fabrics in Lauderhill, FL. I purchased my elastic from La Casa De Las Viejas in Miami, FL.
4. #1. Make a toile/muslin! Initially, I made a size 5 and it was too large so I sized down. The same thing happened with the panties. It also took me several tries to figure out which cut I wanted. #2 Follow the pattern instructions on how to sew with knits. This will really help you out in being successful.
5. My favorite part was making underwear for the very first time! It was a really enjoyable experience.
6. I have not worn my Olivia yet, but I did blog about it and posted on social media and it was very well received. Everyone loved it! Olivia is a hit.
7. I don't have a definite number, but I know I'll be making it again. I think Olivia would make a great bathing suit. Olivia would be a great scrap busting pattern too.
8. Blog www.soveryjo.com
Facebook www.facebook.com/soveryjo
IG www.instagram.com/soveryjo
---
Hi, I am Marieke from the Netherlands.
I love my Olivia's! I own 3 on the moment and plan a couple more. I thought the boy friend height would be the best for me, but I was wrong, the highest cutting line was looking so much better on me. And again I learned something news.
So that is my first tip, when you aren't sure, cut the lowest line first, use an old piece of fabric and sew a muslin. (Of course you are sewing a muslin..😉 but play with the lengths too!)
Although the bralette is made for being sexy, which is does absolutely..I sewed 1 version with double layers and it's kind of supportive!
I used lycra and tulle for my red colored set and combined lycra with lace for my black version.
I would give you the advice to practice on a scrap from your fabric which stitches are the best and especially the length and wide.
I was pretty satisfied with a long wide zig zag for sewing on the elastic and after folding it over I used a long but small triple zig zag. All the stretch is left. Perfect 👍
Yes, I wore mine already several times and yes, I feel sexy in it too! And it's absolutely great for wearing it on a date night…😉💃
You can have a look at my Instagram too:
https://www.instagram.com/jongdesign
---
Hi I'm Martha aka GariChild from the 🇺🇸. I made my Olivia in this beautiful stretch lace from Fabric Mart and added a nice rayon knit for my bralette which paired beautifully with my mid leg panty. The instructions literally holds your hand through the process and makes it a really easy pattern to make. Looks so good my hubby is convinced its store brought. I made my bralette in a Size 7 cup D and my panty in a size 12 with no alterations. I can be found at https:/www.instagram.com/garichild
---
My name is Shilyn, and I'm in sunny Florida!
2.I chose the high leg option in both modest and cheeky styles! I am short waisted and have a sway back, so I removed a 1 inch from the center front and tapered it to 3 inches off at the center back. I also removed an inch from the center back of the briefs.
For the black set, I used mesh trim in the bralette and undies. For the undies, I folded the pattern in half so I had a line running down from the waist to the center leg opening.
For the blue set, I used piping for an accent. I folding the waist in fourths this time, and marked a line from the fold closest to the center waist down to the center leg opening, so it was more angled.
3. I used black ponte knit and floral blue knit from Joann's.
4. The details are really important in elevating your Olivia set! Go for those fancy trims, read the instructions carefully, and definitely use ball point needles!
5. I love how quick it came together!
6. Yes, and my husband is IN LOVE.
7. I'm hoping to make a swim set from this, if I find some padding!
8. Http://instagram.com/shilynsews
---
My name is Stacey and I live on the south coast of England.
I chose the mid leg cheeky leg line, as it is cute and comfortable!
I used a sturdy jersey from my local fabric shop.
My tip for sewing would be to stretch the elastic evenly.
My favourite thing about sewing the Olivia was getting to wear it, it is so comfy!
I plan to make a lace version next
Allsewnupbystacey.Blogspot.co.uk
www.instagram.com/all_sewn_up_by_stacey
instagram.com
---
My name is Taryn and I live in Cape Town, South Africa. I made the boyleg initially for fit and then cut the high leg front and cheeky high leg back for my finals. I used lace as an overlay so didn't make any changes to the pattern itself, just cut the lace and basted it to the main pieces before sewing it up. I used fabric I already had in my stash (grey stretch velvet, cotton lycra and yellow lace) as I love the colour combo of yellow and grey and it was the perfect excuse to use up some of my bigger scraps of the velvet. I used the cotton lycra for the gusset and cup lining. It will become another Olivia set as soon as I find the right elastic. I used a double layer of cotton lycra for the cups of the bralette for a little extra support. My sewing advice would be to sew up a test garment to get the fit for you right (especially the elastic lengths). You do want to stretch the elastic gently while you are sewing it to ensure it is evenly distributed. I used the recommended width and length of zigzag stretch to ensure the elasticity was maintained. Remember to match your seam allowances not fabric edges to get the perfect centre v with the bralette. Sewing undergarments has been on my bucket list for a while. With a previously unsuccessful attempt at sewing a bralette at the back of my mind, I was a little apprehensive at first but I quickly realised I did not need to be at all. I loved how quickly and easily the whole thing came together. Yes, I have worn my Olivia set and they are so comfortable to wear. I really do love the vintage styling of this set. I bravely showed the pics to a friend of mine who was totally blown away and now wants her own set. This is one sew that I don't expect to get too many compliments on (only because it's not going to be on public display) but I will definitely be making more. I have some lovely stretch laces in black, red and turquoise as well as a pretty mauvey/wine velvet burnout that I picked up from a shop recommended by my mom while taking a short break at the start of the new year. And then there is the swimsuit version that will have to be tested out. While I probably won't be showcasing my Olivia pics on my personal social media feeds like I do my other projects, please do pop by to see what I am up. And maybe, one of these days I will surprise us all.
https://www.instagram.com/tarynhaynessmart/
https://www.facebook.com/taryn.haynessmart
---
hi , im Anusha from India , i made two pairs of Olivia in poly lycra ( locally sourced ) , one was a plain blue and other was a retro print , i used a frill lace to compliment this cos i wanted a pin up look .dont know if i achieved that 😬 . What i loved about this pattern is its simple to sew and flatters your figure beautifully . I made the full brief , i had to shorten the bralette to fit me cos im petite..I definitely plan to make a few more in velvet and lace . The fit is brilliant even my toile is wearable. love
---
hi hi ! I'm Boon Kuan from Singapore.
I've made 2 Olivias beside my toile.
1 of double brushed poly; the feel of it is just so buttery soft on the skin.
The 2nd set I made with blue floral brushed poly and stretch lace for a hint of peekaboo.
For both sets, I made boy legs but for the 2nd, I used the lower waistline n I find it looks better since I'm shorter than the pattern is drafted for.
Lovely pattern, extremely fun! My partner is very interested in this sew indeed!
I've ordered more stretch laces and velvet for more 😁
Www.instagram.com/limbksews
---
Hello, I'm Gabz J from New Mexico, USA. I made the high waist cheeky knickers using Double brushed polyester from Stitchin' Pretties Sew & Show Group . I made 2 pairs of this wonderful undergarment. They are all floral fabrics and very sweet-looking ones.. They are very easy to make and I think there's nothing to worry about sewing this pattern. Its instructions is a big help. I am planning to make more because my husband loves them on me.. If you wanna check out my other Designer Stitch projects, please follow my instagram account www.instagram.com/itsewcolorful or subscribe to my blog https://itsewcolorful.wordpress.com
---
Mariz V– Aloha from the Netherlands! I made the boycut brief( i love the 50's and Betty Page). I used a cotton lycra and a sports net fabric from my stash. I am small chested so i changed the cup to an a size to fit my frame better. I used picot elastic. I love the fit i got on these, but i am more of a tiny underwear wearing girl, so i'm not going to sew a bunch more, i like bigger underwear to lounge in, so these will do nicely. The bralette, i will make shorter, and put a band on it instead of elastic for my sensitivity issues. Go slow when sewing this and follow the instructions! Dont forget to take the seam allowance off for foe! My boyfriend liked the bralette, but found the panties very big:))). Other people found them awesome, the whole idea that you can sew your own underwear baffles them:)
You can find my page on facebook: https://www.facebook.com/littleredrotterdam/, or on ig https://www.instagram.com/mariz_666, pinterest https://nl.pinterest.com/marizvoesenek/. Apart from sewing i rescue animals, so expect cute animal pictures, i also own a gym .
---
Hi! I'm Kim and I'm from the Netherlands. For the Olivia, I used a cotton lycra and lace from a local fabric shop. I basted the lace on top of the CL pattern pieces and lined the cups with the same CL. I like the clean finish on the inside with the lining! I used the high leg modest back. My tip while sewing is to try getting the waist elastic over you butt before sewing it. I always grade out for my hips and had to make the elastic a bit longer to get it on easily. I love the comfort of the bralette and wore it around the house in the weekend. My boyfriend, who isn't much of a lingerie guy, told me he's proud of me for making it. I might try making a bikini with this pattern next!
---
Hey All…Im Suzi N from Sri Lanka..I simply loved sewing the Olivia..I chose the full brief style for my knickers, and except for reducing height for it (as Im only 5.3), I did no changes..It was perfect..
I chose a lush stretch velvet and co-ordinating cotton lycra purchsed locally for it and my Olivias turned out superb..
As usual the first thing I'd say most important when sewing the Olivia is to read the tutorial thoroughly, get the necessary fabric and notions..n most of all be patient when applying FOE 😊😊
My favorite thing about making the Olivias is how the knicker is constructed..doing the bolero method always gives me a super satisfied feeling..
I have slept overnight in my toile version of Olivia..so comfy I didnt even feel like I got them on..the velvet one was highly approved and admired by my hubby 😊😊..I hope to make several more for everyday wear next. The bralette gives me enough support for home and the knickers are the best I have worn. I have also plans to add a back opening to mk it easier to get on an off..
You can see more of me on my fb profile
https://www.facebook.com/fs.nasoordeen or my insta account
https://www.instagram.com/suzi_nasoor/
---
My name is Kate and I'm from Wollongong, Australia.
I made a set of Olivia's with Full Brief legs (the second longest option). I wanted to make a set I could use as a pair of swimming costumes without having to worry about wedgies (and how long it had been since my bikini line was last seen to).
I chose a swim lycra I bought as a one metre cut from The Remnant Warehouse. I also used some swim lining I had in my stash. I also made a second set using crushed velvet and stretch lace from Spotlight.
Top tip for sewing Olivia is to make a toile first, check your fit and make sure you're happy with it before cutting into your expensive material. Another thing I found helpful when sewing on the elastic was as I started sewing I grab the two thread tails and used that to help get everything moving. Also it's tricky maintaining stretch at the end of the elastic, pin that edge a little overhung to give it allowance to bounce back. I also used my machine with a stretch stitch rather then my overlocker to give a bit more control with the finicky bits.
What I liked most about making my Olivia was making a set that I was comfortable wearing and would fit my body.
I've worn my set to the beach and pool. It survived the surf and I had compliments from friends (they love the boy leg cut).
Aside from my lace and velvet set I have plans for a set in cotton lycra (for when it's too early to put on my pj's) and a pair of undies in a nude colour (no vpl and can be worn under lighter colours).
I wrote about the adjustments I made to make them safe to wear in public here:
https://katewillknit.blogspot.com
I'm on Facebook at www.facebook.com/katewillknit
And Instagram at www.instagram.com/katewillkn
---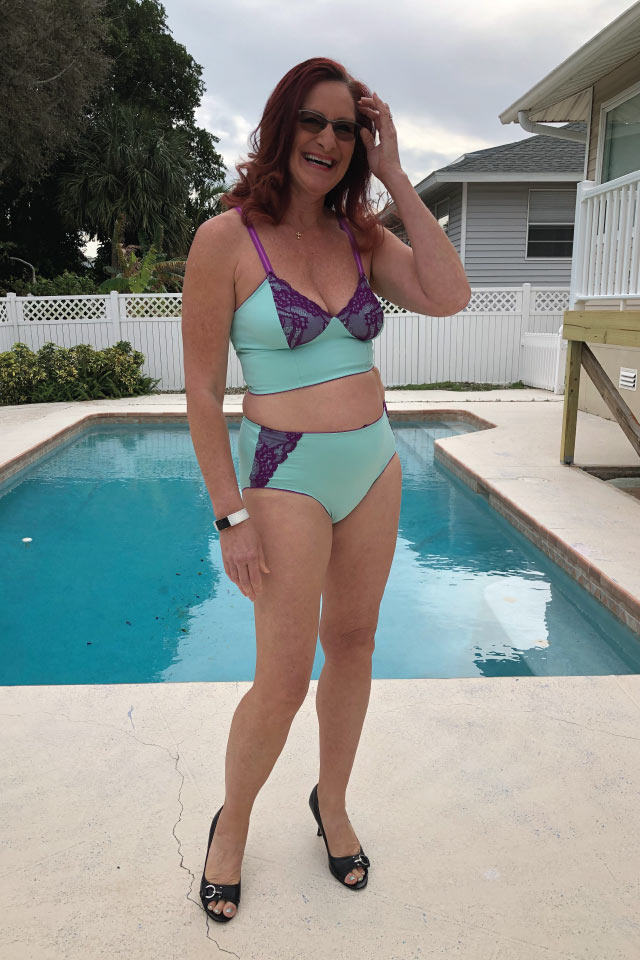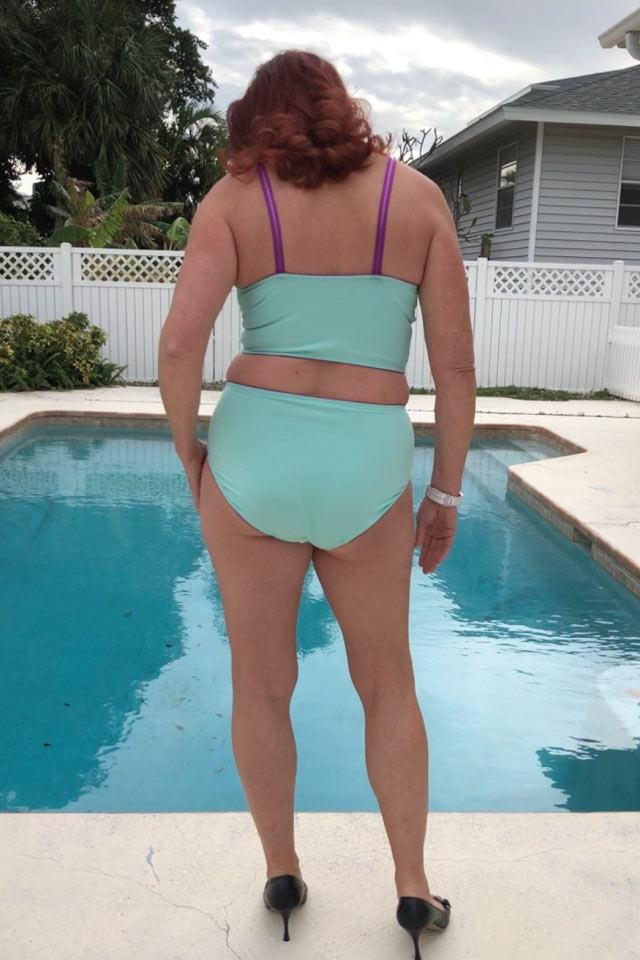 Hi! I'm Debora, and live in Florida, USA. I did the high leg front, mid-cheeky leg back on my Olivia panties. I also used the exposed elastic cut line at the waist to lower the height. I adjusted the princess curve on the bralette to fit the shape of my bust. I added stretch lace trim on an angle at the hip on the panties and to the center front cup pieces. I used circular knit, nylon spandex tricot, powernet, bra strapping, and stretch lace, all from Phee Fabrics. I really recommend sewing a muslin, and taking the time to perfect your fit. It helps you end up with well fitting garments. It was fun to personalize my Olivia set with colors and fabric I love, and being able to match the lace, double plush picot elastic, and bra strapping really gave it a well finished look! The Olivia set is comfortable, as well as sexy, so I kept it on after taking photos. My husband says that the panties look like something you would buy at a fancy store! I have hacked Olivia into a nightie, and will probably make it into swimwear as well! I blogged about fitting my Olivia at https://sewbeachlife.com/2020/01/24/oh-olivia/. It totally deserves to be shared on Instagram as well. https://www.instagram.com/sewbeachlife/
---
I'm Carmen and I live in Georgia. I chose the high briefs with a waistband instead of using fold over elastic for the waist because I thought it would be pretty. The fabric I chose was a burgundy and black burnout velvet which I found here. https://www.thefabclique.com/…/anastasia-on-burgundy…/ The fabric is quite see thru but hey it's lingerie so you can go all out. I used fold over elastic for the legs and the bralette. One tip I can give is to play around with different fabrics because you would be surprised at how many different ways you can style the Olivia. You can also use pre-made bra elastics with sparkly sliders like I did. And of course, the best part was seeing my husband's admiration for my finished project. He was quite pleased with the Olivia.
My next Olivia will be a total opposite of my final in a white base with seafoam green lace for the bralette cups. I can't wait to start on it!