Hello my gorgeous lovely sewist friends. Today I am so proud to highlight our lovely Kristin in our next installment of the series "Pattern Tester in the Spotlight".
Our posse of roadies are a cross section of various sizes, heights and boob projections – plus they come from all over the world which makes for a great and interesting pattern tester group.
Kristin has tested quite a few garments with us and she brings a very dedicated and professional approach to all that she does.
So without anymore rambling from me – I can talk the leg of an iron chair…lol…- so please my friends I would like you to give a great big shout out for our Kristin D (the above pic is her modelling the Remi Cami Top and Dress)
And let me just share with you all – when I receive Kristin's pics of her road tested garments I (always)  literally fall off my chair they are always so STUNNING !!! Love you my darling Kristin !!!!!
---
Name and where you live
Kristin Daley, I live in London, Ontario, Canada.This is our wee house – we love our neighbourhood – house are small but the lots are so big and full of beautiful trees. Normally the front garden is full of flowers but the frost killed everything last week.
A beautiful cantaloupe from our garden. Was delicious!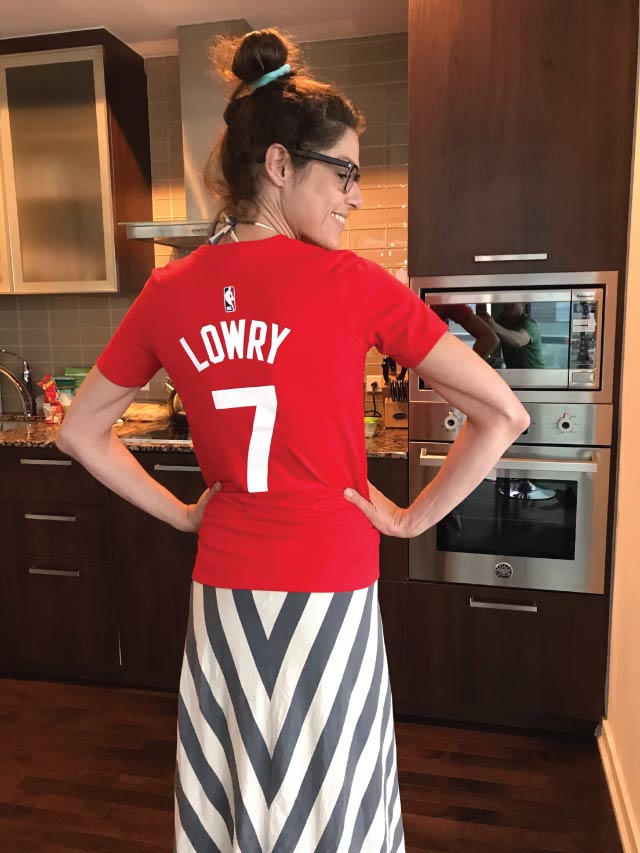 The pic is me in Toronto in my favourite Basketball players shirt – we love the Raptors!
And this is my daughter (Lyla) and husband (Mike) outside the Toronto Raptors Arena after they won the NBA championship.
My darling golden retriever, protector of all children and full of love. Her name is Dodie – my daughter named her when she was only 3. It stuck and it suits her so well.
TOOLS 
Favorite tool?
My favourite tool is definitely my bias tape makers!
What sewing tool couldn't you live without?
My seam ripper! It is always by my side.
Tell us about you sewing machines – how many do you have and what types ?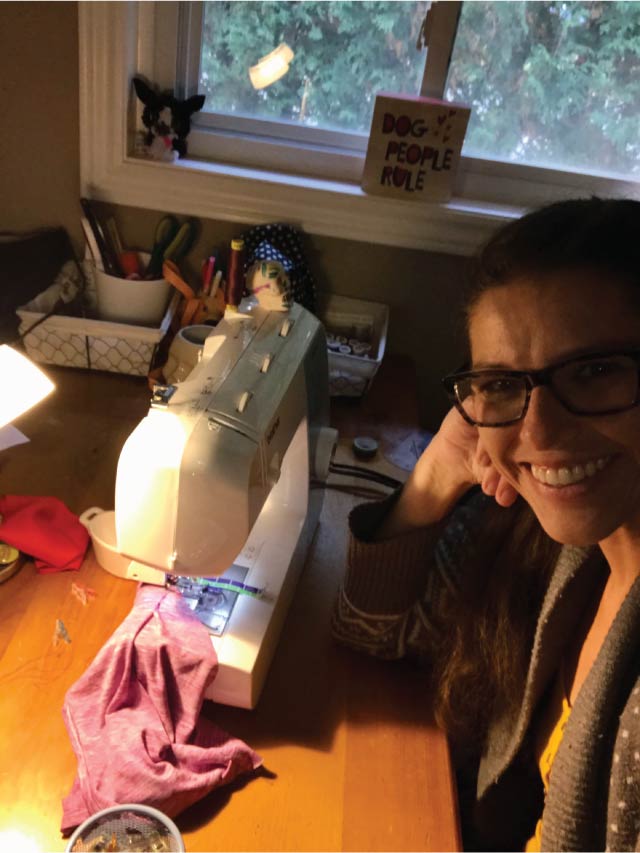 I have 3 sewing machines – a small newer Brother, a lovely PFAFF that was $25 at a garage sale and my gramma;s vintage Viking Machine. I also have a very old 3
thread serger from the dinosaur ages that weighs as much as my kitchen table – but I love it! (the pic is me at my sewing machine – in my happy place!)
SEWING
Who taught you to sew ?
I am self taught – just over 2 years. My mum helps me – usually when I'm having a meltdown.
Your motivation to sew?
I would see garments and bags so poorly made and think – I could do better than that! So I gave it go – turns out I love it!
What means sewing to you?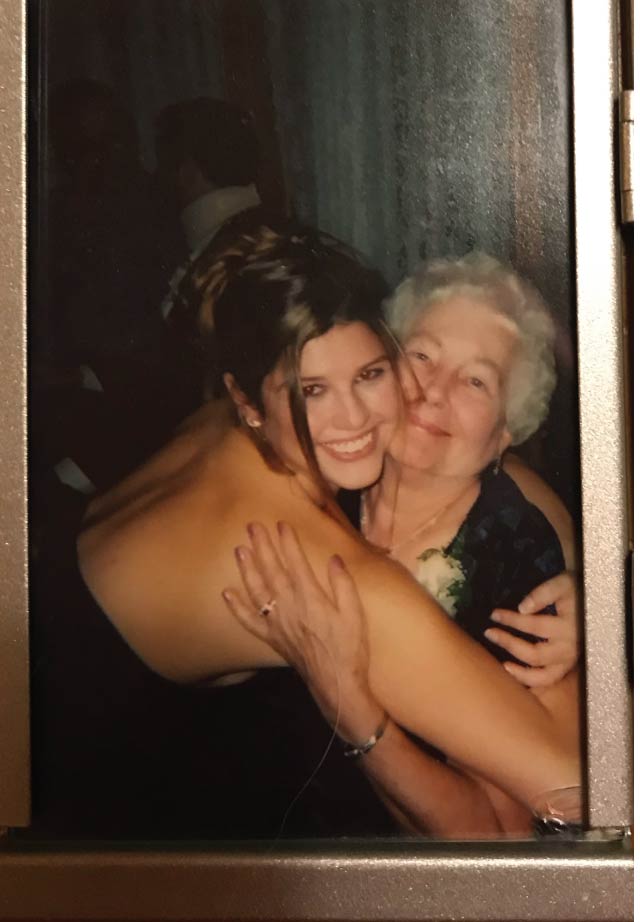 Sewing connects me to my late Gramma – although she wasn't alive to see me sew or my creations, sewing was a passion for her, and she lives on through me. Her
picture is always beside my machine. (the pic is of my Gramma and I 15 years ago. She lives on in me every time I sew.)
How did you develop your passion?
When I decided to learn to sew – I dove straight in. I continually challenge myself and my skills. I love learning new things – and there is so much to learn in the
sewing world!
Best sewing trick you've ever learned?
Using my flat iron to press collars, cuffs and any small items.
What is your most/least favorite thing about sewing?
My favorite thing about sewing is sitting at my machine with a pile of already cut and pinned items – and I can just sit and sew! The above pic is my sewing space!! Not much room in our house but we make it work. It is always a bit of a hot mess – we eat our meals at the bar area in the kitchen so at least I don't have to worry about food on my fabric 😳
My least favourite is definitely cutting fabric – especially when my golden retriever tries to help! This is my cute pup (Dodie) lying on the Callie pattern piece!
Who do you sew for?
I sew for myself, my husband and daughter – and my extended family. I occasionally sell items at outdoor markets. This is Lyla and on on our way to see the Lion King in Toronto (wearing my Donelle!)
Favorite sew?
My favorite thing to sew is underwear for my family! They are quick, fun and everyone adores them!
What are your top sewing tips?
BASTING! It has saved me so much time.
Reading ALL the instructions before I even touch my fabric.
You can never measure too much.
Silliest sewing mistake?
I have sewn handles inside the lining and main fabric before.
Marking and sewing darts on the right side of the fabric (embarrassed to say more than once!)
PICTURES AND STYLING
Who takes your pictures?
My lovely, patient husband (this pic is of my handsome hubby and patient photographer at Caribana (Caribbean festival in Toronto in August)
What are your tips for getting excellent photos?
From the model (me)
Turn on some music and have fun!
Make sure you are comfortable in your shoes and garment – style it how you would wear it everyday. Don't wear something for pictures you would never wear in real
life – you wont feel comfortable and it will show.
From the photographer (My husband)
-background should be interesting but not busy or cluttered
-slightly underexpose photos
-take natural photos of your model rather than rigidly posed
FABRIC
Favorite place to buy supplies?
I love to buy supplies and fabrics at my local stores – I don't order online very frequently because I need to feel the fabrics, I'm so fussy about how fabric feels.
How do you keep track of your stash?
Currently it is in stackable bins sorted by type and size – I don't have much of a stash as I have very limited storage space!
ROAD TESTING?
Who do you test for ?
Currently I test for Designer Stitch and Halla
What drives you to keep on testing patterns?
I LOVE learning new things – and challenging myself with sewing. It is a great experience to work and learn from the designers and also fellow testers.
How long have you been testing for?
Just over a year
What would you say to someone who is just starting to pattern test?
Apply for every open call that you can, be open to anything! Make sure to meet the deadlines and listen to what the designer is asking. And have fun with the other
testers – there is so much to learn from each other.
GARMENTS
Most worn item?
Honestly, pajamas!
How much do you wear the stuff you make?
Everyday!!
RANDOM FACTS
Favorite color?
Bright orange!
Name a non-sewing related hobby?
We have a fabulous vegetable garden and spend so much time in the fall canning tomatoes, sauces and jam. (Most recent batch of homemade tomato sauce. )
What is your favorite drink?
Coffee!!!!
Besides sewing, what do you love to do?
Spend time at the family cabin in the summer, and generally hide and hibernate from the snow in the winter!
The above pics are of the glorious summer cabin and Me and my sweet pup crammed in a kayak at the cabin. You can see I have the Olympic style posture 😂😂
Do you watch/listen to anything while you sew?
I am always listening to music – while I sew or do anything else! Spotify is the most used app on my phone! I am huge fan of SOCA (soul of calypso) – nothing like sweet island music