Hello and welcome to the second in a series of posts featuring all of my AMAZING…yes I am SHOUTING… pattern road testers. Each time a new pattern is released it goes through a good "seagull" by my fabulous group of pattern testers. What do I mean by "seagull" – when a pattern is sent to my tester group it is a final pattern – as in the design, style, pattern and grade is set in concrete.
I have fine tuned my pattern over many samples before it gets to the tester stage and very rarely – once in fact over 30 patterns – is anything changed. My tester posse looks for any typos and anything that is unclear to them.
So everyone welcome xx to my interview with Synthia who shares her sewing life with you all. Synthia is a professional tester and also a professional sew'ist in her own right (the pic is her modelling the Eden Jumpsuit). Love you Synthia xx
TOOLS.
My favorite sewing tool, well I don't just have one because sewing involves many tools. I love a great pair of scissors and I have many because scissors just don't stay sharp enough for me. I find that buying a pair of scissors is cheaper than having them professionally sharpened, (I was quoted $25.00). I also can't be without seam rippers. So for both of these tools, I am always on the hunt for a pair of scissors and seam rippers that will stay sharp the longest. I need this for my bad hand. I own Kai, Gingher, etc.
SEWING MACHINES.
Currently, I have a cheap Walmart brother that I use for sewing knits, it is a pain to sew with. I have the Juki2010Q for sewing woven garments, quilts, and light bags, I love this sewing machine. I have two sergers, a Singer professional serger which only worked two months for me. I also have a Husqvarna Huskylock 910, neither one is in working at the moment. Then I have a Husqvarna Designer I, that I have had for 20 years, not working, lol. I have a Janome and others that don't work. I guess I sew so much and probably I am hard on my sewing machines.
SEWING.
I used to live with my maternal grandmother and I would always sit next to her and watch her sew quilts by hand from old cloths, and I would watch her crochet. While I watched my grandmother sew quilts and crochet, I began to crochet and to sew my cloths by hand, I used her old dresses for fabric. I used to sew by hand what the girls would wear to school for the era, and I would copy their dresses.
I would love to say I had a happy childhood, but I can't. I learned through sewing I could escape the childhood abuse I was going through, not by the hands of my grandmother, she was my savior.
My passion for sewing grew out of necessity and discovering I was good at something and it brought joy to my soul. It wasn't until I was in Jr. High that I learned to use a sewing machine.
Once I had my own children, I sewed for them, I sewed for others who needed prom dresses, sweet 15 dresses, wedding dresses, but never for myself. It wasn't until six years ago that I began to sew for myself. I learned to sew with knit fabric too and loved it.
I began to test patterns for designers 6 years ago and have learned so much more, and still learning.
FAVORITE SEWING TRICK.
My favorite trick learned was sewing elastic inside the lining of the waistband on knit fabric, this way no seams are shown on the outer fabric and no gathers are shown either from the elastic.
PICTURES OF MY SEWING ROOM.
Hmmm, well I sew out of my living room and it is a tad bit cluttered. What makes sewing very challenging for me today, is that I sew with my good left hand and my right thumb, the rest of my right hand is closed.
I went through a bi-lateral carpal tunnel operation to my right hand in 2005 and the operation went bad, causing nerve damage. So sewing does not come easy to me, but I love sewing so much that I will find a way to keep going. Back issues are also a struggle for me, but I just won't stop.
WHAT I LOVE TO SEW.
I love to sew garments, bags, and quilting. I love to draw a design, then do sewing machine embroidery onto the fabric, creating a quilt with the combination of the three. I made my grandson who has an obsession with Mario, made him a Mario quilt from my drawing.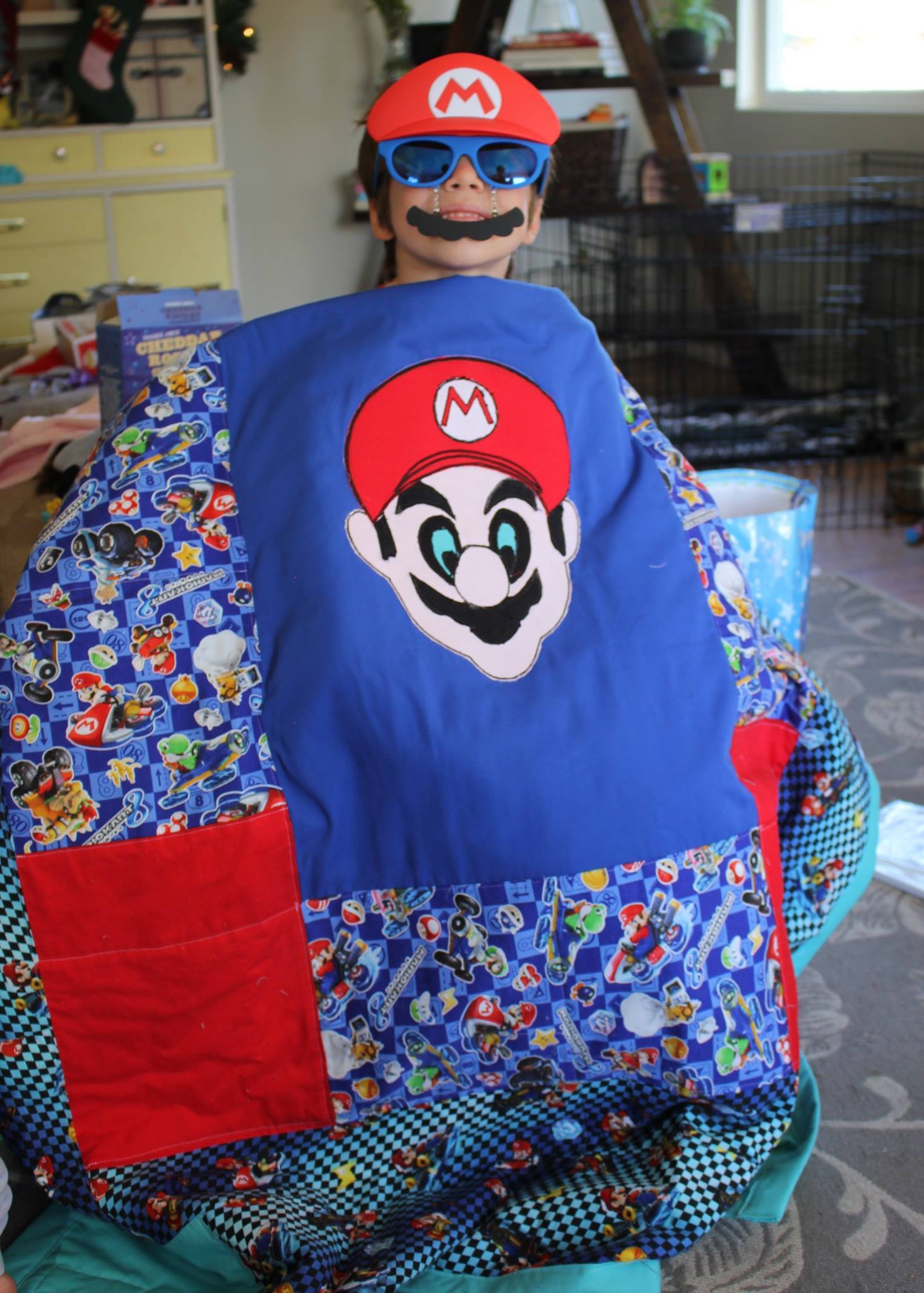 Sewing keeps me going, it brings such joy and happiness to see that I can give of myself to others by sharing my creative self.
I have three-lifetime sewing experiences thus far that I will always remember. I sewed a beautiful ball gown for a girl who turned 16 – A sweet 16 ball gown out of lace and satin, with hundreds of rhinestones and beading throughout the dress, one of my most memorable sews. She gave me a 3″ square drawing of what she wanted, I went from there.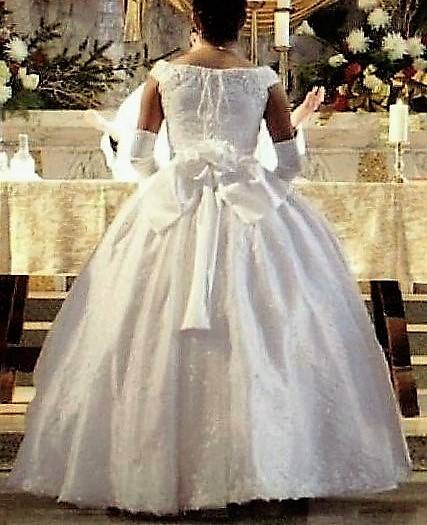 I sewed my son's Navajo wedding vest and his then bride's Navajo wedding gown. My son's Navajo vest was made from Pendelton wool fabric I bought from the Pendelton outlet in Cottonwood, Ca.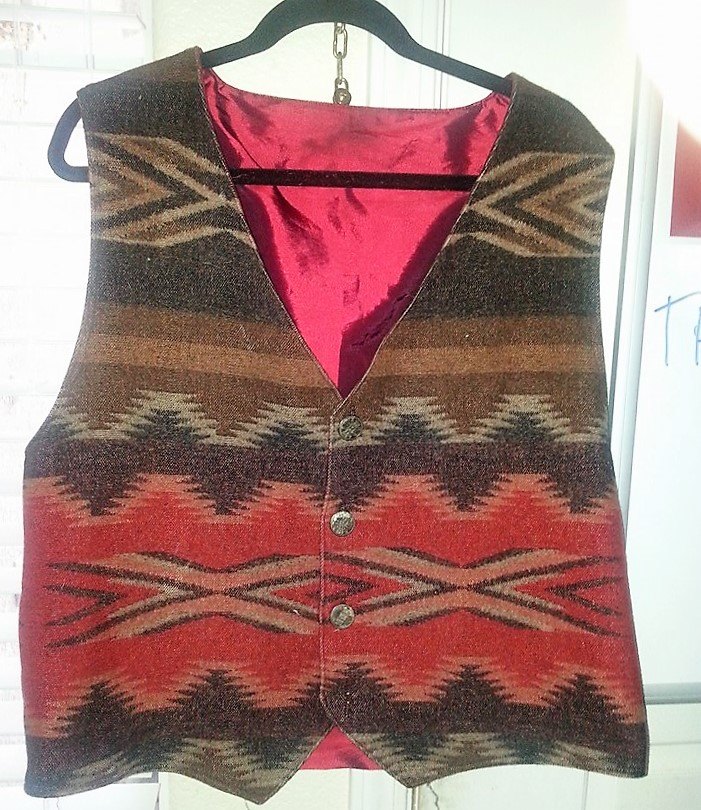 But my most rewarding and challenging of all was being a part of the Vintage Made Magazine and sewing garments in hopes of my sewn garment making the magazine. I loved the challenge of participating and seeing myself in the magazine with what I created, it was so uplifting and an encouragement to continue sewing.
This is a Designer Stitch Vintage Made dress I made, which was in the Vintage Made Magazine, along with other sewists. All the dresses were beautiful.
Last two years I challenged myself even further when asked by a salsa dance team to create their customs. I was shown pictures of what they wanted in their customs, unsure and nervous, I took the task on.
I am very pleased with the results (no patterns were used) either time. To see the team happy to wear their customs, I was happy I challenged myself and pushed myself further in my sewing.
First-year I sewed dance jackets and the second year I sewed salsa dance dresses.
MISTAKES.
Well, I make a lot of mistakes throughout my sewing years, but can't remember off hand because, well because I've make a few.
I am thankful for my friend who loves to seam rip the stitches out, "he's" good at it too, doesn't make too many "mulligens", his term of unwanted holes, lol.
TIPS.
Well, #1 is to iron as you go along in sewing your items, to give whatever you make a professional look vs the hand made look.
Tip #2, use pins, lots of pins to hold fabric pieces together as you sew. The sewing clips have their use at the right time, for me I use the clips when sewing bags.
Tip #3, for knit fabrics, I always sew a strip of clear elastic in the back shoulder seam for the stability of the knit fabric.
Tip #4, read, read, and read the instructions of any pattern, no skipping steps to rush or get ahead, prevents needless mistakes in the long run.
Tip #5, and most important, sew a muslin to get the right fit of your garment.
ADMIRERS.
My sewing admirers are just about everyone I know. I receive so many compliments from many and from recipients of my sewn gifts, well I love to see their faces when they do receive a sewn gift from me.
FAMILY SEWISTS ?
In all my many family members, I don't know of anyone else that is a sewist. I am hopeful one of my daughters will someday pick it up and stick to it.
One of my daughters did ask me to teach her to sew/ We worked on her first project, a pillow, then a jean skirt.
She then went on to sewing craft items and baby quilts. I also taught her to crochet.
PICTURES AND STYLING.
I continue to sew and test garments for various designers. I try to style the garment as best as I know how to.
When I sew a style, and because I am a salsa dancer, I always have salsa dancing in my mind and will make sure I can wear a garment I sew to dance.
One of my favorite salsa dancing outfits is the Designer Stitch Kat Top in a lace overlay, and the Carmen Skirt.
My best friend has always supported my sewing and has always enjoyed taking pictures of my finished garments.
There are times when I need to take my own pictures, but it's always best when you have a photographer taking your pics.
I live in a small town and there are very few places to go take pics.
My backyard is not landscaped, so when I am able to I will drive out of town to find nice locations for pictures.
My favorite place for pictures is in Monterey, Ca, but that's a 1 1/2 hour drive, so it's not done often there.
FABRIC.
I source my fabric from various suppliers and depending on the garment needed to be sewn.
For muslin sewing, I will go to Walmart because I can find muslin fabric for as little as $1.00 a yard. Other than Walmart, I will shop at Joann's, but will only buy on sale or with coupons.
I also shop on Ebay, I use sellers that I have trusted many times with fabric purchases. I am a little leary of buying fabric online because I just don't know the quality of fabric I will receive. I have to have good experiences from known online fabric sellers. I have been unsatisfied from various online sellers, often times the fabric that I receive I end up using it for lining due to poor quality and will never purchase from them again.
I do have a big fabric stash, making it difficult to remember who I purchased from, lol. I also have a hard time throwing away leftover fabric, especially knit fabric because I find myself going through my leftover fabric for knit neck or armbands, socks, scraps big enough to use as a contrast fabric, hats, even underwear.
Another supplier I use for zippers for my bag making and thread is Wawak online. I love using Guterman thread, will never change to anything else.
So as of today, I will continue to sew and test pdf patterns. As long as my family loves my sewn gifts, as long as my friend enjoys a sewn garment now and then, as long as various PDF Designers will have me to test, I will continue to sew for family and for myself.
I will never go into business to sew for others, I don't find the joy in it, I feel undervalued and unappreciated when I do.
DESIGNERS.
There are a few PDF Designers that I would like to thank for their belief in me, trusting in me that I can do a good enough job testing their patterns, to be fair I won't list any names, if I continue to test for you after many years, you know who you are.
Thank you so much Ann Grose for being a great Designer, knowing what you want in your garments and testers, for naming a pattern after me (nice), the Synthia Blouse, and for you just being awesome.
One of my favorites shown, the Synthia Blouse by Designer Stitch.
Hope it didn't seem like I am too into myself, lol. I just feel very proud that having sewn for many decades, being self-taught, going through life's situations, and that I still have the passion for sewing.
Sewing to me is my therapeutic medicine. I am very proud to still be able to sew and share. God willing, I pray to have many more years to come of sewing and sharing.
Synthia Lee Gerritson