Hello and thanks for visiting us here at the Designer Stitch PDF patterns community.
What a busy time it has been. For the entire month of June we celebrated our 1st birthday with lots of giveaways plus the Ella Cami Combo pattern was released as a celebration of this milestone. If you join the Designer Stitch Pattern Support group here you can obtain a special coupon code which would make it a free gift for you !!!
But the gorgeous patterns from Designer Stitch just keep coming. Let me introduce you to the Ravanna and those wonderful and gorgeous sew'ists who are members of the Designer Stitch Pattern Team.
The Ravanna wrap pants are a faux wrap and offer a choice of 2 fashionable silhouettes along with 2 differing fit structures.
Suitable for use with light to medium weight fabrics the pant offers a semi-fitted body shape version or opt for the relaxed easy wear elastic waist fit.

The Ravanna Wrap Pants are on sale for US $8 and all the details of this sensational PDF pattern can be found here –
https://designerstitch.com/shop/ravanna-wrap-pants/
As part of this blog tester round-up I asked my lovely ladies if they could share with you all –
1. The type of fabric used to make their Ravannas.
2. What was the most tricky part they encountered while sewing this fabric.
3. And what version of the Ravanna did you make and why…
So without further ado – tadah !!!! – here are my beautiful women. xx
Cheerio. Ann at Designer Stitch. xx
---
Diane Cullum
1. Cotton lawn
2. It unraveled when I had to pick out stitches.
3. Elastic waistband since I needed to sew fast before vacation and straight legs since my fabric was a border print that I
didn't think would look right on a curve.
IG Diane Cullum @ TwoChicklets
https://www.etsy.com/shop/TwoChicklets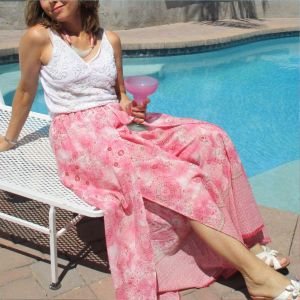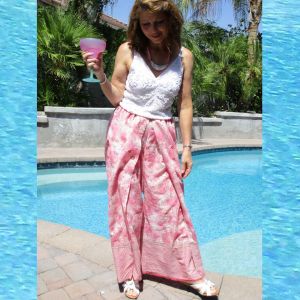 ---
Ilse Lemmens.
1. I used a very soft poly-silk blend. I choose this one because it's a very flowy fabric and I like the color! Why did I
choose an elastic waist?
2. The only reason is that my vacation was coming near. There wasn't a tricky part. But the hemming of the curved
sides from the Tulip was a bit time consuming.
3. And I choose the tulip because it is playful, and rounded shapes are more cosy for me (hahaha) and I think it
was more suited for my 3/4 length.
My Instagram is 'sewsewilse'
and my blog: https://sewsewilse.wordpress.com/2017/07/17/designer-stitch-ravanna-wrap-pants/
---
Synthia Lee Gerritson.
1. I made the fitted tulip version. I used pant weight fabric with some type of Rayon poly blend, with a silky feel to it.
2. The trickiest part of using this fabric was that it would ravel very easy and I struggled to get the darts to set in,
even with heat, I also had to use french seams.
3. For the pattern itself, once I found the right fit for me, the pant became a stylish pant to wear for an evening out,
which was my goal.
Ravana paired with the Eleni top, It gives me that Bohemian stylish look that I love. http://sewsynsewn.blogspot.com
---
Kate Williams.
1. For my Ravannas I used a rayon print. I found it at Spotlight and according to the selvedge it's a folk print. It was hard
choosing what print to use, as there are heaps of gorgeous rayons out at the moment. I love using rayon for it's drape,
and slight sheen. It feels just a bit more special than standard cotton fabrics, but doesn't feel synthetic against my skin,
and is nice a breathable in warm weather.
2. The trickiest part of the pattern was hemming the tulip edges without warping the fabric – stretching it across the bias.
Despite my efforts, there's still a bit of a wave there, but hopefully it will relax a little over time. I often struggle with
hemming, I know I should take my time, but I'm so eager to get it done and try out my new clothes.
3. I made the fitted version of the Ravanna pants. Partly because my stash of elastic is running low. But mostly because
I wanted a nice line and drape over my hips. I have a pear shape, so generally don't go for extra fabric in that region.
For my pants I went up a size from the waist to the hips (based on my measurements), and the fit across the hips is
just beautiful. I'm glad I went for the fitted version.
https://katewillknit.blogspot.com.au        https://www.facebook.com/katewillknit/
https://www.facebook.com/katewillknit/
---
Tenille Brien.
1. I used a printed rayon, I'm really loving rayon at the moment because it's lovely and flowy, but easy care
(it can be tumble dried 😁).
2. It can be a bit tricky to do small folds (like at the waistband) because it does tend to fray a bit, I found that
if I overlocked the edges first it tended to 'behave' a little better.
3. I made the straight leg, elastic waist version, straight leg because the tulip shape seems a bit summery,
and I wasn't 100% sure of the length – and I was able to adjust the length with this pair. I went with the elastic
waist just because they are so comfortable – just like wearing pyjamas!
http://www.tenille.brien.com.au
---
An Staute.
1. My border print is actually a knit but without any stretch whatsoever. I have no clue what this mysterious stuff is :p
2. This fabric was sliding pretty annoyingly! I conquered it tho!
3. Elastic waistband, my tummy sadly doesn't do fitted 🙁
---
Aimee Wilson.
1. I used a poly satin.
2. It wanted to shift.
3. I made the elastic waistband (I can't have fitted on my abdomen for medical reasons) and did the straight hem so
that I could shorten easily if I didn't remove enough length to begin with.
Instagram.com/sewingscientist
Twitter.com/sewingscientist
http://www.facebook.com/capturecraftcook
http://capturecraftcook.blogspot.com
---
Toni Hill.
1. I used printed rayon.
2. I always find cutting it is the hardest part!
3. I made the elastic waist for comfortable every day wear.