Hello again and welcome to part 2 of the Ravanna Round Up.
I hope you loved reading Part 1 of the Ravanna Round Up and the details that the wonderful sew'ists shared with you regarding their own Ravanna make experience.
Today we have the second installment and again the tester group was so generous with their efforts to take time to answer my questions – I am sure I annoy them sometimes with – "can you"…"can I ask"…lol…
The Ravanna Wrap Pants are on sale for US $8 and all the details of this sensational PDF pattern can be found here –
https://designerstitch.com/shop/ravanna-wrap-pants/
Recapping on the questions that I asked them are :
1. The type of fabric used to make their Ravannas.
2. What was the most tricky part they encountered while sewing this fabric.
3. And what version of the Ravanna did you make and why…
So drum roll please….here are the second group of the most AMAZING women !!!!
Cheerio. Ann at Designer Stitch. xx
---
Casey-Marie Bray.
1. For my photographed version I used a poly cotton blend. It was super easy to work with.
2. I started with a slippery poly blend but accidentally cut two of the same back piece instead of mirrored!
3. As my fabric had a denim look to it I wanted something a little formal so I went with the fitted and straight leg version. www.facebook.com/lioncubcouture
---
Camelia de Bruin.
1. I made the elastic waist in a rayon/ cotton and there was really nothing difficult. The pattern has great instructions and paired with this easy to sew fabric it took a short time to put everything together. This version is more casual and of course very comfy to wear
2. The fitted waist version is made in a polyester crêpe, with great drape and I just love the color. Hemming was a bit challenging, but with a bit of patience it is done. This drapey fabric is perfect for this pattern.
 https://www.instagram.com/calcedoniasewing/
---
Meghan Cunha.
1. For my first Ravanna, I used a shimmery polyester crepe. It has a nice weight amd feel to it.
2. The hardest part of working with this fabric was that it didn't take a pressing too well. So those curved hems required a lot of pinning!
3. For this fabric, I decided to make the fitted pant with curved tulip hem.
For my second Ravanna, well, I'm not actually sure what the fabric is! I don't doubt that it is also a polyester or other synthetic fiber. This fabric was actually very nice to work with! It is light and soft, but not too light like chiffon, and it held a press very well. The only issue I encountered was a bit of fraying but I have seem worse! For this Ravanna I also made the fitted pant, but with the straight hem. I also added extra lengths at the ends of the waistband – and finished using the same instructions as for the longer overlapping part of the waistband – to create ties that wrap from the back to the front.
www.facebook.com/mtchandbags
---
Kiran Grewal.
1. When I saw the pattern for Ravanna, I knew I wanted something floral. I envisioned it to be a pair of pants I'd wear to the beach or to a casual hangout. So I went out hunting and this poly chiffon really spoke to me. And I must say, I'm pretty pleased with the result.
2. Sewing up these pants were a breeze. Honestly, for me, the most difficult part was deciding which fabric to buy ??
3. I sewed up the elasticised waist, curved front, full length. The fit is spot on and needless to say, Ann's patterns are always a perfect fit.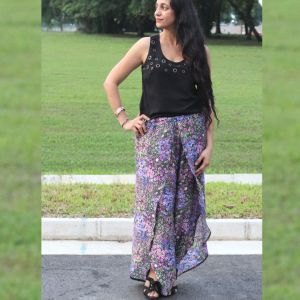 ---
Gabz Jefferson.
1. I used slightly silky fabric.
2. The tricky part I encountered sewing my Ravanna was invisible zipper..
3. I am a big fan of fitted clothes that is why I chose the fitted version.
Blog: https://itsewcolorful.wordpress.com
Ig: www.instagram.com/itsewcolorful
---
Ana Inês Barros.
1. I don't now how you call this fabric but here we call it crepe.
2. The worst has really hem all that fabric around 🙂 but then the iron fixed it all in the end.
3. I made the elasticized waist version.
My facebook page is Ponto no i and my web page is http://pontonoi.pt/galeria/pattern-by-choice/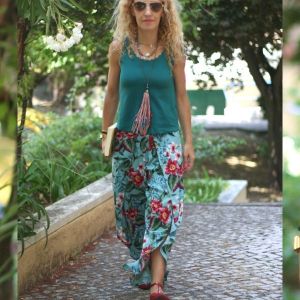 ---
Shalini Tahiliani.
1. I used peachskin. It was a dream to sew up.
2. The trickiest thing was narrow hemming the top but I used a narrow hem foot that helped.
3. I made the fitted straight leg version because I love that it looks like a skirt. Fitted waistband cuts down on any bulk at the waist.
I blog at http://cropaway.blogspot.com
---
Rachel Maxwell.
1. For my elastic waist version, I used a rayon and did a straight leg because I envisioned them to be quite relaxed, perfect for beach strolls and cocktails on summer nights.
2. The trickiest part was dealing with the slipperiness of the fabric during the cutting stage.
3. My fitted pair were made from a crepe type material and in a tulip leg. The tulip leg seemed a little more dressier, perfect for date night, business events and drinks in the city. The trickiest part was doing the waistband, only due to the narrowness.
My instagram account is rmaxwell86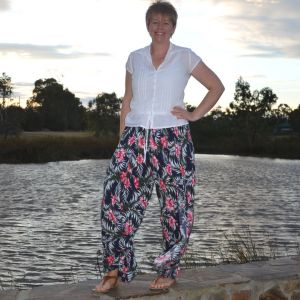 ---
Leah Mask.
1. I used a nice quality linen that I loved working with.
2. Pretty easy to work with as it is pretty firm hand.
3. I made the straight or weekday version the waistband because it worked best with the fabric and became I wanted something a bit more structured looking.
I can be found posting about sewing at www.lovelyforlife1.com and on Instagram @lovelyforlife1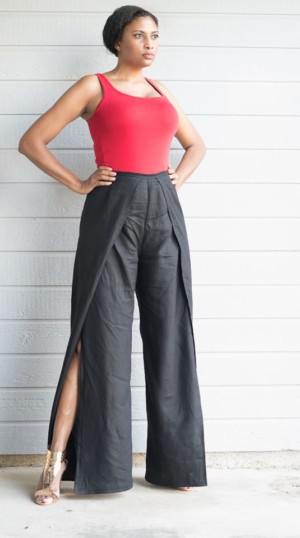 ---
Gina Orner.
1. I went with a poly spandex crepe like fabric. It had a nice drape, wasn't too thin and look perfect for a casual or dressy look.
2. The trickiest part for me had nothing to do with instruction but I had never used an invisible zipper before and now want to build that skill.
3. I went with the fitted for less bulk in the waistline but also plan to try an elastic band pair as well. And I went with the tulip leg because I love the look. I love these pants!! The are so perfect for summer!