---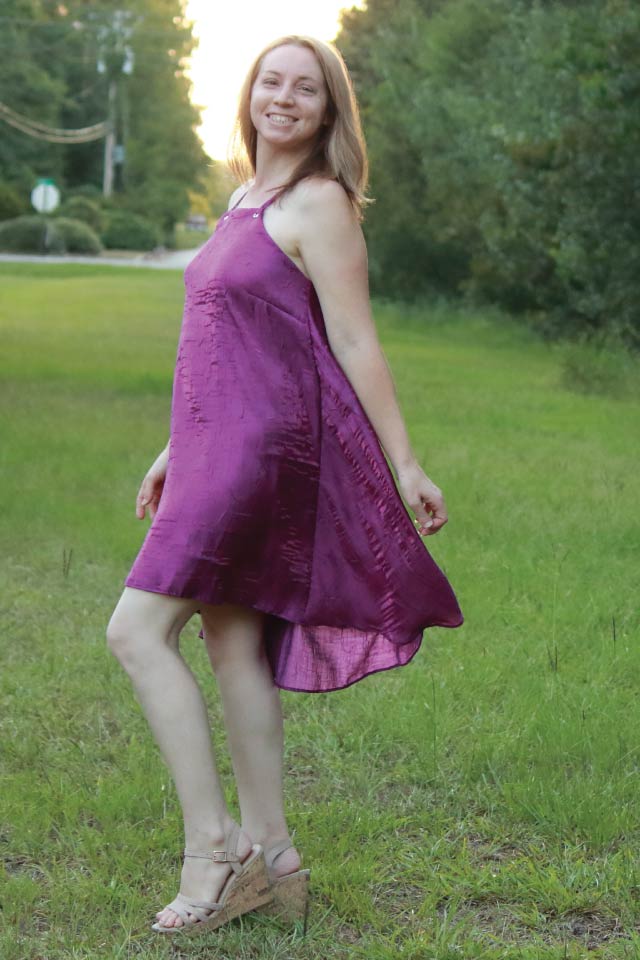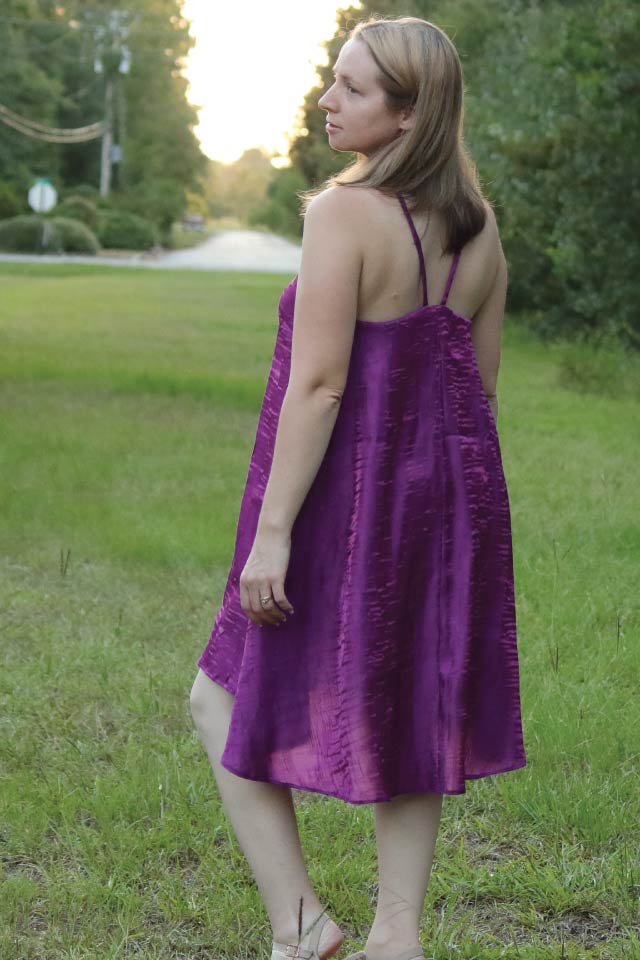 Hi, I'm Carmen from Georgia, U.S.A! I chose the above knee length because it's so hot here and I love showing off some leg when I can. The fabric I chose for the Remi was a crinkle satin from Joann's. I had this fabric in my stash for a few years so when I saw it again it was like seeing it for the first time. The little bit of shine throughout the fabric added to it's charm. I found the dress easy to make but the grommets were a little different. I cannot stress enough the need to mark where you will put them before cutting the holes. Don't ask me how I know. Lol The Remi is versatile and eye catching. My family are real fans of Remi but I have not wore it out.
You can find my blog at https://happilysewnafter.wordpress.com
---
Hi! I'm Claire and I live in Central Texas.
I made a cami length version because I am always looking for more flattering tops to wear with shorts that cover and flow in the stomach area. This fits the bill by being long enough to cover the waist of my shorts and drape and flow away from my stomach. I hate tight things on my tummy!
I purchased a poly fabric from hobby lobby but can't remember what exactly! It was very flowy and light.
Be sure to read all the way through instructions before starting. Interface the fabric then cut your facings so they don't shrink. Go slow and you will love the result, worth the extra time for professional finishes.
How easy it comes together and amazing it makes me feel wearing it!
I have and everyone is always so amazed I made it! the
The hubby gave me big compliments ❤️
I love wearing this one with flip flops and white denim shorts. Can't wait to make a dress length so I can wear it out and about with my hubby!
https://www.facebook.com/groups/landonsbritches/
https://www.facebook.com/LandonsBritches/
---
Hi I am Jennie L, and I live in Las Vegas in the USA. I made the above knee Remi, because I love how that length shows off the beautiful high-low effect of the dress. I used a purple Rayon challis from Fabric Wholesale Direct. This is an easy pattern to sew, and don't be intimidated by the grommets. With the right tools, they are easy to install! A grommet press is a great addition to your sewing room. My favorite thing about the Remi, is that my daughters loved it so much. In fact, my 16 year old claimed it as her own as soon as she saw me in it. I think that the Remi pattern is a perfect example of a pattern that can go from casual to fancy depending on the accessories and shoes you choose. My daughter will probably go more casual, with sandals and maybe some simple earrings and a bracelet. I blog at www.stitchedbyjennie.com and I can be found on Instagram at www.instagram.com/stitchedbyjennie
---
1. Hi Jess here, I live in St. Louis Mo. USA
2. I did a knee length Remi perfect for summertime and easy to pair with leggings.
3. I used a silky polyester. I have been stashing some Nicole Miller line from Joanns a couple years ago. Worked beautifully!
4. You will most likely be using thin, soft and silky fabric. Take your time, dont worry it's still a fast sew!
5. My favorite thing about making the Remi is how fast it was to make!
6. Yes I have worn it out and my friends LOVED it! They said it was beautiful!
7. I styled my Remi with a slight edge. I was the black sheep and styled with a lace bralette along with some black capri leggings. Paired with my fav sandals. One of my favorite outfits hands down!
8. www.instagram.com/sewjessdesigns
Thank you so much for the opportunity to test 😘😘
---
1. Kendel I live in Medford Oregon
2. Cami as i have made a ton of dresses this year and have very few places ti wear them.
3. I used a rayon blend from Joanns
4. Read the instructions first. I get ahead of myself sometimes and end up seem ripping. But reading the instructions before starting really helps me stay on track
5. How fast it was!
6. My mother asked me ti make her one.
7. Shorts and sandals or skinny jeans and heels.
IG https://www.instagram.com/pleatsandcurls/
---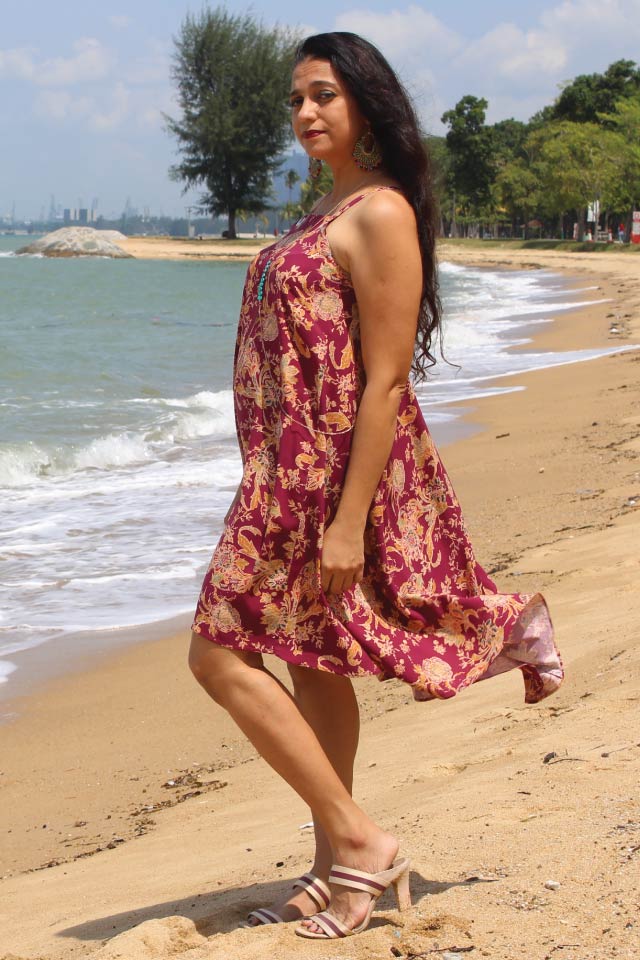 Hi there, I'm Kiran from Singapore. I adore my Remi dress. I chose the knee length and i was so pleased with my choice of doing the grommet function. My dress is super floaty because of my choice of rayon. I bought it from Spotlight in Singapore.
My sewing tip, don't forget to clip the curves and use a loop turner. Its indispensable.
My favourite thing about sewing the Remi is that it gives beautiful results in minimal time. And trust me, you will get compliments galore! I have chosen a sexy clasp back necklace and ethnic earrings for my styling options. But honestly, the Remi is so pretty, you could swing it with no accessories at all.
Check out my sewing adventures at https:/www.instagram.com/gloopygoo
---
I'm Kristin, from London, Ontario, Canada 🇨🇦. My choice for the Remi was the above knee length, as it is sweltering hot here and I needed a light, cool dress. I used a lovely georgette fabric from my local fabric shop. I found it was helpful to practice placing and installing the grommets on some test fabric before I moved on to the dress – and use loads of pins! My favourite thing about making the Remi was perfecting my grommet skills – and it is such a fun and quick sew. I wore my dress to a summer party and everyone loved it! Some had a hard time believing it was handmade. My Remi was styled with my tallest stilettos – and that's it! This dress needs no other styling – it speaks for itself.
The Remi is my absolute dream dress – I feel like a model when I wear it. Thank you Ann, for such an amazing pattern ♥️
---
Mariz, living in Rotterdam, The netherlands. Gymowner and powerlifter by night, sewist at Little red by later at night. I used a washed cotton for my first one, and a viscose for the second. Cotton was from Driessenstoffen.nl. Viscose was from De Stoffenkraam. I wore my Remi top with my summer essential, my black denim cuttoffs and chucks. Its flowiness suprised some people, but it is still me, i used wild fabric and not so bright colours. It is so fresh on the body and you still look put together. I love the grommets as well. I love everything with french seams, so if you never made them, this is your change!
IG is https://www.instagram.com/mariz_666/,
FB is https://www.facebook.com/mariz.voesenek,
fb page https://www.facebook.com/littleredrotterdam/
---
Hi Melissa here from Southern Colorado!
I originally chose the midi length Remi because my daughter thought that was the length that she'd enjoy, however in the process of making and fitting we discovered that the shorter knee length was so much more flattering on her. We did grade the dressy black from the knee length in the front all the way to the midi length in the back. Just for a little extra drama in the sheer fabric!
We chose to sew both a very dressy and a daytime casual just for fun. The casual dress is made from a light weight embroidered rayon and the dressy was created from a sheer mesh with a little shadow stripe woven into it. Both were in my stash, the black has been used every Halloween since Olivia was 9, she's almost 23.
The Remi is indeed a speedy simple sew, however it proved to be just a little tricky to fit her full bust. Take your time with the lovely bias cut back and it will reward you with floating fullness that is a joy to wear!
My very favorite thing about creating these garments is the final product, yes they were fun and an easy sew but the dramatic results are astounding!
Upon wearing this lovely wisps of dresses, people are just amazed that they were created just for Olivia!! Isn't it fun to be told, "gosh I Wish I had a mom who would sew for me!"
Liv's casual dress is simply styled with tan heeled summer sandals and earrings.
Her black evening dress, she is wearing fur pom pom earrings and simple black stilettos with peak a boo arch. The dress is completely sheer so she opted to wear a strapless body-con slip.
https://www.facebook.com/Melissa.deeg.3
Have fun adding this lovely to your wardrobe!!!
---
Hi, I am Synthia, I live in Central California, U.S.A. I love wearing long dresses, so I choose to make the midi length. I used rayon fabric, source unknown. I enjoyed how simplified the Remi is, but yet with a classic look. I also choose to use a double strap. Tip or advice, just follow the instructions step by step and iron as you sew along. I also like to zig-zag the edge of my hem then hem, makes it easier to hem circle style dresses when not using a serger. Love the Remi, thanks Ann Grose. https://sewsynsewn.blogspot.com