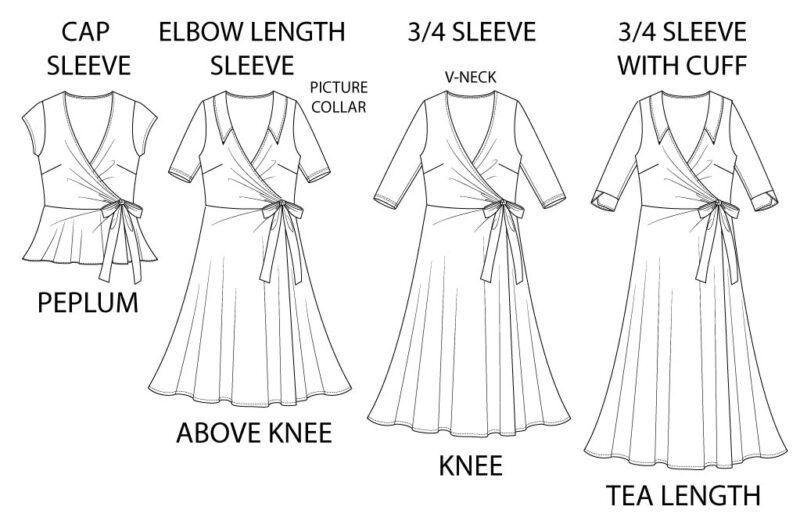 And another big SHOUTOUT from here in Australia my lovely sewing friends- and welcome to Part 2 of the amazing Shardee Wrap Top and Dress Pattern Tester Roundup Part 2.
Our Shardee Wrap Top and Dress roadies roundup – Part 2 – is a carry over from yesterdays post – the Shardee Wrap Top and Dress Pattern Tester Roundup Part 1.
The Shardee offers an inclusive multi size range – along with cup size choices – and plenty of styling options.
Fabulous fit, fabulous styling equates to a fabulous YOU.
The Shardee exudes effortless appeal with its flowy wrap silhouette and is the PERFECT top or dress for your transeasonal wardrobe.
So please my friends I would love you to give a massive CHEER for all of the amazing Shardee makes and a bigger CHEER for all of the amazing roadies – my diamonds
. xx
Our roadies would like to share the following with you all :
1. Your name and where you live ?
2. Your choice of option for the
Shardee
and why ?
3. What fabric did you choose and where did you purchase ?
4. What sewing tips can you share when sewing the
Shardee
?
5. What was your favourite thing about making the
Shardee
?
6. Have you worn your
Shardee
yet and what compliments did you receive.
7. And have you made any more versions of the
Shardee
– or have any plans too ?
(AU/UK) 6 – 30
(US) 2 – 26
(EU) 34 – 58
Cup Sizes – B, C, D, DD
On Sale for a limited time only – $9.50(US)
Very Confident Advanced Beginner and Above Sewing level
Shardee Wrap Top and Dress
---
I chose the tea length version as that is a very comfortable style for me.
The fabric I chose was a blue paisley print that was purchased at my local fabric shop. Unfortunately they do not have an online shopping option.
I chose the 3/4 sleeve option with cuffs, collar, and the shortest skirt length. I'd love to use it in between seasons and I thought those were the most appropriate lengths for that scope. I used a double brushed polyester that I bought from Stitchin' Pretties.
I don't have plans to make other versions, yet, I need to wait few weeks for the weather to be warmer in order to wear the ones I made so far, and then maybe I'll make a more summery version. Maybe easier, without collar and cuffs. We'll see 🙂
I wanted to make the above knee dress, being only little I chose the shortest length with 3/4 length sleeves and the collar with pockets. I also wanted to make the wrap top version too as I can never just make one.
The fabric used for the dress is a lovely gold/brown snake print ITY, which draped well was flowy and form-fitting. For the top I used a really soft Zebra print single knit jersey, all materials from Coalville Fabrics, a family business who run a group on Facebook.
I try to read all the instructions before I start and study Ann's measurement chart specifics to get the perfect fit. A test run is recommended in case any adjustments are required.
This pattern is great for both everyday wear and dressed up for a special night. I wear my gorgeous wrap top often, my dress on a couple of occasions and have had many compliments and inquiries.
This dress style is my all time favorite so no surprise I've been grabbing them whenever they are out of the wash.
I wear these with my Dr martens or some ankle heels like in the pics. High boots would be a great choice too!
My sewing buddy found them very nice and was commenting on the pattern placement, since I made use of the backside to place a vertical pattern, this dress really lends itself to be creative about pattern placement!
The white and black fabric I bought at my favorite fabric guy, and the green /black Punta at Karteris, a local fabric shop (Netherlands).
My best tip is to make sure you are hanging out the dress before hemming it, since the
Circle skirt can dip when it's hanging a little while.
It is quick and the result is so elegant. And the twirl is amazing!
I made two dresses and a top. They all are having a collar, because I love that little extra.
For all I used lightweight fabric and I honestly can't tell you which one I love the most.
As I said, it's an easy make, but therefore the fit and your fabric choice is so important.
I worn mine already a couple of times, with my alltime favorite kneeboots, with high heels or just sneakers. You can wear a top under it too when you feel more secure.
Anyways, when you are looking forward for Spring as much as I do…Start sewing!❤️
I made the cuffed sleeves and collar on my top, as I felt these details were really special, my tip is to go slowly and just follow each step.
---
Hi Everyone! My name is
Kristin
and I am in London, Ontario, Canada – currently buried under a pile of snow! I chose the above knee length with 3/4 sleeves with cuffs.
I love the detail that the cuffs add to the sleeve. I used a deliciously soft bamboo Lycra fabric from my local fabric store – it is so soft and so comfortable!
My favourite thing about making the
Shardee
 dress was creating the detailed cuffs on the sleeves, it was a wonderful learning experience.
Sadly I haven't had a chance yet to wear my beautiful
Shardee
 dress, but as soon as it is warm enough I will be wearing it all the time.
I haven't made another
Shardee
yet, but I have plans to make the peplum top for the summer, I just need to find the perfect fabric!
My instagram handle is: @Kristin_grace_daley
---
Anca M
1. I live in Montreal, Canada
2. My choice: I love knee length twirly dresses!
3. I used a scuba crepe, bought from Libelle Fabric (Canada – https://www.libellesewing.com/)
4. I don't really have tips, but I think it is important to go slow when attaching the binding / facing for the neckline.
5. I love the wrap top part – this is my favourite type of cleavage-, and the way the skirt is constructed is amazing, the left and right parts overlap so perfectly, no risk of accidental "flashing" whatsoever 🙂
6. I wore the
Shardee
e to work. My colleagues are aware of my passion for sewing, but they don<t necessarily compliment me every time. For
Shardee
though, two of them asked me if I can make it for them too!
7. I do have plans for more. My first (and only, so far), is one of my favourite dresses. I can hardly wait for my next, as soon as finish reorganizing my sewing room – I bought a projector a couple of weeks aog: this will allow me to use the projector for my next
Shardee
, right? 🙂
8.
https://www.instagram.com/ankalaura
/