The Saki Snail Skirt is just AMAZING. An intriguing pattern piece that is cut 4 times and sewn together that results in the most gorgeous and
flattering shape that will suit most women.
Make the pattern sizing as is in a light weight jersey or go up 1 – 1½ pattern sizes and cut out your Saki in some gorgeous soft and flowing woven.
Wear your Saki with a simple tee and some gorgeous sandals or for cooler weather wear it with a turtleneck and boots.
The Saki Snail Skirt offers a choice of length options:
Full length – 80cms (31 ½") long – fitted through the hipline.
Below Kneeline – 70cms (27 ½") long – slightly fitted through the .
Kneeline – 60cms (23 ½") long – flippy from hipline to hem
The construction of the Saki is recommended for Advanced Confident Beginners and Above sewing level due to: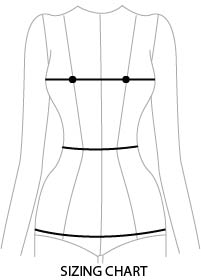 Ability to work with light weight and possibly slippery fabrics.
Application of elastic at the waistline.
Why is the Saki a Free pattern ?
As I write this the Corona Virus (Co-Vid 19) has hit hard and fast around the world resulting in tragic death, mass unemployment and uncertain futures.
Our sewing community is a fabulous one and in these uncertain times sewing is a great source of calm and mind therapy – hence the Saki.
Making the Saki and seeing how it turns out – I CAN GUARANTEE – will put a smile on your face !!!
PATTERN OPTIONS.
FABRIC REQUIREMENTS.
Suitable Fabrics: Jersey knit fabrics – approx weight of 175-200 gsm – with some degree of drape are BEST with at least 25% stretch across and 25% stretch going down the fabric. Wovens can also be used but you will have to size up.
Rayon and Rayon types.
Bamboo and Bamboo types.
Cotton and Cotton types.
Wool and Wool types
PDF PATTERN DETAILS.
After purchase your pattern will be available to download. Ensure that you save your pattern to your computer before printing so you have access to it in the future.
You are purchasing the Saki Snail Skirt PDF Pattern.

PDF Sewing Instruction Booklet. 20 pages for A4 and US standards.
PDF Trim Print at Home Pattern. 16 pages for A4 and US standards.
PDF Trimless Print at Home Pattern. 16 pages for A4 and US standards.
PDF A0 Copy Shop. 1 page.
PDF A0 Projector Compatible. 1 continuous page.
Layering Feature:
You are able to select one or several different sizes to print and "hide" the sizes you don't need. Please ensure you check the sizing chart before deciding what sizes to print off.
Visual Help:
URL links and clickable page navigation to resources that help you construct the Saki.
FAQ AND POLICIES.
You are purchasing a digital PDF downloadable product. Due to the nature of this product refunds are not offered.
Please ensure you read the FAQ page before purchase if you are not sure.
MORE.
Check out our library of ever growing TUTORIALS and make sure you SUBSCRIBE to the newsletter to always get notified on new additions to the learning base.
SHARE.
I would love to see what you have made with the Saki Snail Skirt.
Don't forget to tag your posts with
#saki…#sakiskirt…. #sakisnailskirt… #sakiswirlskirt….#sakiswirl …. #designerstitch….. @designerstitch