And a fabulous day to you all my lovelies !!! – Are you all ready for some STUNNINGNESS – ROCK STAR SUPER MODEL GLORIOUSNESS ??? – well then welcome to the first in a 2 part series of the Taryn Skirt Pattern Tester Roundup.
The Taryn Bias Skirt is the skirt you'll be reaching for first in your closet once you see how flattering, feminine and just plain wear-with-everything it is. The Taryn roadies have styled their skirt from high summer right through to mid winter – and each are as glorious as each other.
The styling details of the Taryn offers something for everyone -Pair it with flat ankle boots for work or strappy heels for cocktails—a staple black number can do it all – You're ready for date night at a sidewalk café.
So lets start the Taryn Bias Skirt Tester Roundup Part 1 – and a round of applause to all of my amazing testers. Love you all xx
Our roadies would like to share the following with you all :
1. Your name and where you live ?
2. Your choice of leg width of the Taryn Bias Skirt and why ?
3. What fabric did you choose and where did you purchase ?
4. What sewing tips can you share when sewing the Taryn Bias Skirt ?
5. What was your favourite thing about making the Taryn Bias Skirt ?
6. Have you worn your Taryn Bias Skirt yet and what compliments did you receive.
7. And how are you styling your Taryn ?
And don't forget the Taryn Bias Skirt is on its release sale price of  $7.95 US and is a
multi-sized pattern :
(AU/UK) 6 – 30
(US) 2 – 26
(EU) 34 – 58
https://designerstitch.com/shop/taryn-skirt
---
Greetings from Milwaukee, WI. My name is Allison. I made the longest length Taryn. I decided a nice, long bias cut skirt for summer would be absolutely fabulous.
My fabric was gifted to me by a friend and is quite unique. It is a cooling, moisture wicking fabric. This just made it all the better for summer.
As to sewing the Taryn, my only tips are trust the sizing chart. The single skirt piece looks massive, but it works with the cross grain and drape of the fabric.
If making the version with the elastic waist, use nice quality elastic so it supports the skirt well.
I adore a nicely cut bias skirt. They hang so nice and flatter all kinds of body shapes. I have not worn mine a ton due to not having a lot of places to go this summer. But, I have work it for a day exploring a quaint town by the lakeshore. It felt so very summery.
I do have a second Taryn waiting for the right too made of a silky type fabric. I think.it will be amazing with a pair of heeled boots this fall.
---
Hi, I'm Barbara and I live in Northeastern Mississippi in the USA.
For my Taryn, I chose the 21" knee-length. I used an ethnic rayon challis that I purchased from Lafinchfabrics.com.
The Taryn was a very quick and simple sew, and my best advice is to go slow and enjoy the ride!
The French seams would have to be my favorite thing about making the Taryn. I also loved cutting on the bias, because it gives the fabric the right amount of swing.
I have not worn my Taryn as of yet, but I'm sure to be wearing it with heels to Church, and flat sandals on our summer evenings.
IG:https://www.instagram.com/ninjabreadgirl61/
---
I'm Carmen from Georgia and I choose to sew the knee length Taryn in a floral print chiffon from The Fab Clique Shoppe. I love the Taryn in chiffon on the bias. The skirt drapes well especially after hanging it up for a day to allow it to stretch. Most garments cut on the bias are stunning on everyone. The Taryn looks great with a pair of flats or heels depending on your preference.
---
Hello, my name is Elise and I live in Queensland, Australia. It is winter here at the moment so I sewed myself a beautiful long 60cms Taryn. It is made with a bright and cheery polyester from Lincraft. It goes beautifully with long sleeves and boots but I also can't wait until spring arrives so I can kick off the boots and pair with sandles and a wide brim hat. Be careful when you are sewing not to stretch your material, make sure you feed the material into the machine. What I love about this pattern is that you can whip it up so quickly if your using the elastic band or have a professional finish if you are incerting the invisible zip.
https://www.instagram.com/seweliseium/
---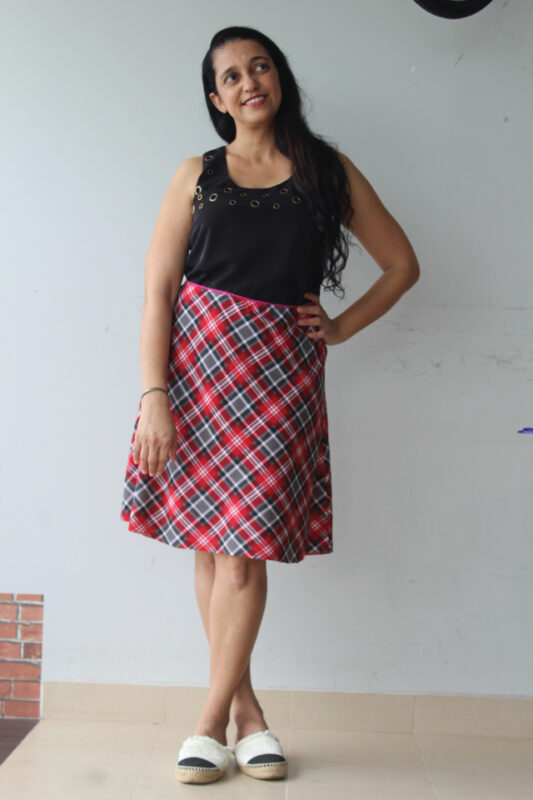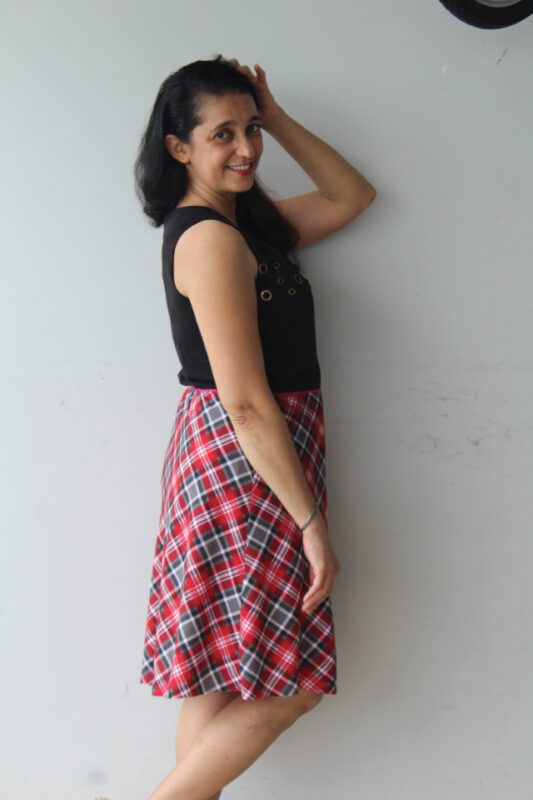 Hello!! I am Kiran and I live in Singapore. My Taryn skirt is the 55 cm length. For my muslin, i sewed the longest length (75cm) but decided it was not for me. The shorter version is more my style. length.
For my muslin, i worked with rayon. In my modelled version that you see here, I used lightweight poly-cotton because it has a lovely swish-factor to it. Thats a serious consideration in this pattern because the bias cut will warrant some serious swishyness.
My muslin fabric was rayon from Spotlight and this fabric that I've used for my modelled picture is from a fabric wholesaler in India. Vacation shopping rocks!
I sewed up the version with a picot waistband because during the lockdown, stores were closed and I couldn't get my hands on an invisible zipper 🙂 A tip for sewing with fabrics on the bias, be gentle. Im not sure if its a real thing but I'm super paranoid of stretching the fabric too much. But that said, bias cut garments are so flattering and comfortable to wear. Check out more of my sewing adventures over at https://www.instagram.com/sew_kiran_sew
---
Hello, I am Genevieve and live in Horsham, England.
I chose to make the knee length Taryn because I wear this length all the time and felt I could wear it for any occasion. I used the most beautiful viscose fabric to make mine that I bought from Driessenstoffen.nl
My best tip is to make sure that you have enough space to cut out your skirt without stretching it. I ended up cutting mine out on the floor.
I love how quick this pattern was to sew up. It's wonderful to wear because it just skins over the body due to being cut on the bias.
I have been wear my skirt with any number of tops and Cardi's, if it's chilly, with sandals or sneakers. In winter I'll be wearing it with tights and boots for sure.
It is so flattering.
Http://www.instagram.com/gegiegrossmann
---
Hi all, I'm José from the Netherlands ❤️
I've had the pleasure of making this very quick Taryn bias skirt. And that's what it was: a very nice and quick skirt.
And it's so multifunctional!
I've done the second longest length and it's a very classy length while keeping a sense of legs underneath. Very office-proof I would say!
I've cut it from a chiffon I had around and because of the sheerness I've lined the skirt throughout. The lining and outer skirt are attached at the waistband and the blind zip.
Which was.. B L I N D, like reaaallllyy blind. Of course totally due to the instructions because whenever in doubt follow the clear instructions and you'll end up with a perfect end result 👌.
I've gotten my narrow hem foot out of my accessory tray, and put it to good use. I love this foot for all those slinky fabrics.
The bias cut makes it a very light and flowy skirt to wear, never tight at any place.
But cutting on the bias does require attention to the fold and the fabric when rearranging while cutting. Since it gets wider and shorter when you pull width wise, or smaller and longer when pulling length wise, I would recommend to secure your fabric with pattern weights before cutting with a rotary cutter.
I'm wearing it for summer season with a lace up cami and a cute little jacket, and with my favourite rose gold heels.
But it would look equally good paired with a slim shirt or blouse. I love it with my retro 50s blouse on top too.
I need another one in the longest length too and I might try my hand at a flirty shortest version 🙃
When I wore this set for my birthday I was complimented all day for my outfit, I practically needed to keep it on me or I would've been left with my underwear 😜
So I cannot recommend this skirt enough, you totally need 2 or 3 of these skirts in your life! With this bias cut it might add a little more time for details but it makes up for it in ease of wear and the skimming fit that's perfect for every curve ❤️
https://www.instagram.com/jose.vernooy
---
I'm Kate from Wollongong Australia
I chose the shortest length Taryn as that's what worked with the amount of fabric I had. And being a little shorter I tend to go either long or short (but not in between) with my skirts.
I used a random piece of camel polyester that I had in my stash. I found it at an Op shop long ago, and loved its drape. So Taryn was the perfect match.
Taryn is sewn on the bias. So a big tip is to make sure you don't accidentally stretch out your pieces. And be careful with the zipper that your tops line up evenly.
My favourite thing about making the Taryn was how quick it was to sew! And I love a bias cut skirt. It's nice and swishy without a lot of volume.
I've worn my Taryn just about everywhere this winter – it's great paired with boots, tights and a long jacket. I have plans for some summery ones too.
---
Hi! I'm Kim from the Netherlands. I made two Taryn skirts: a short black one and the longest length in a printed fabric. The black one was my toile, but it turned out great! Both fabrics were rayon poplin. I love wearing them in summer and the bias cut feels so nice! I planned on making one with a zipper, but then I found out the elastic waist looks good as well and is super easy to sew. Why bother putting in a zip when you don't have to, right?! My biggest tip: don't try the skirt on before you put in the elastic or waistband, you'll stretch the bias cut fabric!
www.instagram.com/sewing.kim
---
Hi, here is Marieke from the Netherlands.
When you need a new woven skirt, you better can choose this one. It's my most flowy, lightweight skirt I have!
I made the shortest option, but I actually want another one with the longest length too. They are all awesome.
The skirt is the base and from there you can combine it with literally everything. I wear it with a top and highheels, with boots and a pulli, with fitflops and a blouse. It's all possible.
I made mine with a zipper and that's also my tip, baste it on first and try it on before you def sew it. It is an easy sew and therefore the fit is more important then everything else.
The best thing, and therefore the skirt is so.flowy of course, is that's it's cut on bias. The behavior of the fabric when it's cut on bias just makes me want to move all the time!
I used a thin crepe silk and decided to do a little rolled hem on my serger to finish it.
I feel like a modern woman in this outfit and it's a great base for every wardrobe to have.
Just pick the fabric you like and start sewing.🤗
When you like, you can follow me on Instagram too. Https://www.instagram.com/jongdesign
---
Hi, I'm Shardee from the Netherlands 🇱🇺
The Taryn I one of the must-have you NEED to have in your closet.
The way its cut out of your fabric makes it fall so beautiful around your body.
My version is the longest version and used 2 layers of very light chiffon. I used 2 layers because one layer would be to sexy 😉
Because my fabric was so light and thin, I sewed it with a French seam and finished it with picot elastic waist.
I have wearing my Taryn a lot, with a basic shirt and handmade belt. That's feels so me and also a little bit like a princess 👸
I you like to see more of my work and my personal life, follow my instagram www.instagram.com/sdvtje
---
Hi I'm Sonia and I live in SW Missouri USA.
I chose the longest length for my Taryn as it is my favorite length.
I used a very lightweight chiffon that I purchased from my local fabric store. Unfortunately they do not have a website.
The biggest tips that I would offer when making your Taryn is to take your time when cutting out, don't second guess the layout instructions and definitely use your pattern weights.
My absolute favorite thing about making the Taryn is how quickly it comes together. It is a very satisfying immediate gratification sew! I was a little leary cutting on the bias at first especially using such a lightweight slippery fabric but the instructions are so clear and helpful. They really gave me all the confidence I needed.
I wear my Taryn out and about and it is so carefree yet stylish. I feel so put together with very little effort.
I am loving to style my Taryn with a simple top and wear more casual at the moment. We are in the middle of summer here in the Midwest USA so it's so lovely to have a breezy comfortable skirt!
Blog – www.sewsowforth.com
Facebook – www.facebook.com/sewonandsowforth
IG –www.instagram.com/sewsowforth
---
My name is Synthia and I live in Central California, U.S.A. I have been testing garments for DS for some time and I especially love to sew up a skirt like the Taryn bias skirt. I made the tea-length (my favorite), sewn out of a crinkle rayon type fabric. I also made a matching Kat top from DS and added center buttons. I did sew with a French seam for this fabric. I love the flow of a bias cut design. I do plan on making more Taryn skirts because I love the fit and style of the tea-length option. For a tip, as always a muslin is a must. https://sewsynsewn.blogspot.com
---
I'm Vaida from Vilnius, Lithuania. I made a knee length Taryn (but my very wearable toile is midi length). The fabric is viscose from a local fabric shop.
When making your Taryn, take your time and cut carefully. Otherwise it's a quick and satisfying project – and I love how the bias fabric is "flowing" around my body.
I have worn my Taryn with handknit top – and received many compliments about looking fresh and stylish ☺️
My IG account: https://www.instagram.com/vaidab/