Good day to my lovely sew'ist friends and thank you for visiting with us for the second installment of the Beth Dress Pattern Tester Roundups.
Following on from Part 1 of our Beth Roadies Round-ups we continue the showcasing of our gorgeous Beth Dress.
And by the reaction of the Beth Dress release I gather you are all loving the gorgeous design of the Beth Dress.
As detailed yesterday the Beth Dress beautiful design was largely influenced by Beth Dutton – who is a television character on the world-wide smash hit television series Yellowstone.
As the character of this show Beth does a fabulous job of mixing the "cowgirl" look with a modern fashion twist. Its bold, smart and sexy. 
Our Beth Dress ticks all of the boxes for a modern "cowgirl" look. Beautiful sweetheart neckline, modern shirred sleeves, flared skirt with a hint of leg. Add in the choice of 2 lengths and you have great styling choices. 
So lets get stuck into Part 2 of our Beth Dress Roadies Roundups. 
And if you missed yesterday's Beth Dress Roadies roundup here is the link.
Our wonderful women would like to share with you the following. 
1. Your name and where you live ?
2. What fabric combinations did you choose and where did you purchase.
3. What sewing tips can you share when sewing the
Beth Dress
?
4. What was your style choice for the
Beth Dress
?
5. What fit alterations did you have to make to the
Beth Dress
?
6. Have you worn your Beth Dress- and if not what plans do you have for your
Beth Dress
?
7. Any plans for future combinations of the
Beth Dress
?
And the finer details; (AU/UK) 6 – 30 (US) 2 – 26 (EU) 34 – 58
Cup Sizes – A, B, C, D and DD (E)
On Sale for a limited time only – $9.95(US)
Very Confident Advanced Beginner and Above Sewing level.
---
Hi, my name is
Synthia
and I live in Central, Ca. I just love, love the design of the Beth dress, it's so figure flattering and it's definitely a dress I am going to wear often. I love garments made from woven fabrics. My two Beth dresses were made out of cotton. The prints were more of a country style print. I made the elbow sleeve with the midi length for both dresses. I just love the shirring on the sleeves and the side split on the skirt, and the sweetheart neckline. I will be wearing my Beth dresses with shorty/western style booties and a western style hat. For this style of dress, I highly recommend using current measurements, grade up or down if needed, use the same fabrics recommended in the pattern, and sew up a muslin. I had to rip my muslin apart a couple of times until I was happy with the fit. I do plan on sewing up another Beth in long sleeves and using a rayon fabric, this one will be for going out on an evening date. Thank you Ann for another awesome design.
https://sewsynsewn.blogspot.com
https://www.facebook.com/Synthia20000/
---
BRENDA 
---
Hi, I'm
Diane
from the UK
I used a lovely viscose fabric from a local independent store which was perfect for the Beth dress. The fabric drapes really well which is great for the skirt and also the gathered sleeves but also has good structure for the bodice. The instructions are very clear for the Beth and this was my first time shirring and amazing how it works! It is worth doing a toile to get the fit right and choose your size off the High Bust measurement as indicated in the pattern. If you use a lightweight fabric like I did I would recommend taking your time to do the hem by measuring from the floor to ensure it is even all the way round.
This is a beautiful dress pattern and has various options so I can see myself making quite a few of these in different lengths and different sleeves! I made the tea length with long sleeves in size 2B and shortened the bodice length by 1.5cm(I am 5'2").
---
Hi Everyone, my name is
Genevieve
and I live in England.
I used this gorgeous Cotton Lawn from Minerva.com. I just loved the vintage floral print.
My top tip for Beth is that you have to make a toile to ensure that you can make the necessary adjustments to get the fit right.
I chose to make my dress tea length with short sleeves – now I just need the weather to warm up!
When I made my toile, I went up a size as I always get pulling across my shoulders with woven garments. But my toile was really big on me. So I remade my dress using my usual size 3D graded to 5 at the waist, however, I used the size 4 on the shoulders to ensure no pulling. This worked a treat and I absolutely adore my finished dress.
Sadly, the weather has not played ball with me being able to wear my dress yet, but my family have said that my dress looks lovely.
I will definitely be making both the elbow length sleeve and a long sleeve dress.
---
Hello everyone, I am
Kiran
. I live in Singapore.
I sewed my Beth dress with flax-linen. It's so soft and unbelievably light!! I got it a while back from Spotlight.
Sewing tips for Beth? Make sure you sew a toile. This is non-negotiable with a fitted style such as Beth. Especially if you are using special fabric for your dress, you will be glad you did!
My alterations included a 1" swayback and a cup adjustment to eliminate gape. I also blended sizes for my chest and waist.
I love the design for Beth and I am gonna see if I can hack it into a pantsuit! Its such a chic combo, yes?
---
Hi I'm
José
from the Nederlands. Sewista and a big big fan of Ann her designs. This Beth dress has a gorgeous neckline and since it's a fitted woven dress it does take some extra more fitting than a stretch pattern needs.
So first of all make a toile and grade between sizes for top, waist and hip.
Also don't forget to read all sizing information on page 5 and 6.
As usual there are some tricks that come to mind when sewing thin wovens: use microtex needles, don't forget the needles on your serger if you use that, do blockfuse all your interfaced pattern pieces.
Sewing the blind zipper is not hard, but follow along on Ann's steps and you'll master it beautifully.
Then for the shirring, my machine has automatic tension settings and that doesn't work to well with shirring elastics in the bobbin. So I ended up sewing a 6 long straight stitch with loose tension, and manually pulled the elastic thread to the preferred stretch.
A bit wasteful on the elastic but went very well.
My floral viscose I bought at Driessenstoffen.nl and was easy to work with.
I extended the split length to the upper part of my thigh, and I like what it does with the skirt when I walk. Paired it with high lace up boots and I'll be ready for a wide range of dates and work.
My coworkers know by now to ask first if I made what I wear, because it's probably true when they like something I wear, and as was confirmed with this dress again too.
I might do another one, because I do love the neckline!
Follow me for more makes.
Https://www.instagram.com/jose.vernooy
---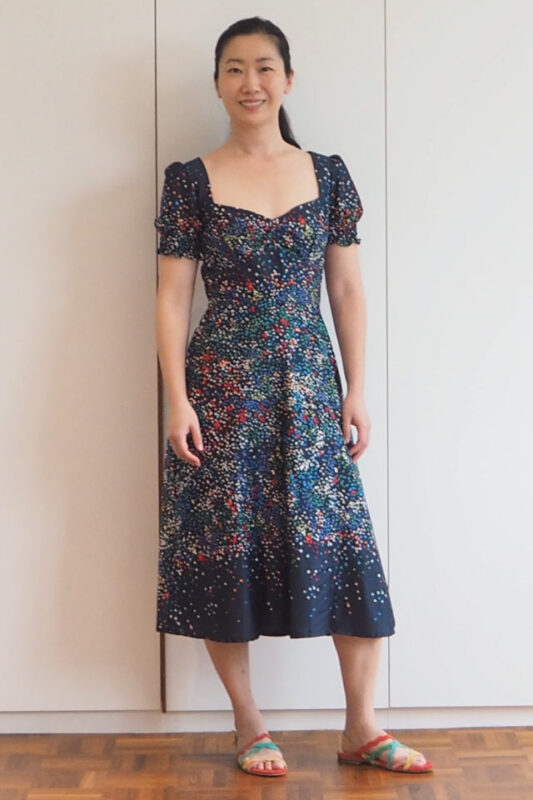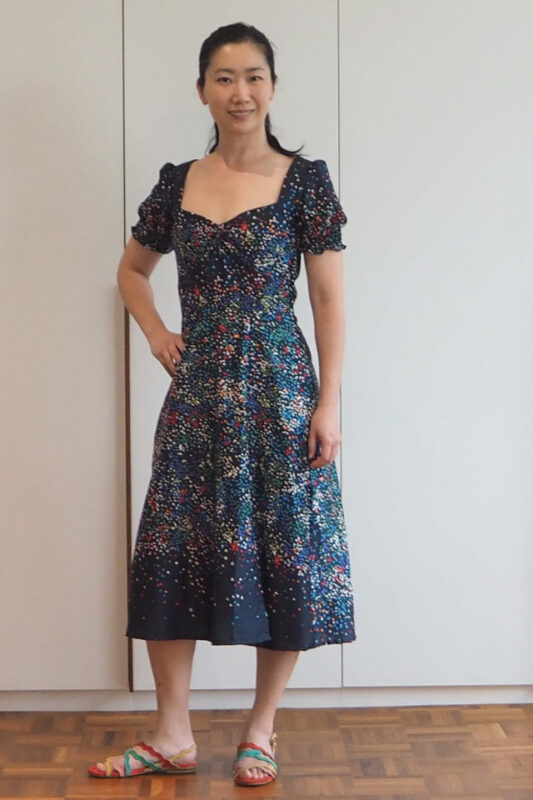 Hi!! I'm
Lianne
and I live in Singapore. For my version of the Beth dress I used a beautiful Nani iro Colton sateen named Melodie Croquis which I bought from the Cotton Shoppe ( https://www.thecottonshoppe.com ). With this dress the most important thing is measuring yourself properly and getting the right size. If your measurements fall between sizes remover that you can grade a half size (which I never thought about doing until Ann told me to).
I made the short sleeve version with mid length skirt. My bodice was a size 1.5 with grading out to 2.5 at the waist and 3 at the hips. I also raise the neckline by approximately 0.7cm. I'm yet to wear this dress out but I will wear it very soon!
---
This beautiful fabric is a deadstock viscose from Xandres that I bought at Toverstof a while a go on the occasion of Black Friday.
I like the red, blue black color combination with the lovely flowers and leaves and in my opinion it's a perfect match with the Beth dress.
Don't be afraid of the invisible zipper and the shirred sleeves. Just take your time and follow the instructions carefully.
I went for the short sleeves and knee length with a stunning split (which I deepened a little extra). With my high heels and the perfect sunny location I'm totally ready for the summer!
The fit alteration that I needed was a little sway back adjustment.
I was wearing my Beth dress on our holidays in Turkey. My daughter and husband really likes it and when the temperature finally goes up here too, this dress will be very much coming out of the closet!
---
Hi! I'm
Sandra
and I live in the Netherlands.
I used cotton fabric for both my two dresses.
I love my two Beth dresses very much. My tip would be: measure yourself very carefully. Especially for the cups.
I had no specific style choice when making it. Love how it turned out. I will wear it during summer or with a party.
The alterations I made was: 7cm higher split.
I didn't wear my Beth yet as I made short sleeves and it's too cold now for it. However, my husband and my friend (who made pictures of it), liked the dress very much.
Sooo, are you ready to make your own Beth?
Greetings, Sandra
---
Hello Designer Stitch community. My name is
Taryn
from Cape Town, South Africa. I chose a lace I've had in my stash for my Beth dress which I lined as required. My tip would be to practice the shirring on a scrap piece of fabric first and to make sure your elastic is well secured. I tied off the ends for added durability and would recommend this if you plan overlocking when finishing your seams. This will help the cuffs stay securely shirred. I initially intended to make the longer length Beth but cut to knee length in the end for a flirtier silhouette. If you don't mind showing a little bit more leg, start the slit a little higher up than what is marked on the pattern. I chose the long sleeve, unlined, as I felt that would show off the lace the beautiful lace the best. I did grade between sizes based on my measurements to get the perfect fit. My Beth was the perfect choice for an Autumn brunch outing with my mom and sisters. I would like to make a more casual Beth with the mid-length sleeve and the longer skirt length. Keep an eye on Instagram or Facebook to see what I make next:
---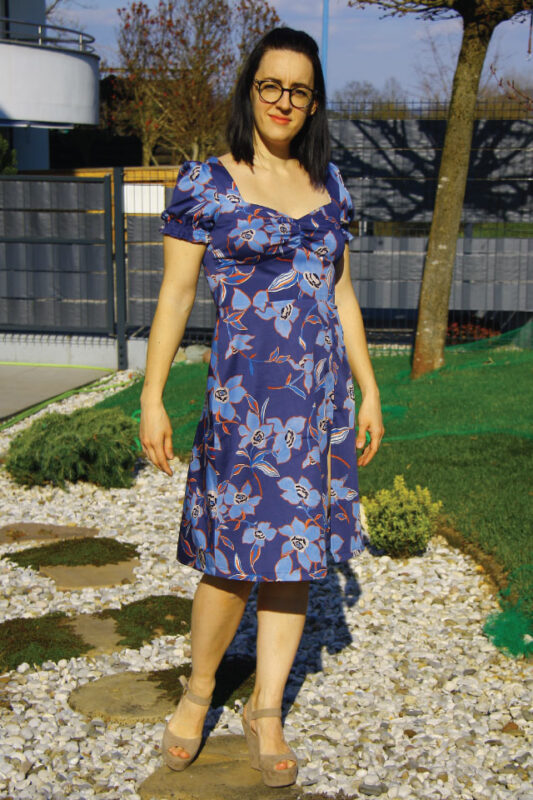 Petra V from Slovenia, Europe.
I chose some non-stretch fabric from my stash, I am unsure of the content (cotton something with NO STRETCH ). I previously made one beth frim viscose but unfortunately wrong size, and one in crepe but it was too stretchy.
Sewing tips – read the sizing instructions carefully. Really carefully. And then once more. Ask me how I know. Follow the sewing instructions, as the sam allowances change quite a bit. Be sure to iron your seams between each step.
Fit alterations – grading between sizes from bodice to waist, making the skirt shorter and increasing the slit.
I mate the final.beth for the wedding I am attending in the and of April, so I only wore it at home. My husband was shocked that I made it as it looks soooo good and store bought!
Future plans – definitely make some more with some interesting fabrics that come my way.
https://www.instagram.com/5raaiko/
---
Hi, I'm Jackie from the Netherlands. I sewed my Bethdress in a 100% viscose. I was afraid that the pattern will turn out to short so I've lengthened by cutting. But on the fitting proces I've shortened so much that I think I didn't need lengthening at all. I love the patterns and the description of it. It is an easy to follow pattern. When you measure yourself thoroughly and compare it to the sizingtable, you will have a perfect fit. I wanted a Flowerly summerdress and it came out so nice. Lots of compliments on how the fit looks so flattering (I think it's because it is made according to my measurements that it fits so nicely).
I'd love to make an all green one with long sleeves from viscose, to make all the beautiful pattern pieces stand out more.
---