And my friends thankyou for catching up with us today for our truly wonderful Dita Dress and her Rock Star Roadies Pattern Testers Roundup Part 2.
A big thankyou to all for coming over to our blog yesterday to read the first installment of the Dita Dress roundups – the reaction has been so heart warming and everyone is just loving the style of the Dita Dress.
So if you somehow missed the first part of our roundup here is your link – Dita Dress Rock Star Pattern Testers Roundup – Part 1.
The
Dita
is a dress that looks sensational on everyone – will fit and flatter any body type – and if I say so myself – it is just AMAZING.
The
Dita Dress
 vibe is modern, bang on-trend with a slight vintage feel that showcases this dress to its ABSOLUTE best.
And I love and adore how each roadie has brought their own interpretation to their own
Ditas
.
Same pattern, same Designer Stitch fit as always, but oh so many glorious makes.
And just look at those amazing #StatementSleeves !
So again my friends – please all send a big WOO HOO to all of your Rockstar Roadies. It is LOVE 💗
And our roadies would like to share the following with you all :
1. Your name and where you live ?
2. Your choice of option for the
Dita Dress
 and why ?
3. What fabric did you choose and where did you purchase ?
4. What alterations did you have to make to your
Dita Dress
 toile ?
5. What sewing tips can you share when sewing the
Dita Dress
?
6. What was your favourite thing about making the
Dita Dress
 ?
7. Did you make more than one combo of the
Dita Dress
 ?
8. Have you worn your
Dita Dress
yet and what compliments did you receive.
And the finer details;
(AU/UK) 6 – 30
(US) 2 – 26
(EU) 34 – 58
Cup Sizes – B, C, D, DD
On Sale for a limited time only – $9.75(US)
Very Confident Advanced Beginner and Above Sewing level
---
I used a purple ponti and floral scuba for my dresses which I felt worked really well.
My tip, a toile is much needed to make sure it sits on your waist at the right length, you don't want to waste good fabric. Also If any adjustment's are needed you can do them before working on your good fabric. Make sure you follow the instruction and take your time.
I went for both skirt styles, as it looks different with the skirts and if you fancy twirling this is the pattern for you.
The sleeves may look hard but there not and it's the best part of this pattern.
I shorten the bodice a little to get it to sit at my waistline and cutting at the shortest length worked for me.
---
When I made this dress, cooler weather was threatening and with the lovely design, I wanted to be able to wear it now instead of waiting for warm weather again.
I also chose the flowy skirt because it is so darn cute and it just makes you want to twirl around like a little girl.
I used scuba crepe for this dress as it was one of the recommended fabrics and I just love this floral print.
Those sleeves! Take your time when you are gathering your fabric and make sure it is perfect as this is such a statement part of the dress.
That neckline too–make sure you carefully sew, clip, understitch, of course press so it lays perfectly.
I love using fusible knit stay tape when I sew to help with keeping everything looking neat and tidy.
I used it at the neckline, along the center back seam for the zipper and along the hems.
I enjoyed the process of making the entire dress as I loved creating the details of the design.
While I haven't had a chance to wear my Dita yet, I will!
I made mine in the shorter sleeve length because where I live, it is always very sunny and hot.
The mandarin collar was great for featuring frog buttons which are commonly used in the cheongsam outfits that many of us Chinese wear during Chinese New Year.
I felt that the frog button added a lovely personal touch to this outfit and that, together with the fact that this is a knit dress, meant that I have finished sewing my 2022 lunar new year cheongsam that is both stylish and very comfortable to wear way in advance! Yay me!
The fabric i used is a sparkling cotton lycra I got from a destash and i got knit interfacing to help the mandarin collar stand up better.
I feel that interfacing is really important for knits that are less stable so pls don't skip it!
If u are looking to use frog buttons like me, u might also want to check the neck width to make sure that it is comfortable to wear since frog buttons might make the neck tighter than a normal button with loop wld!
Thank you for reading and see you all at instagram ❤
I made knee length twirly skirt, because that's something I can wear everywhere.
I've used a punta di roma from Driessenstoffen (https://driessenstoffen.nl/).
Tips, sew a muslin/Toile first, a must, and careful when ironing knit fabrics.
I have yet to wear it out, but when I do, I will be very excited.
The green version is made of ponte from SlyFox Fabrics, while the brown version is made of scuba suede from FabricMart.
At some point I will have to try the other skirt version of this dress!
I embellished with a big ruby bead in the collar piece.
I picked crepe scuba because I love the way this fabric wears.
The poofy sleeves really get body in this fabric.
But the flared skirt is still swirly!
Sewing the sleeves and collar piece was most satisfying part of the dress. They are simpler than they look to see, just take your time with all the gathering to keep things looking even.
I would wear vintage or retro every day if given a choice so I absolutely love the design. O haven't gotten around to wearing this one very much, but I plan to change things around the next month or so.
I would recommend this pattern if you're looking for some good drama and flair in a dress. You won't be disappointed, and the fit is fabulous, as always.
I'm tall so I usually prefer longer lengths but I think I ultimately preferred the shorter, knee-length look.
I also made both the short and long sleeve versions because it is hot most of the year but it is quickly becoming Fall here and I love making long sleeves because when I make them they aren't too short like RTW clothing!
I made 1 version out of a poly jersey knit and 1 version out of a matte ponte and both worked well! I think extra stretch in this pattern is great and a tip is that if your fabric is extra stretchy you maybe can skip the zipper!
I loved making these sleeves–they are so unique and not that hard! I kept wanting to just take pictures of that unique sleeve.
I love a sleeve that is drama up top and no-nonsense fitted at the bottom.
---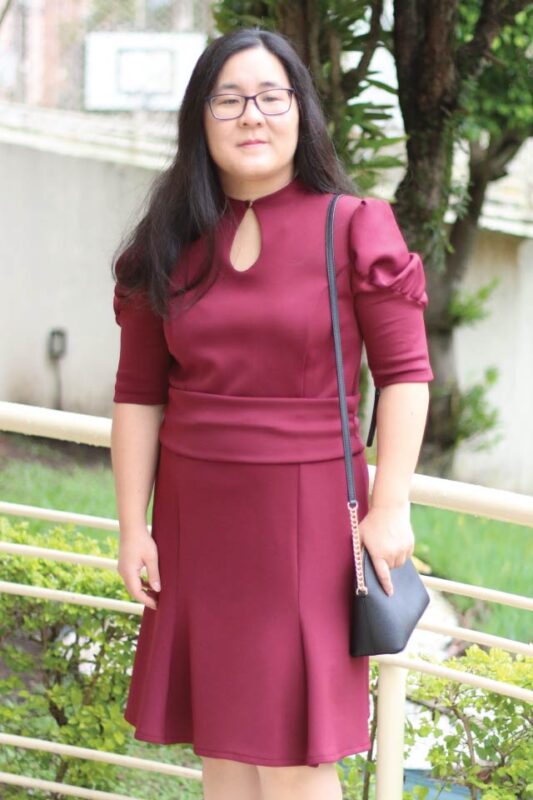 Hello, I am
Danielle
from Brazil. I made the elbow sleeve with shortest length skirt because we are heading summer here.
I used scuba bought from a local street shop. I added a strip of interfacing to avoid zipper area to get wavy, but depending on fabric stretch, it is possible to leave zipper out. I can it on without opening the zipper.
One thing that I loved in
Dita
is that it is a fancy dress in knit fabric.
I have not had a chance to use it yet, but I am planning to wear it for Christmas family pictures.