Good day to you all my friends. And welcome to our Meiling Dress Pattern Tester Roundup Part 1.
Our roundups feature all that is fabulous of our pattern testers – and their gorgeous Meiling makes.
And the fit of the Meiling is based on our new Stretch Woven Dress Block – and the fit results are pretty fabulous !!!
Our new Meiling Cotton Sateen Dress is beautifully tailored classic dress and offers a sleek modern look.
Made in a woven stretch cotton sateen this versatile piece flexes with you as the stretch in the fabric helps you flaunt your gorgeous body shape.
The Meiling offers a very flattering square neckline, darts for concise body shaping, side slant pockets in the skirt and to-die-for sleeves with fabulous pleat detail. Our new Meiling is the epitome of high-end styling.
So my friends be prepared to be wow'ed with our gorgeous pattern testers roundups and lets all give these fabulous women a resounding WOO HOO !!!
They would like to share with you the following:
1. Your name and where you live?
2. What fabric combinations did you choose and where did you purchase.
3. What sewing tips can you share when sewing the Meiling?
4. What was your style choice for the Meiling?
5. What fit alterations did you have to make to the Meiling?
6. Have you worn your Meiling yet and what compliments did you receive.
7. Any plans for future combinations of the Meiling?
And the finer details; (AU/UK) 6 – 30 (US) 2 – 26 (EU) 34 – 58
On Sale for a limited time only – $9.75
Very Confident Advanced Beginner and Above Sewing level.
Meiling Dress
---
Hi, my name is Meiling and this gorgeous dress was named after me!
I live in Perth, Western Australia.
I used cotton sateen bought from my local Spotlight (www.spotlightstores.com)
I made the longest length with short sleeves. I had to take in the sides of the skirt a little on each side, apart from that it fit perfectly.
I have worn my dress to work, which was comfortable all day. I did get many compliments.
I have plans for two more dresses in different fabrics and planning on wearing one to a special awards ceremony coming up.
You can find me at www.facebook.com/sewaholiccreations
---
Hello I'm Ashley R from London.
Today I'm sharing the lovely Meiling Dress which I used a cotton sateen from @legendtextiles
My sewing tips would be to read the measurments chat to make sure your making the right size but also make a trial run in old fabric but same weight as your good fabric. I styled my Meiling dress with a pair of heels, this is the perfect dress for a dinner party or a night out. To get my perfect fit, I took half inch of the bodice length plus did a little sway back on the back of the dress and I took in the neckline a little to get my fit. I also took off a little length from my skirt as i'm only 5 foot. I've taken my dress out for dinner and lovely how I felt in it. I feel there will be more being made for special event.
FB: https://www.facebook.com/sewashley.co.uk
IG: https://www.instagram.com/madebyashleyriley/
---
Hi, here is Marieke and I am from the Netherlands.
The new Meiling dress is- as you can see- a beautiful classic dress. It will fit for any occasion and with playing with your fabrics you can make it as cool or classic or both as you like.
The dress is form fitting without being thight. This is however also the most 'difficult' thing: to get yourself the perfect fit. The sewing is pretty easy and straight forward and for the sizing: please measure accurate and don't forget you can also cut in between sizes instead of picking just one.
I used a beautiful stretch satin from Textielstad for my dress. I went for the more classic look, but I also worn my dress with boots and a jacket on top- which gives it a total different look!
I would say: do yourself a favor and sew up a gorgeous Meiling dress yourself. Ann's patterns are the best!
Do you want to have a look at my Instagram for more inspo? Https://www.instagram.com/jongdesign
---
Hi! My name is Sonia and I live in SW Missouri in the USA with my husband and fur baby, Dune.
The fabric that I used for my Meiling is a beautiful faux suede that I purchased at a local fabric warehouse years ago. Unfortunately they do not sell online.
Make sure and take your measurements, do not guess. Also make a toile. The 3% elastine makes the dress so comfortable but as Ann says it is not a determining factor in the sizing.
I chose the 3/4 length sleeve and the longest skirt length.
I was hesitant in sizing and sized up on my toile, DON'T DO THAT! Trust the sizing when you measure. The alterations I needed to make were to bring in the shoulder at the neckline to a smaller size so the fabric covered more of my neckline. I found the need to taper the back zipper just a hair to bring it closer to my body.
I also shortened the bodice by 2″ as I normally do with Designer Stitch patterns because I am short.
I like my dress length on the longer side so I added about 5 inches to the hem.
Meiling is an absolute show stopper and classic style. As we were walking through the park finding locations for pictures people definitely noticed!
I will definitely make more of the Meiling pattern, I have a black one that will be started soon.
Find me on these social media platforms!
Blog: www.sewsowforth.com
Facebook: www.facebook.com/sewonandsowforth
IG: www.instagram.com/sewsowforth
---
I'm Toni and I live in Northern California, United States. My fabric was from Mood Fabrics Link here: https://www.moodfabrics.com/mood-exclusive-achromic… . The fabric is absolutely beautiful in person and easy to work with. I made a 2A bodice graded to a 4 waist and hip. I did bring in the shoulder to size 1, which helped with drooping off the shoulder. The fit was perfect and all went together perfectly. I plan to wear mine to a wedding or at the holidays to a party. It is very stunning in person. The prettiest dress that I have made in a long time. My family was very impressed and complimented me several times, when I wore it. My IG is : https://www.instagram.com/antoinettemcnulty/ where I plan to share my dress.
---
Hello everybody, this is Brenda from The Netherlands.
For my Meiling dress I opted for the shortest option with elbow length sleeves. I do not have a lot of short dresses in my wardrobe so that the explained the length. The sleeves I picked because I want to be able to wear it in the autumn without being boiling in the office. For the piping I used the same fabric as my main one to have a interesting detail without being to disctracting. I got my fabric at
www.driessen stoffen.nl, but I got it a while back and iy has been sitting in my stock for some time now.
For this dress I did my usual alterations.
You can follow my sewing at: https://www.instagram.com/fabricfairybrenda/
Love Brenda
---
Hi, I am Camelia , living in Germany.
I love stretch cotton sateen and this is kind of the dream dress for this fabric type! My fabric is deep from the stash and the piping is self made. I was fixed to have a navy color for the piping, but I had no piece of cotton in that color so I used a new pillow case that I had in my closet…kept enough extra fabric for more piping .
My best sewing tips for the Meiling are, to choose your size carefully, take e fresh set of body measurements, and check the size chart. Make a toile, in a similar fabric to get the perfect fit before you start on your good fabric. Also, don't skip the belt! It definitely finishes the whole look of the dress!
I made my usual fit adjustments for Designer Stitch patterns and used my usual size 3B.
Using stretch cotton sateen makes it a very comfortable dress which is also very easy to sew. I have planned another version of this dress in a black and white stretch cotton sateen.
You can find me also on YouTube, with tutorials and reviews
https://www.youtube.com/calcedoniasewing
and on Instagram
https://www.instagram.com/calcedoniasewing/
---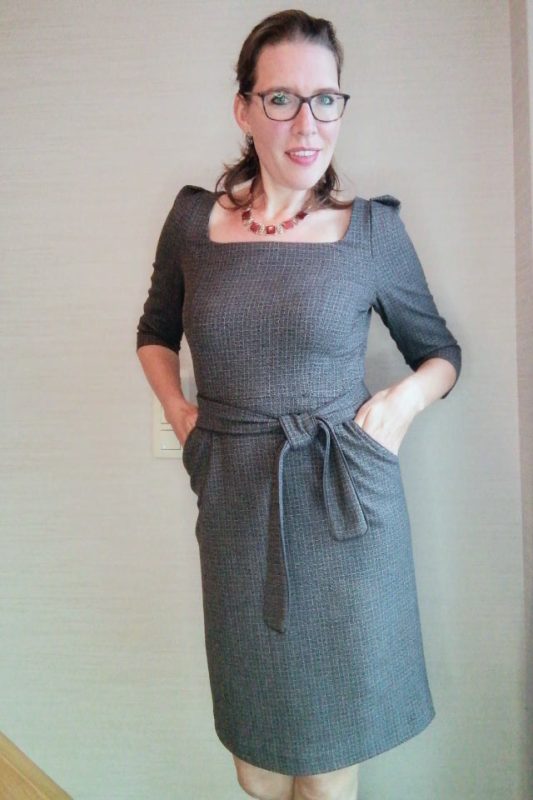 I am Karen from Belgium. I created the Meiling dress from a lovely cotton blend with 3% stretch. I opted for a dark gray fabric with a subtle check pattern for an elegant look that pairs well with other colors. Meiling is not a difficult pattern itself, which gives you the chance to pay extra attention to the details. Ensure that the darts align perfectly, and the piping is neatly stitched. There are lovely pleats on the shoulders that enhance the drape of the sleeve. Fabric choice is crucial for this dress to maintain its shape and provide a nice fit. Plans for a second Meiling in a lighter color are already in the works. You can find me on IG at www.instagram.com/_sewkaren_
---
1. My name is Elisabeth F and I live just outside of Gothenburg, the second biggest city in Sweden
2. I actually used a thin cotton denim stretch fabric I bought from Minerva.com It had the right weight and right amount of cotton and spandex here is a link to the fabric. (not aff.) https://www.minerva.com/…/minerva-core-range-190gsm…
3. Be very precise and make sure you get every notch marked – that helped a lot and this beeing my first pattern to test from the designer stitch I can attest to the accuracy of every mark. Love sewing something a little more complex but very managable – just take your time.
4. I made the full length sleeve, short skirt and no piping.
5. The only alterations I made was lengthening the sleeves 5 cm (2") I am tall (180 cm or 5'11") I was thinking about shortening the torso 2 cm but got afraid since I thought I would be wrong beeing so tall. But the amazing Ann(patternmaker) helped me to see that I should have made that alteration (I have a short torso)and will definately make that on my next one.
6. Yes I have and my husbands not saying a word said it all. He just looked at me with tears in his eyes and hugged me. It turned out to be a wonderful moment.. I am suffering from a severe type of connective tissue dissorder with a lot of sideeffects and that most of the time means that he sees me in my pjs or joggers and now I dressed up and felt really beautiful – something I have not felt in a long time. And it was at the same time really comfortable
7. Absolutly even though I don't have anywhere to go using it I will make at least one more since it made both me and hubby react the way it did.
8. I am called thestitchywife on all my platforms
Youtube: https://www.youtube.com/channel/UC0eXtFEMQbEIDuVrrtoqeDg
Facebook https://www.facebook.com/profile.php?id=100074544110290
IG https://www.instagram.com/thestitchywife/