Bridget Long Sleeve Top featuring 3 Long Sleeve Styles.
The Bridget Long Sleeve can be made in a light to light-medium weight woven fabric
that has drape and a fluid fall.
The construction of the Bridget is recommended for  intermediate levels due to:
Neck Facings
CB Invisible Zipper
Working with light and slippery fabrics
Set – in – Sleeve
Curved Hem Edges
A very good knowledge of your own personal fitting requirements as the
pattern offers the opportunity to fine-tune the fit of your garment with
the option of cups sizes – B, C, D, DD.
PATTERN OPTIONS.
Fabric Choices – Light to Light-Medium Weight Cotton, Cotton Types,
Silk, Silk Types, Georgette and Georgette types.
Bridget Long Sleeve Features.
Semi-Fitted Shell
Choice of 3 long sleeves – Long Bell Cufflet,
Split Sleeve with self ties and a Spiral Fluted Cufflet
2 different lengths – High Hip or Low Hip
Round or V-Neck
Optional Soft Tie Belt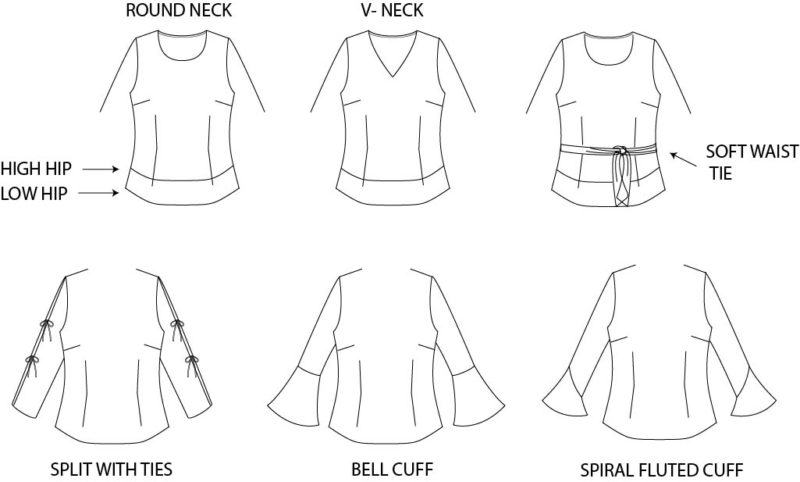 COUPON CODE.
If you love the Bridget SO MUCH …of course you do !!!….you will WANT ALL 7 SLEEVES…
Add both patterns into your cart – apply coupon code – sleeveaddon –
to enable the SECOND BRIDGET  pattern to be purchased at 1/2 price =$7.00 US.
PDF PATTERN DETAILS.
After purchase your pattern will be available to download. Ensure that you save your pattern to your computer before printing so you have access to it in the future.
You are purchasing the Bridget – Long Sleeve Version – and the PDF pattern purchase includes the following files:
PDF Sewing Instruction Booklet. ( 24  pages ) for A4 and US standards.
PDF Print at Home Pattern / 42 pages for A4 and US standards.
PDF Print at Home Pattern /12 pages per Front per Cup Size – B, C, D, DD (Individual Files )
AO Print Shop x 3 Sheets
AO Print Shop x 1 per Front per Cup Sizes – B, C, D, DD (Individual Files )
There are up to a total of 11 Bridget Top PDF files to download for this pattern. This is dependent on choice of Cup Sizes and Printing Options.
Layering Feature:
You are able to select one or several different sizes to print and "hide" the sizes you don't need. Please ensure you check the sizing chart before deciding what sizes to print off.
Visual Help:
URL links and clickable page navigation to resources that help you construct the Bridget Top.
FAQ AND POLICIES.
You are purchasing a digital PDF downloadable product. Due to the nature of this product refunds are not offered.
Please ensure you read the FAQ page before purchase if you are not sure.
MORE.
Check out our library of ever growing TUTORIALS and make sure you SUBSCRIBE to the newsletter to always get notified on new additions to the learning base.
SHARE.
I would love to see what you have made with the Bridget Long Sleeve Top pattern. Don't forget to tag your posts with
#bridget….#bridgettop….#bridgetlongsleeves…..#designerstitch….. @designerstitch