Greetings to all my lovely sew'ist friends and I hope that you and your family are well and happy. xx
And a big thank you for spending time with me this week as I publish a series of blog posts centred around the new release of my gorgeous new Allie Faux Wrap Skirt PDF sewing pattern.
The Allie is a fabulous trans-seasonal garment and offers a fabulous variety of styling options.
But my friends ! – I cannot take credit for the initial influence as my gorgeous Megan F has to be acknowledged for that !!!.

Megan F is the beautiful daughter of one of my die-hard and amazing pattern testers – Allison F – and Megan is a fabulous fashionista and loves scouring for amazing shapes and designs.
Given that, I have asked Megan to write up her story about her influence for the Allie Faux Wrap Skirt…..and TADAH !!! here is her short story . xx
"One night, when I was supposed to be asleep, I was scrolling on Instagram. An advertisement for Meijer's appeared with three different outfits. I immediately wanted the stripe skirt with the tie.

I took the risk and yelled, "Mom, I am air dropping you a picture. Will you send it to Ann and ask if she will make a pattern for it? I would like it longer. Oh, if she does, you need to make it from stripe fabric, because I love the stripes."
Well, that night my mom was nice. She sent the picture to Ann. The best part is Ann made up a pattern for the skirt and my mom had stripe fabric waiting for a project.
As part of the pretest my mom made up the skirt right away. I could not wait to wear it. When it was made, we went to the beach for photos.
I have worn the skirt multiple times, well every time it is clean. I always get a lot of compliments. My friends find it trendy and love that it is a faux wrap. My mom even made one for herself.
I need more of these skirts in the other styles available. So, Ann can you get my mom to make them for me, please.
Thanks Ann for the fabulous skirt. I tell everyone that likes my skirt (and many other wardrobe pieces) about Designer Stitch "
( and a side note from me (Ann) – apparently Megan thinks I can design any garment what-so-ever… and I will say – Yep I can !!!! .. lol …)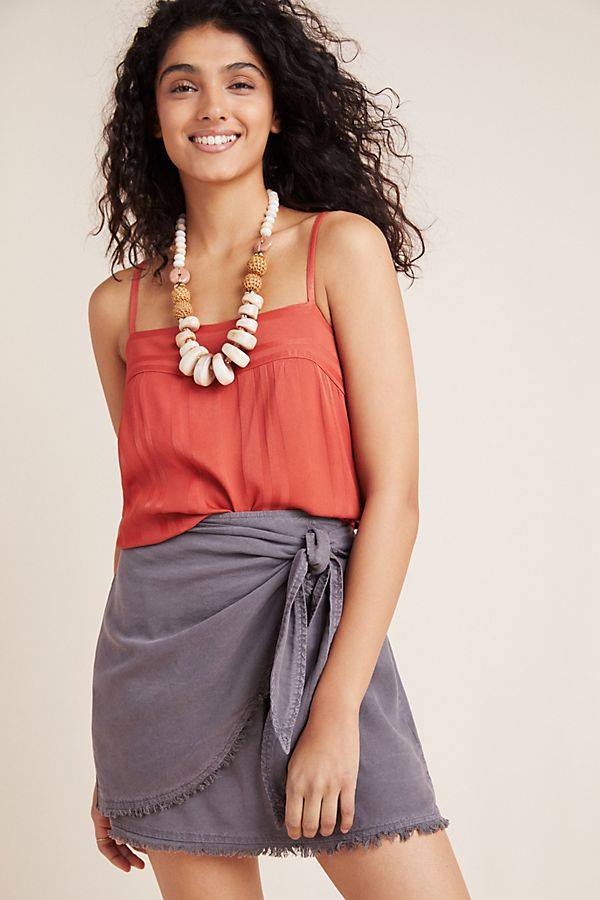 After receiving the pic from Megan I did a bit of a search around RTW retail web sites – and my go to is Anthropologie – and I found a shape reference there (above pics) – so I knew that I could get the design and shape up into a fabulous design for a great sewing pattern.
As I live in the Southern Hemisphere – heading into Spring – I also know that I have to satisfy my customers in the Northern Hemisphere. So I decided to put my thinking cap on and scout around for more trans-seasonal shapes that I could work into the Allie Faux Wrap Skirt to make is workable for both sides of the seasonal grid.
And WOWSERS – I found some great inspo pics for the Allie Skirt that you could easily work up into a style just for yourself.
The Allie is really a fabulous blank canvas that you can stamp your own signature on.
So my friends get ready for some amazing inspo that will get your imagination swirling….!!!
USE A LARGE SINGLE GROMMET


Grommets come in all different shapes but you must use a large one for maximum impact.  And use the side tie provided in the pattern to create that fabulous tie and wrap effect.
CUTTING THE OVERLAY ON THE BIAS/CROSS OF THE FABRIC
Why not utilize the weave/pattern/check of the fabric and cut the front overlay on the bias/cross grain of the fabric.
This makes such a fabulous impact – and a big statement – for the design of the skirt.
PURCHASE PRE-MADE FASTENINGS FOR YOUR ALLIE WRAP SKIRT.
Pre-made fastenings are readily available for purchase and comes in many shapes, sizes and configurations.
Again they add just another AMAZING element to the design of the Allie Faux Wrap Skirt.
MULTIPLE DECORATIVE BUTTONS AND LOADS OF TOP-STITCHING.
As the wrap of the Allie is a non-functional layer the addition of decorative buttons is another great idea for the overlay.
Use as many as you wish to make a statement…even mix up your size and colour/shape of your buttons.
And why not complete your Allie hem area with loads of top-stitching using a contrast thread colour. Love this idea !!!!
ADD A ZIPPER FOR MAXIMUM IMPACT
And this is one of my personal favorites….add a zipper to the front edge of the overlay.
Zippers are available in all types of configurations and a chunky metal zipper can easily be added to the front edge and then top-stitched onto the body itself.
USE SOME CHUNKY HARDWARE.
I just love the above inspo pic – attach some chunky hardware to the edge of the Allie Faux Wrap Skirt taking it back to its side seam.
CONTRAST FABRICS AND BLOCKING.
The above collage gives you unlimited ideas !!!…you can block your Allie Faux Wrap Skirt pattern into different colours and textures, plus also embellish with piping and trims.
I hope that I have sparked your imagination and idea base for your own Allie Faux Wrap Skirt and I would love to see your interpretation of your Allie.
And the finer details yet again…
The Allie Faux Wrap Skirt  is for a sewing level of Confident Advanced Beginner and Above.
On Sale for a limited time only – $8.25 (US)
(AU/UK) 6 – 28
(US) 2 – 24
(EU) 34 – 56
https://designerstitch.com/shop/allie-wrap-skirt
Love to you all.
Ann at Designer Stitch xx