A fabulous Australian greetings to you all my gorgeous sew'ists.
Welcome to my first installment of the Allie Faux Wrap Skirt Pattern Tester Round-up.
And WOWSERS – have my pattern roadies outdone themselves as usual. I am never ceased to be amazed at the skill level my group brings to each pattern road test. And I just love SHOUTING out about them to everyone who will hear me ..lol…
The Allie Faux Wrap Skirt offers a fabulous variety of styling options. Choose from a Self Tie Side Draped Overlay or a Tie Side Draped Overlay that fastens with D-Rings or a Tri-Slider. Or the option of the Overlay that features small Grommets/Eyelets or a single Large Grommet. You can even style the Allie Overlay with a fabulous single Large Decorative Button. The Allie is very much a blank canvas to style and embellish as you wish.
Make your Allie in a soft and drapey faux suede, all types of plaid, corduroy types, wool and woolen types or a beautiful drapey cotton or luxurious silk.
The finer details : On Sale for a limited time only – $8.25 (US) (AU/UK) 6 – 28 (US) 2 – 24 (EU) 34 – 56
https://designerstitch.com/shop/allie-wrap-skirt
So let us now get underway showcasing my amazing roadies and their equally outstanding Allie Faux Wrap Skirts.
And I have asked them all to share with you:
1. Your name and where you live
2. Your choice of style for the Allie and why ?
3. What fabric did you choose and where did you purchase – (make sure you add affiliate link to fabric seller if you are able)
4. What tips can you share when sewing the individual garments parts ?.
5. What was your favourite thing about making the Allie.
6. Have you worn your Allie yet and what compliments did you receive.
7. And how are you styling your Allie ?
8. Social media URLS
A big shout out to all my fabulous roadies and a huge TADAH to the first round-up of the Allie Pattern Roadies…
And if you have missed the previous day posts here are the links.
Allie Faux Wrap Skirt Inspiration and Influences 
Love to you all xx
Ann at Designer Stitch. xx
---
Greetings from Milwaukee, WI. My name is Allison. The Allie wrap skirt I made was for my teen daughter Megan. Her wrap skirt is the version with the rings, because it was styled after an inspiration picture she found online. Her skirt is made from a stripe linen purchased from Joann Fabrics. This fabric was chosen because (again) it resembled an inspiration picture.
This skirt is a simple sew. The most important parts are making a toile of the base skirt, without the wrap to get the fit accurate. Then tweak the pattern to fit your particular shape. When sewing the skirt just follow the step by step instructions.
My favorite part of making the Allie wrap skirt was Megan's joy in seeing her vision come to life. Thanks, Ann. (BTW: she is convinced you can design anything)
For styling, since she choose a stripe fabric for the skirt, she has been wearing it with a variety of solid summer tops and wedged espadrilles. She said she has received multiple compliments on her skirt. People are especially delighted that it is a faux wrap, because don't we all have a wrap skirt horror story? Well, that won't be true with the Allie Wrap Skirt. You can confidently wear your skirt with style!
https://www.facebook.com/Songs-of-Thread-725505747577599/
---
I'm Lieve D from Ghent in Belgium. I immediately liked the version with the D-rings. Such a skirt can be combined sporty or chic, and can be worn for different occasions. I wear the skirt with a nice cleavage and heels, perfect for a party.
The fabric is a leather look with a little stretch. I salvaged it from the dustbin during a sewing weekend a few years ago.
The Allie has a great fit and is quick to assemble. Curious about the pictures?
Follow us on Instagram and on www.girlsinuniformblog.com
https://girlsinuniformblog.com/2019/09/04/allie-wrap-skirt-designer-stitch
---
Hi, I am Marieke and I am from the Netherlands. I choose to make the one button Allie skirt. I had some of the thinnest wool which I kept saving for something special. And I am happy I did! I love this skirt, the fit is beautiful and classy and fine to wear in every condition.
First I was thinking of colorblocking the frontpiece, but at the end I decided to keep it simple. I am glad I did.
I still want to make a colorblock version too, but this fabric didn't need it.
I sewed a Sedona blouse to it, used a scrap of that fabric to make a matching button for on my Allie, tucked in the blouse, put in some higheels and I felt good looking!
But I wore it with a simple white tshirt and sneakers too. More casual but great too! Or with boots and a pulli would be great in wintertime too!
I already received several compliments, actually they were all like this: "Oooow!"
The best advice for sewing this skirt is to measure correctly and don't be satisfied with less then perfect.
You will love yours!😀
You can find more of my makings on Instagram:
https://www.instagram.com/jongdesign
---
1. Your name and where you live
Giorgia, Stuttgart Germany
2. Your choice of style for the Allie and why ?
The button version is great for work, it's fashionable but understated so perfect for the office!
3. What fabric did you choose and where did you purchase – (make sure you add affiliate link to fabric seller if you are able)
4. What tips can you share when sewing the individual garments parts ?
Make a toille of the basic skirt and check the fit before cutting out the overlays etc. It really goes a long way to achieving the look you want (and my toille took me 30min from cutting it out to finished test garment)
5. What was your favourite thing about making the Allie.
I like how quick it is to make and the variety of options it comes with. The darts mean it has a great, flattering fit and the overlays offer different finished looks!
6. Have you worn your Allie yet and what compliments did you receive.
Yes! I have work it to work, to dinner, to the supermarket! It looks great with a t-shirt, a dressy top or a crop top to get through the heat wave!
7. And how are you styling your Allie ?
8. Social media URLS
Www.instagram.com/gsewssometimes
---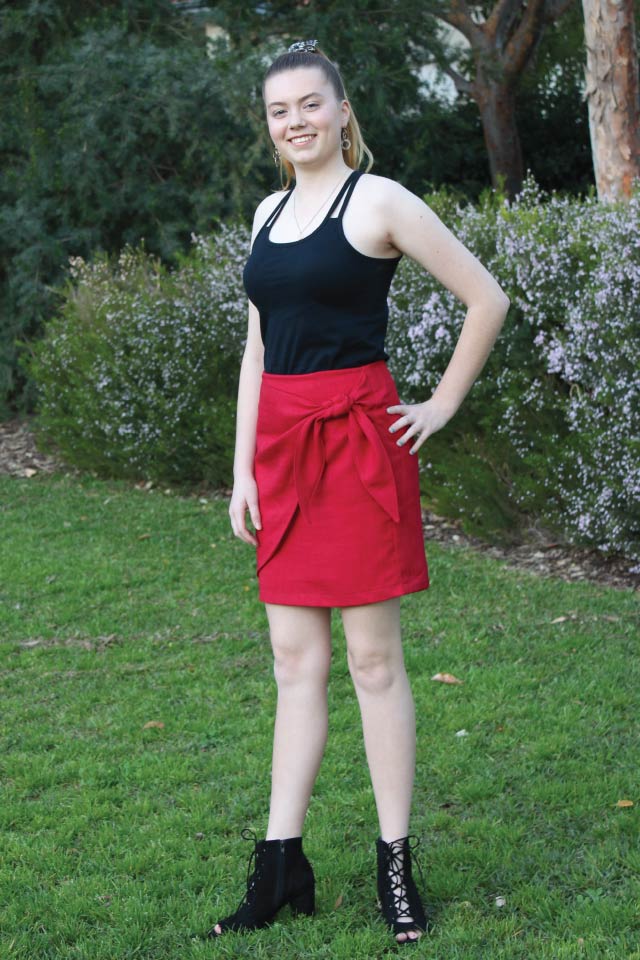 Hi I am Amanda and I'm from Western Australia, I chose to make the shortest wrap version of the Allie skirt for my daughter, as she has been asking for a red skirt for quite some time and she loved the overall style.
The skirt was was made from some cotton slub that has been hanging around in my stash for WAY too long!
My tip for sewing an amazing Allie is to not skip a test garment (toile) I used an old sheet to make mine, but it really does allow you to adjust the fit for perfection. 🙂
The Allie skirt has already been worn several times, and is in heavy rotation, my daughter always styles it with a pair of heels and various sleeveless tops.
Her friends have asked where she got her skirt, and have hinted if I might make them one too!
If you would like to see more of my sewing creations, you can find my sewing blog at 7 Bobbins
https://www.facebook.com/7bobbins
---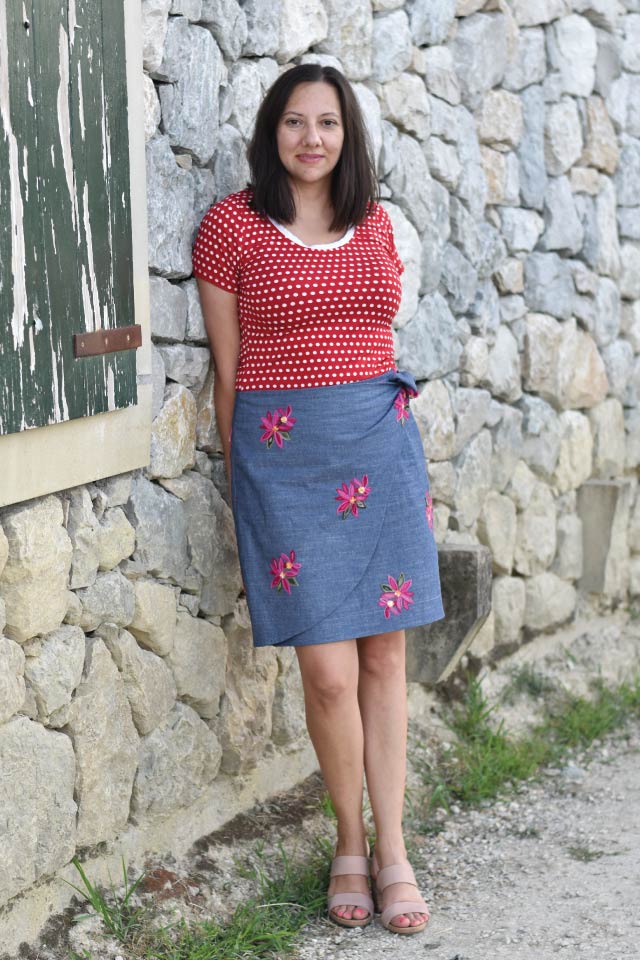 Hi, my name is Valentina and I live in Carrollton, TX.
I love all Allie styles! My favorite was the one with the tie, and second favorite is the button. But I love the others too, it's really really close.
I made 4 skirts (so far). One of them is a polyester suiting material in a heathered gray kind of color. I purchased it from Joann Fabrics. My second one is a denim with embroidered flowers also from Joann's. Third one is a black poly poplin that I got at Hobby Lobby. And the last one is a blue faux shade from
Joann's too. I plan to make a corduroy one and probably a linen blend.
The skirt construction is straight forward. Follow the tutorial.One thing to note is that the fit will vary a little depending on the type of fabric. If it's a looser weave, the skirt will feel looser, and if it's something tighter like leather or suede, the skirt will few tighter. I actually had to take a smaller seam allowance at the waist on my suede skirt.
I loved how quick this skirt was to make, and how great it looks on me. I have never worn skirts before and now I am obsessed. I also loved the zipper installation technique that Ann has included in the tutorial.
I have work my Allie skirts a bunch of times. Between the 4 I made, I wear them every week at work. People always comment how cute they are.
I love to wear it with a fitted top and heels. I also wear a cardigan most of the time. And I love it with a tucked in blouse, like the Synthia.
If you want to see my makes, follow me on Instagram at Instagram.com/the_engineer_seamstress
Or @the_engineer_seamstress
I also post about sourdough baking and house plants.
---
I am Rachael from Florida! I made the long length wrap front with tie and used a cotton woven fabric from my stash! I love the gingham and can wear the white and grey with any color top for any occasion!
I have worn this teaching and the long length allows me to keep up with kiddos sitting on floor etc! A lot of the teachers were amazed that I made it.
My favorite part was watching the tie front come together and also I love the feeling of success after installing a zipper.
 www.instagram.com/rsarafin
---
My name is Catherine C. I live in Québec, Canada. I choose a sporty/classy style for my Allie skirt.
I want To be able To wear it everywhere I go. I choose a pants fabric for my skirt that I bought at 《la grange du tissu》 #lagrangedutissuevidemment
take your time for zip it is very important To follow step by step or It wont be nice.
Allie was for me a challenge because it was woven skirt and first time with zipper 🙂 My coworker asked me where I bought my skirt.
They love the fabric choice and the style. I wear Allie with simple t shirt and a long vest.
Follow me on IG cathchamp
---
My name is Stacey and I live on the south coast of England.
I chose to make the shorter length wrap over tie version, as I thought it was pretty and would make a good work skirt.
I used fabric from my stash, it's a seersucker cotton.
I would say pressing is an important process in making the skirt, taking time to have all the parts well pressed makes them much easier to sew together.
My favourite part of making my skirt was tying the knot and getting it just right!
I have worn my skirt to work and everybody loved it. I style it with a simple cami tucked in to show the pretty details of the skirt.
allsewnupbystacey.blogspot.com
https://www.instagram.com/all_sewn_up_by_stacey
---
Hello from Adelaide, South Australia! I'm Belinda and I made the long length wrap front skirt with button closure because this design suited the weight of my fabric best.
I'm sewing for Spring these days and my stretch woven from Tessuti Fabrics is a good choice because it doesn't require lining and the print suits my Spring wardrobe palette.
If you plan to sew this pattern with stretch fabrics, you may need to size down. I cut according to my measurements and shaved off where needed. Very happy with the fit! So far, my Allie has made a trip to Aldi but hopefully we have a string of warm days and I can wear it more consistently. I'll be making more, it's a great wardrobe staple.
---
Hi all you beautiful people, Melissa from Colorado, USA.
I chose the ring tie in the mid length as we are in late HOT summer here in the high desert, and used a very stable ponte in black for versatility.
The fabric was in my stock closet.
What a wonderful wardrobe pattern this sweet Allie is!! We love this pattern! I'm starting to really understand pattern alterations for the particular body I'm sewing for and found that my toile was perfect!! First time!
Measure, measure, measure, compare to Ann's chart, do not worry about fitting into one size, read Ann's blog for information on fitting to your body!!!
Make a toile and take notes!!
As for sewing this beauty it's a dream! My daughter Cherish is wearing a simple sweater t, long necklace and little wedges for this cute polished outfit!
It's perfect for the office, errands, weekend fun, any occasion!!! Psst… it's so comfy!
Everyone's loving it!
I made myself one and wore it all day traveling, on a flight and 2 hour drive. It was perfect! Thank you Ann for your lovely designs!!! Your wonderful teaching!!! and for your belief that curves are beautiful!!!!
You are an Inspiration!!!!
Http://Facebook.com/Melissa.deeg.3
---
Hi! I am Sharon from Texas. I made the Allie with the Tie Front Overlay and also in a basic pencil skirt.
I love how the Allie has a high waist and matches my curves. It was a nice and quick woven pattern to sew!
I used a basic heavier weight cotton for my pencil skirt version and used a linen/rayon blend for my tie front. I liked using the lighter weight linen to make it not so bulky to tie.
I think the Allie looks great with a pair of heels or dressier sandals and a fitted tank.
Read my blog post on the Allie here: https://sweetmamalife.com/2019/09/meeting-friends-and-sewing-the-designer-stitch-allie-skirt.html…
You can connect with me on IG at www.Instagram.com/thesharonaguilar.