Hello my friends and a happy day to all of you. Another sunny day here in Australia with spring just around the corner – glorious !!!!
And a big WELCOME to Part 2 of the Allie Faux Wrap Tester Roundup Part 2.
And WOWSERS !!!…the reaction to the Allie Faux Wrap Skirt has been exceptional – everyone is just loving all of the versions on offer for the Allie and its ability for
trans-seasonal wearing.
And as you know I am so so proud of my roadies and their tester team – they are all professionals and super dedicated.
Did I say I was PROUD…lol….xx…. and I just love SHOUTING from the roof tops with all of their amazing skills and talent.
If you missed yesterdays post be sure to read the Allie Faux Wrap Skirt Pattern Tester Roundup Part 1
The Allie Faux Wrap Skirt  is for a sewing level of Confident Advanced Beginner and Above.
On Sale for a limited time only – $8.25 (US)
(AU/UK) 6 – 28
(US) 2 – 24
(EU) 34 – 56
https://designerstitch.com/shop/allie-wrap-skirt
So with further ado !!!!… here is part 2 of the amazing tester roundup of the Allie Faux Wrap Skirt.
And just in case you have missed the previous days posts here are the links.
Allie Faux Wrap Skirt Inspiration and Influences 
Allie Faux Wrap Skirt Pattern Tester Roundup Part 1
Cheerio my friends.
Love to you all. xx
Ann at Designer Stitch.
---
My name is Shilyn J and I'm in the process of moving to the Sunshine State (Florida)! 🙂
2. I chose the button overlay because I loved the simplicity of the design, which meant I could mix and match fabrics for it!
3. I used a handwoven fabric from the Philippines that I actually imported. It's a heavyweight material with no stretch, and was only 24″ wide and 1 meter in length!! The rest of the skirt is a cotton denim from Joann's.
4. Be extra careful when trying to center the overlay. The skirt was probably the easiest thing I've made, so just be sure to follow with the directions!
5. How quick it was to make!
6. I've worn it several times already, and have even "matched" people who bought RTW. The of course said they could tell mine was made by me because of the pattern and fit 😉
7. I've been wearing it with a cute button up and flats or sandals.
8. Https://instagram.com/shilynsews
---
Hi, Synthia LG here, I am from Central California. For the Allie wrap skirt, I choose to make the wrap with grommets and leather lace-up ties. I just love the look of grommets and lace-up styling in a garment. For my Allie, I use a light denim fabric from Joann's fabric store.
Tips for the Allie, a must, sew up a muslin for fit, and a must to use iron-on interfacing for the grommet placement. I have worn my Allie and compliments were given for the style of the skirt with grommet and lace-up ties. I styled my Allie skirt with the Eleni top with flared sleeves. I was going for a Boho/Edgy look. Lovely skirt Ann Grose.
https://sewsynsewn.blogspot.com/…
https://www.facebook.com/Synthia20000/
https://www.instagram.com/synthialeegerritson/
---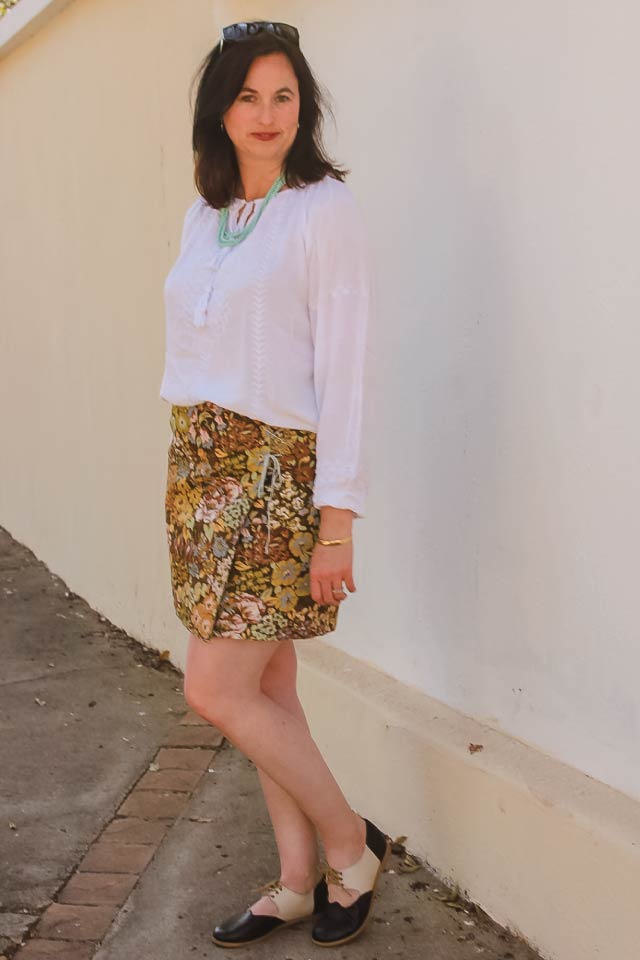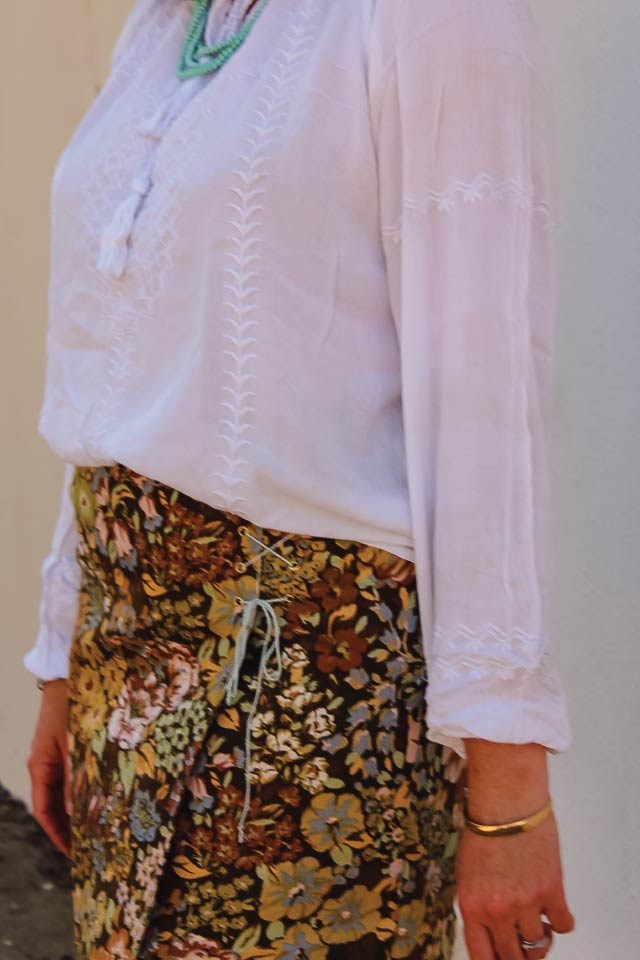 Hi, my name is Genevieve and I live in Johannesburg, South Africa. I chose to make the Allie with small grommets. When I saw the line drawings, I thought that the small grommets were so different and eye catching. I used a piece of vintage twill that I've had in my stash forever.
This skirt is really a lovely sew, I would saw that the trickiest part is the zip but with Ann's instructions it really just comes together beautifully. I really enjoyed putting the grommets in and seeing how pretty it looked all together.
My Allie is such a great transitional piece and it's so striking with the wrap over, that I've received numerous compliments when wearing it. I styled mine with a boho top and cute shoes, but I could also style it with a winter top and boots.
https://www.instagram.com/gegiegrossmann
---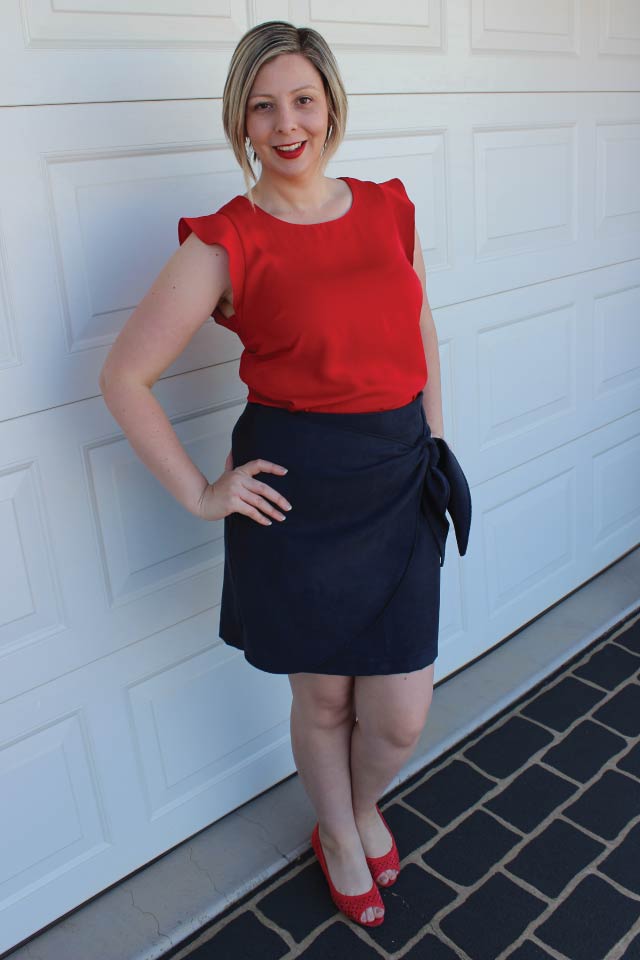 My name is Elise and I am from Queensland, Australia. I decided to make the side tie option as it is coming into spring here and it gives me warm weather vibes. I have made two so far, using a medium weight cotton suiting for one and suede for the other.
When you are sewing your skirt be careful to follow the instructions and accurately position the front overlay and tie. You don't want them to get caught in the seam between the top of your skirt and facing. My favorite thing about sewing this pattern is the professional finish. I have never sewn a zip so easily, Ann's instructions changed the way I will forever do zips.
I have worn both of my skirts to work and everyone was very impressed. There are a couple of others sewers there and they all keenly inspected and compliment on my perfect zip insertion. Would have been an interesting sight for onlookers.
This pattern is very versitile, it can go from professional to casual depending on the material you use and the way you style it. I have been matching mine with flutter sleeve tops and heels for a fun, feminine office outfit.
My Instagram is @Seweliseium – https://www.instagram.com/seweliseium/?hl=en
---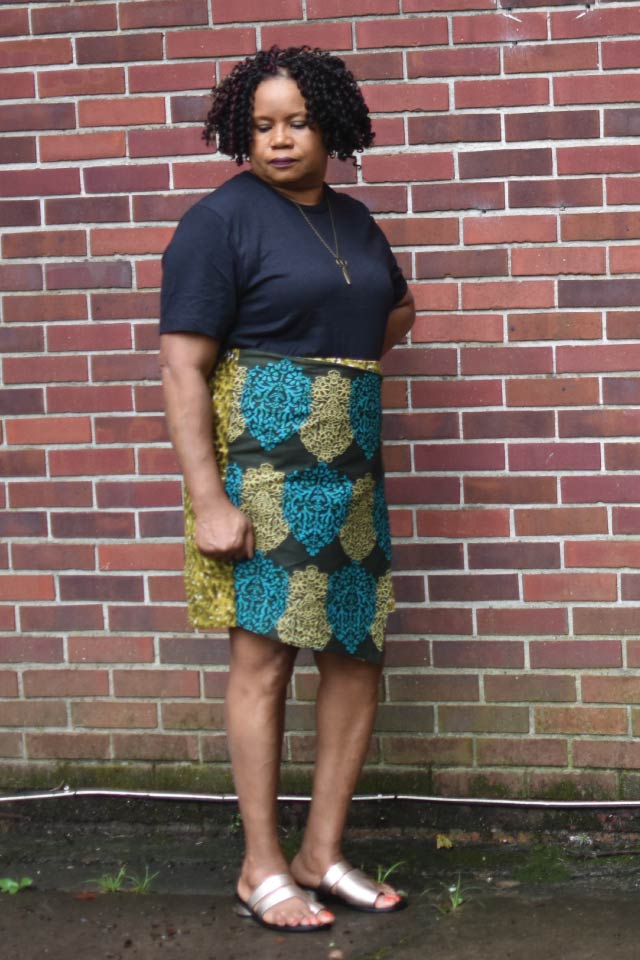 Hi, I'm Barbara from Northeast Mississippi, USA
I chose the button front overlay Allie Faux Wrap Skirt because of the classic look.
I used a two-faced Ankara cotton fabric from https://www.ankaramalkia.com/
When I am tracing the darts to my fabric, I snip the fabric where the dart begins. This helps me line up the dart evenly on both sides.
I love that the Allie Faux-Wrap can come together in one evening!
I've not worn my Allie as of yet, I'm wearing it Labor Day Weekend!
I'm styling my leopard print Allie with a black tee, gold jewelry, and gold sandals.
IG https://www.instagram.com/ninjabreadgirl61/
---
Hello hello! My name is Kiran and I am from Singapore. I chose to do the button front Allie. Initially, I was so sold with the look of the eyelet option but my fabric choice made me think otherwise. This is a loose weave which would have totally unraveled under the eyelets, whether interfaced or not.
The Allie is such a quick and rewarding sew, I am certain that I'm going to have quite a number of them in my wardrobe soon. It helps that there are a number of pattern views, so I can switch things up. The best part, you can dress it up or down depending on your fabric, top pairing and accessories. It really is that versatile.
You can find me and more of my sewing and life adventures at www.instagram.com/gloopygoo
---
Hello, I'm Sarah M, I live in Belgium and I am a full time working mom of three boys (14, 12 and 7 yrs old).
With a house filled with testosterone, imagine my happy dance every time I get to make something other than shorts, shirts or hoodies in multiple shades of grey, black and brown (yeah, there is no way my teenager will wear a brightly coloured hoodie any time soon) :-).t
As I was finishing up the back to school clothes inventory, Allie came at exactly the right time to get me in the mood to start on my own fall wardrobe. I don't know why I opted for the button overlay exactly, but with its feminine style and clean lines, it just drew me in.
And I am so glad it did!
After I had my toile perfected, I actually lay awake debating what fabric to use. I did another happy dance when I found this velvety fabric in this gorgeous red colour in the back of my stash. I bought it as a remnant in a Belgian fabric store while on holiday and it had just been sitting there, apparently waiting for Allie.
Mind you, it was a pain to work with, as it is extremely slippery and unyielding to the steam iron. It cannot be steamed in any way without shrinking in weird wrinkles. I used a lot of clips and put the walking foot of my sewing machine to work, to make sure everything lined up as it should be. So let that be my tip to you ladies who choose a gorgeous, but slippery fabric for their Allies: walking foots are a gift from heaven !
As I made my Allie for fall, and we have experienced a heat wave the last few days, I have not worn her yet. Can't wait to do so though!
I don't have any blog or website to show you, but you will hopefully see me around some time on the FB group!
---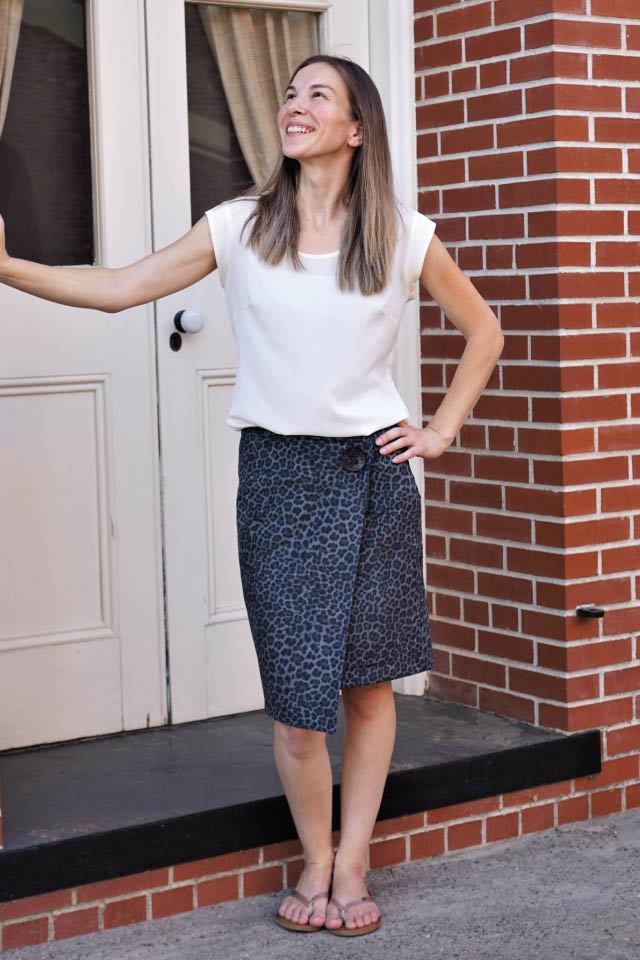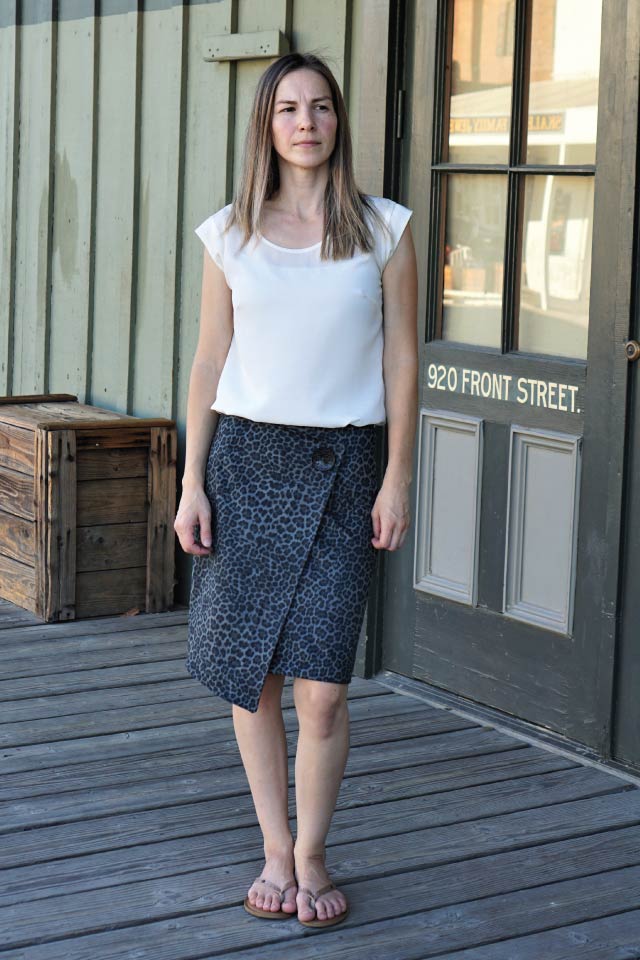 My name is Yelena and I live in Sacramento. It was a hard choice but I went with the single button overlay because I thought it was simple and sophisticating.
I purchased my fabric from Joann fabric store. The fabric I used had slight stretch but was very stable and doesn't fray.
I love the Allie skirt because it is so versatile, you can dress it up or down. I dressed up mine a little so that I could wear it to church.
---
I'm Jessica L from Utah, USA. I chose the asymmetric hemline with the button because I liked the fun hem look and, well, I had buttons! I styled my Allie Skirt two ways – business casual and casual. It was just a simple change of shirt and shoes. Heels to flats and black frilly to plain white t-shirt.
I used a lighter weight sueded fabric I picked up at Wal-Mart for $1.50. It is surprisingly nice for Wally World.
While sewing the skirt, I suggest to take your time and make sure you have completed every part of each step before moving on. Also, since this is a woven garment, be sure to be very accurate while cutting, marking, and sewing including accurate seam allowances and dart sizes.
My favorite part about making the Allie was learning new sewing techniques like sewing in a zipper and making darts.
I haven't gotten a chance to wear my Allie out yet. My wardrobe choices are sometimes limited by my SAHM status. I do plan to make another Allie in denim for this reason!
You can find me @
https://facebook.com/letsgohobby/
https://instagram.com/sojesssew
https://www.letsgohobby.com/2019/08/so-jess-sew-designer-stitch-allie-wrap.html
---
I'm Allison from New Jersey, USA. I love all of the styles when I saw the Allie line drawing, but the side tie was hands down my favorite. It is so different than other skirt patterns out there that I've seen and I was excited to try it. My fabric is a lightweight tweed type fabric In a burnt orange color that I pulled out of the fabric stash I inherited from my grandma when she stopped sewing. A hand written receipt was actually tucked in the folds (the date said 1972!!) but not much other info about the fabric was on it.
My favorite part about making the skirt was how easy it all came together. That being said, I recommend doing a toile before to check the dart placement because I did have to move mine a bit.
I wore my Allie the day I took my pictures and had a few people complement the look I had on. I paired it with a royal blue, short sleeve/cold shoulder, close fitting top that I tucked into the skirt and brown sandals. We are moving into fall here soon, so, in the future I'll probably start layering with a cardigan or pull over sweater. I also plan on making a few more Allie's in the different styles!
My instagram link is http://instagram.com/SeeAllieSew
---
Hi! I'm Kim from the Netherlands. For the Allie skirt, I chose the button front. I love the look of it and my fabric was too heavy for the side tie. I used corduroy and think it's great for autumn. I was unsure about sewing the zipper, but Anns instructions are great and I ended up very happy about the finish of the zipper.
I wore the Allie skirt on my grandmother's birthday. She taught me to sew a year ago and told me I should be proud of myself 🙂 I wore it with a loose fitting shirt tucked in, one time with tights and one time without. Both ways felt great!
---
I'm Srebrenka from Croatia in Europe.
I choose to make the one button Allie skirt and I made the long length. I love color blocking and to be sustainable. I love the asymmetry of the skirt. I used the fabric I kept in my stash for a special pattern.
The skirt construction is straight forward. The position of the button would be good to determine on the body itself.
With Allie, I learned that I still love skirts. I love the fit on my body and I think it will be my go-to pattern for woven skirts.
I wore the skirt the same day as I made it, on my niece's birthday. After that day I have work my Allie skirt a bunch of times. I love to wear it with a fitted top and heels.
You can find my makes on Instagram. https://www.instagram.com/silverluna888