Hi Ho my sewing friends.  Welcome to Part 2 of the Ariana Rockstar Pattern Testers Roundup where everything glorious about the Ariana continues.
Our Ariana Dress Rock Star Roadies roundup – Part 2 – is our celebration of and fabulous continuation of the Ariana Dress Pattern Tester Roundup Part 1 from yesterday.
The Ariana offers an inclusive multi size range – along with cup size choices – and plenty of styling options.
And remember the Ariana Dress is all about – Fabulous Fit – Fabulous Style – which equates to a Fabulous YOU !!
So please my friends I would love you to give a massive WOO HOO for all of our AMAZING pattern tester roadies and their gorgeous dresses.  
. xx
Our roadies would like to share the following with you all :
1. Your name and where you live ?
2. What fabric did you choose and where did you purchase.
3. What sewing tips can you share when sewing the
Ariana
?
4. What was your style choice for the
Ariana
?
5. What fit alterations did you have to make to the
Ariana
?
6. Have you worn your
Ariana
yet and what compliments did you receive.
And the finer details;
(AU/UK) 6 – 30
(US) 2 – 26
(EU) 34 – 58
Cup Sizes – B, C, D, DD
On Sale for a limited time only – $9.50(US)
Very Confident Advanced Beginner and Above Sewing level
---
Hello, I'm
An Ca
from Belgium. I used A beautiful Stretch Crêpe from the "Stoffenstraat" for my dress. I made my Arianne in the longer lenght with a plain front. The only alternation I did was my usual swayback adjustment. My sewing tip for this dress? If you use a thicker, non fraying fabric, like I did, you might consider leaving the seam of your sleeves unfinished, otherwise it will be thick so that the sleeve will not fall very well. I really love mij dress and I would also love a version with the Brenda cuffed sleeves ❤️. Do you want to see more of my work? You can always find me on Instagram
https://www.instagram.com/flaxfield_sewing
/ or on my blog
http://flaxfieldsewing.blogspot.com
. See you x An Ca
---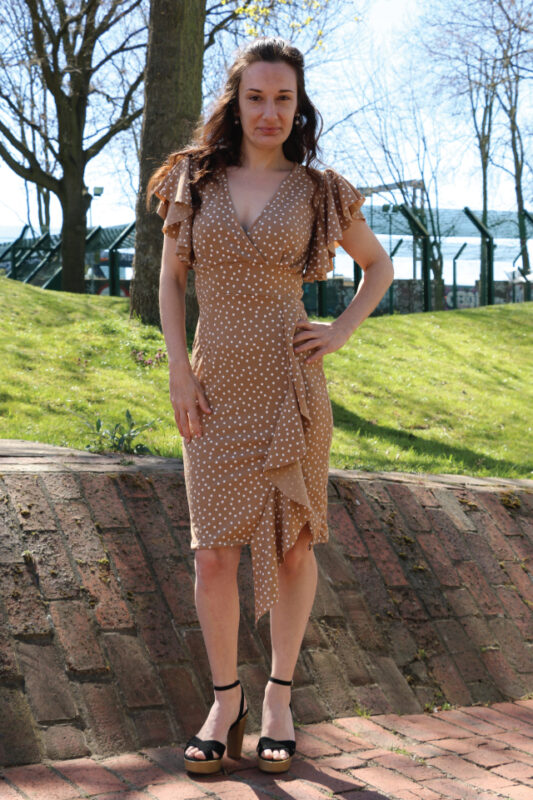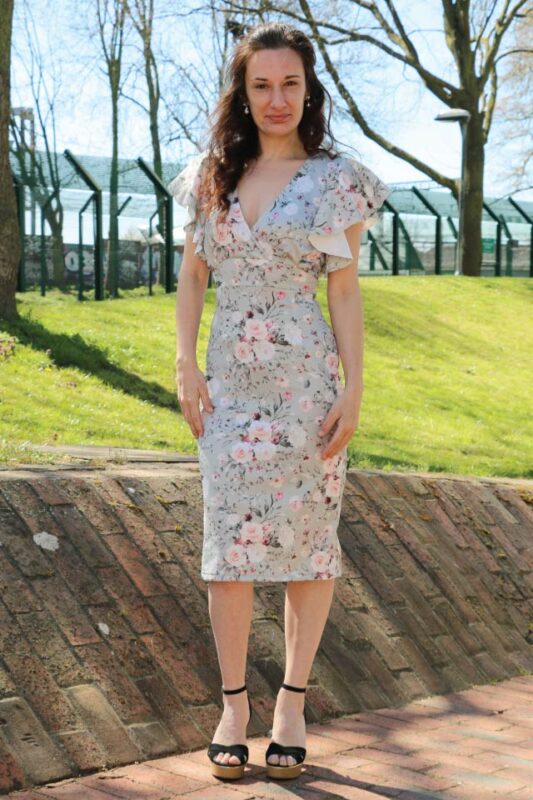 Hi I'm
Ashley R
from London. Now lets talk about the amazing
Ariana
dress.
I had to make 2 dresses so showcase the fantastic flounce with front split and plan skirt with back split. I used scuba/ scuba crepe which i found to be the best fabric to work with this pattern. Summer is coming i went for a cream black with small polka dot and floral print. Fabric came from a UK facebook group CoalvilleFabrics .
I will always say to measure yourself and go but the measuring chart to make sure you get the right size I would always say make a test run first in case any adjustments need made, you want the best fit you can. I'm only 5 foot so I always shorten the skirt to get the right fit.
My favourite part about the
Ariana
dress is to see the end finish and how good it made me feel in it. The sleeves and flounce really showcase this dress and are my favourite part as they look simply but really stylish.
This patterns is great for a birthday night out or could be worn to a special occasion. I'm waiting for a good night out the get theses dresses back out. They pair great with a heel, this dress makes me feel amazing and i hope you all feel the same in yours.
---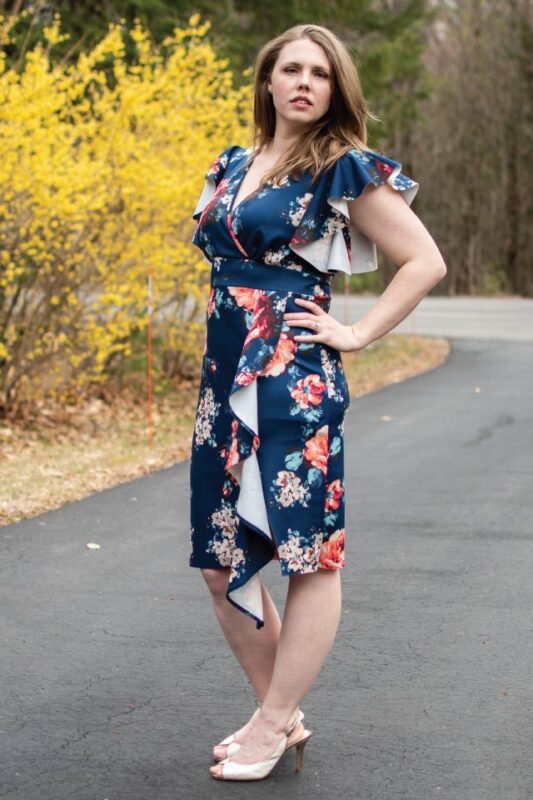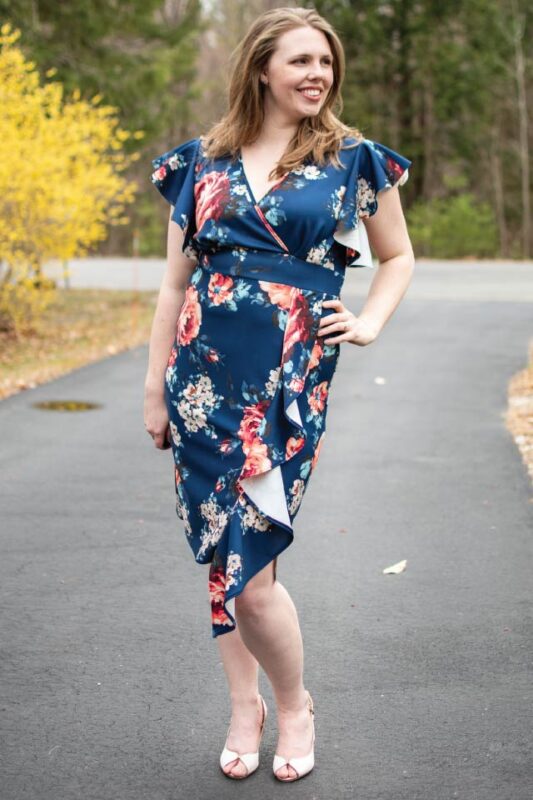 I made the size 3 cup C and didn't need any adjustments. I didn't get the chance to wear it yet, but hopefully soon.
2. The fabric was from a random destash site. Which was a thinner type stretch rayon with good rebound stretch.
3. Be extra careful to include marks from the pattern onto the fabric for correct placement of pieces.
4. I chose the flounce skirt version for wonderful flowing effect.
5. I did not make any alterations.
6. I wore it out to dinner and got many compliments the bust pleats and flounce make it look so professional.
7. It is so wonderful to be able to mash up patterns I see some in my near future for sure!
Hi I'm Lisa! I live in tropical North Queensland, Australia.
I made the front split with flounce option for that little something extra and made a size 3 blended to a 5 at waist and hips. Because the waistband sits above my natural waist I blended from below the waistband and used Ann's tips on using darts to blend sizes and increased the width and length of my darts to reduce the top of the skirt to fit the waistband.
It is a surprisingly quick sew but the result is so stylish! I used scuba crepe for both my dresses, which is a beautiful fabric to sew with and so comfortable to wear.
I made a toile first, as always and found out I had to take in the side seams a little. Well, therefore a toiles right? My toile is corrected and is waiting for some nicer weather now.
I am more then happy how it turned out! This is going to be 1 of my favorites!
My husband: "wow, do we have to go out a lot when everything is open again, but till that time you'll probably wear it when bringing the kids to school…"
Well, he knows me 😄
I am already looking forward to sew more options! I made 2 long versions, but I need a short one too and a plain skirt and….lol.
Well, all I can say is: have fun making yours, put un your favorite shoes and be you! ❤️
I chose 2 scuba/scuba crepe fabrics. Both from www.supercheapfabrics.com.au Both were gorgeous to sew with.
Some sewing tips would be to ensure you dont overstretch the binding on the front wrapover part.
I chose to make both front split with flounce with 60cm skirt and the longer length no flounce dress. I think my favourite was the plain longer length skirt so far.
I was lucky enough not to have to make any alterations. I love how the wrapover bodice fits perfectly without having to pin in place.
I am planning on wearing my plain skirt longer length to work. Those that I have shown pics to so far have all complimented on how professional looking they are.
I sewed the longer length with front flounce and did rolled hems on the flounces on my overlocker. I am really pleased with the neat finished look.
For my finals, I chose the knee length with flounce, to really highlight the flirtiness of the design!
My usual fit alteration (a 1 inch sway back adjustment) was all I needed for this. I love how consistent each DS pattern is 😉
I used a scuba crape from Fabric Wholesale Direct.
The dress is easy to sew and fun. I had to make adjustment for my behind because it sticks out a lot. The good thing is, you can use the center seam, darts, and waist seam to ask those adjustments.
I made the flounce front skirt in shorter length. It's very pretty and unique.
I graded from size 3 bust and upper body to size 2 waist and below. I also took it in at the center back, and shaped the darts a bit longer to account for a bigger behind.
I haven't decided yet, but those butterfly sleeves from Brenda are tempting.
Social media URLS: