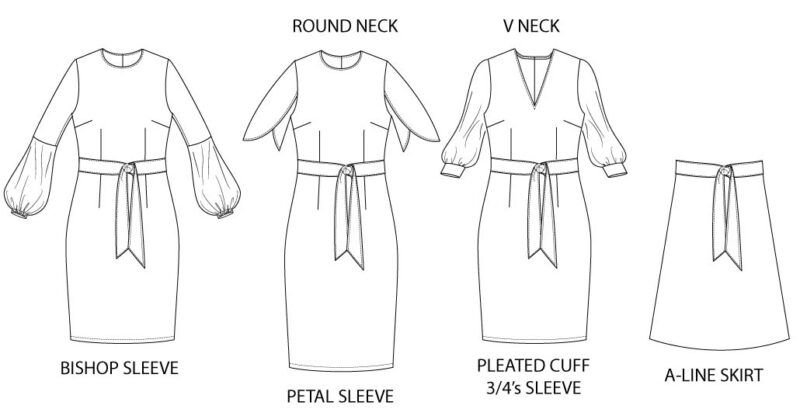 And another big WARM greeting to all of my sewing friends.  Welcome to Part 2 of the BRENDA SYMPHONY (thankyou Saundra R x) other wise known as the Brenda Dress Pattern Tester Roundup Part 2.
Our Brenda Dress Rock Star Roadies roundup – Part 2 – is a fabulous continuation of the Brenda Dress Pattern Tester Roundup Part 1 from yesterday.
The Brenda offers an inclusive multi size range – along with cup size choices – and plenty of styling options.
And remember the Brenda Dress is all – a Fabulous Fit, Fabulous Style which equates to a Fabulous YOU !!
So please my friends I would love you to give a massive WOO HOO for all of our AMAZING pattern tester roadies and their gorgeous dresses.  
. xx
So lets start the
Brenda
Dress Tester (Rock Stars) Roundup Part 2 – and prepare yourself for something extraordinary. Love you all xx
Our roadies would like to share the following with you all :
If you could share with the readers ?
1. Your name and where you live ?
2. What fabric did you choose and where did you purchase.
3. What sewing tips can you share when sewing the
Brenda
?
4. What was your style choice for the
Brenda
?
5. What fit alterations did you have to make to the
Brenda
?
6. Have you worn your
Brenda
yet and what compliments did you receive.
7. Social media URLS
(AU/UK) 6 – 30
(US) 2 – 26
(EU) 34 – 58
Cup Sizes – B, C, D, DD
On Sale for a limited time only – $9.50(US)
Very Confident Advanced Beginner and Above Sewing level
Brenda Dress
---
Hi, I am
Annet
and i live in the Netherlands. I choose a scuba crepe with flower print and a jeans blue scuba crepe. This fabric comes from the dutch webshop Driessen stoffen. The
Brenda
is a very easy sew. But take your sizes good and make your modifications good. Then do you have a perfect dress! I have made the petal sleeves and the pleated sleeves and i love them both! The Petal sleeves gives me an happy feeling. My
Brenda
fits perfectly, i dont have make any alternations. I dont have worn my
Brenda
's yet, so the weather is very cold and wet in the Netherlands at the moment, and i have it always cold. But with the coming spring and summer i go wear it so much.
You can find al of my creations on my instagram account! Nice to meet you there!
www.instagram.com/josewbo_creaties_
---
Hi! My name is
Arina de M
and I live in Katwijk Sea. I used a beautiful Scuba Crepe for my
Brenda
Dress, which I actually doubted I liked. But wanted to go out of the box with the print. Now I am so glad I did because I feel really great in my
Brenda
Dress. I bought the fabric at www.hollandstoffenhuis.nl Measure yourself carefully and make a toile first, as Ann always advises. I like a bit of chic, combined with cool, and I immediately knew that I wanted to wear cool cowboy boots with this. I've worn my
Brenda
several times and get nothing but great compliments. I can't wait to show it to the rest of the world.
---
Hello, my name is
Christine M
 and I live exactly in the center of the Netherlands. It's called Amersfoort.
The red retro print is a ponte and the green is scuba crepe, both fabrics I bought from my local fabric stores on the day stores reopened after 3 months of total lockdown. When sewing the
Brenda
 dress, take a good look at the size charts (which I didn't manage the first time). Especially if your bust is larger than cup B, then you choose the size of the garment by measuring your upper bust. The good thing is: this pattern has different cup sizes, so you don't have to do FBA, just check which cup you want to print. After I worked this out, the size was perfect and I didn't need any adjustment. The pattern works like the dream !! For the blue dress I used the pencil skirt above knee height and bishop sleeves. The sleeves are fantastic, but I always feel a bit insecure wearing pencil skirts because of my belly/stomach. (especially if I want to breathe 🙂 )For the red ponte I used the pleated sleeve, because the back of this fabric is white and I didn't want that for the petal sleeve. I've used the flared skirt that gives me the waist I want and makes me feel more confident. The green one also has the flared skirt and the prettiest petal sleeves. This skirt is slightly shorter than the red one. All dresses have the V-neck because I love how it looks and feels. I haven't worn them yet because nowhere going 🙁 but I showed the pictures to some people and everyone loves them !! Most importantly I love them and will wear them a lot !!!
With love,
Christine
---
Hi, I'm
Carmen
from Georgia.
I chose a medium weight techno scuba for my
Brenda
and it turned out super classy. A sewing tip I would share when sewing the
Brenda
 would be to get a rolled hem foot if you don't have a serger so you can get the perfectly rolled edges for the petal sleeves.
I chose the knee length
Brenda
 with long petal sleeves, a round neck, and a figure-hugging pencil skirt. I thought the sleeves can add a beautiful touch of whimsy to any design and really make an outfit standout.
One of the alterations I make for almost all dress patterns is a small sway back adjustment which helps tremendously. I also usually shorten the bodice, but not always the skirt. The
Brenda
is a pencil dress style intended to flatter your frame. Pencil this dress into your next holiday event or date night. The pattern also comes with bishop sleeves and pleated cuff 3/4 sleeves. I feel like the three sleeves choices really make this dress pattern stand out. The
Brenda
 is a dress you can choice to make over and over all year round. This is particularly useful when transitioning from winter spring as you can wear the bishop sleeve to stay warm and then make another dress with the petal sleeves to stay cool.
---
Christina
here from Cape Town South Africa.
I made 3 🤪
Brenda
 dresses. 2 in Scuba and 1 in scuba crepe bought from a local fabric shop Union Rag.
The
Brenda
 dress is a super sew, I love that the centre seam shape the dress so well. I have not yet made the Bishop sleeve, but with the petal sleeve my asvice will be to opt for a fabric with same colored wrong side ( usually then a solid color) I did not… and regret seeing white playing peekaboo when the gorgeous sleeve moves. I love both my V neck and round neck, but future dresses will possibly be V – neck it is an extremely flattering V.
Both skirts have their place and the structure of your fabric will give a different effect each time. My flared skirt was made with my most structured fabric giving it a certain effect, a softer crepe or thinner scuba will change the look completely – so versatile!
Best complimemts – my husband likes all 3 !
---
Might have been that she practically jumped the opportunity to have some DS dresses for herself too, after practically begging for some seeing my previous makes 😉.
I had no troubles with getting the fit right for her. I measured, checked the measurements table and ended up with the perfect fit first time around.
As easy as it sounds, it was👌
We picked up some scuba crêpe for these dresses at the best assorted web shop for scuba crêpe in the Netherlands.
The red scuba crêpe with high neckline and bishop sleeves knocked it out of the ball park.
My best tip for sewing this dress is to make sure to have the darts facing each other, so the butt up to each other when sewing the cross seams, and you'll have perfectly matched up darts showing on the right side each time.
My narrow rolled hem foot for the sewing machine was also a very handy tool for getting a nice hem on the petal sleeves too.
Make sure you don't skip understitching the neck facing and tacking it down at the shoulders and back. It will help you keeping the facing in place.
Best compliments?
"Girl you need to get your man and get out on town with this dress because it needs to be showing off"
"Neat dress on you"
"I want one too!" (her sisters upon seeing her with the dress)
For more pics :
I was very pleased with the outcome. Without any alterations I already had a nice fit and I feel very feminine in this dress.
I made a rolled hem on the petal sleeves because my scuba was too thick to hem in a normal way.
I didn't wear my dress yet, but will definitely when the time comes.
I have no blog or Instagram.
I chose the shortest skirt option with V neckline and petal sleeves. I didn't need any alterations, a perfect fit at first try 😍
hello everybody!
I am a proudly pear shaped woman, but my hips run quite low, it's more upper legs and finding a fitted dress that gives me a WOW feeling has been a true struggle. I blended sizes from 4 upper body, to 5 waist and 7 hips. If you recognize these sizes, here's what Ann taught me: I made a skirt starting with size 5, going to 7 a soon as possible. I then pinned the excess fabric and stitched across these lines. Basically my hipline dipped 10 cm 😱. I lengthened the skirt darts by 3 cm. After the fit was perfect, I serged the edges off and put them on my pattern pieces and voila perfect fitting pattern pieces! Last but not least, I took in the shoulders by 2 cm because the sleeves were hanging off too much. I could not have made this perfect fitting dress if not for Ann's guidance so don't be scared – you can do it and Ann is always helping out in pattern support. And sometimes frustrating, she is always right 😂
I used Scuba Crepe fabric for my dresses and there will be more to follow! I feel like Donna from Suits in this dress, and that in my own body ❤️
The selection was extremely slim, black was it! Yet they turned out lovely and the girls loved them.
I'm rather tied down right now due to caring for two elderly and ill family members. So my shopping was delegated to my eldest daughter.
I made Chelsea the long length, v neck, cuffed sleeve an I made Cherish the long length, v neck, Bishop sleeve. As always my advice is to take care in sizing your pattern. Don't let grading sizes scare you. If I doubt go a bit large, baste together, try on wrong side out and pin to fit.
My girls are very curvy and the fit is so important for showing them off not adding bulk.
Made all the sleeves and de 2 skirts.
I used scuba crepe for the dress. And it wears so light.
I'm planning to make one in the longest version, but I can't decide what sleeves 🙈
My biggest tip is to pay close attention to the facing, depending on the stretch of your fabric you may need to cut it down just a bit in order for it to lay flat.
My wearable toille was a straight skirt and bishop sleeves and the second one I made using the petal sleeves and flared skirt. I do plan to make another with pleated sleeves.
I used a textured scuba knit to make my dress that I bought from https://northernmonkeymakes.com/
As this dress is fitted my top tip would be to measure twice and grade between sizes where needed.
I chose the shorter length, v neck and the pleated sleeves, because I love how they look!
I just had to do a small sway back alteration to get the perfect fit for me, everything else was spot on.
I haven't had an occasion to wear it yet, but my family says it looks great!!
I used scuba crepe from Spotlight (a dream to sew – it does not fray and provides just the right amount of drape and structure).
In terms of sewing tips… I big stitched many seams (e.g. side seams) before serging them. It allows you to check that the fit is right and take seams in easily. It also makes using the overlocker a piece of cake as you don't need to worry about pins being chomped! Working with knits is new for me and I found this pattern very easy to follow. Those who have worked with Designer Stitch patterns before will know that the step by step instructions are the best going around – clear, great illustrations, tips on when to press seams open etc.
I made a size 2 and a half. Being 5'1″ – I shortened the bodice by 2cm (short torso) and sleeves by 5cm (short arms). I took in the side seams of the bodice and shaved off some of the side seams of the skirt to get the pencil skirt look. Also skipped the central back zipper as there was enough stretch for me to pull it straight on.
Am yet to wear this outside the house – but am looking forward to it – it is sooooo comfortable being stretchy.
---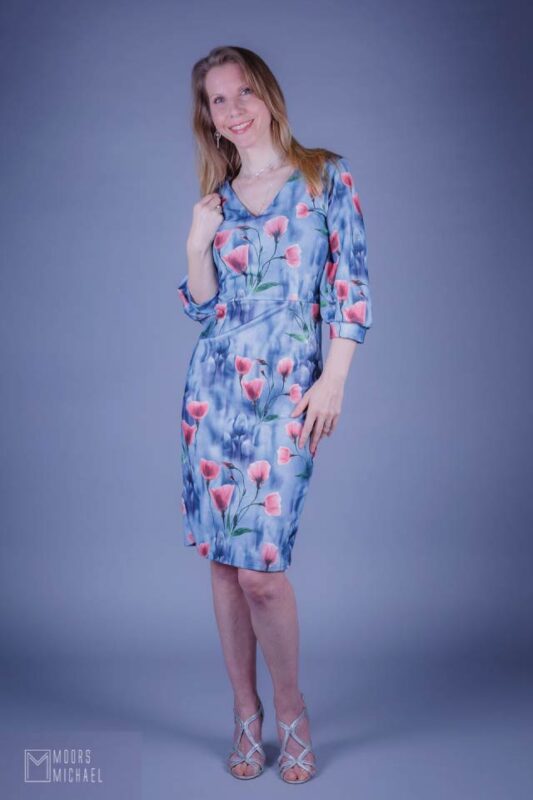 Hey, I am Girl in Uniform
Lieve
from Ghent, Belgium. For my
Brenda
, I chose a beautiful scuba crepe from online shop Fabricated. If you can follow a step by step tutorial, you will definitely be able to make this dress, because it is not difficult at all. I do recommend that you iron a piece of hem tape under the V-neckline, so that the hemline always stays in place. I chose the elegant
Brenda
with a V-neck, a straight skirt and 3/4 puff sleeves. Because of my hollow back, I made a sway back adjustment, lengthened the top a few centimetres (because I have a long torso) and straightened my hips. You can admire my Brenda on
www.girlsinuniformblog.com
or on
www.instagram.com/girlsinuniformblog
---
Hey all. I am
Jocelyn
xx
1. Southern California
2. Scuba in a blue/purple color with black striations on it. The blue/purple scuba is from a local shop that doesn't have a website. I'm currently making another in ponte de roma in a tan chevron which I got from Knitpop.
3. Pay attention, if you have a serger, use it, and also clips! I only used pins for the darts.
4. Both are short length, fitted skirt and v-neck. Purple/blue one has the pleated sleeve. Tan will be petal sleeves. And making a modified
Brenda
, sleeveless with a stand up pleated collar in a bright blue (from the local shop here) with the flared skirt and adding pockets to it, this is scuba as well. And, another modified
Brenda
as a floral sweater (from Knitpop as well) with the bishop sleeves. I *should* be done with these in two days depending on how much work I have for my job.
5. None, other than grading the hip to a larger size, did the B cup.
6. I have worn it with family and friends! I've had many compliments on how well it fits and how well it shows off my body. 🙂