Hey ho my lovely friends and thank you for visiting with us all for Part 2 of the Brielle Pattern Testers aka Brielle Roadies Roundups. 
As you saw from yesterday's post the Brielle looks absolutely fabulous on everyone – whether it is made in a print or a solid colour the styling of the garment is just beautiful and totally ON-TREND.


The choice for your own Brielle Jumpsuit is really unlimited given the options you could choose from.

The above image gives great detail in what Brielle Jumpsuit combinations you can choose from – various leg lengths, 4 sleeve styles and for the warmer climes you also have a sleeveless option. 
And then you choose between a print or a solid colour – or if you are like all of is you would be making at least 4 versions of the Brielle as I can guarantee it will be in constant rotation in your wardrobe. 
So, without further ado my friends – let's all shout another WOOT WOOT for our next installment of Brielle Jumpsuit Roadies Roundups. 
And if you missed yesterday's Brielle Jumpsuit Part 1 roundup here is the link. 
And again our fabulous women would like to share with you the following. 
1. Your name and where you live ?
2. What fabric combinations did you choose and where did you purchase.
3. What sewing tips can you share when sewing the Brielle Jumpsuit ?
4. What was your style choice for the Brielle Jumpsuit ?
5. What fit alterations did you have to make to the Brielle Jumpsuit ?
6. Have you worn your Brielle Jumpsuit – and if not what plans do you have for your Brielle ?
7. Any plans for future combinations of the Brielle ?
And the finer details; (AU/UK) 6 – 30 (US) 2 – 26 (EU) 34 – 58
Cup Sizes – A, B, C, D and DD (E)
On Sale for a limited time only – $9.95(US)
Very Confident Advanced Beginner and Above Sewing level.
Brielle Jumpsuit
---
Hi 👋 I'm Charlotte and I live in Cheshire, England.
I chose a Viscose Jersey from a real live shop called
Leons Fabrics Chorlton Manchester. I felt A LOT of fabric before I decided on my final choice and I'm not disappointed.
Pay attention to your measurements, I made a successful toile that I can wear just like my final because I made careful size choices.
I chose to make a full length, narrow leg, 3/4 sleeve version.
I made a size 5 top, in a size two length, size 6 bottom with a size 12 rise! And it fits like a dream 😍
I've worn both versions already and everyone loved them!
I will definitely be making more of these, my next attempt will be plain bottom with patterned top.
https://m.facebook.com/502252449/ is my FB account but I'll be sharing in lots of sewing groups.
---
Hi, my name is Synthia and I live in Central Ca. I made 2 Brielle, what an awesome jumpsuit and well fitted with my personal sizing according to the pattern. I made one out of crushed velvet and with bishop sleeves. The second one I made from a jersey fabric with long sleeves. Because I am 5′ 3 " tall, I do usually need to shorten the length 4″ and add 1″ to the bodice as I have longer torso. Tip, make sure to add on the outer edge of the pockets, some type of interfacing for a smooth finish. My friend who is the first one to see my sewn outfits, he especially loved the Brielle jumpsuit and the fabrics I used. This jumpsuit can be dressed up or down. Love the design Ann Grose. https://sewsynsewn.blogspot.com https://www.facebook.com/Synthia20000/
---
Hello lovers of beautiful patterns. My name is Taryn and I live in Cape Town, South Africa.
I used a floral DTY for my Brielle jumpsuit as I love the drape and gorgeous soft buttery feel of it.
I purchased it from Sadelle Fabrics, a small local South African business. My top tip would be to ensure you take accurate measurements and then grade your pattern according to your body measurements. This will ensure you have the best fit. If you are unsure, it is always recommended that you make a test-fit garment. This is especially important for a jumpsuit pattern to ensure you get the perfect personal fit. Personally, I believe this is one of the key reasons people don't think jumpsuits will suit them – because they have bought ready-to-wear ones which don't take into account these adjustments and so end up with one part of it really not fitting well. I chose the wide-leg full-length without sleeves to see me through the last days of summer and early days of autumn – knowing that I can layer for warmth as the temperatures cool off. As indicated in my tip, I did grade up for my hips and added about 1cm to the crotch depth (an adjustment I typically make for pants). I have worn my Brielle to church the day after I finished it. I still like to feel like I am wearing my Sunday best and based on the compliments received, Brielle definitely fits the bill. It apparently even inspired one of the ladies to 'dust off' a jumpsuit they have in their wardrobe but don't wear too often. I would like to add a bishop sleeve version to my closet for Winter and am keen to try a cropped narrow leg length. You are always welcome to follow what I am up to at https://www.instagram.com/creatazzly/
---
Hi, This is Brenda from the Netherlands.
I used a cotton lycra from Megastoffen for my Brielle.
I do not have specific sewing tips for the Brielle, it's a very easy sew and everything you need to know is in the instructions.
For my Brielle I used the longest length leg and 3/4 sleeves, I picked this because in spring I often wear long pants and shorter sleeves and this seemed a perfect combination for me. Because of this combination, and my intention to wear it in spring, I have not worn it yet, except for the pictures. It's still freezing over here.
I only needed to make my usual alterations for my Brielle.
Want to see more of my sewing: https://www.instagram.com/fabricfairybrenda/
---
Hi, it's Christine from the Neatherlands and wow, I love my new Brielle in a cotton knit panel that was waiting in my stash for the right moment. And now was the perfect time. Make sure to make a test garment before using your precious fabric.
At first I wanted to make it with fluttersleeves but my fabric is white on the inside and I didn't like that. So I made the bishop sleeves and although I used every scrap of my fabric, it wasn't enough to make them the original length.
As usual I didn't need any adjustments for my final. Just a straight size 4 C. But in our testingteam there are a lot of different shapes and of course lot's of alterations needed, so take a look at the other testers for your comparison.
For the coming summer I'll definitely going to make more.
Take a look at my instagram acount for more of my makes: https://www.instagram.com/stienmakes/?hl=nl
---
Hi! I'm Grace from Singapore! This is my first test for Designer stitch and I'm impressed by how well-drafted the pattern is! I made my Brielle jumpsuit with a stable athletic knit in a gorgeous blue that does not require hemming. Its structure and drape is perfect for the flutter sleeves and long wide pants! I was gifted this fabric by http://bigandbravefabrics.com for a strike sew.
This being my first jumpsuit, I was initially apprehensive and thought it would require lots of adjustments for my 1.52m height, but those fears were unfounded. I only needed to increase the rise by an inch and shorten the pants.
Definitely make a toile for the jumpsuit as everyone's body shape is different. I basted together my top and bottom for my toile and realized that I needed to lengthen my rise. Because of that, I can still refashion the toile and make it into separates when time permits. ☺️
I will be making more of this jumpsuit, maybe in Bishop sleeves or even as separates! You can find me on Instagram at https://instagram.com/sewnby.grace
---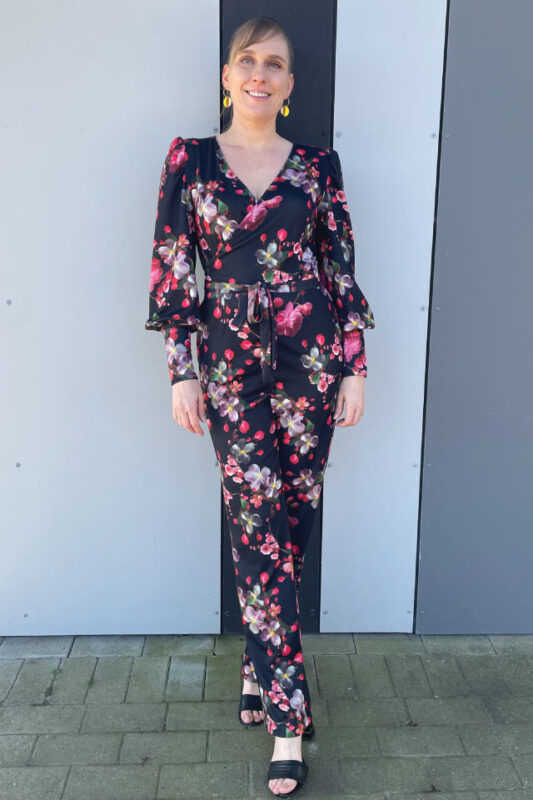 I'm Mieke from Belgium.
I used a scuba tricot (jersey) from Fairytailors.
My tips: take your time to measure and compare with the finished measures and adapt for a perfect fit. I had to lengthened the front and back, the scrotch and the sleeves.
I was wearing my high heel sandals and nice earrings for a spring look.
My husband and kids were really enthusiastic and
I plan to wear my Brielle for the upcoming communion party's when the weather is not good enough for a short dress and short sleeves.
https://www.instagram.com/sewista_mc
---
hi! I'm Stephanie from Oklahoma in central USA. We are moving into the warmer months here and when I looked at Brielle, I wanted something that I could comfortably wear to work well into our Fall. With this in mind, I made the flutter sleeve wide leg full length option out of a cotton Lycra. The top heart print is from Goldie oldings fabric and the black is from Walmart and I totally love it! My toilie suggested a need to lengthen the back rise just a smidge so did so. I'm going to credit my physical therapist and all that exercise for that need 😉. I wore my Brielle out the other day and while dropping off my oldest, one of her teachers exclaimed, "I bet you make that. Gah, you always looks so stylish" Of course I always look stylish in any DS make, but Brielle is a a fabulous addition to that collection.
You can see my Brielle and other makes on my IG at Instagram.com/scrapsandscissortails
---
Hi, I'm Sandra from the Netherlands.
I made 3 jumpsuits: 2 from knit and one from (I found out later): woven with stretch. And I can tell you: don't use that!! Only use knit! That's my tip 😛.
My style was just casual so you can wear for multiple occasions.
The alterations I did: added 2,5 cm to crotch and 2,5 cm to the top.
I didn't wear it yet but I will do many times this year. Spring is almost coming to the Netherlands and looking forward to wear it without jacket outside.
I will make more in future too.
https:www.Instagram.com/sandra_wilbrink_sewing
---
1. Bonnie O, Cincinnati OH
2. Rayon jersey purchased from Gorgeous Fabrics eons ago
3. Tips: If your fabric may grow, let hang overnight before hemming. Sew the wrong edges of the left bodice seem so you have a clean finish stitch it together.
4. I made the bishop sleeve (which I adore!!) and full length regular leg
5. I had to shorten legs by 3.5". I'm 5'3". Slightly rotated the bust dart upward.
6. I haven't worn it in public yet, but my husband can't stop talking about it!
7. I have some royal blue jersey and hope to make a wide leg version with flutter sleeve
---
Hi, I'm Sjouk from the Netherlands! I've made briëlle in a cotton poly from swafing, butterfly sleeves and 3/4 wide legs! I had to lengthen my crotchlength with 8 cm , but now it fits really well 🍑
I'm hoping for spring now, 'cause I'm freezing my toes of right now (I even bougth tanned tights because my legs are about blue white hahaha)
www.instagram.com/dutch_sjouks