Hello again to my lovely sew'ists friends and a warm hello to you all.
Today we have Part 1 of our roadies roundup for the gorgeous new
Brielle Jumpsuit
Pattern and I can guarantee you will just love and adore each of our pattern testers
Brielle
makes. 

As you all know I have said countless times our/your pattern testers are just fabulous fabulous women. I have a massive respect for them and cherish each and everyone of them.


In our pattern tester roundups our roadies generously share details of their make with you and any hints that they can share from making their toile first – and then their final make.
Some of my roadies learn fit adjustments or seek advice on fabrication. 
Others adjust their pattern as usual given that Designer Stitch have a set of blocks developed for their customer so fit alterations between styles can be done easily and quickly. 
So my friends – I hope you enjoy reading along with our pattern testers for the
Brielle Jumpsuit
– Part One of our Roundups – and a loud resounding WOOT WOOT to all of our amazing women. 💗
They would like to share with you the following. 
1. Your name and where you live ?
2. What fabric combinations did you choose and where did you purchase.
3. What sewing tips can you share when sewing the Brielle Jumpsuit ?
4. What was your style choice for the Brielle Jumpsuit ?
5. What fit alterations did you have to make to the Brielle Jumpsuit ?
6. Have you worn your Brielle Jumpsuit – and if not what plans do you have for your Brielle ?
7. Any plans for future combinations of the Brielle ?
And the finer details; (AU/UK) 6 – 30 (US) 2 – 26 (EU) 34 – 58
Cup Sizes – A, B, C, D and DD (E)
On Sale for a limited time only – $9.95(US)
Very Confident Advanced Beginner and Above Sewing level.
Brielle Jumpsuit
---
Hi I'm Ashley R from London, and have the amazing Brielle jumpsuit to share. I used an ITY fabric from @jo-rorags they are a UK group. I will always read over your mesaurments to make sure your making the right size, Ann's patterns fit so well if you size it right.
I styled my Brielle jumpsuit with some sandals getting ready for summer but also works well with heels. I'm only 5 foot so I always adjust for the right length and find I need 1/2 inch taken off the bodice to sit at my waistline, then I have the best fit. I've worn my jumpsuit for lunch and loved how it felt and wasn't too warm or cold and got some nice comments about what I was wearing.
I have already planned to make it into a 2 piece as will be great as a top to wear with jeans and get to mix and match.
IG: https://www.instagram.com/madebyashleyriley/
FB: https://www.facebook.com/sewashley.co.uk
---
Hi, I'm Barbara. I live in Northeast Mississippi, USA.
I used a Kelly Green ITY fabric from https://www.fabricwholesaledirect.com.
The Mod vertical waves is also an ITY fabric from a Knitpop auction. Knitpop.com.
Sewing with ITY can be tricky, so I use the knit stitch setting, (also called lightning stitch) on my sewing machine. I use my serger for most seams.
I went with flutter sleeves with wide full-length pants for the Kelly Green Brielle. For the Mod vertical waves, I choose sleeveless with wide full-length pants.
The fit alterations I made for my Brielle are as follows: moving the breast darts, forward shoulder adjustment, swayback adjustment, shortening the bodice 1 inch, and shortening the pants by 1 inch.
I have worn my Brielle to a family gathering and received many compliments and requests.
I plan to make a black with lace bishop sleeves for a future Brielle.
https://www.instagram.com/ninjabreadgirl61/
---
Hi, I am Marieke and I am from the Netherlands.
That we have to decide every day what to wear is a fact. Besides it should be clean, the right size and feel good in it, the best is when it is comfortable. At the end you have to live in it the whole day.
But what when you could look stylish, every day a different look with the feeling of wearing a pj? Doesn't that sounds to good to be true?
Well, it's true! This new design from Ann has it all! Tons of options to make yourself a different look through the year and it's looking so good and sooooo comfy!
Anyways, as always make a fit first and when you are familiar with DS patterns, you might be so lucky as me to end up with a beautiful wearable toile!
Although I love my flowery version already for summertime, my favorite is my retro look jumpsuit. I used a new kind of fabric, which is soft, warm, stretchy and ideal for this pattern.
And yes, I worn mine already because the fabric is warm enough for this wintertime. And yes, I did got compliments and yes I feel good in it and yes, it's as comfortable as pj's and yes, it's cold when you go to the badroom LOL, but wearing a shirt underneath is the biggest tip I can give to solve that issue.
I would say: have fun sewing!
And when you are curious about my other makings, you can have a look at my Instagram page: https://www.instagram.com/jongdesign
---
Hi, I'm Danielle from Brazil. I used a rayon spandex bought from a brick-and-mortar shop for my Brielle jumpsuit. I chose the sleeveless, wide legs full length style and made my usual fit alterations that are removing length for height and blending sizes at waist. My tips are take your measurements carefully to choose your DS size and tie a string or elastic to mark where your true waist is. I'm not a jumpsuit person but I'm glad I signed for this test, the jumpsuit fits really well!
---
1. Your name and where you live ? Lindsie, and I live in the Philadelphia area!
2. What fabric combinations did you choose and where did you purchase – I used a jersey from Joann's for my toile, and for my final, I used a nylon spandex from ABfabrics16 on Etsy.
3. What sewing tips can you share when sewing the Brielle ? Sew a toile! I'm usually in the #nomuslinclub, but for this pattern, the fit is so precise that a toile is really necessary. Also, I did some understitching and topstitching where the instructions didn't call for it, which I think gave a more finished look. For example, I topstitched the seams where the bodice meets the ties.
4. What was your style choice for the Brielle ? I chose the sleeveless, skinny leg version in a full length.
5. What fit alterations did you have to make to the Brielle ? I made a 3DD at the shoulders and bust, but did an additional 4″ (2″ per side) full bust adjustment. I then graded to a 5 at the waist down, did a full tummy adjustment, and lengthened the crotch in the front and back.
6. Have you worn your Brielle yet and what compliments did you receive. Yes! I showed my Brielle to some of my coworkers and they all think it's super cute. I also had someone at Ikea compliment me on it 🙂
7. Any plans for future combinations of the Brielle ? I'm planning to make another romper version (my toile was a romper, but the fit isn't excellent, so I'd like to give it another go). I think I'll choose the wide legs and flutter sleeves for my next romper, and in either yellow or coral. I'll also probably make another full-length one, probably with wide legs, in a less loud print
https://sewbusty.com/
https://www.facebook.com/sewbustcommunity
https://www.instagram.com/sewbusty
---
I'm José, from the Netherlands 🇳🇱, and very very happy with my Brielle jumpsuits. I never was one for jumpsuits, because of the problem I always had with the crotch length and size difference in top and bottom which just won't work.
So when Ann had this design for knits I immediatly jumped to the opportunity, because I'm very charmed with the whole look.
It's a very easy pattern to sew, and my only strong advice would be to check all your measurements before cutting, especially the length of crotch. Ann has written a detailed instruction on how to adjust this length correct, and it'll help you to get the best results.
My green Brielle is from a more stable knit then recommended, which still works, but keep in mind that it does make the bishop sleeve look a little different than the blue floral Brielle which was sewn out of cotton jersey. Both versions are with full length wide legs and bishop sleeves.
I like to wear my jumpsuits with pointed boots or pumps, which both work very well with the full length wide leg of the Brielle.
It might be my most complimented make this year, and I'm not sure it'll be topped 😛, unless Ann will once more supersede herself.
(Which is totally possible of course).
I'm even working on a third one for my close friend who hadn't found what she liked for a wedding next weekend, so I'm excited to see how that one will turn out too!
Want to see more? Check out my instagram account: https://www.instagram.com/jose.vernooy
---
Hi, I'm Karman from Utah, USA. I love that there are so many options with the Brielle Jumpsuit. I made the 7/8 length, wide width, and bishop sleeves from a beautiful pink Modal from Joann fabric. My best advice would be to read the instructions throughly before starting. I find it's always easier to see the whole picture first. I'm 5'3″, so i removed 1 1/4″ from the sleeves and cuffs, and 1″ from the front and back shoulder. I love how this pattern comes together. The darts on the bodice and pants are a perfect fit, and the drafting is amazing. Now that I've perfected the fit, I'm anxious to make another one with a skirt attachment. I love a pattern that can be made again and again and look different every time, which makes Brielle the perfect pattern.
---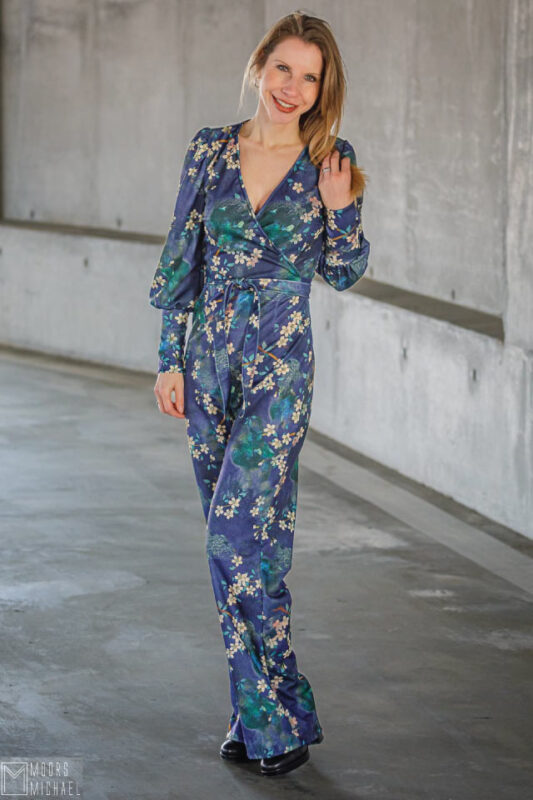 Hi, I'm Girl in Uniform Lieve, from Gent in Belgium. I made this beautiful Brielle jumpsuit in a scuba crepe that I bought at the Belgian Fabricated. Please note when you get started with the jumpsuit: it is important that you measure where your true waist is, and that you know your crotch length well. This way you can adjust the pattern to your body for the perfect fit. For my version, I added 4 cm to the bodice, and 5 cm to the crotch length. I have a long torso and my waist sits high. I chose the version with the bishop sleeves and the long wide legs. It's still too cold in Belgium right now, but I definitely want to make a version with cropped pants and short sleeves. Because I'm in love with my Brielle! You can find me on www.Instagram.com/girlsinuniformblog or www.girlsinuniformblog.com 😘
---
Hey! I am McKenzie Reints from Woodstock, Georgia and I chose the bishop sleeve with cuffs and wide leg. On a whim one day, I went to the clearance section of Joanns Fabric and found a four yard piece of warm brown sequined mesh knit. With this style design I knew the combination would sing…loud! With this fabric there were two main tid bits I would recommend: 1. Play around with stitch and needle combinations on test fabric. Try using different hems with those as well, as those stitch and needle choices might change depending on what you are doing. 2. For the tie opening, pre stitch down the opening prior to sewing the side seam. You will be able to get a more precise hem. After making a toile in a spandex blend and feeling a slight lack of mobility in the arms and leg holes, I decided to size up from a 1 to 2 and I'm so glad I did. No issues now. I have worn my jumpsuit once for a private photo shoot and received some oooh's and ahhh's. Since this is a sequin jumpsuit, I don't know what occasion I can wear it in the future so I think I might make another one in a more casual fabric with a standard shirt sleeve. Check out my other makes on IG https://instagram.com/southern_mims?igshid=YmMyMTA2M2Y=