And a Sunday greeting to all of you my lovely sew'ist friends and I hope that you managed some personal time over the weekend for some sewing therapy.
Welcome to my first installment of the Camelia Drape Jersey Dress Tester Round-up.
My friends – the road test was outstanding this round – (well each round is outstanding of course) but the final Camelia's that all my roadies completed were ABSOLUTELY STUNNING.
And regardless of size each and everyone looked AMAZING – and let me just say – very SASSY AND SEXY !!!
If you missed yesterdays blog post be sure to go and have a read – I talk about my most favourite thing in pattern making – DARTS !!!…. Yes, I LOVE THEM.
They are essential in achieving that perfect silhouette fit. https://designerstitch.com/darts-are-essential-shaping-tools/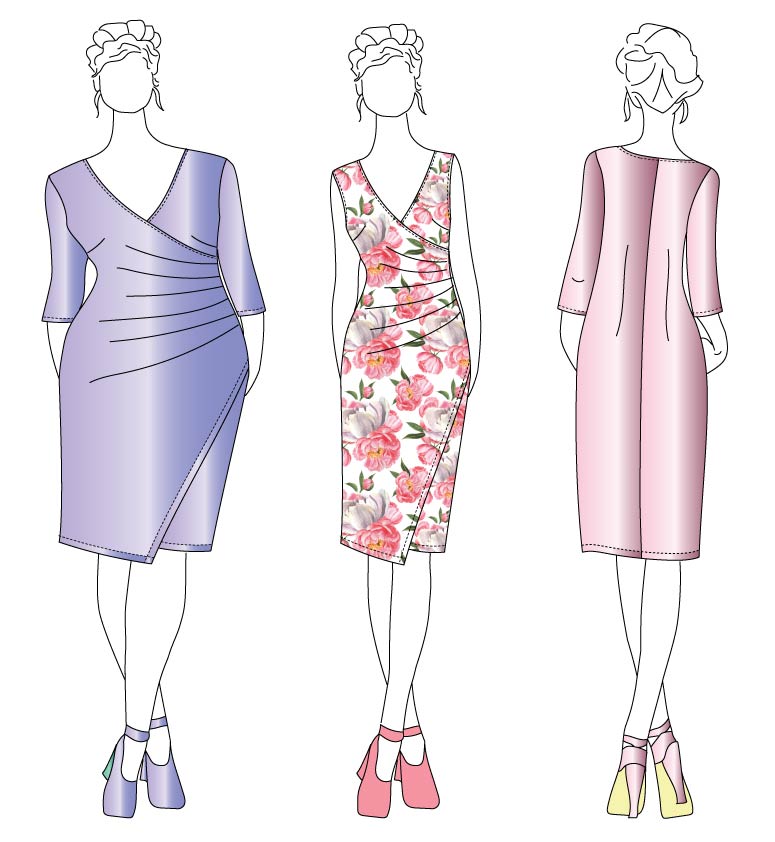 The Camelia is a gorgeous softly draped dress that is so easy to wear yet so elegant.
Showcasing stunning side draping the Camelia is suitable for all figure types and will look absolutely fabulous in your chosen jersey fabric.
Along with its asymmetrical front hemline the Camelia is a fashionable alternative to a traditional dress silhouette.
The Camelia Draped Dress can be made in a myriad of jersey fabrics and is suitable for any occasion wearing.
The finer details : On Sale for a limited time only – $8.75
(US) (AU/UK) 6 – 28 (US) 2 – 24 (EU) 34 – 56 . Cup Size – B, C, D, DD
https://designerstitch.com/shop/camelia-dress
So let us now get underway showcasing my amazing roadies and their equally outstanding Camelia Draped Jersey Dresses.
I have asked each of my roadies to share with you the following:
1. Your name and where you live
2. What fabric did you choose and where did you purchase.
3. What and if any changes did you make from your toile to your final Camelia.
4. What tips can you share when sewing the individual garments parts ?.
5. What was your favourite thing about making the Camelia.
6. Have you worn your Camelia yet and what compliments did you receive.
7. And how are you styling your Camelia ?
A big WOO HOO to all my fabulous roadies in the first round-up of the Camelia Pattern Roadies…
And if you have missed the previous day posts here is the link – Darts are Essential Fitting Tools.
Love to you all xx
Ann at Designer Stitch. xx
---
Greetings from Allison in Milwaukee, Wisconsin (USA). My final Camelia Dress is made from Liverpool that I purchased from Joann Fabrics. I purchased it to have in my test stash. I think the first yard was discounted by 80% from the original price, each additional yard was supposed to cost a penny. The system was not working and would not change the first yard at the 80% discount, so I paid a penny per yard. I think I have 8 yards of this fabric.
My toile for Camelia was made from a thinner, more slippery knit. I had a second piece just a bit heavier. Upon making the toile I understood that it was not going to support the pleats. Fortunately, there was 8 yards of Liverpool that met the stretch requirements sitting in my stash in the perfect colorway for autumn.
Best tip is when the instructions say to make all the waist lines, do it! It is necessary to get the drape and cross over of the dress correct.
I recently wore Camelia with nude heels and a nice updo for my hair. It was a busy event. But, several ladies exclaimed, "OH! That dress." In passing. My favorite thing about Camelia is once you take the time with the details in the beginning it sews up really fast. Also, wait until you see all the tester photos, it looks amazing on everyone of all shapes and sizes!
---
Hi, I am Camelia, living in the Netherlands and I am so happy to finally be able to talk about my Camelia dresses.
I made two dresses using this gorgeous pattern. The first one was the floral ponti knit and that was my test garment. The ponti was around 240gsm and it is really perfect for this pattern: stretchy, structured enough to hold the pleats and also very comfortable to wear. I bought the fabric a while ago here https://www.driessenstoffen.nl/shop/search/?q=punta… ,they have a lot of ponti knits, prints and solids perfect for the Camelia dress!
Based on my test garment I made a sway back adjustment of 2cm and I started my second version in a gorgeous black stretch velvet from Minerva https://www.minervacrafts.com/…/mf-010518-66-metallic… . I knew that that fabric will make a perfect party dress…not that I have any party to go :)) ( I can call it my New Year party dress :))
This is such an easy and fast dress to make ! In my opinion is not more than sewing a t-shirt, is so easy!
A few tips: mark your pleats ( I only make small snips to mark every pleat) , if you use a fabric with enough structure you might not need the waist darts, add a piece of clear elastic in the back shoulder seams, match very carefully the third pleat, which indicates the waist notch on the right front piece with the waist notch on your back piece . When you bind the neckline, stretch the binding and not the neckline edge!
I just love the silhouette of this dress. The moment I putt it on, I feel beautiful and sexy! If you will watch all the testers pictures you will see what I mean, everybody looks gorgeous in this dress!
I wore my Ponti knit version, with flats for an easy and comfortable look but this dress looks amazing with heels too. The velvet dress will make the perfect party dress for the end of the year!
Next Camelia dress is going to be again a knit velvet one, a gorgeous floral print in autumn shades. I will use that to demonstrate the pleats and applying neck binding in a few short YouTube videos on my channel https://www.youtube.com/calcedoniasewing .
You can find more about my sewing adventures on Instagram https://www.instagram.com/calcedoniasewing/
---
Hello, I am Debbie L and I live in Southern California, USA.
I chose a beautiful crushed panne velvet for my Camelia Draped Dress I purchased from my local Joann's Fabric Store.
My final dress is a size 6C-7-7. I added 1.5" to the overall length of my dress as I am 5'10" tall.
When I originally made my toile I made a 6C-9-9 based on my measurements; but I found that it was too big. After much pinning and fussing I simply sized down to 6C-7-7 and the fit was perfect.
My advice to those wanting to sew this beautiful dress is to measure yourself well and if possible grab a friend and have them help you. Other than that mark all of your darts and pleats carefully and it will be a breeze.
My favorite thing about making the Camelia Draped Dress was putting it on and feeling absolutely amazing in it; knowing I made this to fit my body. When I shop stores looking for beautiful dresses I always leave feeling defeated because they are too tight, or too big and always too short. I love that I can sew something perfect just for my body.
I haven't had the chance to wear it out yet but I can't to wear it to a wedding in a few weeks. I plan on wearing it with a cute pair of teal colored strappy heals, beautiful earrings and necklace.
Follow me on Instagram-ldebbie63 or Facebook https://www.facebook.com/debbie.lafrenz
---
Hello ladies, I'm Ilse from Belgium. Seeing the design of the Camelia was love at first sight. The asymmetrical look appealed me so badly! I didn't had to make any adjustments because the Designer Stitch patterns are always perfect for me. Use a fabric with a bit body, when it's too drape your pleats will not be as nice as they have to be. I'll wear it with heels very soon. To be continued.
Follow me on my blog: https://sewsewilse.wordpress.com
My Instagram: https://www.instagram.com/sewsewilse/
---
Hi! I'm Kim from the Netherlands. For my Camelia dress, I used a medium weight jersey with some glitters. I bought it at a Dutch webshop, Driessen Stoffen (https://driessenstoffen.nl/…/jersey-black-lurex-zigzag/). The inside feels super soft and the drape worked very well for the pleats.
I made my toile in size 2 with cup size C, but Ann told me to use cup size B. Of course she was right and the fit was much better! I did a sway back adjustment and shortened the dress five centimeters as well.
My tip when sewing the dress is to make sure you baste the pleats carefully and in the right direction before sewing the parts together. When you do it right, it's my favorite part of sewing the dress! Seeing them come together is a bit like magic.
I haven't worn my Camelia yet, because I'm waiting for a special occasion. I think mine will be perfect for Christmas, NYE and other holidays. I'll wear it with some nice heels. I'm planning on making a more casual one for everyday wear, because it's also the perfect dress for that purpose
---
Hello, I'm Girl in Uniform Lieve from Belgium. For my Camelia I used a supple viscose-tricot, bought at Stoffen Van Leuven nearby Wetteren. I did a sway back adjustment on the dress, and took it in a few centimeters at CB. The dress may look complicated, but it's really easy to sew and it's made in a jiffy. When I wear the Camelia, with its beautiful cleavage and wonderful fit, I feel incredibly sexy and stylish. Wear it with elegant sandals or sexy pumps, and you're ready for a party! Read more about the dress at https://girlsinuniformblog.com/2019/09/23/camelia-dress-van-designer-stitch…
or follow Girls in Uniform at https://www.instagram.com/girlsinuniformblog.
---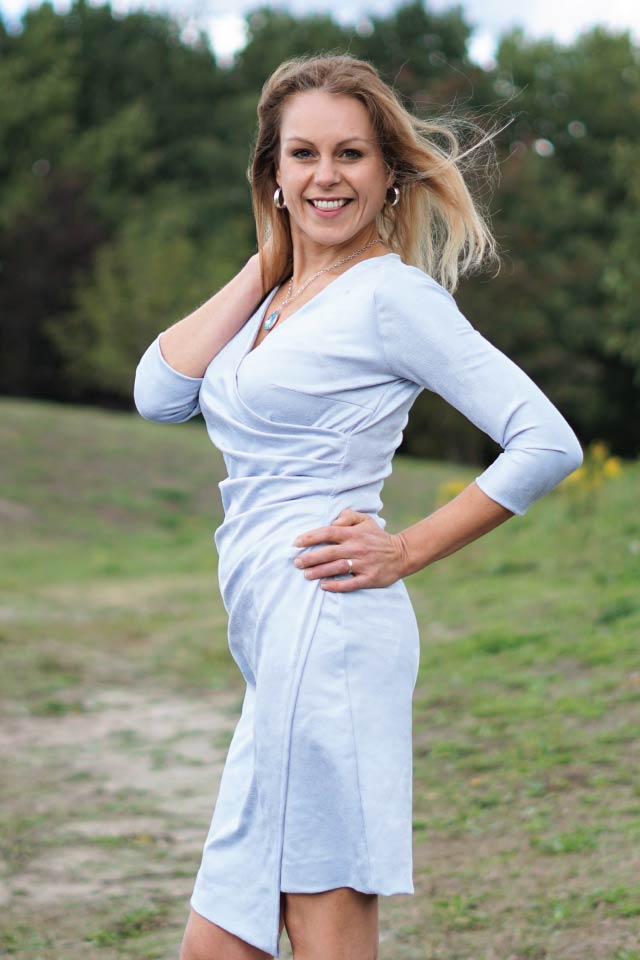 Hi, I am Marieke from the Netherlands.
For my toile I used a beautiful stabil ponte and used the same sizing and adjustments I did on my Taylor dress. That means I used 3.5 different sizes and I didn't need to do any changes.
So I just sewed a second one because I love the fit of this dress!🤗
For my second Camelia I used a suedine. A heavy one with enough stretch and it holds the pleats perfectly.
It was in my stash waiting for a special project and with sewing my second one I felt in love. It is a easy sew, but you have to take your time for folding and pinning the pleats and mark your waistline on both sides secure!
Like I said, the fit is amazing, it's classy, it's elegant, it's fun, it's figure friendly and it makes me feel I am a beautiful woman!🥰
I wore both dresses several times already, to a meeting, a party or just for shopping.
For styling the dress, it just needs your favorites shoes and you just walk out the door.👍
When my husband took the pictures he said: I am not sure if I am taking pictures from you or the dress, you are both there. And that's what clothes should do: make the best version of yourself.❤
You can follow me on Instagram too when you like or have a look at my blog. I hope I inspired you to sew your own Camelia dress. 💃
Https://www.instagram.com/jongdesign
Https://jongdesign.wordpress.com
---
Hello Melissa from Colorado USA.
I chose a lovely suede finished stretch Poly/ Lycra from Hobby Lobby. My daughter is a curvy girl and other than grading from bust to waist I sewed the pattern as designed.
Two tips for sewing this beautiful dress.
1. Take care in choosing your size including bust and cup size.
2. Take care with your pleats and matching them at the waist.
What a lovely and quick sew! My daughter needs office appropriate dresses and this lovely fits perfectly. I made two, a sleeveless in Ponte. Which I'll share after release and a lovely long sleeve in the Poly/Lycra. She has worn both and felt beautiful, comfortable and professional. She has received tons of compliments. Her long sleeve was worn all day as she led meetings and she told me it was wonderful!
Cherish likes to keep things simple so she chose a pair of summer wedges, earrings and a necklace.
Thank you Ann for such a wonderfully versatile pattern!!! This will be in all of my girls as well as my closet in several different fabrics for each of us🥰
Http://Facebook.com/Melissa.deeg3
---
Hello my name is Rachelle and I live near Toronto, Canada. For my dress I used med weight cotton Lycra in black for the back and one front, for the pleated front I used scuba fabric.
The only changes I made to the pattern was I blended a few different sizes, and increased the hem a bit. Trust the process, trust the sizing, and go slow do. If you're not sure baste it, and make sure to mark everything.
I plan to wear it a trunk show next week, I'll wear it with some nice heels and a simple necklace. It's surprisingly comfortable, and I can't wait to take it for a spin. I've gotten lots of compliments, it looks complicated, but the pieces goes together beautifully.
https://m.facebook.com/profile.php?id=510736219043300
https://www.instagram.com/thatssewvenice
---
Hi all, I'm Shardee VanD from the Netherlands.
For the beautiful Camelia I used a 240 grams Ponte, bought on a big market in Ahoy. I felt in love and I knew it was gonna be the Camelia ♥
My toile was in a thicker Jersey, I didn't made a change, only that I made the final of a different kind a fabric. So the plates hold themselves.
Sewing the Camelia is a dress with a lot of markings, take the all 😉 don't miss one.
I have worn my dress a lot, I'm so in love (and my husband too 😜)
If you like to see more of me follow me on Www.instagram.com/sdvtje
---
Hi, my name is Synthia LG, I have been testing for DS the last 3 years. I had the pleasure of sewing the Camelia dress. Loved the style so much that I made three. I used 3 different fabric types, I used a medium weight red stretch fabric with great recovery, I used another medium weight poly stretch fabric for the blue/green dress, and for the pink dress I used a medium Liverpool fabric. I made no changes to the pattern other than to grade down for the hips. A must, to sew a muslin, and one other important tip, make sure your fabric isn't too heavy because it will cause your pleats to over droop. What I loved about the Camelia dress, it is very figure flattering for all body types. My Red dress is for the upcoming holidays, the blue/green dress is more for casual/Sunday wear, and the pink dress is to enjoy the summer days still left this year as it is sleeveless. Read more about my dresses in my blog. Thank you Ann Grose for another great design.
https://sewsynsewn.blogspot.com/2019/09/designer-stitch-camilia-road-test.html
https://www.facebook.com/Synthia20000/
---
I am Valentina from Carrollton, TX.
For my Camelia dress, I used a euro knit French terry (cotton spandex, 210gsm), which I purchased from Jumping June Textiles in the USA.
For my toile dress, I used an Art Gallery cotton spandex knit. Both fabrics worked very well for this dress, but the French terry was better.
I made my usual size in Designer stitch patterns (4) and the dress fit very well. I just had to do a sway back adjustment.
Don't forget to mark the notches so you can line up everything correctly when assembling.
The side pleats are fun to make.
I have worn my toile Camelia to work, and was told that it is very pretty. I have not worn my main one because it a bit too fancy for everyday, but I did wear it out to dinner once when we took pictures, and some people said they loved it.
I wore a Long necklace and heels, but I think a regular necklace will look nice too.
Follow me on Instagram:
Instagram.com/the_engineer_seamstress
@the_engineer_seamstress