Happy day to all of you my sew'ist friends. A big WELCOME to Part 2 of the Camelia Draped Dress Tester Roundup Part 2.
And I am sure you have said to yourself – WOW – when you were viewing all the tester pics of their road tested Camelia – aren't they all gorgeous.
The fabulous thing about the Camelia is that is looks good on everyone – be they more slight in their frame – or lush and curvy. AMAZING !!!
If you missed the previous 2 posts be sure to read the
Camelia Draped Dress Pattern Tester Roundup Part 1 or
Darts are Essential Tools for Fitting.
The Camelia Dress  is for a sewing level of Confident Advanced Beginner and Above.
The finer details : On Sale for a limited time only – $8.75
(US) (AU/UK) 6 – 28 (US) 2 – 24 (EU) 34 – 56 . Cup Size – B, C, D, DD
https://designerstitch.com/shop/camelia-dress
So with further ado !!!!… here is part 2 of the amazing tester roundup of the Camelia Dress.
I have asked each of my roadies to share with you the following:
1. Your name and where you live
2. What fabric did you choose and where did you purchase.
3. What and if any changes did you make from your toile to your final Camelia.
4. What tips can you share when sewing the individual garments parts ?.
5. What was your favourite thing about making the Camelia.
6. Have you worn your Camelia yet and what compliments did you receive.
7. And how are you styling your Camelia ?
A big THANKYOU to all my fabulous roadies in this second round-up of the Camelia Pattern Roadies.
And if you have missed the previous day posts here are the links –
Camelia Draped Dress Pattern Tester Roundup Part 1 or Darts are Essential Tools for Fitting.
Love to you all xx
Ann at Designer Stitch. xx
---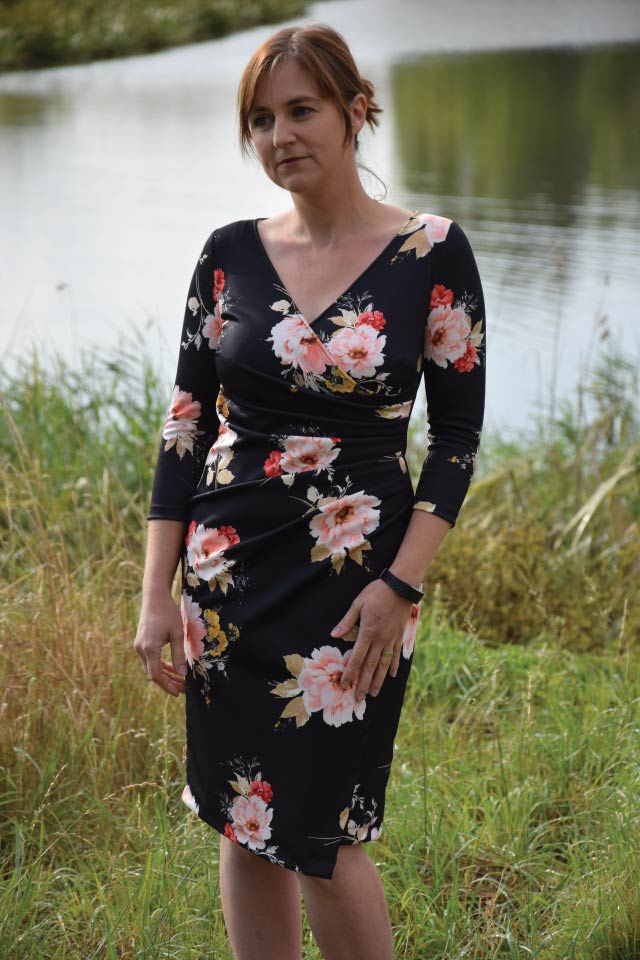 Hello, I'm An Ca from Belgium. I made this Camelia dress out off scuba from Minerva crafts. When I made the toile for the Camelia, it became clear that I had to make an adjustment for my back. So I did a swayback adjustment from 3 cm and I took 3 cm away in the center back for my neck.
If I can give one advice to make the pleats it wil be: pin, pin, pin! Oh and be certain to take over all the markings from your pattern pieces really secure or you will regret it later.
Don't make this dress in a rush, take your time and enjoy how it's coming together step by step. It will be worth your time!
I wore my Camelia only for the pictures, where I styled it with my black high heels. It was so fun to receive the compliments from my teenager sons and my husband ❤️.
I will definitely make another one without sleeves next summer!
If you like my work you can find more of it on my blog: http://flaxfieldsewing.blogspot.com and on
Instagram: https://www.instagram.com/flaxfield_sewing/
X
An Ca
---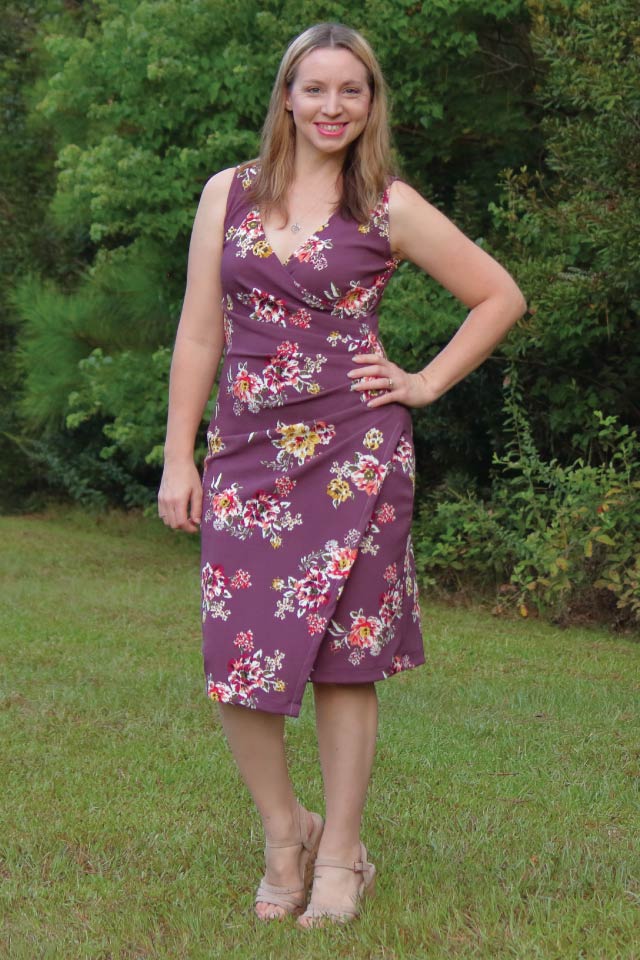 I'm Carmen from Georgia.
I sewed the Camelia in a floral liverpool. Other than an error I made while sewing my toile, I was ready to sew my final as soon as I was finished with my personal fitting. My tip for sewing the Camelia is probably the same for any pattern: read the instructions fully before you start. Luckily it was a time consuming but easy fix. I love the side pleats on the Camelia! And my hubs really loves this dress, too. I haven't worn it out in public but my kids think it's pretty. I think the dress doesn't need a whole lot of accessories to draw away from it's unique beauty so I wore a simple pair of understated wedges with mine. As always it's a pleasure to test a DS pattern.
You can find my blog here: happilysewnafter.wordpress.com
---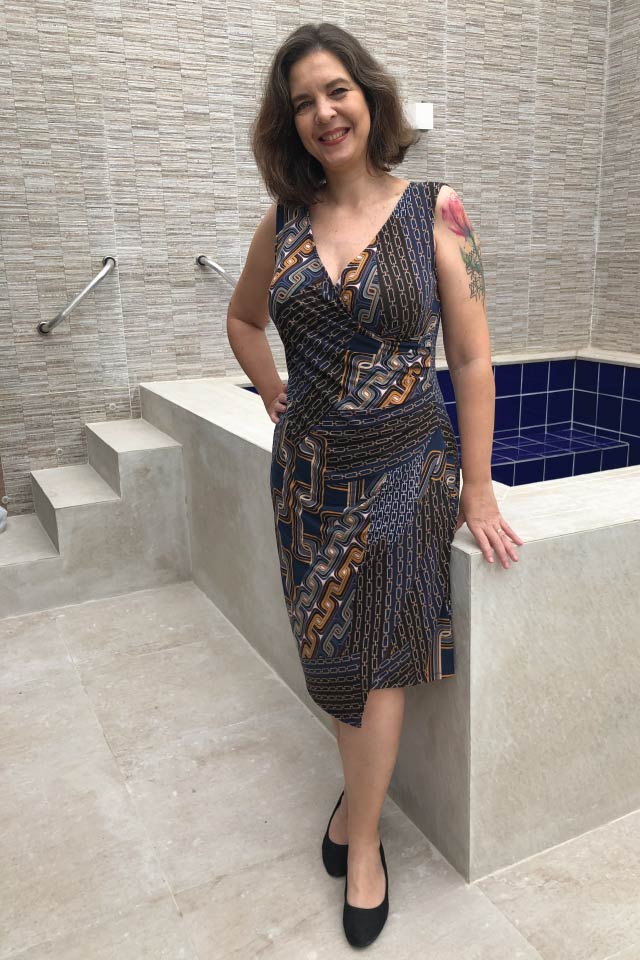 1- My name is Erica S A, and I live in Rio de Janeiro, Brazil
2- I chose a medium weight knit with a pretty pattern that I got at a local store.
3- I added 8cm at the lengthen line because I am that much taller than the height the dress is drafter for. I also blended sizes 6/6.5/7 for a perfect fit.
4- Transfer your markings very carefully. Pins are your friends.
5- I enjoyed being so careful and precise with the many details (darts, pleats, finish) and then being rewarded with an amazing dress!
6- I have worn my Camelia twice and got told I looked beautiful, fancy and hot! But the best compliment came from my sewing friends – they said the fit was incredible and where could they get the pattern please??? 😝
7- I wore it with black pumps and gorgeous earrings. Nice makeup and a new haircut completed the look. Since it's sleeveless because it's always hot here, I can style it with open sandals too.
---
Hello, I am Kelly from sunny and hot California.
I made my sleeveless Camelia from a beautiful crushed velvet that I got from our local market. It held the pleats of this dress really well, and it is so comfy to wear.
My first toile was too big – be sure to read the instructions which tells you to use your upper bust measurement when choosing your size! If you need to grade from your bust to waist to hip like I did, make sure you fold the pleats in your pattern first before grading. Mark your waist notches well so your pleats end up in the right spot, and you will have a beautiful dress!
I loved the challenge of folding the pleats just so in order to get a beautiful finished garment. It really is a show stopper – everyone that has seen it on me has all said "wow!"
I'm really looking forward to wearing my dress this weekend to a work function (dinner and dancing). I know it will be comfy but also stunning at the same time.
I'll post more images of my Camelia on my IG account – follow me if you would like to see more!
https://www.instagram.com/kellygonthierart
---
Hi! I'm Kynthia from Singapore.
My toile was made from a Cotton+Steel arrows jersey print. Its is quite stretchy and holds the pleats well. I bought it from nekoneko.co who ships internationally.
My toile was too long as I had forgotten to shorten it before cutting, so I chopped off 4inches from the hem. I wanted another dress that would show the pleats better so I bought a green roman knit from a local store. This time, I remembered to shorten it first and the final length was perfect! 😊
I took my time sewing the 2 dresses and enjoyed seeing the pleats come together beautifully. To my surprise, instead of emphasizing my tummy, it's well disguised! I love how the right bits are emphasized
www.instagram.com/kyncreations
---
Hi there! I am Manda and I live in the Netherlands, I love it that Ann her testers are from all over the world. I picked a Jersey Polyester Blend for my Camelia. It has a beautiful zigzag pattern and was waiting for something special.
After piecing the pattern trimless together, I adjusted the pattern to my specific body type. I cut my fabric and took the time to carefully fold and baste my pleats and darts. My advice would be to pick a stabile middle to heavy weight Jersey that isn't to slippery, because that way the pleats will hold the best I think.
I wore my dress for a walk in the forrest and I went shopping in it. So I covered the "normal" life things, now I am waiting for a special event (my life is probably too boring, hadn't had one for a while lol). Bottom line for me is that the dress makes me feel pretty and well dressed 😃.
HTTP://www.instagram.com/sewingambi
---
Hey, I'm Narelle from Western Australia. This dress was an excuse to explore some new Perth fabric stores, and I found the perfect scuba at Fabulous Fabrics (fabulousfabrics.com.au). I made a small swayback adjustment, tapered the back seam to match my rounded shoulders and adjusted the side seams to fit my hip curve.
My tips are to take your time to get the pleats folded perfectly, and to use a fabric with a bit of body to make those pleats stand out. My favourite part was trying on the dress and thinking WOW, I look amazing! I wore the dress on a date night, and my husband didn't say anything. I think that says more about my husband than about the dress! At least the bit of stretch made the dress comfy after a big meal. I wore my Camelia with knee high boots and simple jewellery on a cold night, but plan to wear strappy sandals for a more summery look.
https://www.instagram.com/threadistry/
https://www.facebook.com/threadistry
---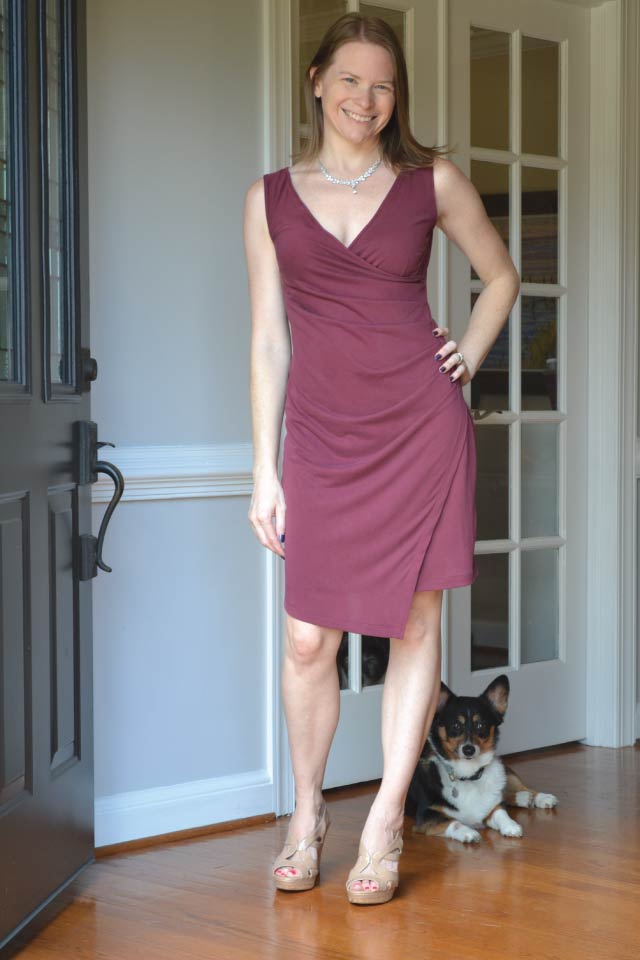 I'm Sarah and I live in Chesapeake VA. I used lovely raspberry cupro from Boho Fabrics http://rwrd.io/s3ekv27 for my dress. No changes were needed, fit was great the first time 🙂
Mark your pleats accurately, the rest goes together easily. Maybe make a sample of the binding if you haven't done that before.
My favorite part was seeing my husband's face when I tried it on. I need to remind him of his promose to take me out in it!
I styled with my fancy necklace since it's a fancy dress in my drapey fabric.
https://www.instagram.com/yarndoggiedog/
---
Hi! My name is Sarah and I am from Belgium. I made my Camelia in a medium weight, stretch crepe fabric. For my toile I did a summery sleeveless version, the final dress got ¾ sleeves, as I thought it more appropriate for fall. This pattern carries you effortless from spring, to summer, through fall and winter.
When you use a medium weight, fairly thick fabric, make sure you take a lighter fabric for the double fold neck binding, or make the binding a single fold one. I used a simple cotton lycra for the binding of my black dress, and it worked perfectly.
Camelia is a quick sew, you can whip one up in one afternoon and take it out the same evening! With a pair of high heels it makes the perfect date dress, but it will also do fabulous as office attire, paired with a pair of classy boots or flats.
I love the dress, and so does my husband. Win-win!
---
hi, I'm Stephanie. I live in Oklahoma, USA. I made my final of techno crepe and stretch lace and the toile out of jersey. I made the toile as a straight 2 and graded the waist of my final to a 3 since. The jersey was so stretchy it wasn't an issue. Spend time making the pleats, they're the star of this pattern and you'll be much happier with the final product if you take that part slow. If you're using a thick material you might want to widen the neckband or only fold once. I love that the Camelia is such a detailed looking dress for such a quick sew. I've worn both the toile and the final and been told both are very elegant looking and stylish. I style the dress rather simply with heels and a thin short chained necklace. https://m.facebook.com/taylor5202011
---
My name is Taryn and I live in Cape Town, South Africa. I used red Crepe Knit I have had in my stash for quite some time waiting on the perfect project and Camelia was definitely it. Other than grading to get the perfect fit, I did not need to make any specific pattern adjustments. Camelia is not a difficult sew but be sure to mark your pattern clearly to make it easy to position the wrap at the right point. Also, if you are using a thicker knit fabric, the left side seam can get a bit bulky in places so sew with care. Also, consider rather sewing the binding as a single layer (not doubled) for thicker fabrics to avoid too much bulk. I love the asymmetrical front layer of this dress and the pleating creates a beautiful draped effect. My Camelia's first wear is being reserved for an upcoming date night but it has received a very favourable response from those that have seen it while I was taking photos of it. As for styling, less is more with this dress – I feel like statement heels and red lipstick is all this dress really needs.
See my Camelia and other creations on Instagram at https://www.instagram.com/tarynhaynessmart/