Hello to all my lovely sew'ist friends and I hope that you are all well and happy today.
And thank you for spending time with me this week as I publish a series of blog posts centred around the new release of my gorgeous new Clara Dress PDF sewing pattern.
The Clara is a stunning dress marrying old world flapper vibe with some modern on-trend styling.
The Original Vintage Flapper Dress.
I am the designer for the bi-yearly Vintage Made Magazine that is published by Art Wear publications. I design the garment around the theme of the magazine for that issue and I undertake quite a bit of research for the best style of garment.
I love combing through on-line references or Pinterest boards looking for inspo and can usually grab an idea that translates well into a design and sewing pattern. Hence the stunning Clara dress.
The dress originally emulated the stunning women of the flapper era with their gorgeous flounce dresses and princess seams through the body. Add a little cap sleeve and this dress is just a stunner.
Here we have our gorgeous Kate from KateWillKnit who made an original dress to wear to a formal function.
Don't you think Kate looks just stunning xx.
The Birth of the Clara Dress.
After a period of 12 months all the designs I develop for ArtWear publications come back "home" to Designer Stitch.
Given that the design of the dress was stunning already I didnt want to change the base at all – just add a few more elements to make it totally versatile for everyone to wear for whatever occassion.
Working with the base shape I added some different body lengths, another neckline, and 2 more armhole variations – a flutter sleeve and a sleeveless option.  And what a AMAZING design that she became !
Fabric Inspiration and Influence.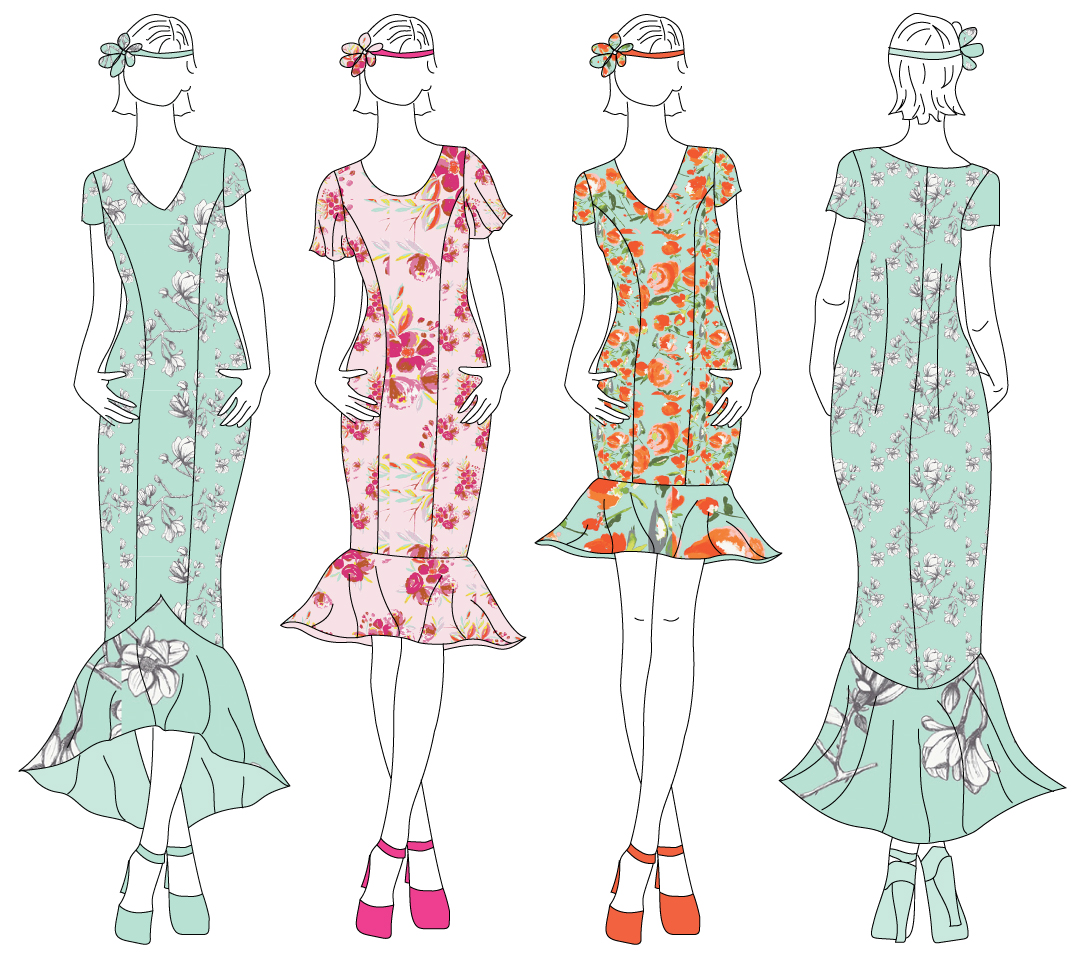 My first degree I undertook at university was actually Textile Design – 4 year B'ED course.
This was way back before any computer technology – designs were drawn by hand and fabric printed from screens laid onto fabric. No modern technology and certainly no digital fabric printing …lol….
Sometimes my fingers itch to get back into the basic "bones" of fabric design which was my first love.
So when developing a new garment design I love playing around with colour and my "dollies" so I can thoroughly envisage what the final product will be.
I found this most gorgeous fabric story from Art Gallery Fabrics called Wild Bloom by BariJ – and these swatches are featured in the above "dollie" fashion illustration.
The entire range is stunning and I just love how the artist – BariJ– (see her entire work here)- has rendered her floral designs. She is very talented and her work can also be seen over on Instagram here. Beautiful floral prints and gorgeous fresh colour combinations. Just gorgeous !!!
The Clara Dress and Pinterest.
And of course I had help with the design expansion input…lol.
As you all know I am a mad Pinterest- er. When searching for shapes like the Clara it was amazing how many I actually found – and what was more amazing was the variation and kaleidoscope of design elements and fabric choices centred around the shape and styling of the Clara.
The style of the Clara can be seen in all its glory on my Pinterest board (click on above pic to have a look).
There are a myriad of fabrics prints, colours and add-ons that are just spectacular – from laces, denims, and cotton fabrics right through to amazing Ankara prints.
The shape of the Clara marries well with whatever fabric you choose.
And to close out my post today here are a few pics of my AMAZING testers showcasing their fabrics they used for their own Clara – and it gives you an idea of the amazing combos that you could choose for your own Clara dress.
Our gorgeous Carmen S and amazing Barbara B. xx
Our stunning Cleotha S and spectacular Camelia DB. xx
Our flirty Kendel W and sassy Carmen W. xx
So why not make the Clara in the thigh length for a bit of SASS and FLIRT, the knee length for some SOPHISTICATED POLISH or the ankle length for some STUNNING IMPACT – along with the FUN and FLIP cap sleeve, the SOFT and DELICATE flutter sleeve or the SEXY sleeveless option.
The Clara offers a number of styling options and combinations.
Ankle length with high/low hem flounce.
Just below knee length.
Thigh Length.
All of the above styles are completed with choice of sleeve.
Cap Sleeve.
Flutter Sleeve.
Sleeveless Armhole.
The Clara is a stunning dress that would suit most occassions – for a lunch out with the girls, a fancy afternoon tea or a very special date night.
On Sale for a limited time only – $8.95 (US)
(AU/UK)  6 – 26
(US)        2 – 22
(EU)       34 – 54
Intermediate Sew'ist Above Sewing level
https://designerstitch.com/shop/clara-dress/
Thank you my friends for letting me share with you my Clara Dress Inspiration and Influences posts – and I am sure that you will love making the Clara Dress PDF sewing pattern.
And tomorrow keep your eyes out for the next blog post –
Clara Dress Tester Roundup Part 1.
Cheerio
Ann at Designer Stitch.