Greetings my lovelies and thankyou for coming over to read this second installment of the Clara Dress Pattern Tester Roundup showcasing the STUNNING Clara Dress roadies in all their glorious-ness. xx
If you missed yesterdays post be sure to read the Clara Dress Pattern Tester Roundup Part 1 here.
The Clara is such a versatile garment and offers many options dependant on what sort of styling you are going for – it is a stunning dress and looks fabulous on most body shapes.
The Clara looks amazing in a myriad of differing fabrics along with it choices of styling options. The front princess panels are such a flattering shape along with the neck silhouette and sleeve options.
On Sale for a limited time only – $8.95 (US)
(AU/UK)  6 – 26
(US)        2 – 22
(EU)       34 – 54
Intermediate Sew'ist Above Sewing level
https://designerstitch.com/shop/clara-dress/
So with another round of trumpets and beating drums !!!! – here is part 2 of the amazing tester roundup. xx
I have asked my beautiful "roadies" to share with you the following;
1. Your name and where you live
2. Your choice of style for the Clara and why ?
3. What fabric did you choose and where did you purchase – make sure you add affiliate link to fabric seller if you are able
4. What alterations did you have to undertake for the Clara for fit – and what did you leanr from it ?
5. What was your favourite thing about making the Clara.
6. Have you worn your Clara yet and what compliments did you receive from family and friends.
7. And how are you styling your Clara ?
8. Your social media URLS
Cheerio my friends.
Love to you all. xx
Ann at Designer Stitch.
---
Hey! I'm Suzanna, and I live in Michigan, US.
2. I chose a sleeveless, deep V, thigh length Clara as I thought it would be most flattering and comfortable.
3. My gorgeous fabric is from Joanns. It was mislabeled so I'm unsure of the actual content, but I think it's similar to rayon challis.
4. I took in the center back and slimmed the front panels, next time I'll shave a bit from the underarm holes too!
5. I love learning how to fit clothing to my body and new construction techniques!
6. My fiance commented on how flattering the dress is and how beautiful I looked in it!
7. My go to accessory is usually earrings. I made these beautiful tassel ones from embroidery thread and they were perfect for my Clara
8. You can find some of my work here www.instagram.com/suzanna.bovinet/
---
I am Synthia L G. For the Clara dress I chose the longer version, at first I was going to make mine out of lace for salsa dancing, but when I learned lace was not an option, I decided to focus on an Easter dress. I made my Claraout of a cotton fabric I had in my stash, it had Easter colors. Because I am 5′ 3″ tall, I worked hard at getting the right fit by shortening the pattern several times, after several different fits. Once I was satisfied with the fit, I loved my Clara dress and felt I accomplished the Easter look. Favorite part of sewing Clara was adding the flounce for the final look. I have not worn the Clara yet as it's an Easter dress and I will style it with heels, a pearl necklace, and a hat. At some point, I will make another Clara out of lace fabric, because it is a beautiful design. https://www.facebook.com/Synthia20000/
https://sewsynsewn.blogspot.com/
---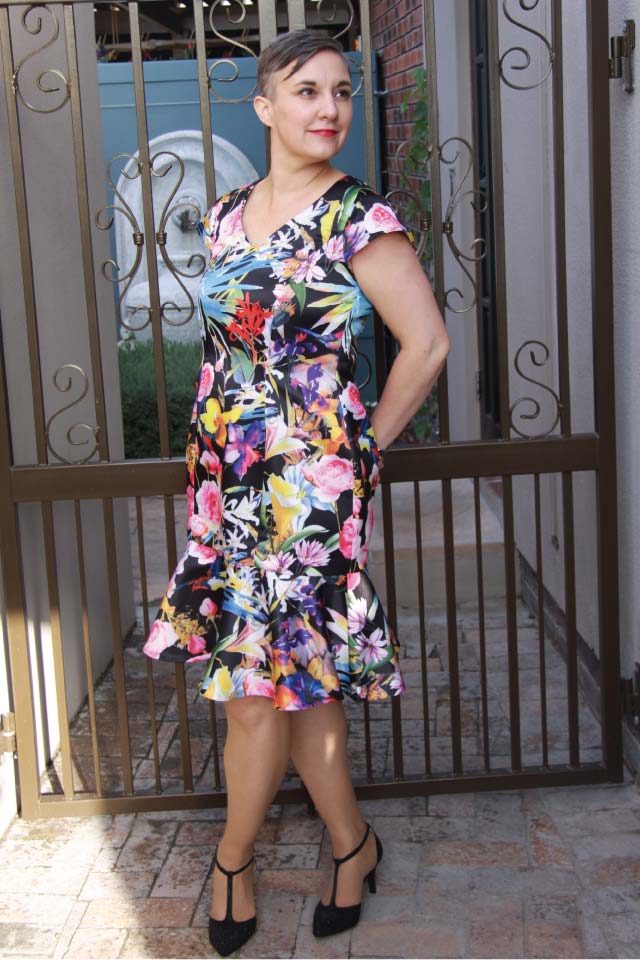 My name is Taryn HS and I live in Cape Town, South Africa. My fabric choice was a printed satin I purchased via a local South African Facebook page (NewMoon Fabric). The piece was nice and wide which meant I could get my choice of the knee length Clara with cap sleeves out of it with a little bit of careful placement. For my test garment, I cut a size 5 graded to size 6 but found there was plenty room in the side seams and as a result the centre back was gaping a little. I graded down to a size 4 which corrected this. No other alterations were needed. This was just one of the 'technical' learnings but by far my most important lesson learnt was the real value of working with a well drafted pattern and directions. You're never having to second guess! It's a little difficult to pinpoint one favourite moment as I really do enjoy every testing experience with Designer Stitch but some stand-outs would be the moment I realised I would be able to get my Clara out of my preferred fabric and then seeing it come to life. (Along with the other beautiful versions from the other testers.) I couldn't wait to get back to it when I had to put it down to go to work. I really love the expert guidance and inspiration you get from the group with each step. The fabric for my final test version speaks for itself – it definitely was the perfect piece for Clara so all I need to do is throw on a pair of awesome heels to complete my look. Both the style and fabric choice are complimented when I slip into my Clara and my confidence cannot help but be boosted in this dress. Perhaps evidence of the Clara Bows spirit woven into the design 😊. Follow my fashion, sewing and general life adventures at https://www.instagram.com/tarynhaynessmart/
---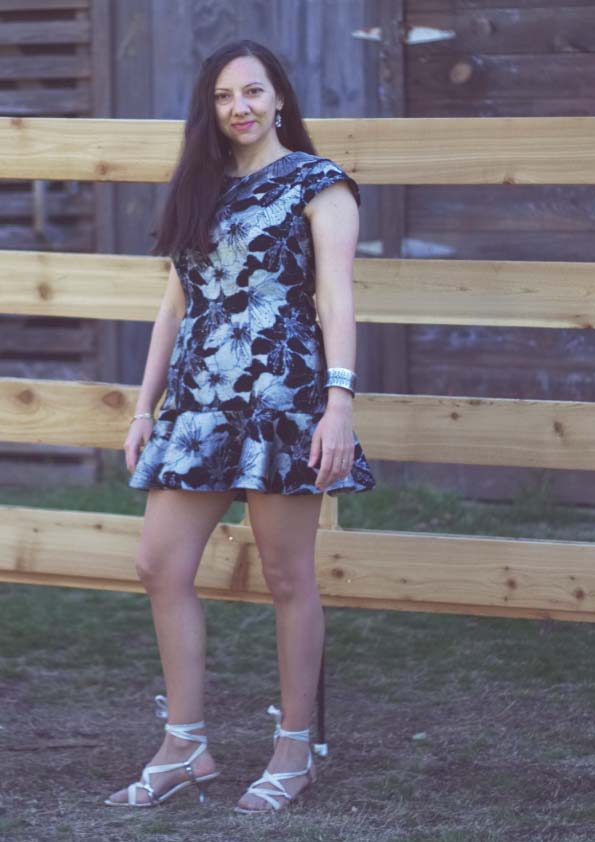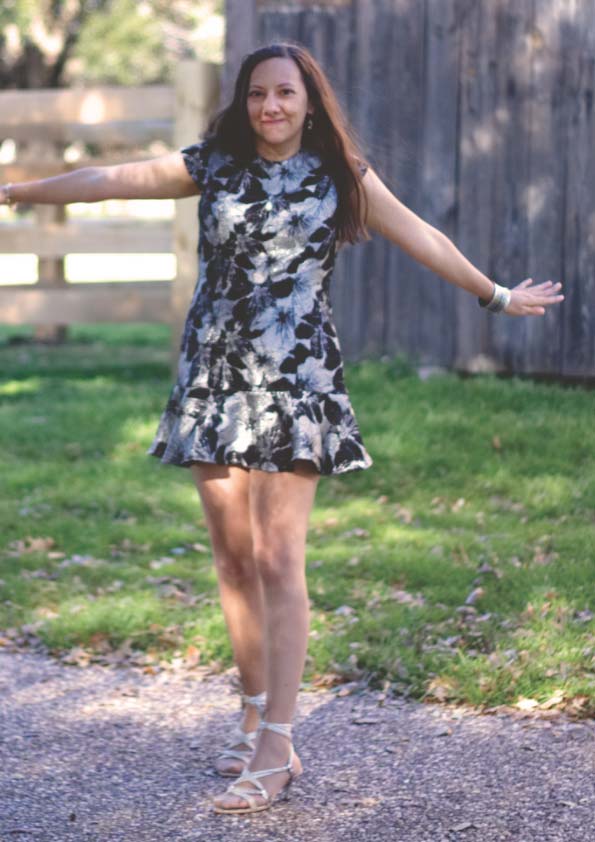 1. Your name and where you live
My name is Valentina and I live in Dallas, TX.
2. Your choice of style for the Clara and why ?
I chose the thigh length, because I look the best in shorter dresses. I have chicken legs, from the knee down so I prefer to wear above knee lengths for dresses and skirts.
3. What fabric did you choose and where did you purchase – make sure you add affiliate link to fabric seller if you are able
I picked this metallic brocade that I found at Joann Fabrics. I was going for a evening date night look.
4. What alterations did you have to undertake for the Clara for fit – and what did you leanr from it ?
I had to take in the center back seam, I did a sway back adjustment, and I took in some length from front above chest in the shoulder area. This was the first time I've made a woven dress for myself, so it was a bit scary, but I was also surprised how easy it was with Ann's guidance. I am excited to learn more about making alterations for my body type, and sew some super well fitting clothes.
5. What was your favourite thing about making the Clara.
Learning how to do sway back adjustment.
6. Have you worn your Clara yet and what compliments did you receive from family and friends.
Yes! My sister was super impressed with how well I looked. I also wore my knit version to work and I got a few compliments from my lady co workers.
7. And how are you styling your Clara ?
Lately I am all about long tassel necklaces, so I recently purchased some to go with my Clara, and future Clara's. I didn't have them when I took my finals though!
I think it will also look great with a little scarf, especially the more casual versions that I have planned to make.
8. Your social media URLS.
Instagram.com/the_engineer_seamstress
---
My name is Stacey and I live on the south coast of England. I chose to make the knee length Clara with a V neckline as I wanted a dress that would be good for an occasion, but that I could also wear in the office to get maximum use out of it.
I used a light to medium weight suiting type fabric, which I bought from my local Fabricland store.
The only alteration I made was to take in the back seam a little as I am quite narrow in the hips/booty.
My favourite thing about making my Clara was the princess seams – I love sewing them and I love the perfect fit they give around the body.
I haven't worn my dress yet, but when I put it on to take pictures my OH said I looked lovely!
I will style my Clara with simple heels, and maybe a little blazer or bolero when it's cold.
Allsewnupbystacey.blogspot.co.uk
www.instagram.com/all_sewn_up_by_stacey
---
Jess M and I live in St. Louis Mo, USA. I chose the round neckline and flutter sleeve for modesty and the long high low for the vintage style <3 I used cotton woven from Hobby Lobby. I learned so much about the shape of my body and what alterations I need to take for it. I learned I had sway back so adjustments for sway back where made. I also learned I have tall shoulders and have to adjust so bust fits in the correct place. I added about a 1/2″ to shoulder rise. Dress was still a little loose below belly and learned i have dips in my hips and had to take dress in at side seems as well as the front seams. And voila perfect fit! My favorite thing about making the Clara was the knowledge I gained and learned from making a fitted garment. I have not worn it out yet but family have said its gorgeous! Since i chose a very loud and colorful print I chose the style with beaded bracelets, earrings, and flat sandals. www.instagram.com/sewjessdesigns <
---
My name is Carmen and I live in a small town in Georgia. I chose the hi low length because I wanted a classy dress I could wear on date night. The main fabric I chose was a cotton tencel twill and the skirt was an Art Gallery cotton from the Wonderful Things Collection. I added the bow to bring the two fabrics together.
I made several alterations to achieve the perfect fit to my dress. I graded from a 2 to 4 so I had to take the waist in a little here and a little there until it looked good. I had to do a small sway back adjustment and I shortened the overall length an inch. I even had to taper the two front seams below the hip to take out extra fabric.
Fitting a dress isn't hard but it isn't easy either. I learned that sometimes you have to make more than one toile to get it right. And listening to Ann is essential because I didn't immediately see what I needed to do.
My favorite thing about making anything is the knowledge gained and the feeling of accomplishment when it's done. My family really love this dress. My husband said he thought it was very classy and my daughters thought I should wear it on a cruise ship.
I styled my dress with a pair of gorgeous striped strappy pumps which match the stripes on my dress.
https://happilysewnafter.wordpress.com
---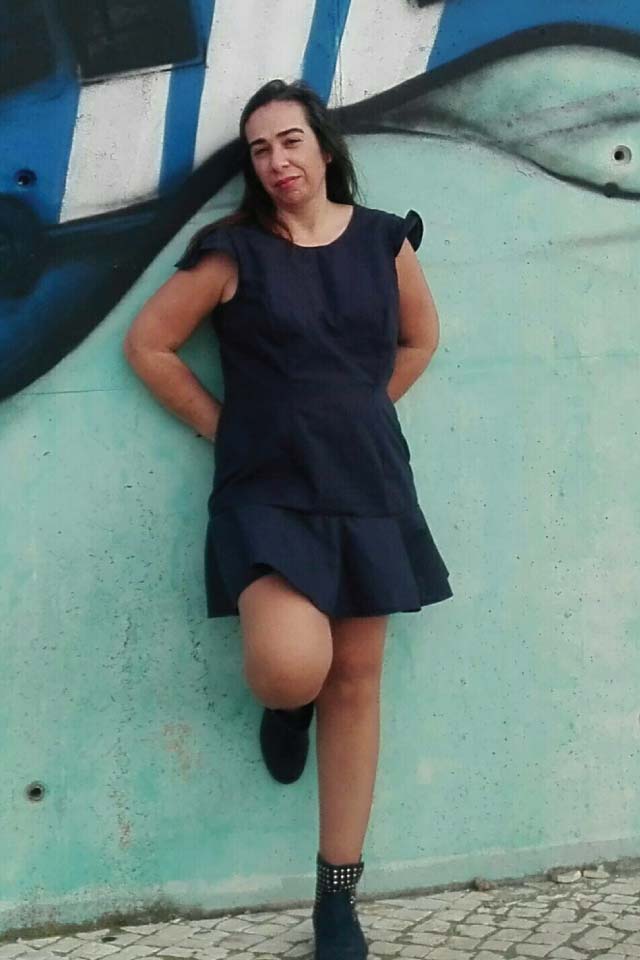 My name is Dora S and I live in Portugal.
I chose to sew the thigh length Clara dress with caps sleeve because I prefer dresses that allow to show a bit of leg and Spring is coming here. It was a natural choice, really.
I used a light weighted cotton fabric similar to linen in dark blue. At first, I was going for a flowery one, but then I thought that I really needed a solid colour in my wardrobe and I'm a blue colour fan.
I've been testing for Ann for almost two years now and this was the first pattern that I had to make adjustments to… which scared me a lot!!… No reason to though. Ann gave me the indications I needed to do some sway back to the dress. I also graded the bodice and adjusted the front to better accomodate my belly. First time doing any of these adjustments.
My favourite thing about Clara was how quick I could see the dress coming together. Outstanding!!
I wore my dress only to take final pics yet because it's still a bit cold here, but I'm sure I'll wear it a lot. I love it and those who saw it, liked it too.
I thought of styling my Clara wth some amazing red shoes which I used for photos, but I found out that I absolutely love it with my blue boots. This is a very versatile dress when it comes to style.
Follow me on www.sew4five.wordpress.com or www.instagram.com/colourbymim
---
Hi, I'm Kiran and I'm from Singapore. I've been looking for a formal style dress for an upcoming wedding and I knew the Clara would be a perfect fit. Hence, i went with a full length gown in soft canvas, for a more structured look. It was a little tricky to sew with but im so happy with the end result. This fabric is soft cotton canvas from the Japanese Brand Kokka. And heres where i bought it from https://www.nekoneko.co/…/kokka-textile-paintbrush…
I made no alterations for this dress apart from blending between sizes, shortening for my height and I also added horsehair braid to my hem to kick out the flounce a little, just for a little bit of a "party look"
For those daunted by the princess seams, dont be. Its really so easy. And the results are spectacular. You need to get this pattern and I'd love to see it in the Pattern Group
---
My name is December O'S, and I live in South Florida, USA. For the Clara, I chose the knee length sleeveless option to have a gorgeous summer dress that I could also put a jacket over and wear to work.
My Clara fabric is a linen blend from Joann Fabrics. To get the Clara to fit me perfectly, I did a sway back adjustment, and took in the seams a bit under the bust, at the hips, and on the sides. I had never done a sway back adjustment before the Clara since I usually work with knit fabrics and havent needed to, and I love how much better this fits me having done it!
My favorite thing about the Clara is how it can look so elegant or so playful depending on the option you sew or the fabric you choose. I will definitely be making my next one with the ankle length high low hem!
I styled my Clara with either a fabric belt made with the same linen or a denim jacket. Both look absolutely gorgeous!
You can follow me on Instagram to see my makes: www.instagram.com/decembwar
---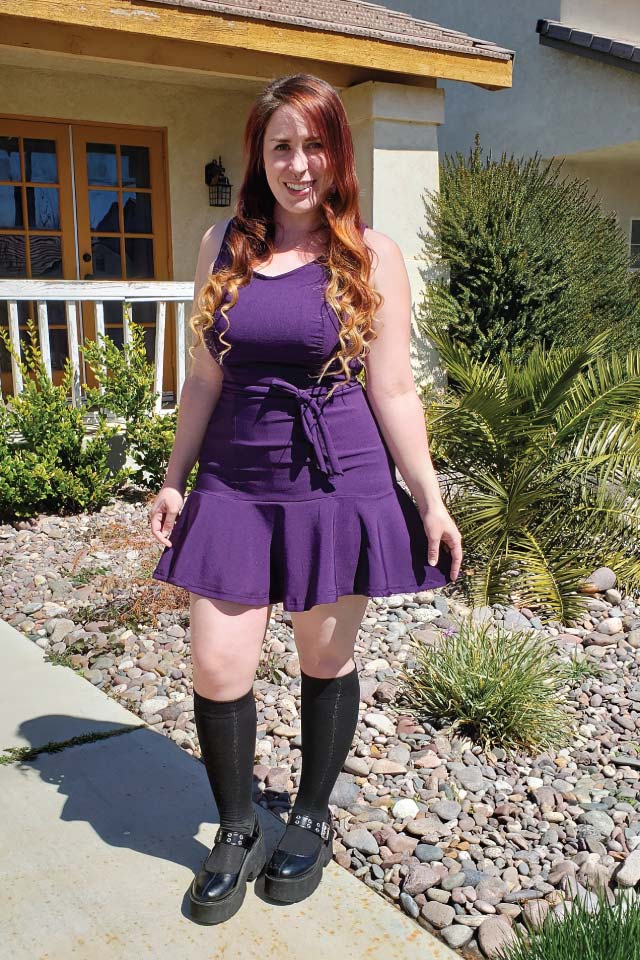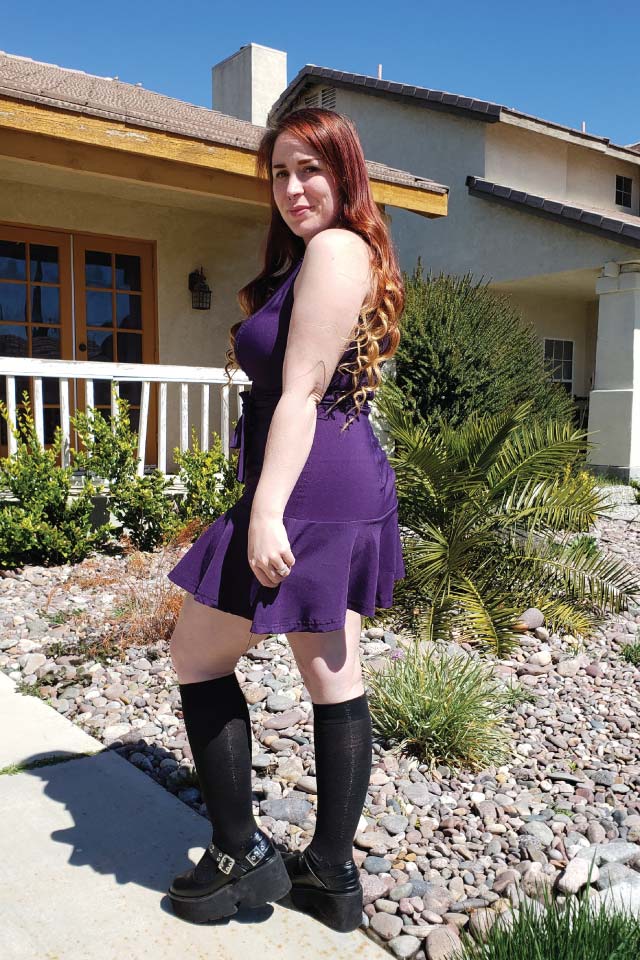 Hello there, my name is Shannon and I'm from Southern California. I chose the sleeveless mid thigh length for my Clara dress, because I love short dresses! I used a shirting material for my dress which I got from Joanns. I did have to adjust the back a bit for my stature, but the front and flounce were perfect. I love the flounce, it makes every style length so fun and flirty. I style mine with knee high socks and Mary Jane's, but boots or flats look just as good. If you'd like to follow me on Instagram, you can find me at www.instagram.com/ahhhitsshannyn 👋
---
Hi, I am Camelia and I live in The Netherlands.
The Clara pattern is gorgeous and to pick one option to make was not easy. Finally, with the idea of the fabric I was going to use in my head I choose the knee length with the cap sleeves.
Because my lifestyle is more about casual dresses I chose to make my dress in denim, I love denim dresses and I loved the idea of that flirty flounce in denim and all the topstitching of the front seams!
I started by making a test garment, I do advise you to make one to get the perfect fit before you start on your real garment! This pattern has cup sizing and in combination with the princess seams, you can really get the perfect fit.
I usually make a swayback adjustment and because I knew that the back needs to be fitted I made this adjustment on my pattern even before I started on the test garment. I had a bit of gaping at the center back neck so I took 4 cm out and also I straighten the side seams a bit to make them fit better my body…as you see is all about fitting the pattern to your own body, a test garment ( toile, muslin) is your friend!
Can`t wait for warmer days to enjoy my dress!
If you want to see the dress "moving "you can check my short video here
https://youtu.be/REuKuUD-rYU
and my video review on Clara is here https://youtu.be/0fDir-FVXIE
Sneak peeks of my sewing projects ( alert! a lot of Designer Stitch patterns 🙂 you can find on my Instagram https://www.instagram.com/calcedoniasewing/
---
I'm Meredith from Sydney, Australia
I chose a high-low Clara – I love a long line and liked the flounce hem and sleeve option. It was hard to chose and I have plans for each style.
For my Clara, I used a crepe satin from Spotlight stores
My Clara has an extended dart and a sway back alteration. It was my first time with the sway back alteration and I will add it to my regular sewing to give a more personalised fit. I also picked a great tip from Ann about handling each piece once – this is sure to be a time saver in the future.
Clara goes together so easily, the instructions are clearly written and with many great sewing tips along the way. Clara is also very comfortable with wonderful drape.
I am looking for an occasion to wear Clara out but my husband thought I looked lovely in the dress.
Clara deserves simple, elegant styling – she speaks for herself. A nude clutch with pearls for timeless sophistication.
https://www.instagram.com/all_in_a_ruffle/
---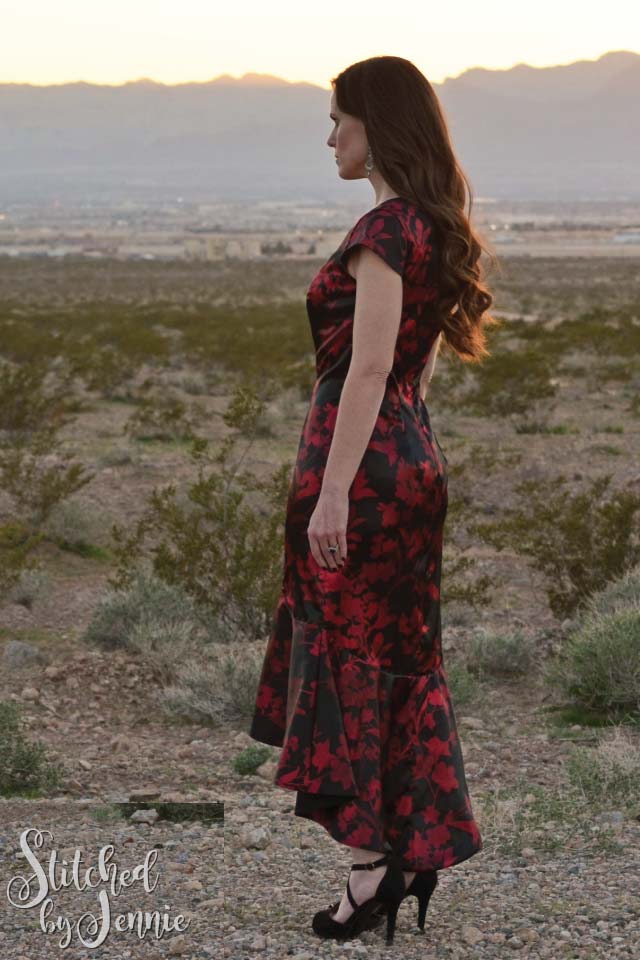 Hi! I am Jennie L, and I currently live in Las Vegas, Nevada in the United States. I chose the high low skirt with cap sleeves. I knew immediately that I loved the high low length, but wasn't sure which sleeve I wanted. Ann told me she thought the cap would be best for me, and as the Designer Stitch testers know, Ann is always right. She definitely was right again, because I love the cap sleeves! My Clara is a bit fancy, since I attend a few fancy dinners each year with my husband for his work. He actually picked the fabric for me. As we were walking around the fabric store, he found this beautiful black and red fabric and asked if I would use it. The fabric is not what I would normally pick, which is why I love it even more. The alterations I had to make for my dress, were to shorten the the dress, and to take in the seams a little. These were very typical alterations for me, and made the dress fit great. The other thing I did was to line the flounce and cap sleeves. When I started cutting out my fabric, I realized the back of my fabric was white and it would show in the underside of the flounce and sleeves. I didn't have enough of the floral fabric, so I cut out some extra flounce and sleeve pieces in black crepe backed satin. I stitched the flounces together as instructed, then stitched the black pieces to the floral fabric at the hem, with the right sides of the fabric together. This meant I didn't have to hem, which I always dread with a circular hem. My favorite thing about my Clara dress, is that my husband picked the fabric and how much he loves the dress! I can't wait to wear it to our next fancy dinner. I will probably style it with my strappy black high heels, some earrings, a bracelet and a clutch purse.
I blog at: www.stitchedbyjennie.com
FB: www.facebook.com/stitchedbyjennie
IG: https://www.instagram.com/stitchedbyjennie/