This is an easy pattern marking method that I have used in my classes for many years. This technique is fabulous for new sewist's as it allows for an easy and accurate way to transfer pattern markings to the cut pattern fabric pieces.
I also refer to this method in my PDF sewing pattern ( Jenny Wrap Dress ) as this is such an easy technique. ( please note that some fabric types and fibers may not take the chalk paper)
What you will need :
Chacopy Paper by Clover
Blunt Edge Tracing Wheel. I defer to a blunt edge tracing wheel as the serrated edge, while still transferring the lines, makes holes in the paper resulting in wear and tear.
The pack of Chalk paper offers 5 different colours and it is best to use the colour that gives you the palest of markings possible but still allowing you to see the markings. If you are not usre complete a test on some scrap fabric to ascertain what colour is best for your fabric.
Step 1:
Place/or sandwich the chalk paper against the wrong side of the cut pattern pieces. ( Both wrong sides of the fabric will have the chalk paper laid against it)
Step 2: (using a dart as an example)
Using your blunt edge tracing wheel roll down each side of the dart leg. At the base of the dart I always mark an X to indicate the apex of the dart.
Step 3:
This is an image of the dart marking.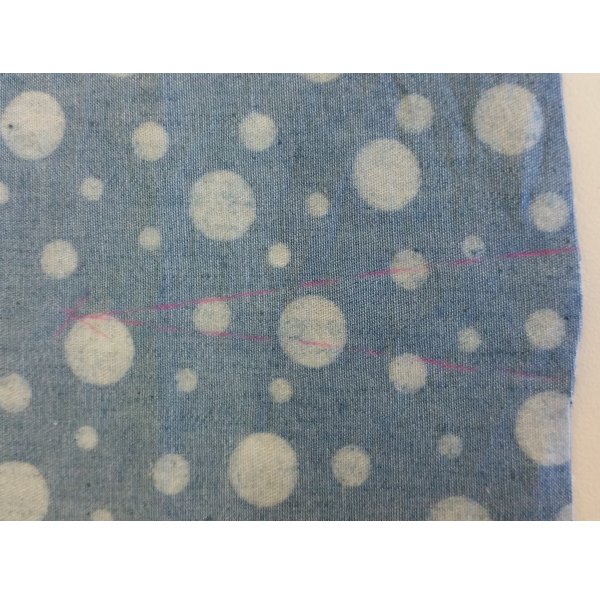 Step 4:
Now in your dart. Fold the fabric and pin the apex of the dart in place.
Step 5:
Using another pin stab the fabric at the line marking to marry up the chalk line on the under side of the fabric at the top of the dart.
Step 6:
Continue using your pins to stab and match your chalk lines.
Step 7 :
The chalk paper line marks are clearly visible to allow for accurate stitching.
This method of chalk paper marking can be used to transfer pattern markings, notches, points and circles to enable you to match and stitch your garment accurately.
I hope that you are able to add this technique to your sewing repertoire.
Cheerio and all the best.
Ann xx