Welcome and thank you for reading part 1 of the Ella Cami Combo tester round up.
The Ella Cami/Combo was released as part of the Designer Stitch first birthday celebrations and if you join the pattern support group here on Facebook you can obtain a special coupon code that will make the pattern a free purchase – So Happy Birthday to you !!!
So without further ado …drum roll please….here are my first group of 10 wonderful women from around the world showcasing their version of their Ella Cami/Combo's.
Cheerio and all the best. Ann xx
---
Casey-Marie Bray
Let's start by excluding the poorly made Velcro pencil case and too-small pyjama pants I made in Home Economics in high school! Given that beginning, I never would have dreamed to have enjoyed sewing and having the ability to actually construct wearable items. I started sewing September 2015 while I was pregnant with my daughter. I planned to learn to make a few simple accessories and simple garments for her. I ended up falling in love and it became my much needed "me time" during maternity leave. I learnt using PDF patterns, Facebook support groups, YouTube, and blogs. My Grandmother is a brilliant seamstress and used to make gorgeous wedding and bridesmaid gowns, so it's been commented the skill must be "in my blood". Proud feedback from my grandmother on my items is probably one of the most rewarding aspects of sewing, as well as being able to dress my entire family in well fitted and unique outfits.
www.facebook.com/lioncubcouture
www.instagram.com/lioncubcouture
---
Gabz Jefferson.
Decades ago, I knew that sewing is one of my passions. But there's this bad habit in my life when I was so young. — NO! Don't teach me, I get sleepy-habit. Yes, I was so stubborn when mom/grandmom tried to teach me how to operate a traditional singer sewing machine. I was too immature when they were teaching me about sewing. I always told them, "yes, i can sew that. Cut a rectangle and sew both sides together and you have pencil skirt." They only laugh at me.
Years gone by and my love for sewing came back. The first garment I made was a dress for my daughter. I love sewing by hand because I was afrait of sewing machine. I sew bags, wallets, hair accessories by hand..
In 2014, my husband bought me a sewing machine, watched video tutorial and and the rest is history..
The first garment I sewed for myself using a sewing machine was a sleeveless peplum top. That was self-draft pattern. Who would have thought that I will follow my mom/grandmom's footsteps? I sew 10-12hours a day! Yes, I know, that's not enough though. I'm glad my husband is so supportive and he is my fabric hunter. Lucky me!
Here is the link http://itsewcolorful.wordpress.com   My IG is www.instagram.com/itsewcolorful
---
Tenille Brien.
I originally starting sewing using my Mum's (very) old machine, with her guidance,this machine had a 4-step button hole, straight stitch and zig zag, that was it, I also remember that it had a metal bobbin case that had to be inserted from the side. I also had at my fingertips a large bag of Mum's patterns, mostly from when she was a teenager in the sixties. These patterns are what I learned to sew with, and the instructions were quite detailed at that time, so I learnt a lot of techniques that you don't see very often anymore – such as trimming and clipping seam allowances, all-in-one facings, lapped zippers, circular hems, set-in sleeves with easing stitches and properly rolled collars etc. i also learnt to Frankenstein different patterns together to get a unique piece that perfectly matched my vision. I really loved all the things I made from these patterns including a black velvet pea-coat with purple satin lining, various shift dresses with cute collars and unique seamlines and pintucks, a maxi-coat, and a tuxedo-style jacket and satin skirt for a Dior-inspired 'New Look' style outfit for my 21st birthday party.
Facebook: https://www.facebook.com/TenillesThread
Instagram: https://www.instagram.com/tenillebrien/
---
Kristen Brand.
Kristen started sewing for a project in high school and soon found she could not sew a straight line. Not giving up, she took a beginner class at Joann's to learn the basics, then started on a variety of different projects learning new techniques along the way. Now she spends her free time sewing clothing for her and her twins.
---
Meghan Cunha.
I first began sewing when I was about 8 or 9 years old. I learned from my mom, who I would say probably learned from hers. She and my Aunt had a small sewing business selling crafts at local fairs. My mom started a 4-H chapter and we did a lot of sewing in the club. I remember my proudest accomplishment was a me-size replica of the Felicity American Girl doll's colonial dress with apron. Aside from my mom, I was very inspired by my grandmother who made all of her grandchildren beautiful quilts, and my aunt who made my prom dress. All three have always encouraged me and I am glad to be able to carry on this family skill.
www.facebook.com/mtchandbags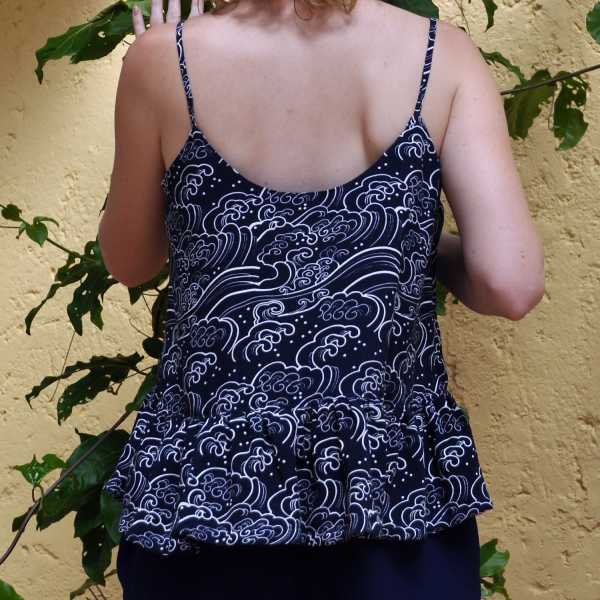 ---
Melissa Evans.
Hi there. I learned the basics of sewing from my mother as part of a sewing curriculum in 4H. I made a handful of simple items and then let the seeds of sewing lie hibernating until my mid twenties when I resolved to teach myself to make a quilt on a garage sale sewing machine. You can imagine the results. After many years learning to quilt, I made my first garment and so came an end to quilting and a beginning in garment sewing. I've been sewing for myself and my son for the last five years; focusing on learning new skills and building an all handmade wardrobe for me. It brings me joy that I can create original items that suit my style, colors, and quality.
https://mahlicadesigns.wordpress.com/
---
Kate Williams.
My mum taught me to sew. It seemed painful at the time, and probably involved tantrums from me and inordinate patience from her. But when I picked up sewing again 6 years ago, I realised that I knew all the basics, had someone to help, and off I went. As I've sewn more I have realised just how much I love having clothes that are made to fit me, fit in with my style and the fabrics I like to wear.
https://katewillknit.blogspot.com.au/
https://www.facebook.com/katewillknit/
https://www.instagram.com/katewillknit/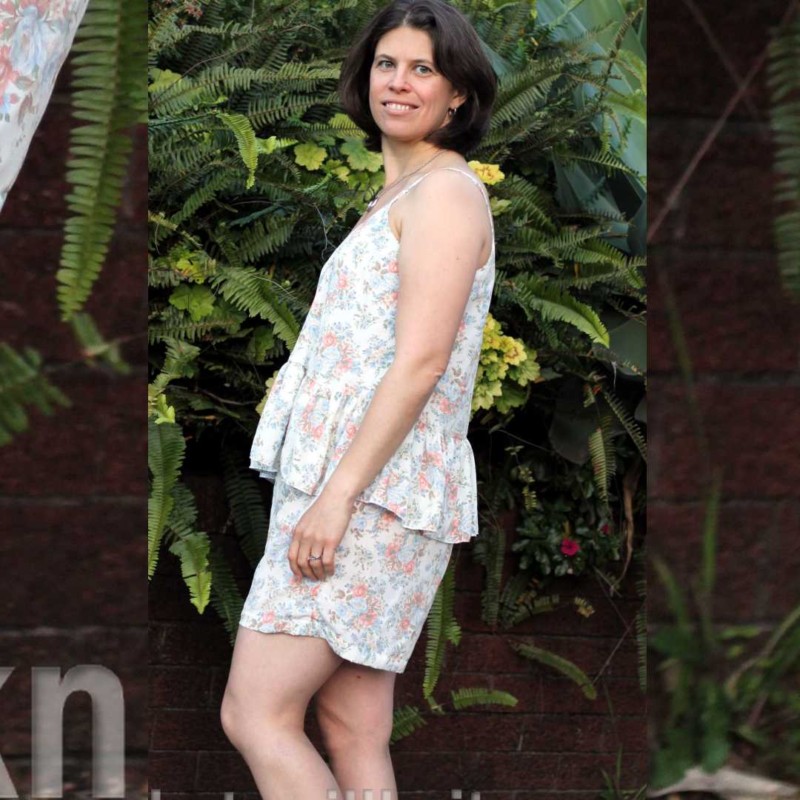 ---
Katrina Dingley.
I started sewing around 8 with my Mum watching Ice skating on tv while we also sewed at the kitchen table. Mum taught me the basic stuff and I've experimented and learnt from others and reading on how to do things.
---
Katie Kennedy.
My mom sewed while I was growing up, but of course I wasn't interested myself until about 4 or 5 years ago. I was capable of a simple pillow or curtain, but nothing else. My interest as an adult was piqued when one friend of mine was making her daughter birthday costumes while another worked on a quilt for her first child and I was just SO jealous and full of admiration for what they were creating! I figured it couldn't hurt to try, so I started with a quilt to practice lots of short straight lines. When it actually turned out okay, I did another, and another… and finally turned to knit garments for myself and my young boys a few years ago (since they didn't complain about a wonky hem or similar mistake!). Between the lovely, supportive groups on Facebook, YouTube and a couple of books, I've been able to learn and practice many sewing skills and make clothing fit my body just so. Now I'm delighted to wear something me-made almost every day!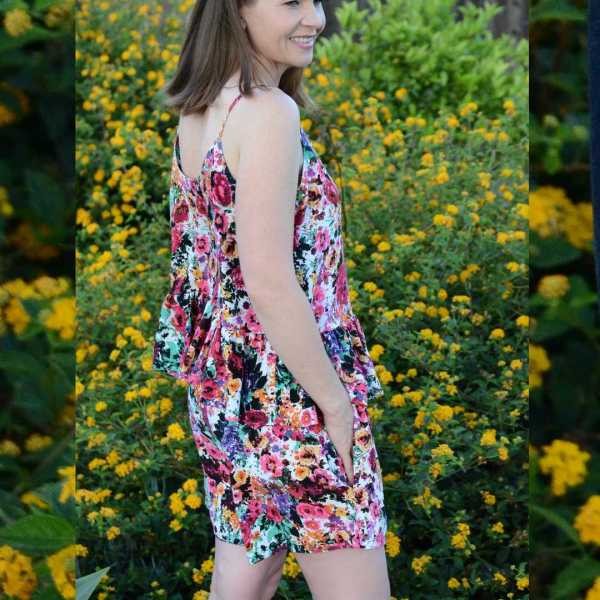 ---
Diorella Naoe.
Diorella elected to make the Ella Cami with shorties.