Hello again my friends. Thank you for stopping by to read my second part of the Frida Top, Tunic and Dress Tester Round-up Part 2.
I am sure you loved reading about my first group of Frida testers and how amazed you were when you saw all the different interpretations of their Frida makes.
The Frida design certainly allows your creative juices to go WILD !!!.
So please say hello to my second posse of  "roadies"…lol… and as you know I bugged them to answer a few questions so you could get to know them a bit better. They have shared with us :
1. Name and where do you live
2. Inspiration behind your fabric choice for your Frida
3. Your thoughts on making the Frida ( pressure and expectations from me …lol…)
See you on the next blog post !!!!
Cheerio and Kind Regards
Ann at Designer Stitch
---
My name is

Ana Inês Barros

and I live in Lisbon, Portugal.
Frida is me all over it. I consider myself a boho girl. My inspiration was the painting and my imagination is as loose as ever
As always, Ann guides us so that everything is done within her expectations but completely from our perspective.
The right amount of pressure in a leadership that, as always, makes everything go well and on schedule
My facebook page is https://www.facebook.com/PontonoibyInes/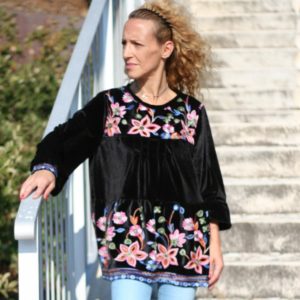 ---
Lovely day to you,I am Kiran from Singapore. Its always a pleasure sewing a Designer Stitch pattern because the fit is spot on and the clothing are always on trend. Ann is lovely to test for – she is very fluid in allowing her testers to get creative in sewing the garment up. We all truly adore her!
I was so fortunate to test the Frida -I just love the vintage Mexican look of this dress.  I have to be honest in that i had a tricky time searching for the perfect fabric. I was looking for something light and flowy to accentuate the fall of the beautiful bishop sleeves. At the same time, i also was after something vibrant to emulate the Mexican culture. I found this panelled rayon at Spotlight and knew with a little fussy cutting, i could achieve the look i wanted. For the bodice, i used some embroidered cotton and fringed trim. The Frida is a dress you can really get creative with and achieve loads of different looks.
If you'd like to check out more of my sews or life's musings, why not hop over to my instagram page at www.instagram.com/gloopygoo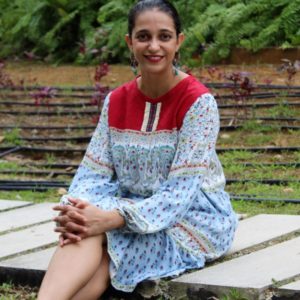 ---
Andrea Shpuntoff
My name is Andrea. I reside in Annapolis, Maryland. My fabric choice for the Frida Tunic was a laser cut, double border, eyelet fabric that I purchased because I thought it was beautiful but had no idea what to do with it until I saw the Frida pattern! Sewing the Frida was a joy and I am very happy with the finished product. Thank you Ann! My Instagram is https://Instagram.com/andreashpuntoff
---
Allison Falkey
Frida was love at first sight! The moment is saw this design, I knew it would be perfect for my teen girl. She loves all things trendy, and tunic style dresses are her favorite. For this dress, I strayed from the international influence, using boho vintage styling. Frida is made from homespun and a variety of lace. The printed quilt squares are a vintage homespun, all the other parts were designed about the printed squares. To finish the look, I made cloche hat from the same fabrics. Frida was fun to made, the dress it's self was easy to assemble. Thinking of Frida as a blank palette to accessorize with trims was the best part.
Allison Falkey
Oak Creek, WI, USA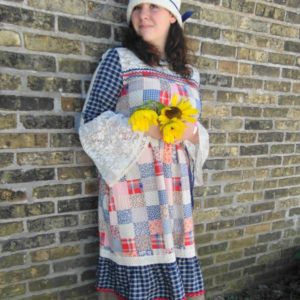 ---
Katie Kennedy
1. Hello, there! I'm Katie and I live in Southern California.
2. I chose an all over embroidered pattern for ease of use and the fact that I couldn't find a border print that sent me over the moon. I also have a plain chambray-colored rayon to use next to show off the beautiful lines of the pattern, ooh, those ruffles and puffed sleeves!
3. I very much enjoyed making the Frida. Designer Stitch patterns never fail to make me feel on trend and particularly stylish, not the easiest since I'm short on time with three little boys running around. Making time for myself is part of what keeps me sane, and the Frida top was a smooth sew with such a pretty end product.
Win-win!
4. https://www.instagram.com/kak513/ and brand-new-needs-much-work blog is https://katiesewsthings.wordpress.com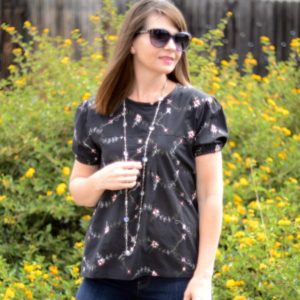 ---
Synthia Lee Gerritson
Some about me. I am Synthia Lee Gerritson, from California, U.S.A.
I have spent the last 4 or so years testing patterns for various designers, I love it. I have been sewing for decades, but since testing for designers, I have learned so much from all. Recently I had the privilege of testing the "Frida" dress/tunic/top, for Designer Stitch. DS has given us the opportunity to be creative with the Frida and use the original artist Frida, as an inspiration. I was very nervous about sewing the Frida. Nervous I wouldn't find the right fabrics etc. I saw the movie, Frida,to get more inspiration from and to understand the artist better.
My Fabrics.
I found the white embroidered fabric at Hobby Lobby, it was ripped in several places. I was able to get the manager to sell me the beautiful embroidered fabric at a great discounted price, this became my base for the Frida dress, I was able to sew all torn areas, then I looked for my trims. D.S. gave us many resources to look at and to come up with our own ideas. There was a lot of color, embroidered fabrics, lace fabrics, etc. I chose to use the white cotton, embroidered fabric, for the dress. I then found a colorful flowered embroidered applique that I sewed on. I was so inspired by Frida and wanted a Mexican, Bohemian, vintage look for my dress. I was uncertain about the length. The first try out was too short, I then decided to add a lower ruffle and was very satisfied with the look. All along receiving much needed feedback from the designer, Ann Grose, xoxo.
I am very pleased with the results, hope you will like it too. I will write a full blog regarding the Frida dress upon it's release.
Syntia Lee Gerritson
http://sewsynsewn.blogspot.com/2017/10/frida-road-trip.html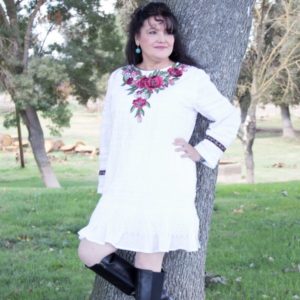 ---
Jennie Coffman Lindstrom
Hi, I am Jennie and I live in Las Vegas, NV in the United States. I made two versions of the Frida dress. My first dress was made with a cotton lawn fabric, and I made the long, gathered, bishop sleeves. Next, I used an off white linen fabric to make another Frida with short sleeves and the ruffle at the hem. I decided to hand embroider flowers on the bodice and sleeves. I had so much fun with the embroidery and love how it looks. This was my second time testing for Ann, and I absolutely love how much knowledge she has to share with us. The other testers are so supportive of each other and I love seeing what everyone makes! You can read more about my Frida dresses on my blog: http://stitchedbyjennie.com/index.php/2017/10/03/hand-embroidery-on-the-frida-dress/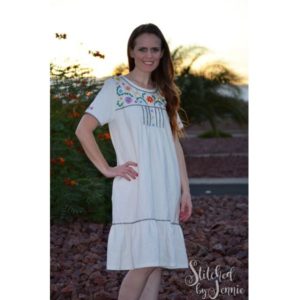 ---
Patricia Garnham
1. Patricia Garnham, BC, Canada
2. I wanted a boho feel and found a vintage cotton paisley in a local thrift store for my top. In a different store I found an old scarf that I cut up as a trim. For my dress version I used a striped poly blend from my stash. It wasn't such a good result as I had appliqué hell, but I managed to place some lace and trim carefully to cover the mistakes.
3. I enjoyed the process but realised Ann was Oh So Right in reminding us that 'less is more' – especially when working with trims. It's a loose design and wonderfully comfortable in the heat (or cold)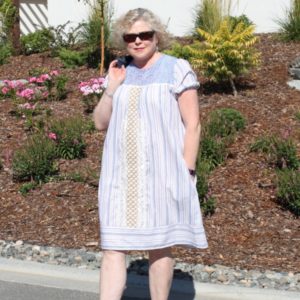 ---
Carmen Statham
Hi, lovely sewists! It's Carmen from little ole Georgia.
My inspiration for the Frida was pretty simple. I wanted a finished tunic with plenty of drape and gorgeous embroidery accents. And I was able to accomplish it with little effort thanks to Ann's easy to follow instructions.
I love testing for Ann, and feel she always gives us plenty of time to finish the garment and enough inspiration to make a million more. https://happilysewnafter.wordpress.com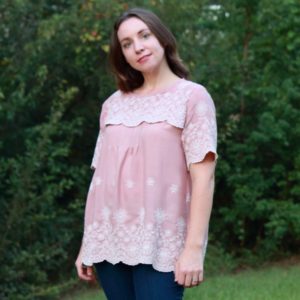 ---
Gabz Jefferson
Hello, you may call me Gabz Jefferson and I reside in "Land of Enchantment" but I prefer to call it "Land of Entrapment" because the beauty of this place,New Mexico, wowed me that I don't wanna leave this place anymore.. Living in New Mexico is like living in two countries— USA and Mexico. Yes, almost 75% of the population here is hispanic. Different cultures and traditions of Native Americans, Hispanics and Americans.. So, this Frida top I made really suits the place where I live in.. How lovely is that? I'm like—- "YES!" … The fabric I used is light weight teal which is one of New Mexico's beloved colors. I also used see through fabric with sequence and blingy stuff. My favorite feature of this top is the puffed sleeves. So pretty! You may visit my blog and look at my other projects at https://itsewcolorful.wordpress.com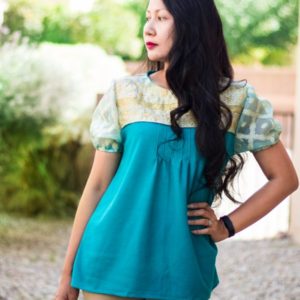 ---
Casey-Marie Bray
I'm Casey from Brisbane, Australia. I chose linen and embroidered cotton for my Frida to channel a classic and elegant beach look. I knew I needed to choose the perfect fabric to make Ann happy, so I was on the look out for months until I found this at a liquidation shop that stocks a lot of designer discontinued stock. I loved working with this fabric and figuring out which fabrics to use in each portion of the pattern and how they would work together. I share pics of my sewing adventures over at www.facebook.com/lioncubcouture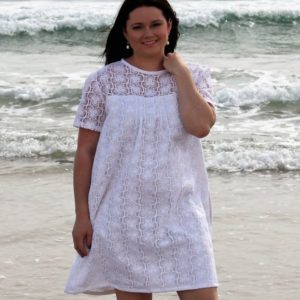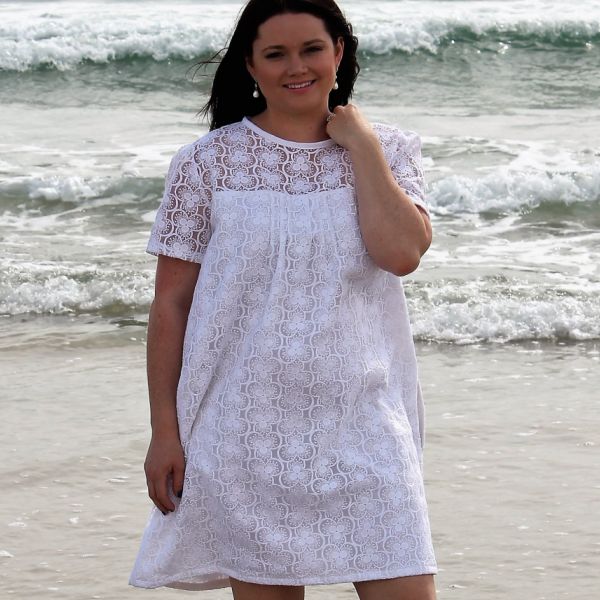 ---
Vaida Balaseviciute
I'm Vaida from Lithuania. I felt in love with Frida from the first sight – it just screamed my name. I love everything boho or hippie style – so no doubt I signed for this testing. For my first Frida in tunic length I used linen fabric in blue, some eyelet-patterned cotton and checkered cotton/poly blend for the sleeves. And oh so many possibilities for adding the trims! I bought some more fabric for Frida dress and already considering making it in light woolen fabric, as winter is coming and I need something warmer than linen. What I loved most is possibilities Ann gives in every pattern, lenght/sleeves/etc. – and the inspiration board was a great help, too!  http://xvaidax.blogspot.lt/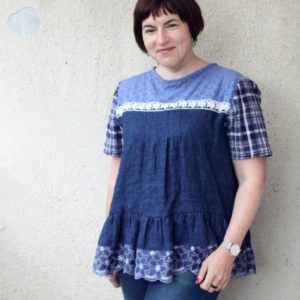 ---
Kee Lin Lim
Hi there! My name is Kee Lin Lim and I'm from Melbourne, Australia. I ended up having time to make 2 Frida's as I really wanted to make one with gathered short sleeves and one with half short sleeve and half bishop sleeve. For the gathered short sleeve, I used a Japanese double gauze which I knew would give me the casual look I hoped for and also nice and breezy for summer. I also have a dress that I bought similar to the Frida that is getting old and torn so I wanted a replacement. For the half short sleeve and half bishop, I found the fabric on an Instagram post from a local fabric shop that I instantly fell in love with and knew that it would work perfectly for the Frida. The hardest thing I found about making the Frida was choosing the trimmings. I thought to go with iron on patches but as my fabrics were both very thin, it wouldn't work. With my first dress, I finished making it first before adding the trimmings. I brought my dress with me to my local fabric shop and had to mix and match before I settled on something I was happy with. With the second dress, I knew I wanted the entredeux lace look but didn't know the name of it, but luckily I get sewing classes from Ann, so she knew what I wanted. Otherwise the Frida dress is a dream to make! The instructions are easy to follow and there are no complicated steps. You can see my other designer stitch and craft creations from my Instagram site: https://instagram.com/thekeetoacraftylife
---
Nieves DeF
The Frida Dress was a  fun and easy make,   it was straightforward and lends itself to so many possibilities,  as we are heading into summer I did not make any long sleeve versions.  I was so inspired that I ended up with enough fabric to make several versions.  I have made three so far all size 3.  One in a cotton and silk fabric, another in a broderie anglaise that I embellished with a very wide and decorative tape.  One more version in an embroidered linen, and three more fabrics in the queue, one might think I have gone a bit crazy.  I guess I have.  I blame Ann for that though, she was constantly finding a better fabric than the last which inspired me to find something similar.
My daughters have benefited from this pattern as they also fell in love with this style.  This should keep me busy for quite a while.  Unfortunately  the linen one is yet to be photographed.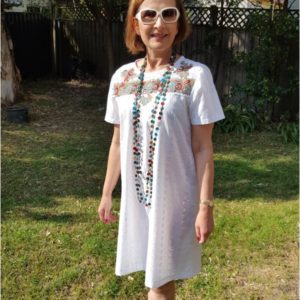 ---
Lone Thomsen, Denmark
Because I choose to make my lovely Frida in a simple version without ruffles, I choose a fabric with lots of wild flowers on. It is a sheer silk/cotton mix with a mirrored pattern. The fabric was quite delicate, and a bit of a pain to sew with; but oh so worth it.
The Frida has many options, but I choose to make the tunic length with bishop sleeve option. Autumn is coming fast in Denmark so I have more need for a long sleeve tunic I can wear as a blouse also.
The pattern is so well drafted, everything comes together nicely and the instructions are easy to follow. Ann is very meticulous in her work, making it a pleasure to sew up her patterns.
Definitely more Fridas for me in the future; with all the options given in this one pattern, the possibilities are numerous. Just see all the different takes and styles the testers have gotten from this one pattern.
https://sewnbylone.wordpress.com
Best wishes Lone