Hello my friends. Welcome to the first part of the Frida Tester Round-up with my first group of 14 of the most spectacular pattern road testers you could ever wish for.
Why may you ask. !!!… When I first posted the tester call for this pdf pattern I had a vision in my head and a "bit of" an expectation of how I envisaged this dress/design would look.
I had never expected anyone to not " think " like me and understand what I wanted…lol…… I think that I can be – actually I know I can be – a really hard task-master – but I suppose I just know that my tester group are so fabulous at what they do that I wanted their best achievement and outcome.
I built a board on Pinterest – link is here – loaded it with stacks of inspo pictures to give them some guidance. Once the girls joined the board to get their "inspo" there was no stopping them. Pictures were being posted on our tester Facebook wall along with trims and embellishments for opinions and advice.
And the results have been absolutely outstanding!!!
So I would like you to say hello to my first posse of  "roadies"…lol… and as usual I bugged them to answer a few questions so you could get to know them a bit better.
1. Name and where do you live
2. Inspiration behind your fabric choice for your Frida
3. Your thoughts on making the Frida ( pressure and expectations from me …lol…)
Cheerio and Kind Regards
Ann at Designer Stitch
---
Ilse Lemmens
Hello, I'm Ilse from Belgium. I'm so proud of Ann! She's always fashionable and when she presents a pattern to us,
she always shows her inspiration resources. It's not hard to fall in love with her patterns. When Ann 'Frida' and the
theme presented, I would like to work with an embroidery fabric. Then these fabrics just did not get into fashion.
Meanwhile, you'll see them appear in multiple places. Happy for you! The test period is always very pleasant and
Ann is always on the sidelines to support. She helps us from a distance to get a nicely finished piece.
This time too. More details about Frida –
Please visit my blogpost… https://sewsewilse.wordpress.com/2017/10/01/my-broderie-frida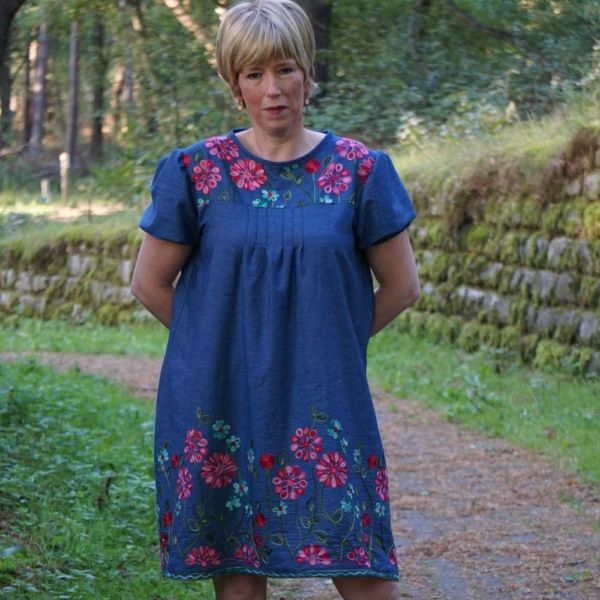 ---
Jenny Jonas Bowen
Hi! I am Jenny and I live in Canada! Designer Stitch's Frida pattern was named after the artist, Frida Kahlo. I first heard
about Kahlo and her work about a year ago and was impressed with the richness and depth of her work and her life. I
really wanted to incorporate texture in my piece but didn't want to go with the traditional embroidery. When I see a
garment that has fabric I like, I will set it aside in my inspiration pile. The textured stripe I used in my design was
formally a pair of capris that I rescued from a pile destined to go to the thrift store and there were many sizes too
big for me but they worked really well for my Frida top and the colours in my Frida work perfectly with jeans,
which are a wardrobe staple in the area where I live! Ann is always providing tons of inspiration for her testing group
and urging us to stretch out of our comfort zones to create one of a kind garments!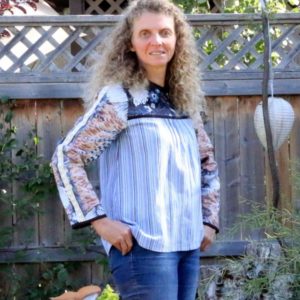 ---
Beck Smith 
Beck from Melbourne. Inspired by current ready to wear pale blues, embroideries and fancy sleeves. Enjoyed making the
Frida, had time during the test to make 2 dresses.
My favourite part was picking the fabric and trims. instagram.com/binky78
---
Inge Moreels
Hi, here Inge from Belgium, for the Frida dress I used a light weight viscose. It has the look of embroidered flowers but it
is printed… the dress is a loose fit and some people think a bit to loose but I think it is perfect. I love the choice of sleeves,
but the puffy is my favorite. Again a beautiful pattern that is spot on and also perfect for people that do not have a lot of
sewing experience due to the choices of model and the perfect instructions.
Check out my blog at https://madamestof.wordpress.com/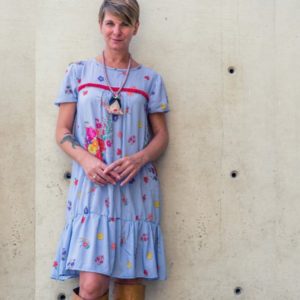 ---
An Ca
Hello, I'm Annick from Belgium. When I first saw Frida I really loved the pattern and I wanted to embroider the fabric
myself. I spent a long time playing with these thoughts until I found a beautiful embroidered Chambray. It was love at
first sight! With Frida I think "less is more" is very appropriate. I used the embroidered border of my fabric to a degree.
In my opinion, the Frida dress is really flattering on absolutely everyone, comfy, and with the different sleeve options,
it's the perfect dress!
You can see the pictures of my Frida on my blog: http://flaxfieldsewing.blogspot.be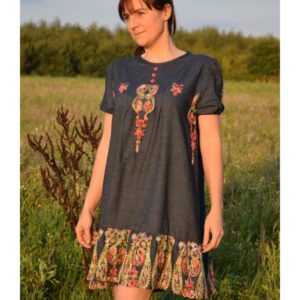 ---
Kate Williams
I'm Kate Williams, I live in Australia, about an hour south of Sydney (it's a beautiful area to live).
Choosing fabric for Frida was tricky. I decided to go for a rayon, because I live the way it drapes, and it's perfect for
summer. I found a border print at Spotlight that had a Boho feel to it, and bought heaps of fabric (at least 3.5m), which
is just as well, because after the bottom ruffle, I only had enough border left for the front bodice.
Initially, I had plans for fancier trims, but ended up with ricrac, to let the fabric shine. I was nervous approaching the
pintucks, but of course, they were fine once I got started. Ann included all the information I needed to get them sorted,
and I love the way they shape the dress. I hate small hems, and was able to use my new rolled hem foot to sew one easily
on my sewing machine. It made hemming a lot easier. I have plans for a top version for summer, and another dress
version to use as a beach cover-up (maybe skip to the the ruffle on that one).
http://katewillknit.blogspot.com.au
https://m.facebook.com/katewillknit
https://www.instagram.com/katewillknit/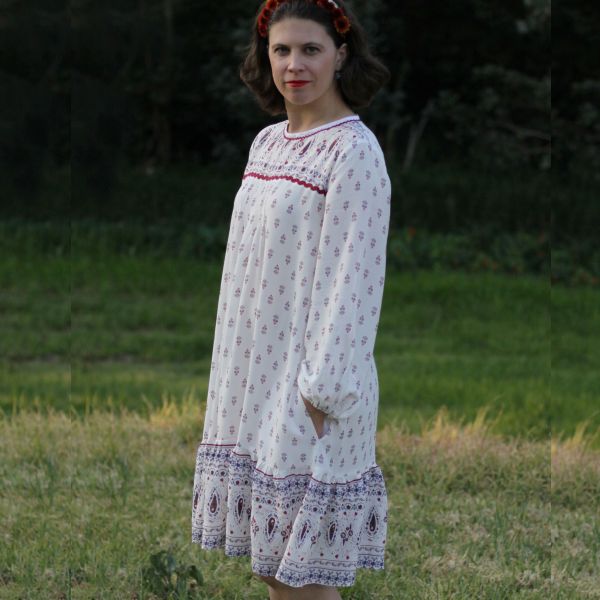 ---
Genevieve Lynne Grossmann
I am Genevieve and I live in Johannesburg, South Africa. The moment I saw Frida I was in love with Pattern. This is so
my style and I couldn't wait to make one up. I loved shopping for my fabric and I picked out a number I loved but I
eventually chose a very soft viscose with embroidered hem (black) and a crepe in red and blue that made me think of
Mexico. I love both my dresses and have already worn them. I loved making my Frida's. The pattern was easy to follow
and the result was everything I imagined. I have many more planned. Definitely one of my most enjoyable
tests because I just had fun making them.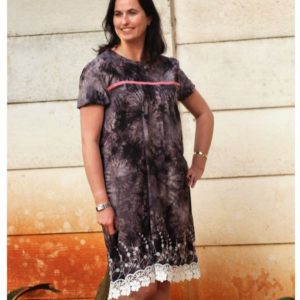 ---
Livia Jonker-Yamada
1. Hi, I'm Lívia and I live in the Netherlands.
2. As soon as I saw Frida I started dreaming about a flowy, flowery tunic with gorgeous Bishop sleeves but couldn't find
the right fabric for it. When my search took me to a shop in another town, I came across this heavier weight gray fabric
that had absolutely nothing to do with my vision, but I fell in love with it… So the "Dark Frida" was born and I'm thrilled
with it! 😊 It's so perfect for fall!
3. Testing for Ann is such an amazing process… It's like a loving Mama guiding her kids to the right direction!
4. www.instagram.com/livia.jy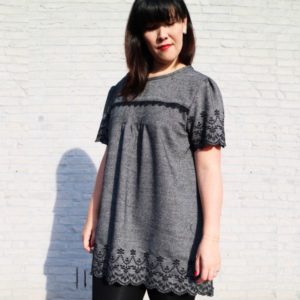 ---
Diane Cullum
1. I'm Diane and I live in Phoenix Arizona.
2. I wanted to find something embroidered and really awesome for the Frida…but searched for weeks without any luck.
I settled on a bright floral I already had that seemed to fit the style and the black eyelet border fabric. Of course I found
the perfect fabric at a thrift store after testing was done. It will make a perfect Frida dress but I won't have time to sew it
until mid October.
3. I love how Ann has visions of what style she wants her patterns to be. It helps to see inspiration photos before planning
our own. It is a bit frustrating not being able to find the awesome fabrics that industry uses though. The pressure was on
to find just the right thing! I worry about what I sew being a fashion flop, since I'm not always good at choosing the correct
fabric for a pattern.
4. https://sewingwithd.wordpress.com/2017/09/30/finally-frida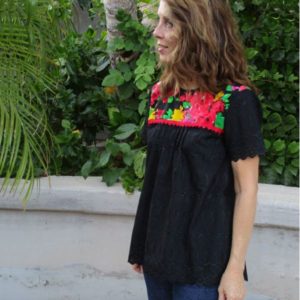 ---
Shalini Tahiliani
Hi! I'm Shalini, I live in Virginia but am originally from India. I made two Frida dresses during testing. Both dresses have
a history behind the fabrics that makes each one special in their own way. The oatmeal & black one is made from fabric
for an Indian salwaar kamiz that was gifted to me by my MIL. She had one tailor made for herself and really liked the
fabrics and bought one for me. The set came with embroidered fabric to make a long tunic/top, harem style pants, and a
long scarf. I used each of the fabrics in a different way and came up with the dress and I LOVE
it! The second one – black & white print bodice and embroidered white skirt, is not any less special. Skirt was made from
a dress I had purchased long ago that didn't fit well and was already in donate pile. The bodice fabric I used was leftover
from my DD's first birthday dress! She was so cute and fancy on her birthday and it holds special memories for me so this
dress is extra special 🙂 I love how Ann's design made me think outside the box and her visual aid with the pinterest board
made it come together easily. I blog at http://cropaway.blogspot.com and I've got more thoughts on Frida on the blog.
---
Dora Serrano
I'm Dora and I live in Lisbon South Bay, Portugal. I'm a teacher, mom of three and sewer.
Choosing fabric for a specific project is always hard for me. For this one, I had the right fabric since the beginning… and
loved it so much that I was afraid of doing something wrong and ended up throwing it away. I made two Fridas: a dress
in a strong blue cotton mixed with another one that reminded of ancient portuguese tilery and a light denim with a
gorgeous print. Added some discrete trims because "less is more", I thought…
My inspiration and final decision on what to do and how to use came with Ann's pinterest inspirational board. It really
helped! I could see exactely what was being asked to do.
Making the Frida was a pleasant surprise. A quick sew with almost imediate final product to see. Don't let this quick
sew fool you though, Frida is a show stopper and you'll be making a whole lot of heads turn when you wear it. I have
to say that sewing for Ann was a challenge to me because I love her work. She's always ahead when it comes to fashion
and design and she knows exactely what she wants from us! The pressure was on, but not due to her way of dealing with us…
it was because I put that pressure on myself! In time I came to learn that Ann is demanding because she wants to get the
best out of us, but she's also kind, encouraging and a soft heart leader.
The blog is still on the making, but my instagram is www.instagram.com/colourbymim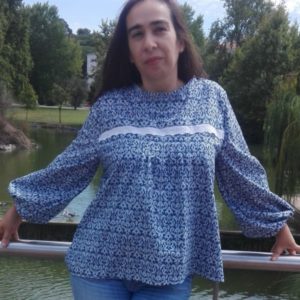 ---
Stephanie DoctoraBotones
Hi! I am Stephanie, Doctora Botones on social media, from Spain. I love the new Designer Stitch pattern Frida.
Frida Kahlo was a brave and inspiring person like Designer Stitch is. This pattern marks trends and has as many versions
and possibilities as you can imagine. In my case I used an embroidered gauze fabric in denim color, very soft and
comfortable to wear but something transparent so I add lining to the whole dress. It is a beautiful pattern comfy and
perfect for any season, again Designer Stitch has managed to give us a great pattern that will be among the
highlights!
https://doctorabotonesblog.wordpress.com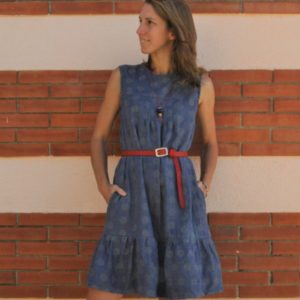 ---
Belinda Cooper
Hello! I'm Belinda and I'm an Australian living in Singapore. I have to be honest about Frida…
When Ann first showed the tester group her illustrations I thought I'd pass because I'm not a boho girl. However Ann
has brilliant vision that goes beyond the stereotypical and before I knew it I had made 2 Frida's and have plans for a third.
I decided to make my first Frida from a paisley Indian skirt (quite boho really and perhaps why I hadn't worn it). I'm really
pleased with the refashion.
So I then decided to embark on the dress. I knew I wanted to use trim that I'd had in my stash for years and amazingly it
co-ordinated with my fabric. The Batik is from Yogyakarta. It's a hand printed viscose and quite sentimental given the
circumstance around how I found myself in Yogyakarta. I love my new Designer Stitch Frida!
I've built quite a wardrobe of Designer Stitch designs thanks to Ann and her ability to design patterns that are well
drafted and quick to sew.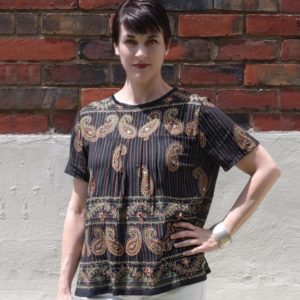 ---
Camelia de Bruin
Camelia , from the Netherlands. I was very excited when the tester call for the Frida came. The inspiration pictures were
really beautiful but then it came my biggest problem , choosing my fabric for the Frida. As usual , for me, this is my
biggest issue when starting on a project. In this case, when I needed to start on Frida , I had very little choices but now
this embroidered fabrics are popping everywhere. I made two versions of the Frida, one as per pattern and another one
with some changes …all to be seen on
my blog http://calcedoniasewing.blogspot.nl/
Instagram https://www.instagram.com/calcedoniasewing