Greetings and a big hello to you all. Welcome to Part 1 of the Indu Wrap Pants Tester Roundup.  When a new Designer Stitch pattern is released I really LOVE to showcase my pattern testers as they are the most amazing group of women and I love them all to bits !!!  As you have read in my previous roundups these ladies are the heart and soul of Designer Stitch.
So for this roundup I asked them the following questions so they could all share their thoughts with you.
1. Name and where you live
2. Fabric used for your Indu's
3. Any tips on working with this fabric
4. Your initial thoughts on the Indu's and what changed your mind if any … and what style did you choose and why ?
5. Have you had any comments from family and friends ?
And dont forget the Indu pants pattern is on it release sale price of  $7 US and is a
multi-sized pattern :
(AU/UK) 6 – 26
(US) 2 – 22
(EU) 34 – 54
Advanced Beginner/Intermediate Sewing Level
https://designerstitch.com/shop/indu-wrap-pants/
Cheerio and Kind Regards
Ann at Designer Stitch
---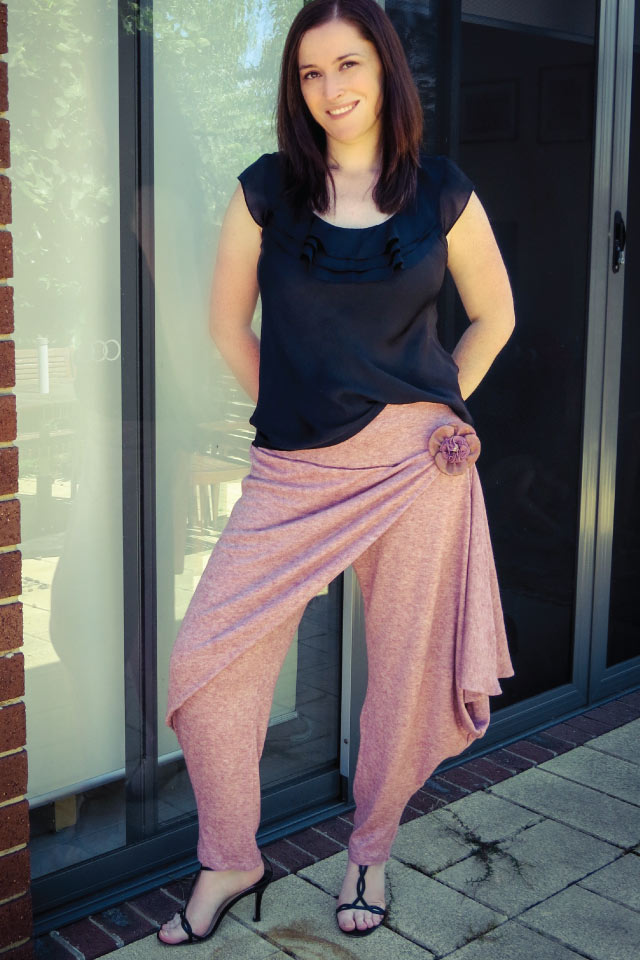 Bec Walker from Melbourne, Australia.
I used a rayon-polyester-polyamide blend which was a bit heavier and warmer than a jersey as I am planning on wearing these autumn/spring. The only issue I had with this fabric is that as it's a bit heavier it pulled on the notches a bit making it a bit harder to attach the waistband without leaving holes. Next time I would either use a marker or cut the notch outwards rather than inwards. My initial thoughts on the Indu pattern was excitement. I have been looking for interesting lounge wear options and these (with the wings) did not disappoint at all! Everyone I have shown my Indu pants has been really excited by the design.
I blog at http://edgestitch.wordpress.com and my
Instagram is http://Instagram.com/edgestitch.bec
---
Synthia Lee Gerritson.
I live in Los Banos, California, U.S.A. For the Indu pants I used a jersey fabric that I have been saving for a few years and this was the occasion to use it. Working with this jersey fabric was easy, just needed to sew a tad bit slower than I normally would. When I first saw the drawing to the Indu pants, I didn't feel as if these were a pair of pants I would wear. But, Ann Grose always knows best, especially in fashion designing, so I gave it a sew. I am so glad I decided to sew the Indu pants because they are such a fast sew and so comfortable to wear. I feel as if I am wearing pajamas, lol. I wore my Indu out for the day, I received so many compliments and people wanted to know where I bought them. I also have received many compliments on FB. You can't go wrong with these pants. https://sewsynsewn.blogspot.com/2017/
---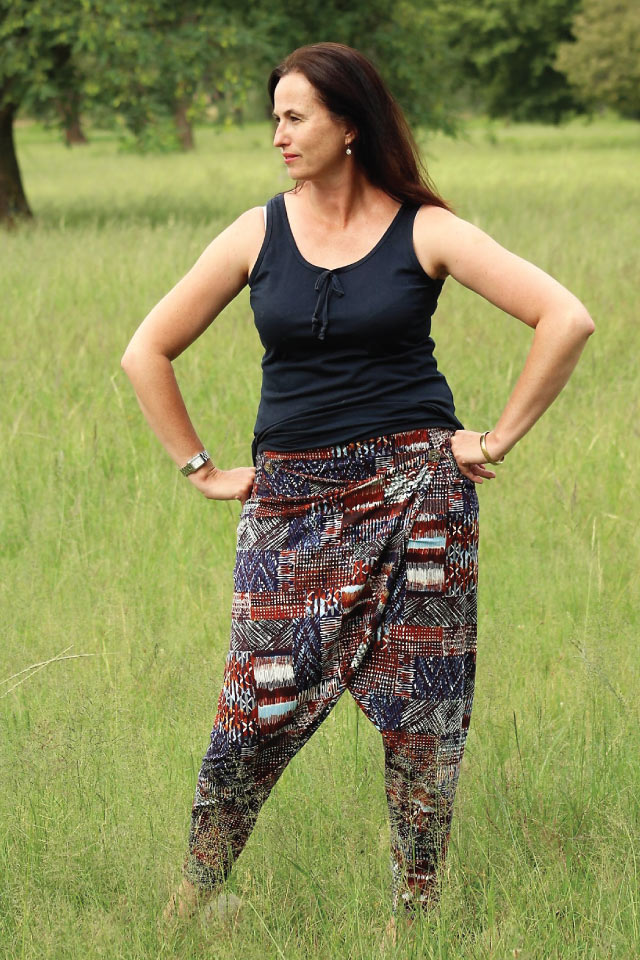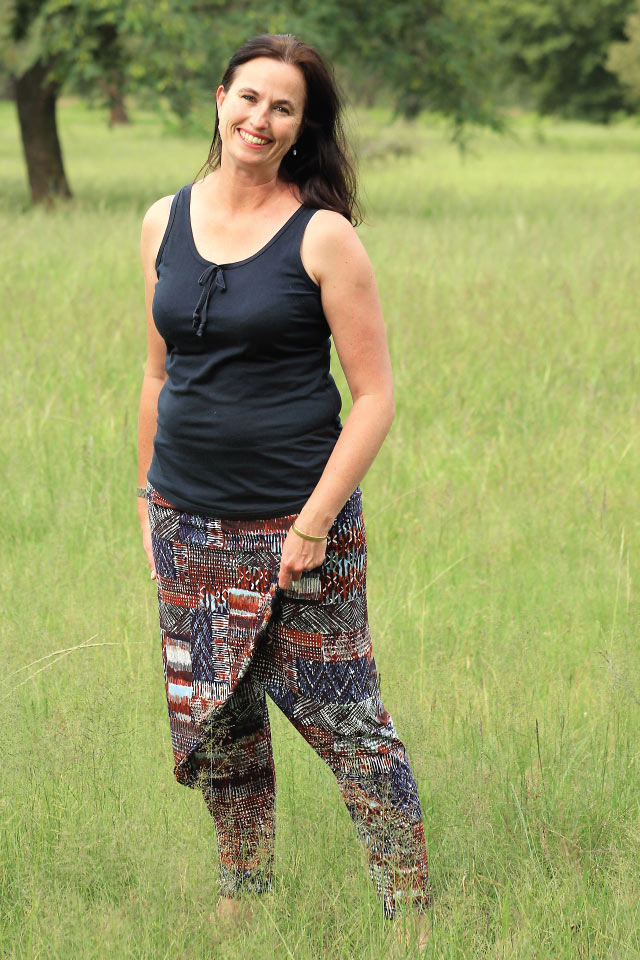 Genevieve Lynne Grossmann
I live in Johannesburg, South Africa. I used a very soft jersey knit with loads of drape for my pants. It worked wonderfully but you need to use loads of pins or clips to keep it from moving.when I first saw the sketch of the Indu pants I loved them but thought they would look better in a solid fabric. Have you seen my version? I saw the fabric and knew that it needed to be a pair of Indu's. I made the winged version. I added 2 buttons so that I could wrap both to the front but I can also wear it with one wrap. I love the versatility of this pattern. One pair of pants worn 3 ways. My Instagram account is http://www.instagram.com/gegiegrossmann
---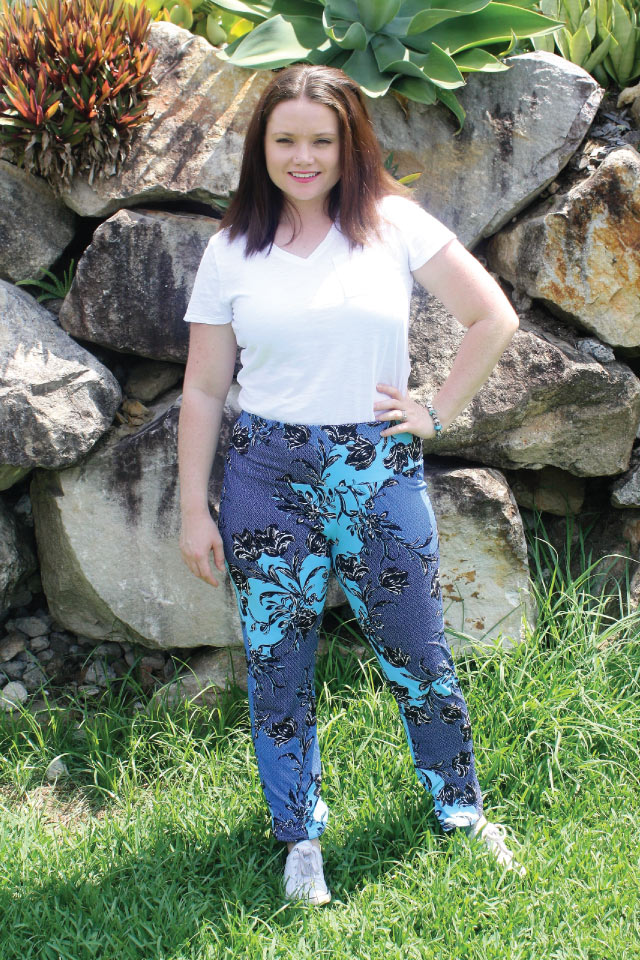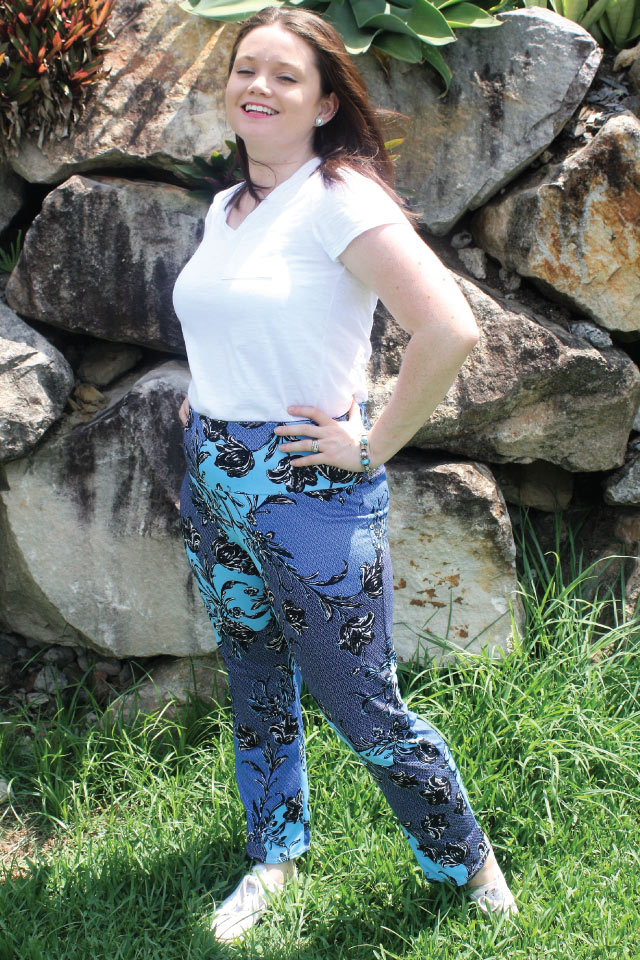 Casey-Marie Bray
Casey Bray from Brisbane, Australia. I used a 100% polyester knit from East Coast Fabrics that had a good drape. While other polyester knits I've used can get a little bit "chewed up" by my machine if I don't take due care, I found this particular one pretty easy to work with. I turned the tension down from what I would have set for the weight of custom CL that I usually work with. I chose the straight side version simply due to fabric restrictions. I immediately regret not trying the other version and am planning a pair with the side drapes. I love my pair as is though, they are super comfy and perfect for weekend wear. Hubby initially thought my fabric was a bit too busy but loves it with a simple tee. www.facebook.com/lioncubcouture
---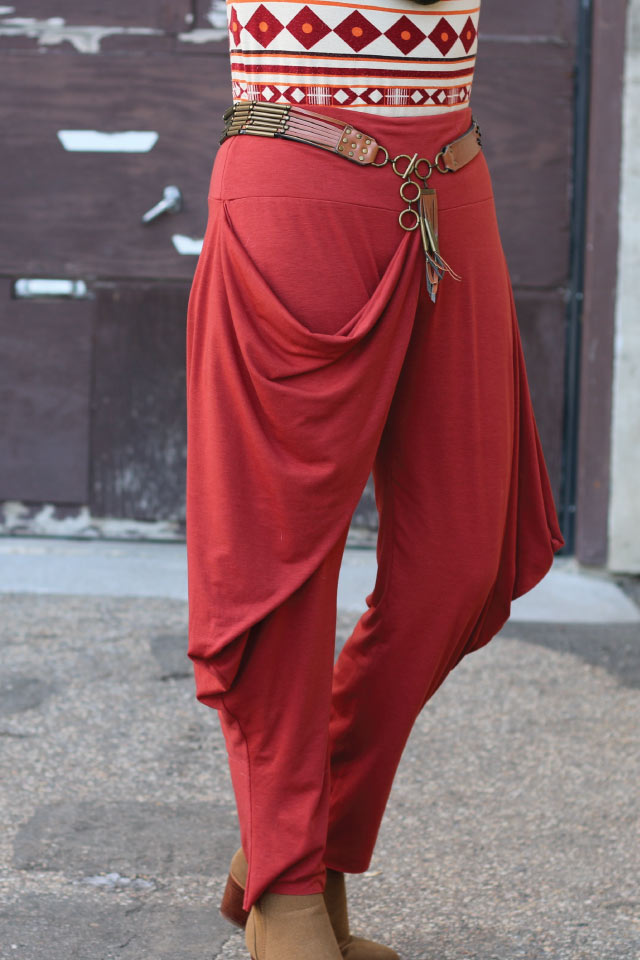 Jenny Bowen
My name is Jenny Bowen and I am from Canada. I used a brick red jersey knit for my Indus and it was really easy to work with. My initial thought was that there was no way I could wear something this flashy but upon further examination I discovered that I really liked the cut and knew they would be great in a solid colour for me. The bold prints really made me nervous but I am actually reconsidering even that after seeing all of the gorgeous prints some of the other testers used! All of this was before I realized that there would be a straight leg version included! These are the best leggings!!! I can't say enough times how amazing Ann is ??????
You can follow my adventures on my blog at www.EmbraceEveryday.com
---
Nieves De Francesco
My name is Nieves De Francesco, I am from Sydney Australia. I made my Indu pants from a navy and white jersey, not normally the type of fabric I would expect to use for pants, but Ann was pretty persuasive about this. I loved the versatility of this style which meant I was in. They are an unbelievably easy make for the results that you get. I have bought some plain jersey to make another. My instagram is http://www.instagram.com/Nievesozz
---
Stacey Clements, I live in Dorset on the south coast of the UK. I used rayon spandex for my Indu's which was really easy to sew. I used the stretch stitch settings on my sewing machine rather than an overlocker. I loved the look of the technical drawing right away, but wasn't sure if I could pull this style off. Initially I sewed the straight leg style, but on seeing how amazing everyone else looked in the winged version I had to try it! I found I didn't have enough fabric to do wings on both legs, so I mixed things up and did one straight leg and one winged leg! I love how it turned out – they are so comfy and fun to wear and everyone I have shown them to thought they were really funky. I blog at https://allsewnupbystacey.blogspot.co.uk/?m=1
---
I'm Kate Williams of Katewillknit. I live about an hour south of Sydney in Australia. Fabric choice is really important for the Indu pants. I was originally eyeing off some cotton jersey from Textile Traders, but missed their sale so ended up with a poly blend jersey from the clearance table at Spotlight.
I gravitate to my overlocker with knits. These were so quick to sew up, and the seam allowance Ann used made it super simple. When knit fabrics are being annoying and curly, I get out my fabric glue pen, and glue the starting point of the seam together to make it easier to start feeding through the overlocker.
Initially I wasn't entirely convinced of the style of the Indus. But I trust Ann, and figured they could be totally awesome. She's always encouraging her testers to be brave with fabric and styles. And she is always right. I have plans for another straight pair in grey double knit cause they are so comfy.
I wore these on my day off last week (it was finally cool enough). I had lots of people comment on them – mostly "nice pants" – and it was great to be able to say "thanks, I made them myself"
Https://katewillknit.blogspot.com
https://m.facebook.com/katewillknit/
https://instagram.com/katewillknit
---
Kim Bailey I live in Melbourne, Australia and lucky enough to be a student of Ann's! As soon as I saw these fabulous pants coming up for testing I started the search for fabric and did my very first online MOOD fabric order from the USA!!! Almost remortgaged the house to cover the Shipping, but worth it. The light weight jersey knit is perfect and so comfy. Easy thanks sew. My fabric with I made these with from textile traders was a little more 'slippery' to sew with so LOTS of nice glass head pins were used!
I probably narrowed the calf/ankle area a little more than the pattern.
No blog post but just a happy sewing wearing awesome comfy pants from my favourite PDF designer!
---
I'm Dora and I live on the South bay of Lisbon, Portugal.
For my Indu pants I used a very soft cotton/polyester knit. It had a nice drapey touch, but I didn't have enough fabric for the wings, so I did the wingless version. I thought at the time that it would spoil the look of the pattern, but it didn't. The design of these pants is absolutely amazing. Meanwhile I have bought some more fabric and I'll be making many more Indu pants soon. Sewing knit can be tricky, so I used lots of pins to keep it from sliding and kept reminding not to pull the fabric so it wouldn't stretch while sewing.
I loved the pattern from the very beginning. I thought it was so out of the box… and it is… in a good way!! You may look at it and think "Oh… this would look great on… someone else….", but this is a highly flattering pattern and it will look great on you too!
Apart from myself (I was pretty amazed at the way these pants looked on me…), my husband and friends also commented on how good these pants fit. My sister in law, that never likes anything, looked at me, from top to bottom twice, and asked where she could buy some pants like these… 😀
www.instagram.com/colourbymim