Hello on a beautiful mild Friday here in Melbourne, Australia. I hope you loved reading the Indu Tester Roundup Part 1 yesterday and I am sure you will all agree these ladies are just stunning….
And welcome to Part 2 of the roundup…..
Recapping on what I asked them to share with you all –
1. Name and where you live
2. Fabric used for your Indu's
3. Any tips on working with this fabric
4. Your initial thoughts on the Indu's and what changed your mind if any … and what style did you choose and why ?
5. Have you had any comments from family and friends ?
And dont forget the Indu pants pattern is on its last days of discounted sale price – $7 US and is a multi-sized pattern :
(AU/UK) 6 – 26
(US) 2 – 22
(EU) 34 – 54
Advanced Beginner/Intermediate Sewing Level
https://designerstitch.com/shop/indu-wrap-pants/
Cheerio and Kind Regards
Ann at Designer Stitch
---
Aimee Wilson
I live in Plano, Texas (just north of Dallas). I used a lightweight poly spandex and lined my waistband with supplex. Using wonder clips and taking your time always makes sewing easier. I chose the wrap style since I loved the unique look and the boho vibe. I could see myself wearing them with a tank or bikini top on the beach when I vacation. My husband liked them on me and so did my friends. My blog is https://thesewingscientist.blogspot.com.au/2018/02/designer-stitch-indu-wrap-pants.html
---
Gabz Jefferson from New Mexico, USA.
I used cotton lycra for my Indu pants . Using this fabric, walking foot is a must. And you should be patient not to pull the fabric or it will overstretch and it's going to be a disaster. These pants have nice drape to the bottom and fitted from the knees to the waist.. The other option has wings or wrap which makes them a unique style… From the moment I saw the line illustration, I already know that I need this pattern. I didn't have second thought about it. I chose the straight leg Indu for simple and classic look. My friends overseas couldn't believe that I made them. They saw them on my social media. And speaking of Social Media, you may check out my other work at https://itsewcolorful.wordpress.com or www.instagram.com/itsewcolorful or www.facebook.com/itsewcolorful
---
Amy Plaza from Cincinnati Ohio.
Double Brushed Poly. I used a serger for most all of it. I loved it as soon as I saw the line drawings and knew it was funky. Just my style. I choose the wings because they are so different and fun. Friends have said they loved it. My 3 year old loves that I can unhook the "wings" and wrap him up in them. It's his new favorite thing to do!
http://www.thatssewamy.com , IG is thatssewamy
---
I'm Kiran and I'm from Singapore. When I first saw the line drawing for the Indu wrap pants Pattern, I was intrigued with its interesting drape. Being of Indian heritage, pants with drape are a mainstay of our traditional fashion. But recently, I've been seeing these pants pop up on runways, magazines and even in fashion apparel outlets. I HAD to sew these pants up! In my promotion posts, I labelled these pants "Effortless Style" and I could not emphasize this more. The Indu pants will be the statement pants in your closet!
I sewed up these gorgeous Indu pants with a thin polyester knit. As this Fabric is very delicate and easily stretched, i found it essential to work with a walking foot. It is also important to be patient with your machine and not to pull the Fabric through as it is being sewn. This warps the seam. Despite having to go slower than normal, I was so pleased that the entire pants came together so quickly. It's a definite winner in my wardrobe. Check out more of my sewing adventures at my Instagram page www.instagram.com/gloopygoo
---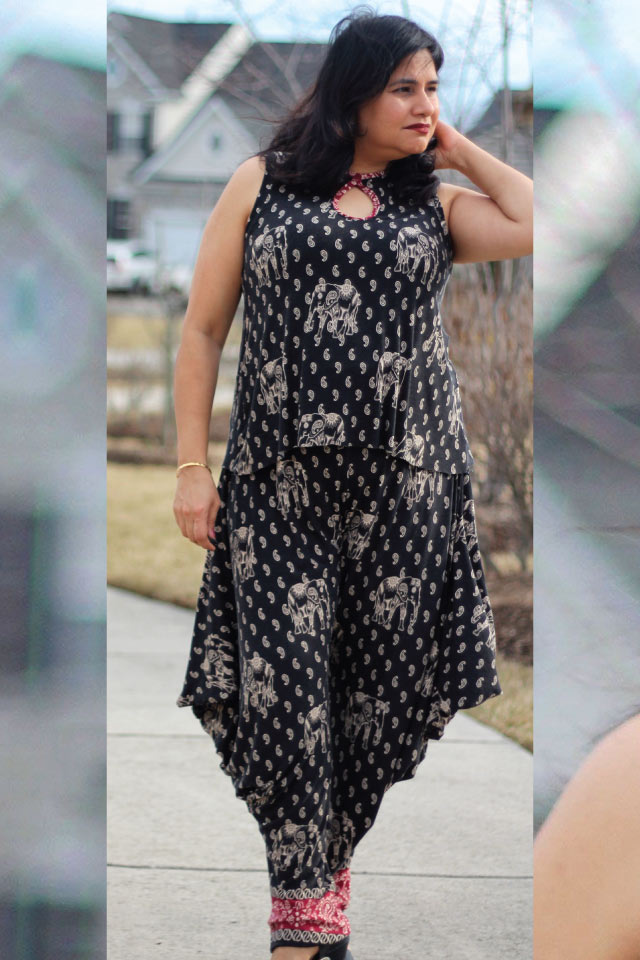 I'm Shalini and I live in Washington DC area. I love the Indu wrap pants so much! I made 2 versions and since making the test pairs, I have been wearing them constantly. I used a rayon spandex and a drapey poly spandex fabrics. Drape is a must for this pattern. I constructed majority of the pants on the serger. The moment I saw these pants, I immediately loved it! Harem/wrap pants are something I have always loved and never ever worn. It is one of those things that I keep intending to make and pushing back on because I never had good pattern. This year I am participating in #2018makenine challenge and had put harems on the list and now it's accomplished! I had some interesting comments from family ranging from jasmine pants to rocket pants ?? For one of the versions, I made a matching top and it is my favorite look!!
I blog at http://cropaway.blogspot.com
Insta: @shalinimunjal
---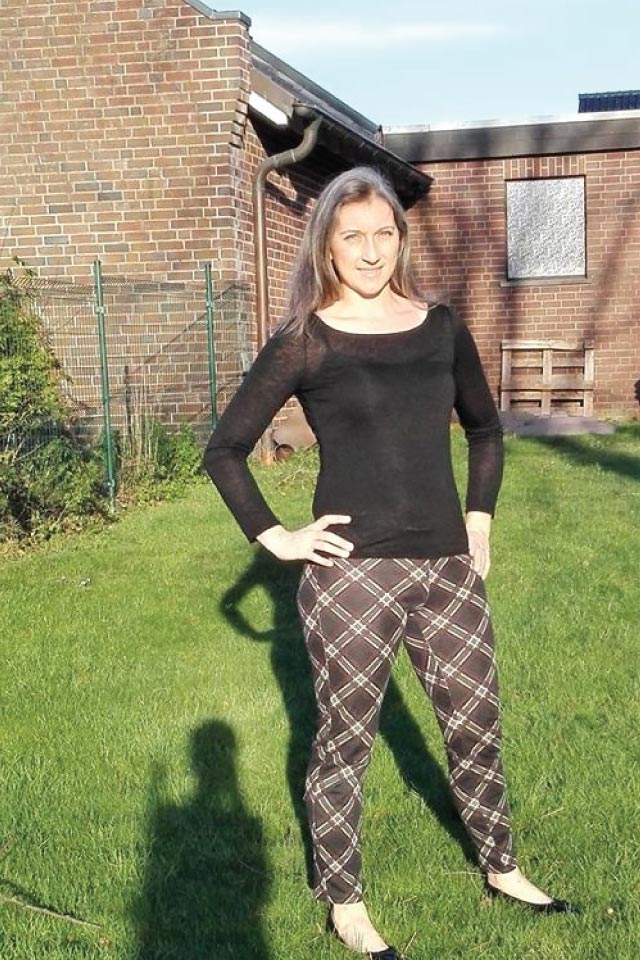 Rebecca Watson, currently in Germany but US born.
2. Rayon mix for the grey one, dbp plaid for the slims (more structure).
3.Check your tension and don't pull it through the machine.
4. I loved the shape to start and really loved it to wear. I liked that I really got two patterns instead of one in the pattern and feel like that really gives flexibility.
5. They complimented my slims at work (I teach) and my wraps were kid and husband approved.
6. www.facebook.com/StitchedandStapled, katbatgirl on Instagram and Twitter.
---
I'm Ilse Lemmens from Belgium. When Ann introduced this design I doubted a bit but as always I knew this would be a great pattern and that I would regret it if I didn't made this. And yes, the Indu is só special and I'm so glad I made it. A stretch olive crepe seemed to me perfect and maybe I had to choose some more light weight fabric. But that will be for my next one!
https://sewsewilse.wordpress.com/2018/02/24/indu-jersey-pants-from-designer-stitch/
https://www.instagram.com/sewsewilse/
---
Kristen Brand California US.
Poly spandex, stretch denim too, misc knit.
Drape is super important and go bold!
I loved them from the start.
At first glance people were unsure, then they saw how comfortable and versatile they were, by the end of the night I had people begging me to make them a pair.
---
Hi, I am Camelia and I am living in The Netherlands.
I tested a few patterns for Designer Stitch so I know how well the patterns are made and by now I trust Ann with her choices, but this design was way out of my zone…I play safe 🙂 , I know boring. So for me, the straight leg was the choice. After seeing all the versions of the wrap version I changed my mind though, they look awesome!!
I made a total of 4 pairs of the straight leg, two in viscose jersey, one in ponte and this dark blue is a jacquard jersey. I made all these pairs with my serger and I only added the elastic in the waist using the sewing machine and a zigzag stitch. Using a serger make this a super fast project. Adding the elastic between the waistbands is brilliant, you see nothing from the outside but the pants are staying secure where they need to stay.
I blog about my makes at www.calcedoniasewing.blogspot.nl and on Instagram I am https://www.instagram.com/calcedoniasewing/?hl=nl
---
Hi, I am Breanna Smith. I live in the crazy weather state Texas.
I used a I spun polyester knit from JeanMaries Fabrics. I love the modernish twist on houndstooth and plaid.
The biggest tip I got when I started sewing with knits is to steam the seams to get them to lay right after sewing. I have also discovered Dritz WashAway WonderTape! This stuff is amazing for any tricky sewing.
I signed up for this test, my first with Designer Stitch and Ann Grose, because of this pattern. I loved how funky it looked. But after sewing it, I love it even more!
My husband approved which is saying a lot, my sewing is slowing becoming professional. 😉
Here is the link to my blog post on these must have pants. https://peacefulsewing.com/2018/02/26/indu-wrap-pants/
---
Hi, I'm Carmen Statham and I live in Adel, baby! I used a geometric print ITY for my plain-jane Indu pants. I say plain-jane because I can't get over how gorgeous the wraps are on everyone. Tips on working with this fabric: make sure you are using the right size ball point needle or you'll constantly have thread popping. The best advise I can give if you're not completely sold on these pants: trust Ann because she knows what looks good. This is the first knit pattern by Designer Stitch and as always the fit and instructions are spot on. My blog is https//:happilysewnafter.wordpress.com
---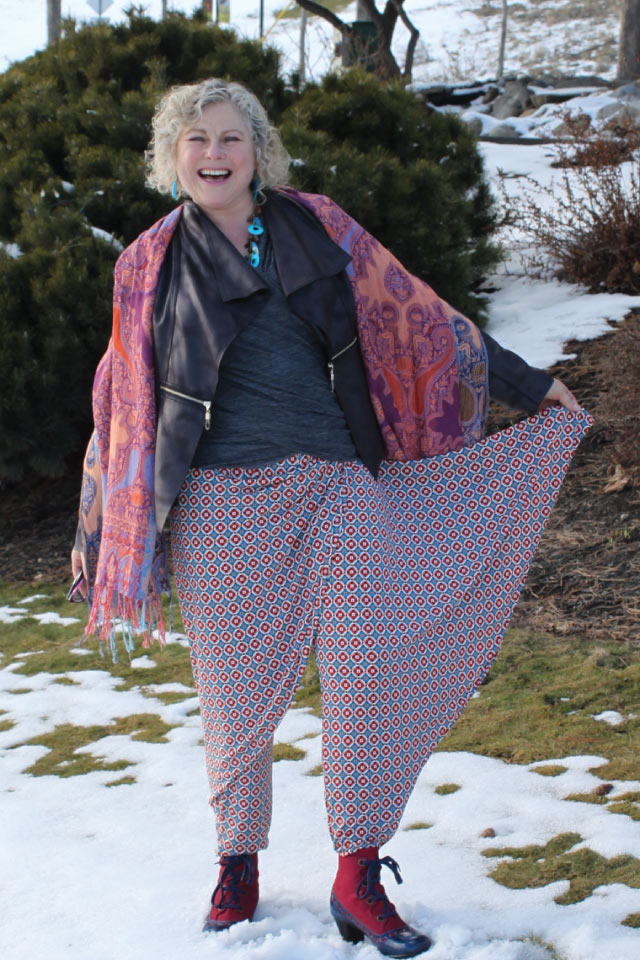 I'm Patricia from the beautiful British Columbia Interior, Canada.
I used a very lightweight polyester spandex with 50% stretch and good recovery. It felt like a lot of fabric when all sewn together!
Like sewing any knits I start 1" in from the end to prevent the machine 'eating' it! Then I turn the piece over and sew from inside to outer edge of seam. Knits just need a gentler touch that's all.
I was initially anxious they'd make me look larger but love how the drapes disguise the fluffy bits and lend a hint of mystery. With my boots they look like Cossack trousers! I like wearing one leg wrapped and one draped.
My husband doesn't like baggy pants but he approves of Indu's versatility. My friends all love them and I think they'd be great for pregnant women with the below waist (hip) band.
I'll be writing about Indu on my blog www.sewfarnorth.wordpress.com and am sure to post some photos on my instagram account which is withloveineverystitch