Hi Ho lovely friends. Greetings from us here at Designer Stitch – living in our magnificent country that is Australia. 
We have just released the new Jose Bodysuit, Cami or Slip Dress and WOWERS what a fabulous design she is – stunning design and flattering on ALL body types.
The Jose features a gorgeous cowl drape silhouette that is flattering on all body shapes and sizes.
The Jose Bodysuit has an attached G-string and secures with press studs at the crotch. Or make the fabulous Lace Boy Shorts for some extra sass and cheeky wear.
Team the
Jose
with everything from your fave pair of jeans to a streamline figure-hugging midi skirt and killer heels for drinks with the girls.
So as I always say for our first installment of our Roadies Round-ups – PREPARE to be absolutely WOWSER'd by all of the most AMAZING
Jose
's my friends in the
Jose Bodysuit-Cami-Slip Dress 
Tester (Rock Stars) Roundup Part 1. Love you all xx
Our roadies would like to share the following with you all :
1. Your name and where you live ?
2. Your choice of option for the
Jose
 and why ?
3. What fabric did you choose and where did you purchase ?
4. What alterations did you have to make to your
Jose
 toile ?
5. What sewing tips can you share when sewing the
Jose
?
6. What was your favourite thing about making the
Jose
?
7. Did you make more than one combo of the
Jose
?
8. Have you worn your
Jose
yet and what compliments did you receive.
And the finer details;
(AU/UK) 6 – 30
(US) 2 – 26
(EU) 34 – 58
Cup Sizes – B, C, D, DD
On Sale for a limited time only – $9.50(US)
Very Confident Advanced Beginner and Above Sewing level
---
I would recommend using microtex needles on satin and very fine or densely woven fabric, it will sew like a dream. I always make a fit first to make sure all my adjustments are correct, it gives me greater creative control and also saves on wasting good fabric.
My style of choice was for the bodysuit as a nightwear, with my Marieke robe. But I also love wearing the Paige skirt on top, as this turns the bodysuit into a stylish top.
I had to shorten the bodice a little on the bodysuit so you could see more of my undies. Plus I took a 1.5cm wedge from the top centre down the bodice to nothing at the bottom for the perfect drape of the cowl. This is why making a fit is important before using your best fabrics.
I think I will wear my cami often on hot days because it is so breezy.
When sewing the Jose, pay special attention to which way to sew the binding on because it can be fiddly with a delicate fabric like charmeuse and you wouldn't want to have to pick out stitches.
I love having a cute cami and briefs to wear to bed if I want to or wear the cami with a pair of jeans. It's really quite comfortable and feminine.
It is essential that you mark your darts well for this pattern. Being cut on the bias makes sewing the darts a bit more tricky (at least for me!) so having well marked darts to sew makes me feel more confident while sewing.
I made a cami out of a beautiful floral printed silk-like material that I paired with a Paige skirt – I loved it so much that I quickly cut out a slip dress as well. I paired my dress with a great pair of heels, and that's all it needs 🙂
I did my usual 8DD up top, graded out to a 10 at the waist, then 7 at the hips. I also sewed the front bust darts and the back darts.
While I was taking photos at the park I had an admirer that complimented my dress and hung out to watch a few more of my poses 🙂
Just be carefull which fabric you use, you want to have it drape around your body and not stand out with a stiff cowl.
Play with the darts and omit when you think it's better. I found out by leaving out the front darts, it was just looking a little nicer on me.
I also tried a plissee fabric, but that one I cutted on straight grain and omitted all the darts, even the bust darts and let me tell you: I love, love, love that one!
My husbands favorite is the silky flame dress and yes I even dared to wear it in the restaurant. I actually thought it was a tad too sexy, but at the end I just felt gorgeous 😅
The bodysuit is something different, I thought I was going to wear that in bed, but it is to beautiful for that. So: shorts/ skirts/ pants and dance! You don't have to be afraid that anything is crawling up, you are safe and sexy.
Only one advice: Just start sewing! 😄❤️
When Ann came with the testers call my husband saids oelalal 🤣, so I needed to make it.
The robe is the Marieke robe, it the perfect combination.
If you want to see more of my work and a little bit of my private life, follow my instagram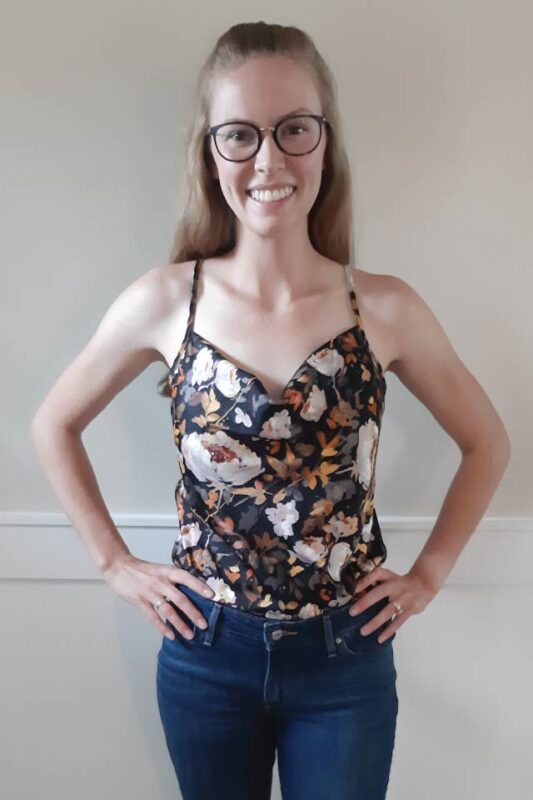 Hello, my name is
Ally
and I live in Utah! When I made my
Jose
slip dress and shirt I chose fabric from a local fabric store and tried to find the silkiest, most draping fabric. I knew it would be harder to sew, but the harder to sew the better the cowl on your dress! A good thing to remember while making the
Jose
is that you will be using French seams. With French seams you will want to try on your dress for fit in between you finishing the seam so if you have to take it in you don't have to seam rip you final seam. There are so many ways to style this pattern! With the top you can wear a cardigan and wear it to a business setting or do a sexy version for only your partners eyes! Personally I think the dress is inherently sexy and deserves a date night if you make one! I have already worn my dress out and with any Designer Stitch Pattern anyone that sees your outfit will be impressed you made it yourself! My future plans for this pattern is to make a bodysuit version! It can be dressed down for a lingerie option or dressed with jeans with no panty lines!!
www.instagram.com/thethimbledthumb
https://www.facebook.com/alexandra.ellis.357
---