Greetings my friends. Today I am going to show you how to adjust your Azure Swimsuit back pattern piece in case you have any pooling of fabric at the lower area of your swimsuit – usually indicated by fabric pooling across your bottom region – or baggy back leg edges. This usually indicates that you have a flatter than standard bottom.
Even though you may have measured your torso length as detailed in the sew instructions measuring vertical lengths doesn't take into consideration your volume of your buttocks.
The torso length measure took care of the total length but the flat bottom adjustment will eliminate the extra fabric due to a less than pronounced bottom.
A few of our roadies (pattern testers) had to do a flat bottom adjustment for their Azure Swimsuit – including our gorgeous Meiling S above.
As you can see by the above pictures of Meiling's fitting toile – the front of the Azure Swimsuit in perfect in her vertical length – but you will see some small amount of pooling of fabric in the lower area of her garment in the buttock area – and is indicated quite prominently in the fabric drape lines radiating from her leg opening across to her CB.
The flat bottom adjustment is very easy to do and will ensure a perfectly fitting Azure Swimsuit.
Flat Bottom Adjust For The Azure Swimsuit – Version 1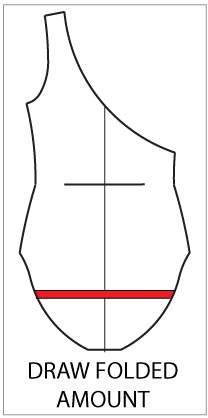 The back pattern piece – as it is an asymmetrical design – is a single full pattern piece. Draw a horizontal line across the width of the pattern piece where the pooling of fabric occurs.(Image left)
Draw a wedge the width of the full amount of fabric pooling .(Image centre)
Cut out the wedge and separate each piece. (Image right)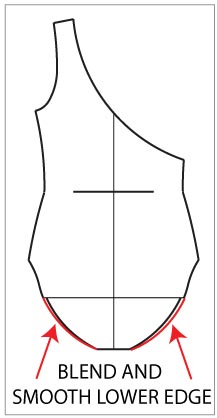 Discard your wedge piece and realign your 2 main pattern pieces and secure with adhesive tape. (Image left)
Place some scrap paper behind the leg area with adhesive tape – and blend and smooth the lower leg edges on both sides. (Image right)
So what we have now done is eliminate the extra fabric pooling – extra length – in this buttock area. It was a very easy adjustment but will insure a fabulous fit.
But what about if you only have extra length in the leg area – not right across your whole back width ?
Read on my friends.
Flat Bottom Adjust For The Azure Swimsuit – Version 2
This fold out method is the same as if you were adjusting for a sway back adjustment – except we are shortening the leg area and across into the buttocks.
The back pattern piece – as it is an asymmetrical design – is a single full pattern piece. (Image left)
Fold the pattern piece in half vertically and rule a centre line down this fold. Then cut and separate the back into 2 individual pieces.(Image centre)
Draw on each back pattern piece the width of your flat bottom fold – at leg opening – tapering to nothing at the CB. (Image right)
The full amount of folded area on your fitting toile should be the same as the full amount you have drawn onto your pattern piece.
The amount is indicated by the red portions drawn on to the back pattern pieces – leg opening – as detailed in the above (Image right).
Then you will fold out the amount needed to shorten your leg opening – physically – out of the pattern piece. (Image left)
The flat bottom adjust is just like a fitting dart. So you are eliminating the fullness entirely from the pattern piece – leg opening – by folding the excess out.
Folding out the fullness will result in your back pattern piece now being contoured.
This is essential – as it will now follow the curve of your CB and also eliminate the excess length in your leg opening.
Now all you have to do is add back your seam allowance – here it is 6mm (1/4″) as you will be stitching your swimsuit with a CB seam allowance. (Image right)
This will give you the best optimal fit possible for your Azure Swimsuit and look fabulous on you.
And don't forget that the
Azure Swim Suit
has just been released. It is the most stunningly gorgeous shape that looks absolutely marvelous on all figures.
I can assure you that the 
Azure Swim Suit
 will be your must have swimsuit. It is versatile, has many faces and is so easy to wear.
The 
Azure
is actually made up of  3 interchangeable pieces. It is such a clever design even if I say so myself.
Make your 
Azure
 in a 1 piece combo with contrast overlay. Or alternatively make your 
Azure
 in its 3 piece combo – contrast overlays with separate briefs.
And the finer details:
(AU/UK) 6 – 30
(US) 2 – 26
(EU) 34 – 58
Cup Sizes – B, C, D, DD
On Sale for a limited time only – $9.50(US)
Very Confident Advanced Beginner and Above Sewing level
Thanks everyone for reading. And I hope this blog post has helped you with flat bottom adjustments for your
Azure
 Swimsuits.
The good thing about sewing and fitting our bodies – we always learn NEW THINGS.
Love to you all xx
Cheerio
Ann xx