And a sunny day hello to all of you my lovely friends. And WELCOME to Part 2 of the KeeLin Top and Dress Tester Roundup Part 2.
Aren't the KeeLin roadies the most gorgeous of women in Part 1 of the tester round-up – so get ready for some more eye dazzling my friends. xx
The KeeLin is a shape that offers an easy wearing silhouette in both a Top or Dress.. AMAZING !!!
If you missed the previous 2 posts be sure to read the
KeeLin Top and Dress Pattern Tester Roundup Part 1
KeeLin Top and Dress Inspiration, Influences and Styling.
The KeeLin Top and Dress  is for a sewing level of Confident Advanced Beginner and Above.
The finer details : On Sale for a limited time only – $8.95
(US) (AU/UK) 6 – 28 (US) 2 – 24 (EU) 34 – 56 . Cup Size – B, C, D, DD
https://designerstitch.com/shop/keelin-top-dress/
So let us now get underway for Part 2 of the tester roundup for the outstanding KeeLin Top and Dress.
I have asked each of my roadies to share with you the following:
1. Your name and where you live.
2. Your choice of style for the KeeLin and why ?
3. What fabric did you choose and where did you purchase?
4. What sewing tips can you share when sewing the KeeLinn ?
5. What was your favourite thing about making the KeeLin ?
6. Have you worn your KeeLin yet and what compliments did you receive.
7. And how are you styling your KeeLin ?
And if you have missed the previous day posts here is the link –
KeeLin Top and Dress Inspiration, Influences and Styling.
KeeLin Top and Dress Pattern Tester Roundup Part 1
Love to you all xx
Ann at Designer Stitch. xx
---
Hi, my name is Andrea and I live in Annapolis, Maryland. I made the blouse version KeeLin with a scoop neck and short ruffle sleeves. I used chiffon fabric which was purchased at Joann Fabrics and has been in my fabric pile for several years because I was not sure I could pull off bows. As with all the DS pattens I have made, the instructions are clear and easy to follow, making the KeeLin a very satisfying make! I am thinking this will be cute for a holiday party either with skinny jeans and ankle boots or my black Designer Stitch Alyse slim leg pants and ballet flats. My Instagram account is https://www.instagram.com/andreashpuntoff
---
My name is December O'Sullivan, and I live in sunny South Florida, USA. I chose the KeeLin top with ruffle sleeves because I wanted something fun that can transition from work attire to date night attire. This was perfect! I chose a rayon from Joann Fabrics (and I actually have another already waiting in my to-be-sewn pile for a 2nd KeeLin top!).
The main tip I have for sewing this is because I have a really hard time gathering fabric with sewing rows of long stitches, I very carefully sew a zigzag stitch over a long piece of dental floss to gather. It works so well as long as you are careful not to stitch the floss to your garment! (I'm not sure if Ann approves of this method, but I can't do it any other way now! 😅)
My favorite thing about making theKeeLin is the button closure in the back. I also prefer sewing wovens to knits, so that is a big plus for me!
When I wore my KeeLin to work, my coworkers could not believe I had sewn it and now they all want me to make them one! I style my KeeLin with a pencil skirt for work and jeans for date night.
Instagram: https://www.instagram.com/decembwar/
---
Hello, my name is Elise and I live in Queensland, Australia. As it is spring I chose to make the short sleeve, single flounce KeeLin. I used a beautiful vibrant green Rayon Viscoe from Lincraft. I just love this dress, it makes me feel happy and like dancing and twirling. I think this dress is my best sew to date. I shall be wearing it to dear friends wedding at the end of the month. My number one tip when making this dress (or pretty much anything with gathering) if you have an overlocker, learn how to gather on your overlocker. Helps to make sure the gather is even and speeds up the process significantly.
---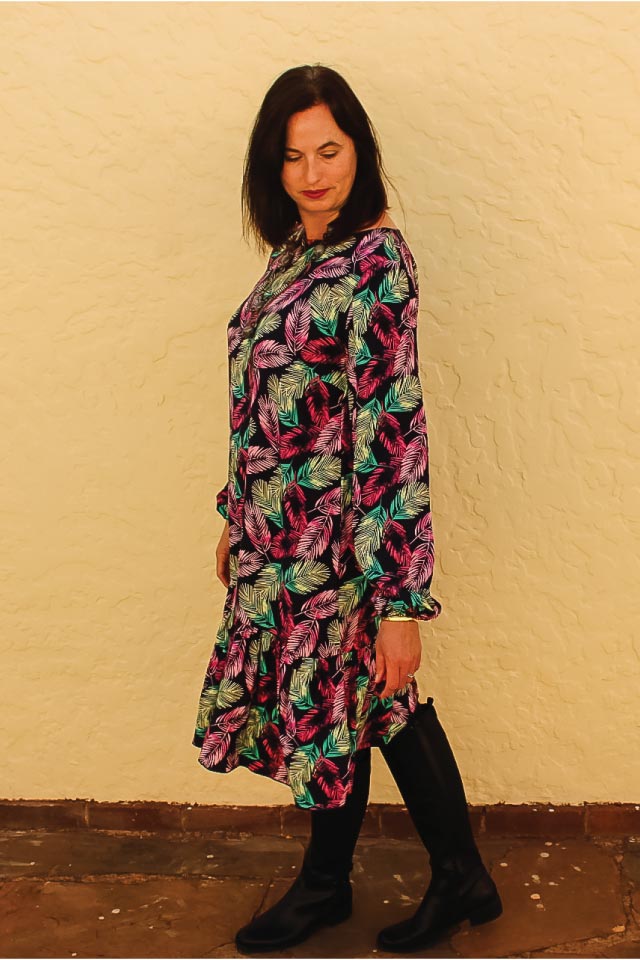 My name is Genevieve and I live in Johannesburg, South Africa.
I chose to make a Dress length KeeLin with long sleeves because we are relocating to the UK and I want to wear it once we are there.
I used a viscose to make it with, which I bought at my favorite local shop.
Your choice of fabric is really important, so that your garment has a lovely drape.
I really love that my dress can be both formal or casual, depending on what accessories I use.
I haven't worn mine yet, but as we are flying to our new home really soon, it won't be long till I do wear it.
I'll be wearing mine with tights and long boots and may put a turtle neck under it.
Https://www.instagram.com/gegiegrossmann
---
Hello ladies, I'm Ilse from Belgium. I was so glad I could test this gorgeous dress because I saw similar dresses popping up in Belgian stores and I wanted one too so badly! I sewed the KeeLin dress with high neckline, single ruffled with long cuffed sleeve. The viscose I used was perfect for it because it had the perfect drape! It comes from a Belgian online store 'De Stoffengalerij'.
While sewing it be sure to fit the garment several times so you van adjust on time.
My favorite part on sewing the KeeLin (and always is) is sewing in the sleeves and making the cuffs. It's the most fun part of it!
I styled my KeeLin with short boots and stockings, perfect for fall!
You'll find more sews and projects on my Instagram: https://www.instagram.com/sewsewilse/
Be sure to visit my blog: https://sewsewilse.wordpress.com
---
Hi! I'm Kate Williams, from Australia, living a bit over an hour south of Sydney.
I made a KeeLin with ruffle sleeves and a single ruffle. I wanted a dress that I could easily slip on, is feminine but not too flouncy, and suitable for warmer weather.
I used a rayon that I had in my stash, originally bought from Spotlight. I'm a fan of rayon for dresses, it's easy to wear, has beautiful drape, and does't get too hot in the warmer weather. I'm not such a fan of rayon when trying to ensure it's flat and square while cutting pattern pieces..
My biggest tip for sewing the KeeLin, is to change colours on your bobbin thread while sewing gathering stitches. For even gathers, I always sew at least two lines, with a long stitch length and low tension. By having different coloured bobbin threads for different sections, I can easily see which ones to pull when gathering.
My favourite thing about making the KeeLin is the bound neckline. The binding is cut on the bias, so uses quite a bit of fabric – I didn't have enough of my main fabric. But it's turned to the inside, so I could use a similar weight fabric and get away with a slightly shorter cut of main fabric.
I've worn my KeeLin a number of times, and have received many compliments. I actually had to purposefully choose something else to wear at one point as it was going straight from the washing machine to being worn again! If the weather's a little cooler I'll wear it with knee high boots, a light scarf and a denim jacket. Otherwise I've worn it with ankle boots and sandals. It's been perfect for our spring weather (anything from 35C to 15C).
I'm on Facebook at https://www.facebook.com/katewillknit
and Instagram at https://www.instagram.com/katewillknit/
I also blog at http://katewillknit.blogspot.com/
---
Hello everyone, I am Kiran from Singapore. I see you're reading up on the KeeLin and I wanna tell you that this is the ultimate dress pattern. I love it so much because it's modest, it's feminine and it makes me just feel so good. The full length bishop sleeves with elasticised wrists lend perfect elegance to complete the look. That's what drew me to the pattern in the first place.
The fabric used for this dress was a lightweight cotton sateen. Ordinarily I would not use cotton sateen for a dress like this because it might be too heavy, and this dress requires gathering. But this one was light enough and the print is just the sweetest so I couldn't turn this one away.
If there was one tip I could give you for your KeeLin dress, it's take your time to gather. And one more tip, use three rows of gathering stitches for best results. I find that's what works best for me.
The KeeLin is such a gorgeous dress, it practically needs no styling. I literally threw on a necklace and was good to go. I see loads of KeeLins in my near future. Check out my sewing adventures over on my Instagram page at www.instagram.com/gloopygoo
---
Hi, I am Marieke from the Netherlands.
I love my KeeLin and not only because it has pockets..😉 It's so flowy, light and modern. It is a dress for every occasion.
Style it with high heels for a classy look, style it with some sneakers and feel trendy, or wear it with boots and tights for a more casual look.
My mother in law came over right before I wanted to cut into some cord and she brought me 3 yards of gorgeous satin, that once belonged to my husband grandmother. Well, my cord fabric is laying in a corner now…
The most important part of sewing your KeeLin is the right sizing. So, please do some good measuring. It is the difference between an awesome dress and a potato bag.
I decided to only sew the back waist darts and leave the front waist darts out. After finishing my dress, I pinned the darts onto my garment and decided only to sew the ones on the back. I noticed it was the most flattering on me. Funny, because I actually thought I needed the front waist darts too.
Well, that's another sewing tip: it isn't a difficult sew, but take your time to find your fit!
I shortened mine with 7 cm from the hem and 5 cm from the ruffle. Play with the length to create the dress you like.
With belt, without belt, sleeves pushed up towards the elbows, it's all possible and all great!
Did I told you already how much I love mine? While writing this, I think I'll go for the cord too! Everybody needs a KeeLin!❤
When you want, you can have a look at my makings on Instagram too. I would like that!😀
https://www.instagram.com/jongdesign
---
I'm Naomi, and I'm an Aussie living abroad in beautiful Montenegro. I choose the KeeLin top with the short ruffle sleeve so I have a multi-seasonal piece to add to my wardrobe. I chase toddlers all year round and the tops coverage is perfect while being an easy, quick garment to throw on in-between finding children's shoes and running out the door. I used a Crinkle Viscose from a local fabric store that brings fabric over from Italy.
While the KeeLin is a fast and easy sew, make sure to keep a tight eye on your seam allowances – especially that neck binding! I love that the pattern consists of simple pieces and is definitely beginner friendly.
I've been wearing the top in regular rotation as it's so easy to dress up or down. It's definitely a compliment drawing item since it's all over the fashion stores at the moment. I've been styling it mostly with skinny jeans and either lace up boots for the day or booties for the night.
You can find me at https://www.instagram.com/nay.louise24/
---
I am Sharon A from Texas. I made the top length with ruffle sleeves. I used a woven fabric I found on a remnant table at Wherehouse Fabrics Dallas. I love the extra ease and feminine lines of the KeeLin. When I have worn the KeeLin since sewing it, my husband told me I looked beautiful in it. I like wearing my KeeLin with jeans, a necklace, and either flats or heels.
Blog – www.sweetmamalife.com
IG – www.Instagram.com/thesharonaguilar
---
Hi, My name is Synthia L G. I live in Central California. I made the short top with elbow ruffled sleeve, and a ruffled peplum, with a tie belt. I used flowered chiffon, I wanted my top to be soft and flow when I danced with it on. I saw a fellow Salsera with a similar top so I was inspired to sew one up. My favorite thing about sewing the Keeling design was being able to use chiffon fabric. I styled my KeeLin top with black straight pants and short ankle booties. As always, my tip is to sew a muslin to obtain a proper fit. When using chiffon, take your time, use French seams, use a bic lighter to seal the edges while you sew. Thanks, Ann for another great and fun design. https://www.facebook.com/Synthia20000/
---
I'm Vaida from Vilnius, Lithuania. My KeeLin is in shorter length, with single ruffle and long gathered sleeves. Fabric is some flowy viscose (and I highly recommend to choose light, drapey fabric for this dress). I'm also very happy that I made a belt from the same fabric, it adds a nice finish to the dress.
The dress is really easy to make – but please do not be lazy and make your toile, just in case you need some adjustments. And, as always, Ann's pattens have several bust sizes, so just take time to take exact measurements for your perfect dress.
I've been wearing my dress quite a lot recently and received many compliments – I feel confident in this flirty, body-flattering, sexy dress ❤️. It looks perfect with tights and boots, and in warmer weather I'll pair it with some ballerinas/flats.