Greetings my friends. I hope you are all traveling well and safe and that your family is happy. xx
This morning I took a walk with my pups up to San Remo point and was greeted with rolling sea mists coming in from Bass Strait. Even though our forecast was predicted to be 25degC it was a fresh 12degC. I just love the mist because it brings with it the pungent sea air. Fabulous. xx
Today is this post I would like to share with you the first part of the KeeLin Top and Dress Tester Roundup. As you know – because I say it so much……lol….I adore my roadies and admire their talent and skill. Professional, dedicated and really fabulous sew'ists – and great friends to each other.
If you missed yesterdays blog post be sure to go and have a read – I talk about the inspiration and influences behind the design process of the KeeLin.
KeeLin Top and Dress Inspiration, Influences and Styling.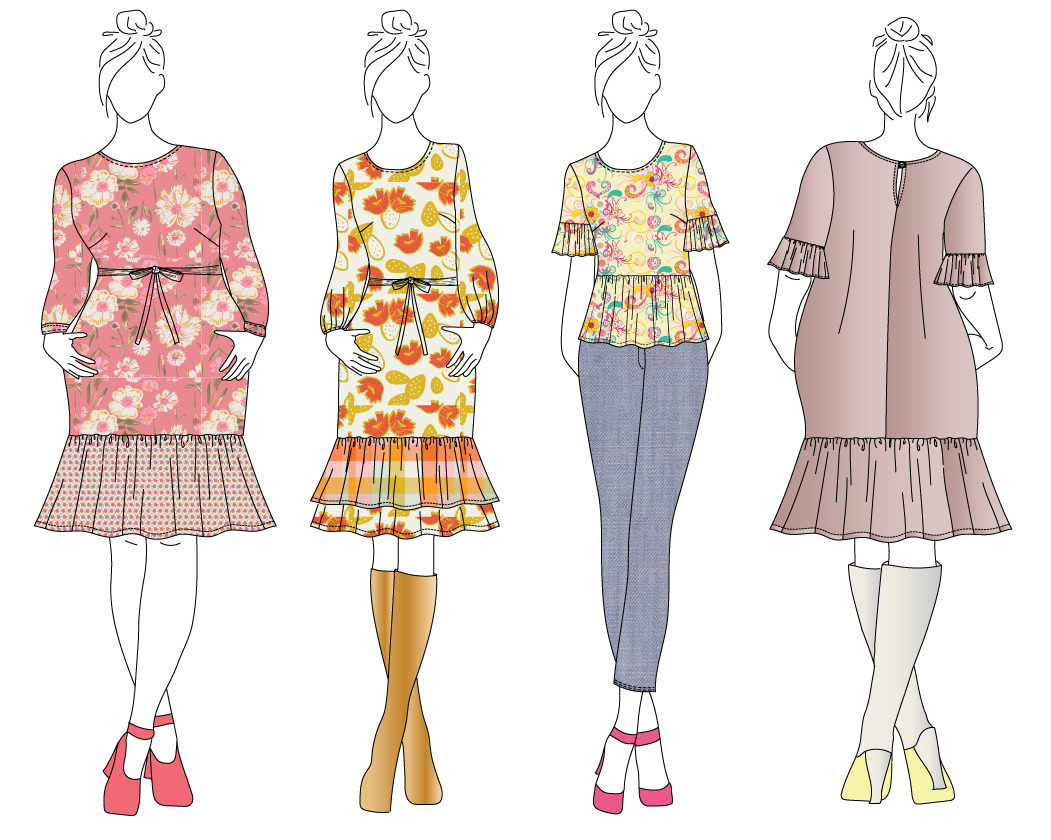 Stunning and So on-trend the KeeLin is such a versatile silhouette. The shape of the KeeLin is suitable for all figure types and can be made in a myriad of amazing fabrics.
The KeeLin offers a cute and funky Top – plus a versatile and full of styling options Dress.
The finer details : On Sale for a limited time only – $8.95
(US) (AU/UK) 6 – 28 (US) 2 – 24 (EU) 34 – 56 . Cup Size – B, C, D, DD
https://designerstitch.com/shop/keelin-top-dress/
So my friends let me share with you my amazing roadies – Part 1 – and their equally outstanding KeeLin Top and Dress
I have asked each of my roadies to share with you the following:
1. Your name and where you live.
2. Your choice of style for the KeeLin and why ?
3. What fabric did you choose and where did you purchase?
4. What sewing tips can you share when sewing the KeeLin ?
5. What was your favourite thing about making the KeeLin ?
6. Have you worn your KeeLin yet and what compliments did you receive.
7. And how are you styling your KeeLin ?
And if you have missed the previous day posts here is the link – KeeLin Top and Dress Inspiration, Influences and Styling.
Love to you all xx
Ann at Designer Stitch. xx
---
Greetings from bitter cold Wisconsin, USA. My name is Allison and I made a two KeeLin dresses. One for my teen and the other for myself.
The dress from my teen is made from a very soft, slightly textured rayon fabric. The fabric has a large and vivid design on a black and gray back ground. She choose the longest version with the ruffled sleeves. Looks very on trend for the holidays paired with her favorite heeled booties.
My dress is a gold, textured dotted swiss. I also choose the longest version with the long elastic sleeves. Love it with my autumn wardrobe. Both on trend and a wardrobe staple, can be worn alone or paired with a vest or jacket.
Most important parts of making this dress are to measure accurately and make a toile. This dress is designed to have a relaxed fit. Take advantage of the included bodices pieces drafted for a variety of cup sizes.
I have worn both my toile and my final KeeLin. They received rave reviews. Best part was a very fashion conscious young man, stopped me to say has fabulous I looked wearing my KeeLin.
---
Hi, I'm Barbara and I live in Northeast Mississippi, USA.
The KeeLin top is what I chose to make during testing, and I plan to make a KeeLin dress come Spring in the USA! It will be perfect for Easter!
It is fall here now and I used a plaid rayon for this KeeLin that was purchased from JoAnns Fabrics.
The best tip that I have for the KeeLin is to learn how to use your serger for gathering! It will make the gathers so much easier.
I love that the KeeLin is so feminine no matter what length.
I have worn my KeeLin to work and received many compliments!
I am wearing my KeeLin with high-waisted pants, leggings, and boots!
https://www.instagram.com/ninjabreadgirl61/
---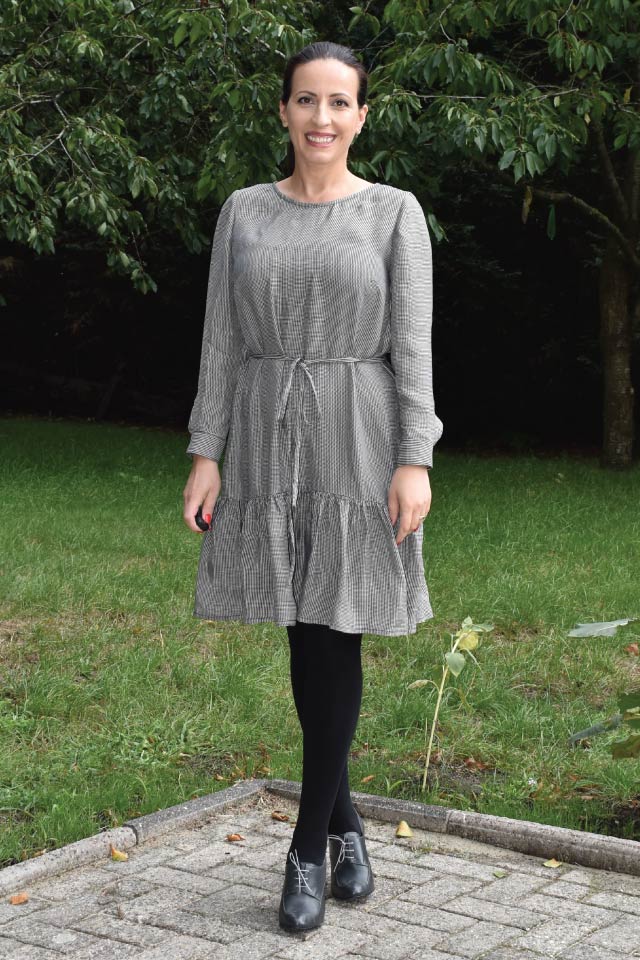 Hi, I am Camelia from the Netherlands.
I loved the KeeLin dress the moment I saw the inspiration pictures. This style is everywhere and is such a perfect pattern to show some gorgeous drapey fabrics.
I choose to make a dress option with the cuffed long sleeves. The fabric is deep from my stash, a very drapey and bouncy rayon mix.
While not the most joyful fabric to sew it was the perfect choice for this pattern. I think that is also the most challenging when sewing this dress, working with drapey fabrics. My tips when sewing with this kind of soft drapey fabrics are: after cutting your pattern pieces ( my favorite method is using weights and my rotary cutter) try not to move the pieces around to much, staystitch the neckline and the armholes. Sometimes if I am not sure is something stretched out of not I am checking that by laying my paper on my fabric pattern piece. Using a bit of steam helps sometimes to get things back in shape. Take your time with the gathers of that ruffle. It is the main detail of this pattern, so uneven gathers will show.
I wore my KeeLin out at my sewing circle with tights and flats and everyone loved it! It is a great style that can be worn with heels or flats, in the summer or even in the colder days layered with tights, a nice big shawl, and a wool coat.
My KeeLin and all my other Designer Stitch patterns are to be found on my YouTube channel https://www.youtube.com/calcedoniasewing and sneak peeks of my sewing projects on my Instagram account https://www.instagram.com/calcedoniasewing/
---
Hi! My name is Erica SA and I live in Rio de Janeiro, Brazil.
I chose the top with ruffles short sleeves because we are going into summer and boy, is it ever hot here!
I used the softest lightweight linen I have ever seen and played with the stripes for a modern look.
This is an easy sew, don't be scared – just because it looks awesome doesn't mean it's too hard! Just go slowly and patiently when gathering the ruffles.
I have worn my top with these wide leg white linen pants for the perfect elegant summer look and got tons of compliments! I'll wear my top with jeans as well, and shorts too, for a more informal but still great look.
This is an amazing pattern, get yours now! 😁
---
My name is Giorgia and I live in Stuttgart, Germany. I chose to do the long puff sleeves because I thought it would suit the fabric (and autumn!) best! My fabric was a super drapey viscose of some description – though I'm not 100% sure because it was added to my stash directly from my great aunt's stash.
When making this dress I staystitched everything I thought might stretch out (thanks to my fabric choice). I also made all the adjustments I usually make for myself with Designer Stitch patterns – swayback and narrow shoulder adjustments, as well as shortening the pattern by 2.5 inches to suit my height. Once this was done, the dress came together quickly! I love the sleeves and the little neck detail on the back bodice piece. I've worn myKeeLin 4-5 times in the weeks since I finished it and always get a lot of compliments! It is great for work and weekends and pairs nicely with flats, sandals or boots – which is great because it is now boots and beanie weather in Germany!  instagram.com/gsewssometimes
---
Hi! I'm Joanne C. I'm from the Philippines but currently living in Bahrain (a tiny island country in the Middle East). I made the KeeLin dress with bishop sleeves because I immediately fell in love with the silhouette. I used a challis fabric which I've been hoarding for quite some time. KeeLin is It's trendy, classic and perfect for all seasons.
---
Hi everyone! My name is Kee and I'm from Melbourne, Australia. I decided to sew up the style that originally inspired the KeeLin dress – short gathered sleeves and a single gathered skirt. I had seen this style done by one of my favourite Australian brands, Gorman – and this started the journey of trying to brainwash Annie into making the pattern for me! I chose to make my dress in a silk blend that I purchased from Eliza fabrics in Sunshine – a fabric bargain shop that is unfortunately closing down. When sewing the KeeLin, make sure you make a toile first to ensure the bust dart is in the right place for you as well as the dress being the correct length – I had to shorten my torso quite a bit. The other important part, is to have fun! Add extras like entredeux lace between your sleeves and ruffle pieces – this was my favourite thing about sewing the KeeLin. The first time I wore my KeeLin dress was to work and all my colleagues LOVED my dress. They loved how flowy, fun and flirty it was – but with the added benefit of comfort due to the boxy loose fit. My mother in law also loves it and has strongly requested me to wear it to my grandmother in law's 80th birthday! The main way I style my KeeLin is with a pair of funky earrings and my red love heart clogs from Swedish Hasbeens as it is Spring in Australia. Although, as the dress is very versatile, it will also pair nicely with tights and boots for winter. You can find me and my other creative makes on Instagram (Instagram.com/thekeetoacraftylife)
---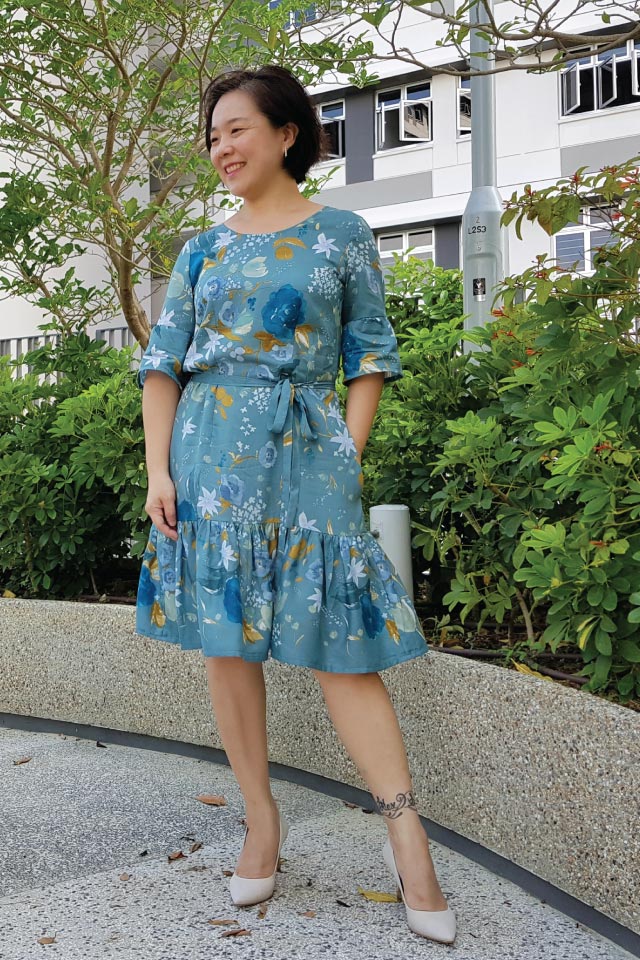 Greetings from sunny Singapore! I'm Boon Kuan. KeeLin is a style meant for light fabrics and that works perfectly for me in my tropical climate. I made a KeeLin dress with short sleeves with ruffles. I would get more wear out of short sleeves but I do fully intend to make another KeeLin with the bishop sleeves because it's just so romantic!
The fabric I used was a Nani Iro Fuccra rexcell from the 2019 collection by the Japanese artist Naomi Ito. Rexcell is a lyocell blend and similar to rayon. The drape is just beautiful and the colours and the print just amazing.
When sewing KeeLin, take your time with the gathers and if the fabric is lightweight, do be careful not to stretch or distort during sewing. But the results would be totally worthwhile! KeeLin is a classic design suitable for many occasions. I intend to pair it with heels for my son's piano recital!
Follow me on my sewing journey at  Www.instagram.com/limbksews 🙂 !
---
Hello beautiful sewist! Melissa D here in southern Colorado!
I chose the short single ruffled dress with the long gathered sleeves. It's a perfect fall dress for this high dry climate. Flirty and fun with tights and booties. But all the versions are lovely!!!
I used a bright challis from Hobby Lobby that I'd purchase back in August. I also made another KeeLin in a navy paisley shirting and it's fun as well!
Creating your KeeLin is quite easy just check your bust fit before cutting, and I used my smocking pleater is gather my skirt. ( only because it was out on my table and it was an easy way to make even gathers). Not to worry two rows of gathering stitches works perfectly! My favorite thing was the surprise how lovely it looks on full figures and in an office setting. But it shouldn't have surprised me, Ann's patterns are perfect.
Cherish( my daughter )has worn both dresses and has received multiple compliments. She chose to belt hers with a black belt, and wear black tights and ankle boots. It just so happened that we were in the middle of our 4 snow of the season, hooray so she needed a warmer look.
What ever version you choose im certain it will be lovely! Thank you Ann Gross for allowing me to be part of your team!!!
Http//Facebook.com/Melissa.deeg3
---
Hey, I'm Narelle from Perth, Australia. I sewed the top version of the KeeLin as I live in jeans and it's perfect for a casual but stylish look. I used a rayon fabric from Spotlight.
My sewing tips are to take your time to make the gathers even, and sew the darts in the top – they make a huge difference to making the top less boxy.
I've worn my KeeLin on the school run and the other Mums said "you look nice today".
I'm styling the KeeLin with jeans, a long necklace and boots for a dressy look, or just with sneakers for a more casual
https://threadistry.com
https://www.facebook.com/threadistry
https://www.instagram.com/threadistry/
---
I am Stephanie from England. I chose the KeeLin dress with a high neck and bishop sleeve, as I think dresses are more flattering on me and I love a big sleeve on my clothes.
I bought a poly crepe with a bold print from a shop called World of Fabrics, https://www.facebook.com/Worldoffabricschelt/ this fabric is really light and drapey, and easy to look after so it was great for the ruffles and bishop sleeves, and the asymmetric print worked better with the ruffles as I didn't have to worry about pattern matching.
As I tip I would recommend to sewists to add strengthening stitches to their underarm seams, and maybe to mark which panel was the front and back of the ruffle before gathering, as it's tricky to tell which way it goes once you start to gather.
I've worn my dress to work and it's really comfortable. It makes me look dressed up without having to put any effort in at all. I like its loose fit pulled together with the belt as its really flattering and doesn't get too tight anywhere. I style mine with black tights and black boots. In the summer I will wear it on its own with some pumps.
https://www.instagram.com/bumbleandswatch/
---
Hi there. I am Taryn HS from Cape Town, South Africa. For KeeLin, I opted for the dress length with ruffle sleeve as it just shouted Summer to me. In my stash I had a chambray-type fabric which I thought would make a really cute (but still stylish) denim-inspired version. Besides, using something from my stash is always so satisfying 😊. My tips for sewing KeeLin – don't skip the waist darts (unless you always plan to wear your KeeLin with a belt). When stitching the gathered ruffle to the sleeve or dress, I prefer stitching with the gathered side at the top as this helps me ensure I don't catch up any extra fabric. I also do the gathering stitches for the front and back separately to help get a more even distribution of gathers. It also reduces the risk of the thread snapping halfway through. I added a statement button to my KeeLinn. My favourite thing about KeeLin is that it is so on trend right now and the pattern options makes it easy to get the look you are wanting. For me the best compliment I can ever receive is when my daughter asks for one to match – and every time I wear my KeeLin, she wants to know when she is getting hers. KeeLin is a great base for styling – I've been wearing it dressed down with fun animal print sneakers for the perfect casual and relaxed weekend wear (with our without the fabric belt that comes with the pattern) but it works equally well accessorized with heels for a bit more glamour. The possibility to combine KeeLin in georgette over the Raven slip and obi belt is very, very enticing indeed.
Find me on Facebook and Instagram at:
https://www.instagram.com/tarynhaynessmart/
https://www.facebook.com/taryn.haynessmart
---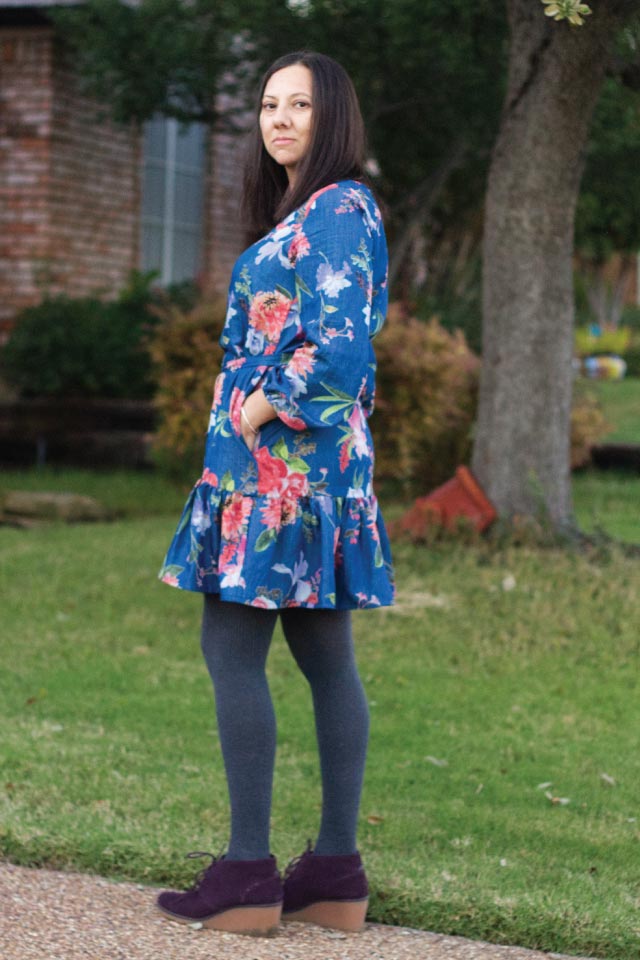 1. Your name and where you live
I am Valentina from Carrollton, TX
2. Your choice of style for the KeeLin and why ?
I made the short dress length with one ruffle layer and Bishop sleeves. The short length is what looks best on my body type. I wanted long sleeve because it's winter here. And I loved the look of the bishop sleeve so I went with it.
3. What fabric did you choose and where did you purchase ?
I used a light weight denim with printer flowers. I bought it at Joann fabrics. I usually get my wovens there, and knits from various online shops.
4. What sewing tips can you share when sewing the KeeLin ?
The construction was straight forward. I didn't think anything was tricky, or difficult. Making a toile with a cheaper fabric is always a good idea before using your good fabric.
5. What was your favourite thing about making the KeeLin ?
The back keyhole.
6. Have you worn your KeeLin yet and what compliments did you receive.
I've worn it twice: once to my daughters birthday party, and once at work. Everyone said it was very pretty.
7. And how are you styling your KeeLin ?
I wore it with booties, boots, tights, fur vest, long necklace. It is very versatile and one can create different looks depending on the accessories and the rest of the outfit.
8. Social media URLS: Instagram.com/the_engineer_seamstress
@the_engineer_seamstress