Welcome to the tester round-up for the new PDF pattern release – the Kiera Skirt.
I would like to introduce you to my first group of amazing testers of the Designer Stitch group. As always they have all gone above and beyond for this test and have produced some amazing interpretations of the Kiera skirt. As a designer it is very exciting to see your vision come together and I am always immensely proud of the group.
My pattern testers are truly international – some from Australia, others from the US, Asia and Europe.
The testers have each written a short story about themselves and I hope that you will enjoy reading about their adventures in the land of sewing. They each have showcased beautifully the Kiera Skirt and shown what a wonderful pattern it is.
And don't forget that the pattern is marked down to $8 – on-sale to Monday 29th May (AEST)  so grab your pattern before then.
Cheers. Ann. xx
---
HI. I am Casey-Marie Bray. I live in Brisbane and have been sewing since September 2015.
I was useless at home economics sewing in high school. My token Velcro pencil case and pajama pants were complete failures and I never touched a sewing machine until I fell pregnant with my first child in 2015.
I decided I would make a few simple baby items but it turned out to be something I really enjoyed. It gave me some much needed "me time" and a creative outlet on maternity leave. Now that I'm back at work sewing is my self-care as I work in a high pace industry.
My grandmother was a seamstress before her eyesight started to decline in her later age. She made wedding and bridesmaid dresses. She loves seeing my new creations that I make for myself, my daughter, and hubby.
I loved learning new skills of shirring and installing an invisible zipper to make the Kiera.
I was initially quite overwhelmed by the prospect of these new tasks but the clear and concise instructions and photos made it a walk in the park.
www.facebook.com/lioncubcouture
www.instagram.com/lioncubcouture
---
Gabz Jefferson – Hi. I love to sew even when i was in 4th grade. My grandma and mom tried to teach me sewing using the vintage singer sewing machine and I was to young to manage the machine. I didn't take their lectures seriously because I was very greedy making dress right away…. hahhaha …I am like, " I will use the sewing machine now and make my clothes." being immature, myself was desperate to use the machines right away with no one's advice… hahah…I thought it was easy and just use the pedal of the machine and I'll be good….. Haha it was funny…
So I sewed my daughter's clothes and hair accessories manually. I wanted to make things even without the machine.. I had phobia with sewing machine when I was in my elementary school and college days.. When I settled down here in Albuquerque, New Mexico USA in 2014, my husband knew I was still in sewing machine phobia…. hahhaa.. He said I need to get over my phobia. So he bought me singer sewing machine as Christmas present.. I know, right? My husband is giving me hard time…. hahah joke…
So I told myself that I need to learn and that was the start of my craziness about sewing… I love to try alot of things, add more features, do a little remix and reinterpretations of patterns..you can really tell when I love the pattern, I do so many tweaks…
When I have new patterns, my creative juice overflows. I don't even get enough sleep thinking how to put more details on my patterns… I was inspired to make a blog because of ann grose… Here is the link http://itsewcolorful.wordpress.com   My IG is www.instagram.com/itsewcolorful
---
Kate Williams – I live in Wollongong, Australia, a little south of Sydney. My mum taught me to sew as a child, but I didn't like to listen to her wise advice. I started sewing again when my daughter was born, slowly working my way towards sewing for myself. My wardrobe is becoming more centred towards clothing I've made myself, in fabric I like, and made to fit my body. I love sewing Designer Stitch Patterns as the sizing is consistent and easy to adjust, the patterns are on trend, and the construction is fantastic.
I was nervous approaching the Kiera Skirt, as I'd never shirred before, and was worried it would be really difficult.
But it was so much easier than I imagined (especially with the great instructions provided).
I really like the ribbons to adjust and switch up the skirt, I can have a unique skirt each time I wear it.
https://katewillknit.blogspot.com.au/ https://www.facebook.com/katewillknit/ https://www.instagram.com/katewillknit/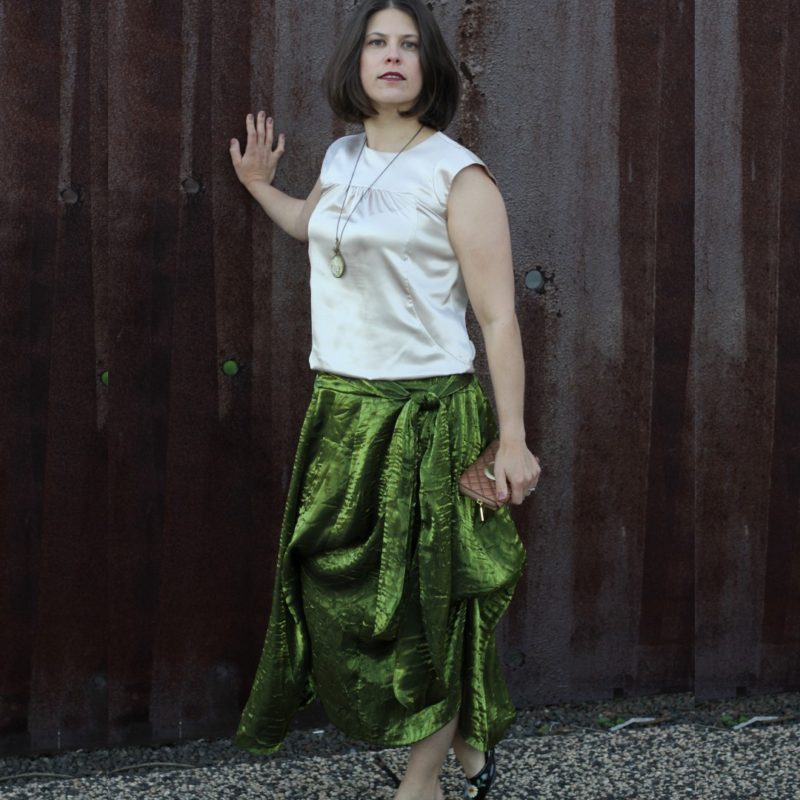 ---
My name is Meghan Cunha. I began sewing when I was 8 or 9 years old (1991/1992). I learned from my mom and we did some sewing in the 4-H club. I didn't do a lot of sewing through my high school or university days, but I rediscovered my love for sewing in 2010 when I needed THE perfect diaper bag for twins in cloth diapers. So of course I had to make it!
The place I currently call home is Brazil and they have some very lovely fabric shopping! Kiera was a wonderful experience for my first time testing a pattern. The instructions are thorough, fit is perfect, and it is such a unique and fun idea. I love how it can be changed into something different just by tying a few ribbons. And the shirring option — which is not so scary after all — gives it that extra touch that says, "Look at me!"
www.facebook.com/mtchandbags
---
Vaida Balaseviciute – I'm Vaida and I live in Lithuania. I've started to sew in school – we had some special lessons. And in my teenage years sewing was an easy way to get some special and nice clothes (it was really a problem in Soviet Union, so ability to sew/knit/crochet was very useful). I learned most of my skills from "Burda" magazine and (lately) from internet. Nowadays I sew mostly for my kids – and sometimes for myself.
Signing for testing Kiera was a lovely experience, as at last I made something for me. Something VERY special, very elegant and beautiful.
My blog – http://xvaidax.blogspot.lt
IG – https://www.instagram.com/vaidab/
---
Ana Inês Barros – Born and raised in Lisbon, Portugal I am the mother of 3 children. I worked for 14 years as a Civil Engineer, but they fired me when I was a mother for the second time in 2010. It was then that in 2011 sewing comes into my life as a passion. In an unexpected way, but in such a sweeping way that it easily becomes something almost natural in me.
I gave the "first steps" in the machine of the mother, once of the grandmother. The initial curiosity was increasing and this made me invest in training that, allied to an autodidact facet, made me evolve. All good things are born of a dream and that is how at the end of 2014, without sponsorship or support other than my parents, I open my Atelier Ponto no i. A space where I teach for the past 3 years. I have students who have been with me almost from the beginning. I know that they feel that when they are sewing with me it is as if they are in the SPA, in therapy … .. They are always feeling so good when they leave classes and wanting to go back soon.
I'm happy to do what I like. Thankful for being able to do this every day, my family for encouraging me, my husband for helping me and my children, Tomás, Martim and Lucas, to whom I owe and give everything and who fill my heart with love and strength.
Just recently I started on these pattern tests. There is always something new to learn. I can without a doubt say that Kiera Skirt is one of my favorite pattern. Designer Stitch Patterns are undoubtedly phenomenal. Are perfect. And the tests are no more than confirmation that his work is of excellence. There is no need of versions behind versions for hits and more hits. Yes no doubt that I'm already in the third Kiera Skirt but only because I really love the pattern and the final result.
https://www.facebook.com/PontonoibyInes
---
Johanna Ali – Hello! I'm Johanna and I live in Florida by way of Boston MA. I work as a Quality Assurance Analyst day and I am a wife and mother to a 6 yr old son. I started sewing 3 years ago. I started seeing Mimi G Style in my FB feed and I started following her. It wasn't until I saw her Regal Maxi skirt that I learned that she sewed most of what she posted. I fell in love with that skirt and decided that I was going to learn how to make it. I didn't actually conquer the Regal Maxi skirt until the following year, but I finally made it. The Kiera skirt is my second pattern test for Designer Stitch and I've got my eye on some up coming pattern tests that I can't wait to make. What I love about the Designer Stitch patterns is that they really are 'true to fit' for me. The Kiera pushed me out of my comfort zone and made me try something different. I love the ties that make each skirt totally unique and all yours. No one else will have your skirt. I also loved the fit of it. I like to also wear my Kiera without the ties. My skirt has such a beautiful drape to it. Although I was scared of the shirring, I think I will give it a try when I make my next Kiera.
You can find me at www.soveryjo.com , www.facebook.com/sovery , www.instagram.com/soveryjo
---
Jane Bredkjær – Well, tell a story about myself. I have been sewing since I was 15 years old – that is over 30 years ago (33 years to be exactly). My dream was to make a living by sewing, but that was not the way the story went. After finishing my education I gave birth to my two wonderful children and got married. So my interest in sewing had many years in exile. Until a pair my best friends got me into a circle of creative women.
When I moved to another part of the country in 2013 I kept on sewing. It is my breathing space, the place without stress – the place where dreams lives. I have a me-made-wardrobe and I love.
So where do I come from, I am born in the land of Hans Christian Andersen, Denmark and I believe in fairytales.
Why I fell in love with Kiera? The skirt is like me, looks common and normal at the first glance, but when you have a second glance it is full of surprises.
My blog is: http://blog.bredkjaerpedersen.dk/
And my IG is: https://www.instagram.com/janebredkjaer/
I am sure you will agree that the first half of my testers showcase was outstanding.  Make sure to check back tomorrow for the rest of my wonderful ladies.
And don't forget your copy of the Kiera Skirt pattern for $8 through to Monday 29th May (AEST)
Kind Regards
Ann at Designer Stitch