Welcome to the 2nd installment of the Kiera Skirt PDF pattern testers roundup.
This post features the second group of my very experienced and very creative team. Again I am blown away by the skill and "look" that each sewist has bought to her own version of the Kiera skirt.
The design of the skirt makes the Kiera such a wonderful pattern and will convince you to purchase the pattern.
And don't forget that the pattern is marked down to $8 – on-sale to Monday 29th May (AEST)  so grab your pattern before then.
So in no particular order, drum roll please, here are the next 9 of my outstanding testers.
---
Jenny Jonas Bowen – I live in Canada and I literally grew up in a sewing room. I was born 50 years ago(on this day, nonetheless!) and my mom wanted to be able to stay at home with me so she learned how to make custom draperies and set up shop in our basement with me in the Gendron buggy, sleeping away as she sewed. I have been sewing throughout my life for my family and myself. In 2016 I started pattern testing and I am having the time of my life creating my me-made wardrobe. My biggest supporters in all of my endeavours are my husband and my kids and their partners. Three of my four kids are grown and have left the nest and I am loving all the selfish sewing I am doing at this new stage of life!
I love being on the Designer Stitch testing team. Ann and her patterns have had a huge impact on my wardrobe and I am loving the look I am sporting at 50! Sometimes I think that Ann is secretly designing her patterns just for me!
The Kiera skirt is one of my favourite patterns! I love that the length can be left down. We have some intensely cold weather here and having something longer but still very feminine is perfect. And for the 5 months of the year that it isn't winter, I can play around with the length and come up with some twists to my outfits!
You can follow me on my adventures at
www.EmbraceEveryday.com
https://www.instagram.com/embraceeveryday/
https://www.facebook.com/Embrace-Everyday-177190708665/
---
Rachel Maxwell – I live in Werribee and learnt sewing basics in High school. I got a sewing machine for my 21st birthday and began sewing small projects for my home. When my son was born 9 years ago, I began sewing for him and self-taught myself some more sewing skills. I began testing for a few designers to practice and increase on those skills. 3 years ago, I got the confidence to begin sewing for myself and haven't looked back. I love the Designer Stitch patterns because I know that they will flatter and fit every time. They are easy to follow and even the more difficult techniques are easily explained. I love the fit and versatility of the Kiera skirt because it can be changed to suit every occasion and mood. It looks like a different skirt every time you wear it.
Insta – https://www.instagram.com/rmaxwell86/
---
Hi, I'm Kim Bailey and live in Melbourne, Australia (but from NZ!). 3 years ago after 3 kids I decided I needed some ME time! I don't consider the gym fun so I thought that I would finally start making proper use of my sewing machine that my Dad brought me for my 21st birthday (20 years prior!!). I used to make skirts and 'hammer' pants with friends in high school so thought it was time to learn properly.
I contacted this amazing sewing teacher called Ann Grose and she let me enroll in one of her classes, well I haven't looked back! I am not sure how poor Ann feels (LOL) but deep down I think she loves how I challenge her!!! I really enjoyed this latest Keira Skirt test. I was really apprehensive and almost didn't as the shirring made me nervous, but it was actually fun and easy and I super LOVE the outcome and look forward to shirring again! The skirt was not time consuming to sew. I brought some gorgeous copper crushed taffeta fabric (my first on-line fabric purchase also!) and the result is GORGEOUS. I am on the plus size of plus size and it is comfortable, the fitting was perfect and now need my husband to find a baby sitter and take me out on a date in it!!! I just love Designer Stitch patterns as I know the outcome and fit will be great and I will actually wear the garment. Thanks to my fab, patient (at times) teacher Ann, I have learnt so much.
---
My name is Synthia Gerritson. and I live in Los Banos, Calfornia U.S.A.
Been single for the last 17 years and I am obsessed with sewing.
I was very young, 9 years old when I developed the desire to sew and be creative. I would sit in front of my grandmother, mesmerized by how she would tear up old cloths to create beautiful quilts. Being poor, I wanted to sew my cloths. I would ask my grandmother for her old dresses, cut them up, and create my own dresses, to look just like the style of that time. I had no patterns or sewing machines, I sewed by hand.
I continued to sew for my children and others' as an adult. I would sew bridesmaid dresses, prom dresses, wedding dresses, sweet 15 dresses, drapes, quilts, whatever was asked, I would sew. As an adult, I did not sew for myself until 4 years ago.
Four years ago I began testing PDF patterns for various designers. I then discovered how much I did love sewing for myself and my family. I no longer sew for anyone outside the immediate family, because I want to sew for fun, to be creative, just sew my visions. I also found the love of sewing bags, wallets, and enjoy giving or donating my bags.
I have discovered the importance of having a nice digital camera to take pictures of the garments and items I create, memories mean everything to me. My very best friend, Orbey, has been one of my biggest supporters and camera man for the last 4 years of me testing PDF patterns, Thank You Orbey.
One of my biggest accomplishment and one I am most proud of is this beautiful dress I made a few years back. I am most proud because I sewed/created this dress just before my hand operation. I have bilateral carpal tunnel in both hands. Underwent a carpal tunnel operation in my right hand, it went bad. I no longer have complete use of my right hand, it is closed. I manage to sew with my left hand and the use of my right index finger. I have my day to day struggles, but, nothing, nothing will stop me from sewing and being creative. Sewing is my therapy to staying sane, lol.
http://sewsynsewn.blogspot.com.au/
---
Tenille Brien – I live in the suburbs of Melbourne, I've been sewing or doing something crafty ever since I was a kid, I used to sew a lot for myself, then my kids, and now I sew a lot for me again! I love the shirring on the Kiera because shirring is such a great skill to be able to give shape, elasticity and texture to any fabric.
Facebook: https://www.facebook.com/TenillesThread
Instagram: https://www.instagram.com/tenillebrien/
---
Belinda Cooper – My grandmother was a tailor and my mother taught me to sew on her machine. For my 16th birthday I got one of my own and proceeded to make as many things as I could. Somehow my interest waned and in my 20's and 30's I barely completed anything but on a recent move to Singapore I rediscovered my love for sewing and have taken many courses to help improve my skills.
I love testing Designer Stitch Patterns because they are beautifully drafted and there is always an opportunity to learn new construction techniques. The Kiera will have you winding your bobbin with elastic thread. Shirring is fun!!I hope everyone enjoys sewing this as much as I did.

---
 I am Darlena Slate and I live in Peachtree Corners, Georgia in the US, a small suburb north of Atlanta. I started sewing 3 years ago this month when I was pregnant with my third child. I had 2 girls at the time and, after starting to follow a couple sewing bloggers, I decided to pull the $60 Kenmore machine I'd bought on closeout the previous year out of the box and try my hand at a couple of skirts for my girls. I was hooked! This is my first pattern test and I've loved the experience! The shirring on the Kiera was something I'd never even considered doing, but Ann's directions were very easy to follow and now I have another new skill under my belt. The skirt is so unique with it's ties that it gives me a chance to wear a different shape each time I wear it. https://www.instagram.com/dslatehandmade/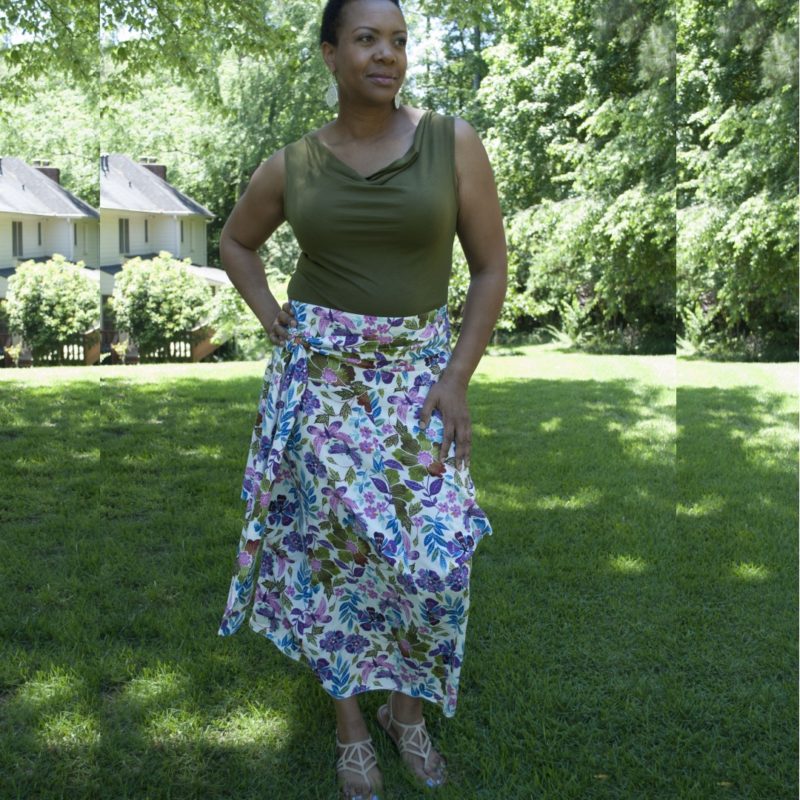 ---
Kiran Grewal – I am Kiran and I live in Singapore. My love for fabric arts began when I was very young. My Grandfather was a fabric merchant and I would spend hours in his shop just observing how the fabrics were chosen, handled and cut. I grew up at the feet of a sewing machine because my Mother and aunt were domestic seamstresses who took orders for Indian and Malay traditional attire. The first time I picked up a needle to sew, I was five years old. I used to make dresses and pillows for my dolls and teddy bears. Somehow, thereafter my interest for sewing waned and I got hooked onto hand embroidery instead. I always say, embroidery is my first love (for sewing). I adore the magic that a needle, some thread and a little craftsmanship can create. The next time I took to garment making was when my eldest daughter was 8'months old and I wanted to sew her a birthday dress. Thereafter, I slowly built my confidence and took to more adventurous projects with each passing garment I created. In each of my projects, I tried to make sure that there was one new element that I had never tried before. This ensures that I am continually learning and sharpening my skills. It took a bit of courage to start sewing for myself because I am very critical about how something fits me. Having said that, I must admit that I adore the way in which Designer Stitch pattern made garments fit me. I can tell that Ann puts alot of efforts to ensure that the fit will be spot on. But not only do they fit well, she's always got her finger on the pulse of the latest trends in fashion. So you can be sure that your new clothes are on trend as well. In my recent test for the Kiera skirt, I enjoyed working with a new fabric type (voile) and that it is an 8-panelled skirt. The end result was a skirt that was feminine yet funky because it can be switched up to create a unique silhouette using the ribbon ties from within the skirt. I don't usually wear long skirts, but I'll suffice to say, I'll be wearing more of my lovely Kiera from now on! xx
IG www.instagram.com/gloopygoo
---
Camelia de Bruin – I`m Camelia , born in Romania and since 2005 living in The Netherlands. Somewhere around 2009, I bought a sewing machine to try to make something to keep myself busy. I still remember getting completely lost when I opened my first Burda Magazine and trying to understand what the "straight grain "was. Well, 8 years later, sewing is my relaxing time; one way to get my batteries full after a day with my 6 years old twins. Sewing my clothes give me the chance to try new styles, without being restricted by a price of a brand or anything. I am always in search of patterns for clothes that are easy to wear but then again not just a t-shirt and jeans every day. Kiera skirt fits the bill perfect.For me, the flat yoke and the maxi style are perfect, for the warm days, with a tank or an easy top and I am ready to go.
http://calcedoniasewing.blogspot.nl/
https://www.instagram.com/calcedoniasewing/
So that wraps up the showcase of the Designer Stitch Pattern Testing team. I am sure you will all agree that each and everyone are gifted and amazing sewists.
And don't forget your copy of the Kiera Skirt pattern for $8 through to Friday 3rd March (AEST).
Kind Regards
Ann at Designer Stitch . xx