Greetings my friends from a sunny day her at Phillip Island. It is a pleasant 20degC and there is a slight sea breeze which makes for my favourite day xx
My Charlie pup and I had a slow walk today – her is now 13 1/2 and likes to sniff more than stride…lol….and he really enjoys sending his "p-mail" at countless bushes and grasses along the way.
Today I would like to share with you our first part of the Madison Colour Blocked Dress Tester Roundup. The Madison is really like a blank canvas – and WOWSERs – did our roadies use this concept for some AMAZING and SPECTACULAR results.
The Madison is first and foremost a stunning and versatile silhouette. The princess line shaping of the Madison is fabulous for all figure types and offers the ability for great fine tuning of the fit of the body of the garment.
The Madison is another on-trend shape and the colour blocking feature is popping up in a majority of RTW catalogues.
The finer details : On Sale for a limited time only – $8.95
(US) (AU/UK) 6 – 28 (US) 2 – 24 (EU) 34 – 56 . Cup Size – B, C, D, DD
https://designerstitch.com/shop/madison-dress
So my friends let me share with you my amazing roadies – Part 1 – and their FABULOUS Madison Dresses.
I have asked each of my roadies to share with you the following:
1. Your name and where you live.
2. Your choice of style for the Madison and why ?
3. What fabric did you choose and where did you purchase?
4. What sewing tips can you share when sewing the Madison ?
5. What was your favourite thing about making the Madison ?
6. Have you worn your Madison yet and what compliments did you receive.
7. And how are you styling your Madison ?
And if you have missed the previous day posts here are the links :
1. Fitting for Bust Projection and Princess Panels
2. Fitting for Lower Bust Point and Princess Panels
Love to you all xx
Ann at Designer Stitch. xx
---
Hi my name is Ashley I'm from London, Camden Town.
I loved this pattern so much I had to make both styles 🥰
I made the pencil skirt dress with a zip in the back for decoration. I made mine in 3 colours red white and teal ponte fabric. I cut mine at the shortest length as I'm only 5 foot and fitted like a dream! I also used black purple and burgundy colours of ponte fabric to make the circle skirt with pockets but no zip in back.
I learnt a lot testing the Madison dress to get the perfect fit, I did my first sway back and wasn't as hard as I thought but it made my dress fit so much better. I would also say to baste your corners first to make sure you get the shape right!
My favourite thing about this dress is it's so flattering but the hardest part was choosing what colours to work with.
I have worn my circle skirt dress out for a night and got lots of people asking where I got it from lol. This is one thing I love about making my own clothes is I will never see anyone in the same 😊 I got loads of compliments which boosts mine and makes me want to make loads more!
https://www.instagram.com/madebyashleyriley/
---
I'm Becky from Maryland, USA. I made the knee length straight Madison with 3/4 sleeves because I wanted a sleek new dress for work. My office is sometimes cold, so the 3/4 sleeve will serve me well. I made my Madison entirely out of ponte. The red ponte is from Surge Fabric Shop, the navy is from Sly Fox Fabrics, and the pink is refined ponte from Joann Fabrics. My biggest tips for the Madison are all about fit! I was concerned about grading out in the waist since there are so many pieces around the middle of the dress, but because the bottom of the waistband sits right at the natural waist, I really only needed to grade out the waistband piece and the top of the decorative side pieces. Definitely make a toile out of ponte so you can see how it fits on you! My favorite thing about making this dress was decorative details on the front and back. It looks intimidating, but the instructions were very clear and easy to follow. I was pleased with how quickly this dress came together. I have worn my Madison to work and so many of my coworkers loved my dress. They were impressed with how well it fit me and the fun decorative details. Also, the color! Right now it's winter so I'm styling my Madison with back tights and black wedge ankle boots. I also put on a grey duster cardigan in the office when I was cold. A delicate gold necklace finishes off all my looks.
http://www.squiddlysews.com
http://www.instagram.com/squiddlysews
---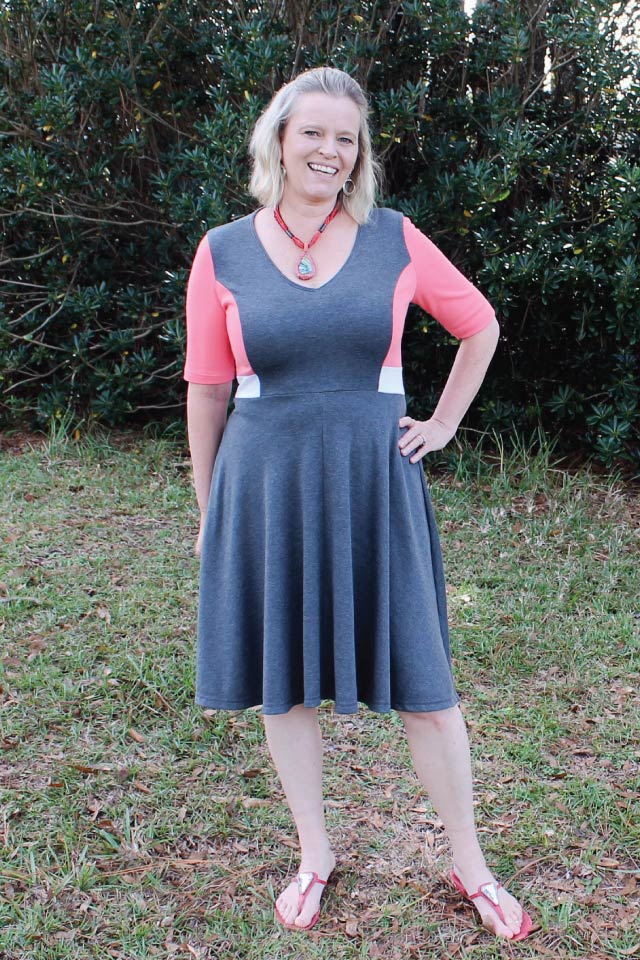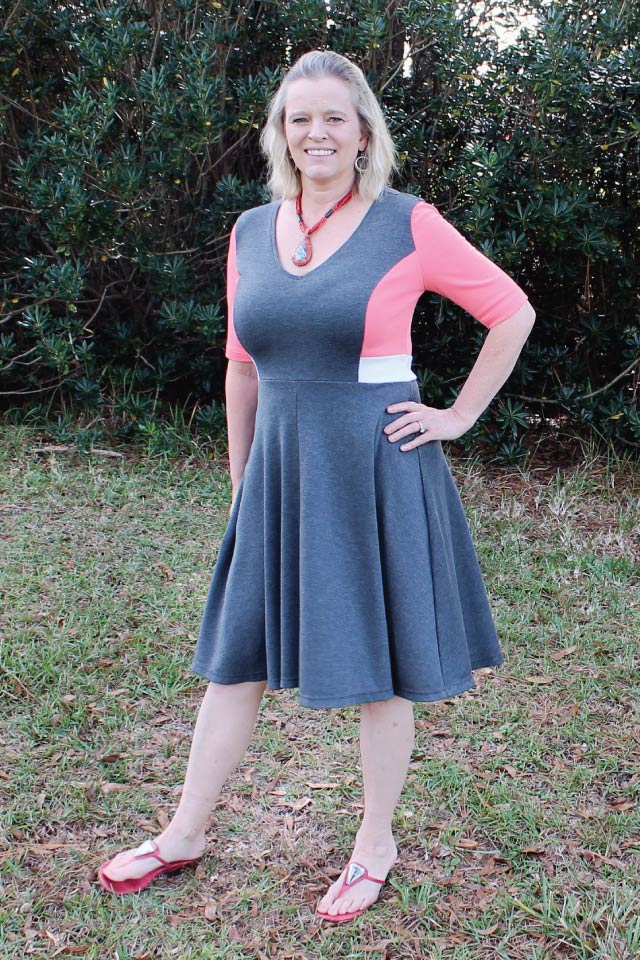 Hey there, I'm Becca from Northern Florida. I chose the Madison with a full skirt and elbow length sleeves..We still get a bit chilly here so I wanted a dress with some sleeve length. The Ponte I bought from Amazon has such a beautiful weight to it that the dress is the perfect Fall/Winter dress. I haven't had a chance to wear my Madison yet as I have been down with a head cold. I will be wearing it soon though! I love the fact that with every thing I make my hubby says its his favorite. Lol..With the Madison though he told me it actually IS his favorite! I have the perfect grey shoes that match the grey ponte and I think I may end make a clutch to match!
---
Hi! My name is Debora, and I live in Florida in the USA. I chose the sleeveless version because Florida is hot most of the year. I used Ponte from a little shop about an hour and a half drive from my home. I was excited to find the fun green! I strongly recommend making a muslin, especially if you have any concerns about how the bust will fit. I had to make some adjustments to the bust piece, but I love the final fit. The Madison sews up quicker than you think. I plan to wear it to Mass on Sunday, and it's bound to make an appearance during Christmas gatherings. All I need to style it is some pretty earrings. And maybe a bracelet or two!
You can follow me at https://sewbeachlife.com/
https://www.pinterest.com/SewBeachLife/
https://www.instagram.com/sewbeachlife/
---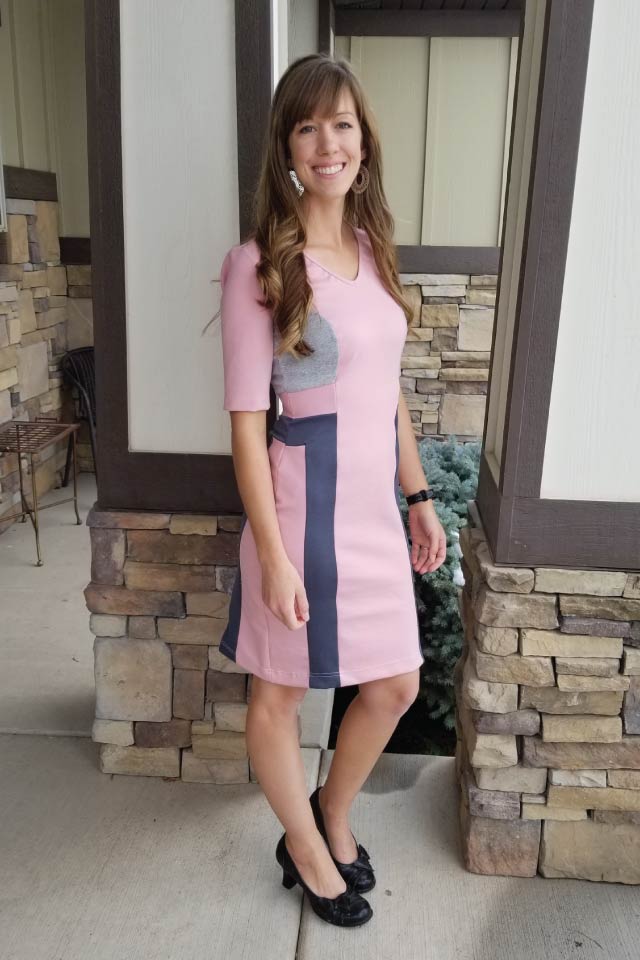 1. Your name and where you live ?
Jessica L. USA.
2. Your choice of style for the Madison and why ?
I chose three different coordinating colors for the Madison in a pink, light gray, and dark gray. I chose the light and neutral colors specifically so that I can style the dress up or down depending on the occasion. The dress was cut on the center hemline. And I chose half sleeves to be able to wear it in any weather.
3. The dress was made from a pink ponte I picked up at Joanns along with a double knit from Knitpop and amother ponte from fabric.com.
4. What sewing tips can you share when sewing the Madison ?
Baste the corners on the L shaped piece first to get a feel for how it comes together. Since this dress works best in ponte, it may require some fitting alterations, so it may be advisable to actually baste all the major side and cb seams in order to get the fit on point.
5. What was your favourite thing about making the Madison ?
I learned a ton about working with ponte. I also learned how to do a sway back adjustment. Not as hard as it seemed!
6. Have you worn your Madison yet and what compliments did you receive.
I haven't had a chance to wear it yet!
7. And how are you styling your Madison ?
For my pictures, I chose to style up and wear some cute heels and big earrings. I think this look would be perfect for date nights.
Blog: https://www.letsgohobby.com/
Facebook: https://facebook.com/letsgohobby/
IG: https://instagram.com/letsgohobby
---
Hello! My name is Kim and I live in the Netherlands. For the Madison, I chose the elbow sleeves and straight skirt. I love elbow sleeves, because I can wear them in autumn and spring without another layer and in winter with a cardigan or jacket. I made two dresses: my fitting toile and a final one. Since the toile turned out great, I can wear them both! Both dresses are made with ponte fabric, most of which I bought at Driessenstoffen.nl (the 'punta di milano' is great!). I made the same adjustments as for the Camelia dress: a sway back adjustment, took a bit of length out above the bust and graded size 2 and 3. If you made a well fitting Camelia dress, you can make the same adjustments for the Madison dress. My favorite part about sewing the Madison was seeing the colorblock pieces come together. I took my time to do those parts and they turned out great! I've worn my Madison a couple of times already, with sheer tights and heeled ankle boots. My grandmother, who used to make all of her clothes, couldn't believe I made this dress! A lot of people complimented me on the dress and didn't expect it to be handmade. It looks super professional and I love that about it!
---
Hi, here is Marieke from the Netherlands.
First of all I can tell you, I love my Madison! I finally sewed my Mondrian dress I already wanted to have for ages!🙌
I decided to sew both dresses with a pencil skirt and shortest length and a zip. That last one isn't necessary, but it's looking stylish. I already cut fabric for the wider skirt too and I am curious about the look of that one on me.
I feel pretty elegant in my dress without being overdressed. I worn both dresses already with different kind of shoes; high heels, boots, ankle boots. It's all a great combination.
The hardest part of sewing this dress is picking out the right fabric. Because of the color blocking, the options are endless!
I sewed my Mondrian dress I already mention and a dress completely in ponte leather look. I don't know which dress I prefer more, they are both so different.
Well, that's my advice: pick out many fabric combinations and start sewing!❤💃
When you like it, you can visit me on Instagram too: https://www.instagram.com/jongdesign
---
Happy Christmas to all you lovely sewists!!!
Melissa here from Colorado, USA.
I chose to sew two long sleeved Madison's, one with the darling exposed
zipper. Most of my fabrics were purchased at my local Joann Fabrics, all the colors are Ponte.
The lovely Madison is relatively simple sew, but fitting with a toile is ohhh so important and the exposed zipper is easily installed first in your flat back peice. Just make certain of any alterations that you need to do before cutting and sewing. I made a small sway back adjustment.
I loved making and wearing the Madison because it looks so high fashion and well… it's very comfortable!
My daughter Cherish and I have both worn our dresses and have received many compliments!! Cherish works in an office that requires high level meetings and the Madison is soooo on point. I love that I look chic with minimal jewelry, tights and flats even when just running errands and taxing the littles.
Madison is such a work of art that styling is really rather understated for us. Cherish chose a chunky necklace and simple tone on tone tights and short boots!
We hope that you are inspired to make your own Madisons and that you have great fun creating and wearing them!
Thank you Ann for your beautiful patterns and teaching!!!!
Http://Facebook.com/Melissa.deeg3
---
hi! I'm Stephanie T from Oklahoma, USA. I chose the elbow length Madison because I always roll long sleeves or layer cardigans over sleeveless and the gorgeous color blocking shouldn't be covered up. I made 2 versions of the Madison both from Ponte out of my stash which is always nice to break into and with the cutouts i was able to use up some of the larger scraps that I'd been saving. Always a huge plus for a pattern in my opinion. The thing I struggled with the most on this dress was the L-shaped side panels. I found it best to baste these down and press it to make sure I got the angle in without puckers and then sew it down. I've worn my Madisons a couple times and it truly can be worn in many ways. I've worn with pumps and a long necklace as well as with leggings and knee length boots. Every time I've worn it out I've received compliments from strangers and friends alike. A coworker exclaimed when I passed her in the office "oh! That's so stylish!" Don't be afraid to be bold with your color blocking, you won't regret it! This is a dress to be noticed in.
---
Hi all…Im Suzi N from Sri Lanka..I decided to go wth the half circle skirt and 3/4 sleeves for my Madison since I love flowy dresses 😊😊
I got ponte from a local store for this..and I guess im lucky to get them too being in a country where people predominantly sew with wovens at home..
My advice is no matter what pattern to make the toile first coz u never know how it will fit ur body type..also read the tutorial n take into account the correct seam allowances n techniques etc. My favorite thing about is the beautiful princesd seams n the unique color blocking..so pretty n elegant..
I couldnt wear it out yet as im saving it for an occassion..but when wore n went to my front yard to get pics all in the road were staring..kind of embarrassng yet flatterring 😊😊..I styled it with my own sewn leggings n my fav black boots n I think the combos made perfection..
U can see more of me here https://www.facebook.com/fs.nasoordeen
---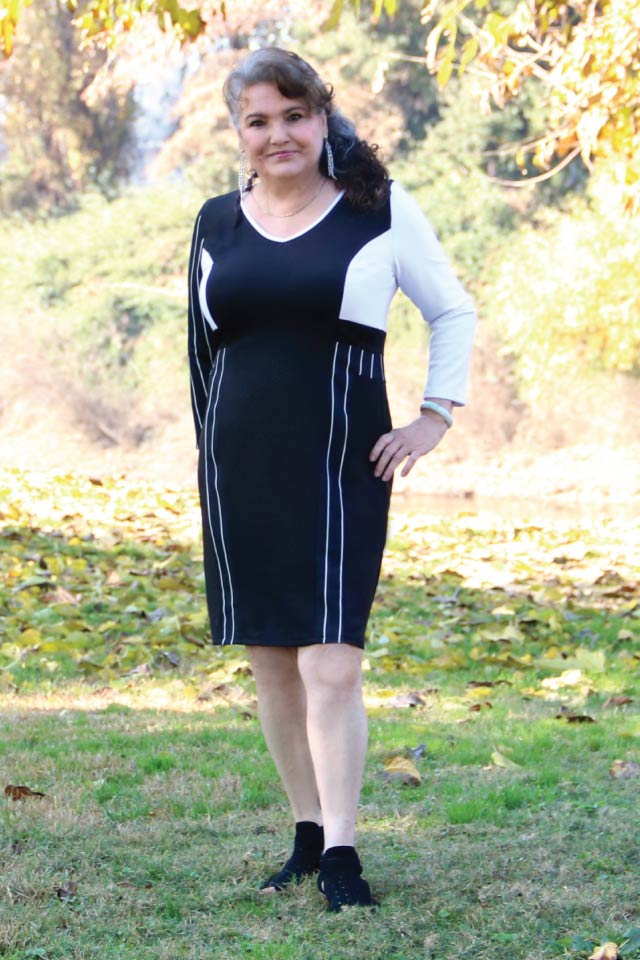 Hi, my name is Synthia LG and I live in Central California. I made the straight skirt version of the Madison with 3/4 sleeves. I love a straighter skirt and 3/4 sleeves, my favorite. I also sewed my Madison with an exposed zipper, first time using this style of a zipper and I really like the aesthetic. I used Ponte fabric which I probably purchased on Ebay. My favorite thing about sewing the Madison was using two different colored sleeves and the exposed zipper, as well as the color blocking, one can be creative with the Madison. Tips for sewing the Madison; fabric choice is very important, using a stable knit is a must. I found using a medium weight Pointe was my favorite fabric choice. Sewing a muslin is very important as well as picking apart until you are satisfied with your fit. I must have taken my Madison muslin apart a good 5x, which is normal for me. I took my Madison on vacation with me to wear, unfortunately, it snowed and I came down with the flu. The good thing is, the Holidays are approaching and I will wear my Madison then. Thank you Ann Grose for another fun design. https://sewsynsewn.blogspot.com
---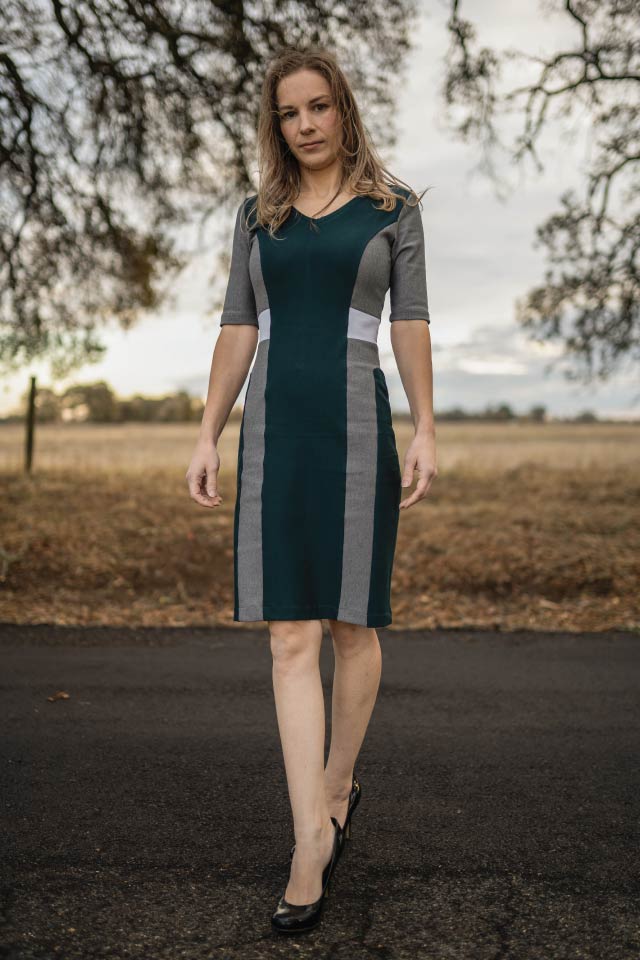 Hi! I'm Yelena from Sacramento, California. I chose the straight skirt version with elbow length sleeves because we are going into winter and I wanted something warmer.
The fabric I used is ponte. The winter green ponte I got from So Sew English Fabrics and I cant remember where I got the gray, probably Joann Fabrics because that's where I got the white ponte. What's nice about the color blocking of the Madison is that you can use scraps if you have any extra ponte laying around.
When I was asking for advice on color blocking on the dress from my sisters (since they are the fashionistas in the family) they weren't really sure because they were not really into color blocking, but after I finished my dress and took my final pictures they were like "WOW! that looks amazing!"
Since I mostly just wear dresses to church and special occasions I made mine to look semi-formal.