Drum roll my lovelies – this is my favourite part of a pattern release so a BIG WELCOME to Part 2 of the Madison Dress Tester Roundup Part 2.
Prepare yourself my friends to be ABSOLUTELY blown away again by our amazing roadies. xx
The Madison is a shape that offers a stunning silhouette for everyone.. AMAZING !!!
If you missed the previous 3 posts be sure to read:
1. Fitting for Bust Projection and Princess Panels
2. Fitting for Lower Bust Point and Princess Panels
3. Madison Colour Blocked Dress Pattern Tester Roundup Part 1
The Madison Dress is for a sewing level of Confident Advanced Beginner and Above.
The finer details : On Sale for a limited time only – $8.95
(US) (AU/UK) 6 – 28 (US) 2 – 24 (EU) 34 – 56 . Cup Size – B, C, D, DD
https://designerstitch.com/shop/madison-dress/
So let us now get underway for Part 2 of the tester roundup for the outstanding Madison Dress.
I have asked each of my roadies to share with you the following:
1. Your name and where you live.
2. Your choice of style for the Madison and why ?
3. What fabric did you choose and where did you purchase?
4. What sewing tips can you share when sewing the Madison ?
5. What was your favourite thing about making the Madison ?
6. Have you worn your Madison yet and what compliments did you receive.
7. And how are you styling your Madison ?
And if you have missed the previous day posts here is the link –
If you missed the previous 3 posts be sure to read:
1. Fitting for Bust Projection and Princess Panels
2. Fitting for Lower Bust Point and Princess Panels
3. Madison Colour Blocked Dress Pattern Tester Roundup Part 1
Love to you all xx
Ann at Designer Stitch. xx
---
Hello everyone, I am Camelia from The Netherlands.
I made three Madison dresses, all with sleeves and with a fitted skirt. I use a heavier ponti knit fabric. In the webshop where I bought it, Driessenstofen from The Netherlands, it was listed as "Milano ponti "and the weight was 335mg/m2 , 60% rayon, 35 polyester and 5% elastane. Gorgeous fabric, with nice stretch horizontal and vertical. Actually, this fabric is the same kind I used for my Harper pants, is just perfect.
I think for this pattern is important to get the fit right, to highlight all the nice seams, a bad fit will distort the overall look, especially now when working with different colors. Also, take the time to sew neat corners and match your side seams well as it will be visible.
I knew the fit on my Camelia dress and based on that I adjusted my pattern before cutting in my fabric.
I also added a lining to my dresses to make them even more comfortable when wearing with my thick tights and avoid bunching when walking, soon I will talk about that in my review, keep an eye on my YouTube channel for that.
I truly enjoyed making this pattern, is so much fun working with all the colors and love love the contrasting panels.
I love wearing my dresses, now are perfect with tights and booties and later with flats or heels.
On my YouTube channel, you will find tutorials for Madison, also a cool one for a neatly exposed zipper insertion.
https://www.youtube.com/calcedoniasewing
If you would like to follow my sewing adventures, you can follow me on Instagram https://www.instagram.com/calcedoniasewing/
---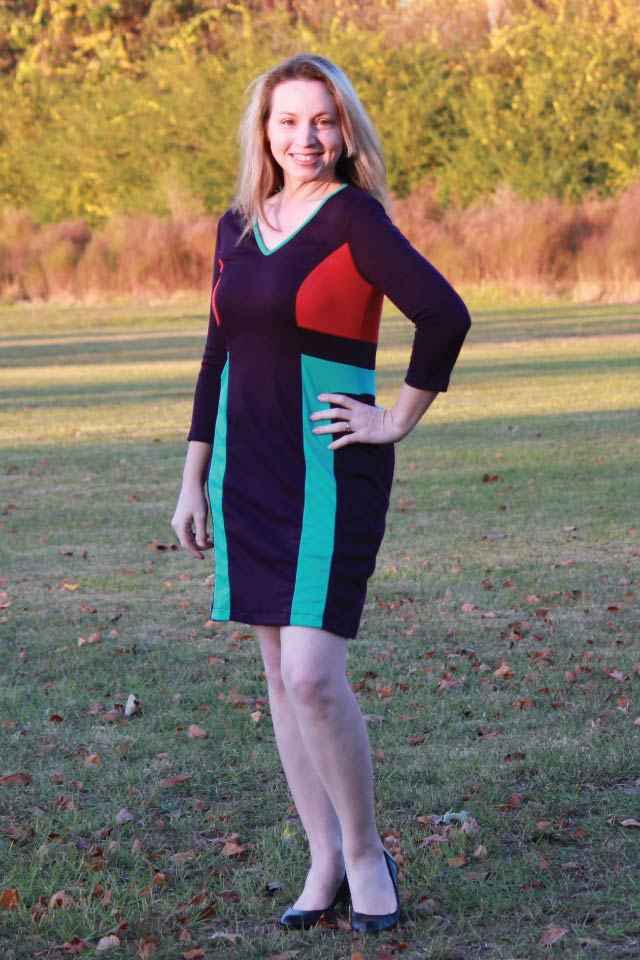 My name is Carmen and I live in Georgia. I chose to sew two Madisons because I love color blocking. The choices are endless. My first dress was a 23 3/4″ length fitted skirt with 3/4 sleeves in a lightweight ponte in purple, coral, and light green. My second was also a 23 3/4″ skirt but I sewed elbow length sleeves instead. The fabric was a heavy weight ponte in peacock, cobalt blue and mustard. This dress is fun and colorful and my favorite of the two. It's perfect for spring and summer.
One sewing tip I can give is take your time on the front and back panels if you want perfect corners. I practiced a few times on some scraps before sewing them. I really like this dress pattern because it's suitable for every season and the creative color schemes are the best part of making it. I haven't had an opportunity to wear my dresses in public but my family are fans.
In heels or stylish boots the Madison is a showstopper.
---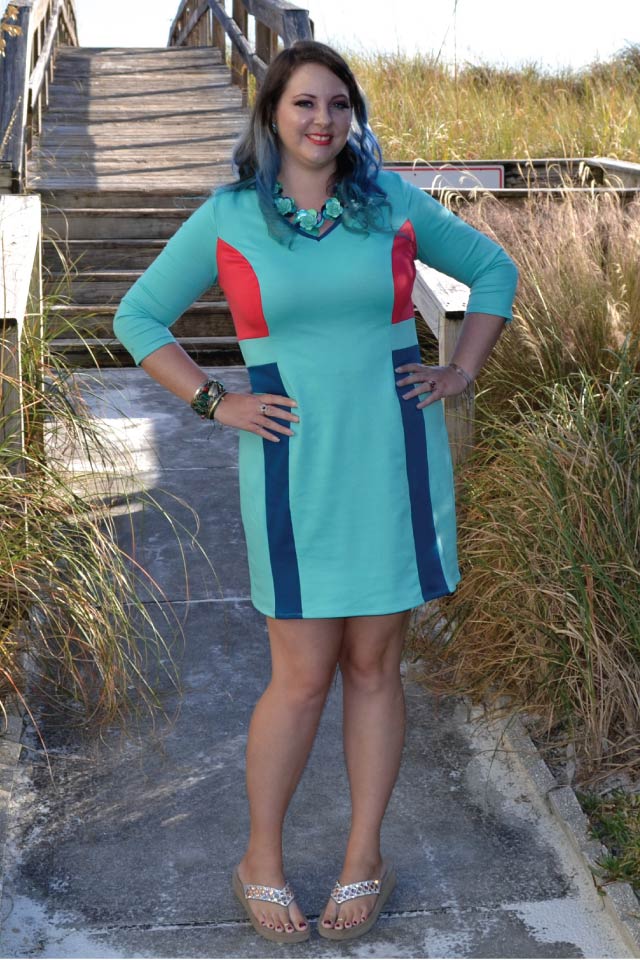 Hi, I'm Casey S and I live on the beautiful Emerald Coast in the Florida Panhandle! I chose the pencil skirt option for my dress because the stripe/block detail is the most unique to any of my dresses. For the fabric I decided to go with ponte de roma from Sly Fox Fabrics for their wider selection of colors. The dark mint looks amazing next to the coral. My sewing tip for the Madison Dress would be that I place a pin in the right sides of my fabric pieces after I cut them out so I won't accidentaly sew any wrong sides together. My favorite part of sewing the Madison is watching the pieces come together into a work of art. So far I have worn my dress out on a date and to church and it was perfect for both. It looks so professional that no one has asked if I made it. When I told my family I made it they were surprised! It's hard to choose which jewelry to wear with my dress because nearly everything looks good with it, so I go all out! Since I live in Florida and I live in my flip flops that's what I decided to wear for footwear.
My rhinestone encrusted sandy colored platform Yellow Box flip flops look super cute with my outfit.
To see more of my sewing you can follow me on instagram at https://www.instagram.com/caseyaurorarainbow/
---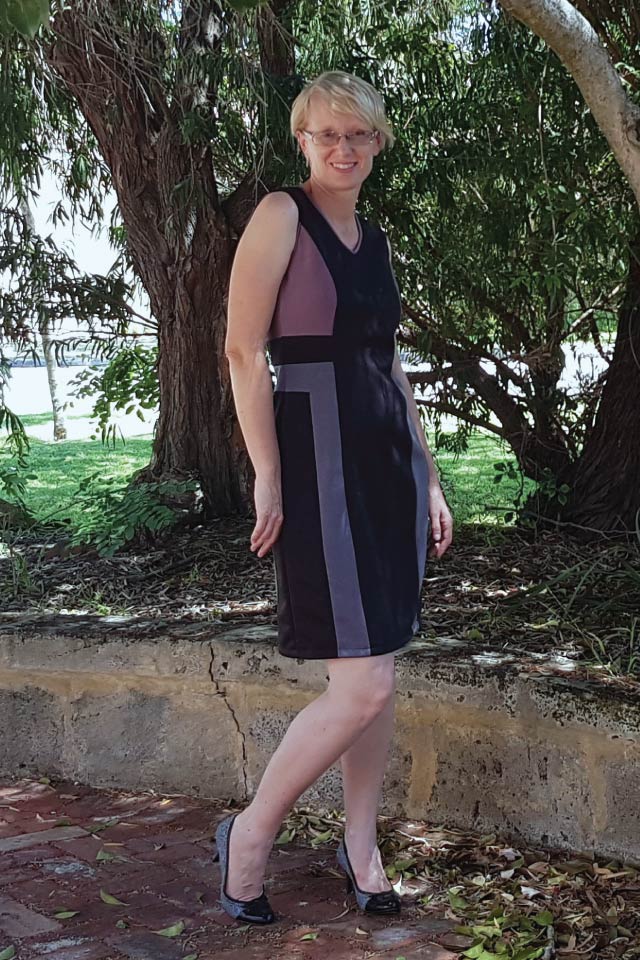 Hey, it's Narelle from Perth, Australia.
I made the sleeveless version of the Madison because the weather is hot, and I want to wear the dress straight away. I made the longest length (because the shortest length I made for my toile was way too short for 5 foot 7 me!).
The black and grey fabrics are scuba from Spotlight and the pink is a double knit (also from Spotlight).
My tip is to take your time sewing the square section of the side panels and the princess seam to get a perfect finish. (I love that you start on the back panels, so that by the time you get to the front, you've perfected the technique!).
My favourite part of making the Madison was trying it on and thinking "WOW!". There is nothing homemade about this dress.
I wore it on a tour of a high school (that I'm looking at for my son), and while I didn't get any compliments, I felt stylish and professional. I'd almost consider getting an office job again so I can wear one in a different colour everyday!
I've styled my Madison with my houndstooth court heels and also my flat black strappy sandals, and simple jewellery (to let the colour-blocking grab the attention).
https://threadistry.com/
https://www.facebook.com/threadistry
https://www.instagram.com/threadistry/
---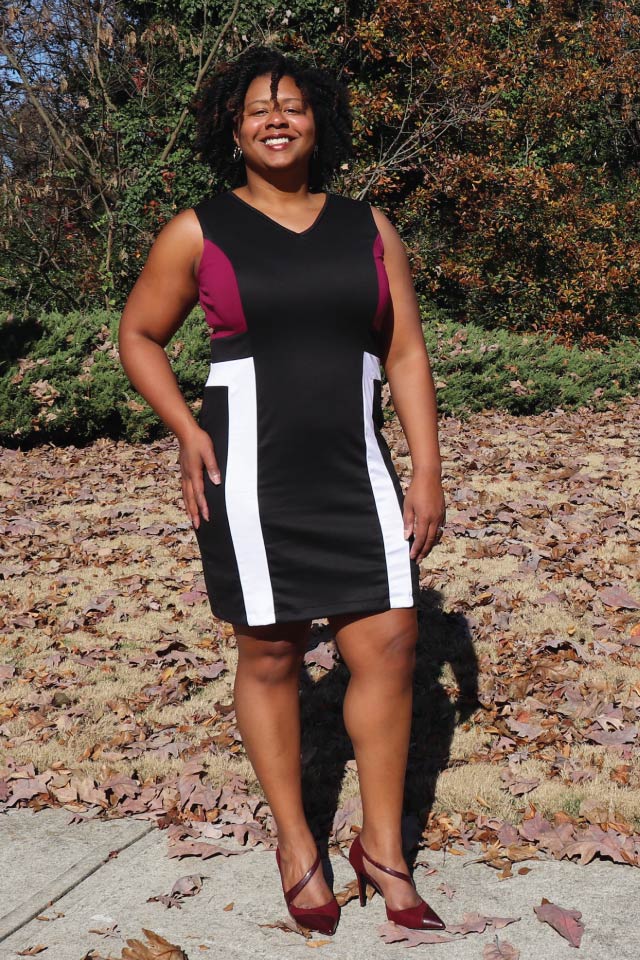 I'm Tiffany and I live in Atlanta, GA. I absolutely love the Madison dress because anything with colorblocking options catches my eye. I sewed the sleeveless version sans the exposed zipper because even though it's winter here I prefer sleeveless dresses paired with a cardigan over sleeved dresses.
I used three pontes I had in my stash from Fabric Mart Fabrics (fabricmartfabrics.com). My biggest tip for sewing your Madison is to mark all your notches and to pin your cut fabric to the pattern pieces so that you don't lose track of the front and back pieces. Though it may look complicated I love how quickly this dress can be sewn up. Also what a great way to just larger knit scraps from previous projects!
I received several compliments on my dress when I wore it over tights and can't wait to make more and experiment with other color combinations.
Http://www.tipstitched.com
Http://www.instagram.com/tipstitched
Http://www.pinterest.com/tipstitched
Http://www.youtube.com/c/tipstitched
Http://www.facebook.com/tipstitched
---
Good day beautiful sewists and fellow DesignerStitch fans. My name is Taryn from Cape Town South Africa. I went with the sleeveless 60cm length fitted skirt option (without zipper) as I wanted to make a Summer-proof office appropriate dress. I used fabrics I had in my stash already – 2 hues of navy and coral (crepe knit and other). If you don't want your top stitching (around the armhole) to show) you can change your thread colour – a little more time consuming I know. I would also recommend using a double needle (or coverstitch if available) for a more professional finish and to help ensure it stays hidden. I really love the colour blocking of this dress as it creates such flattering lines and I loved the 'colour' sheet that came along with the pattern to visualise the possible combos. I have worn my Madison several times already to the office and it really is a compliment magnet. People love the colour blocking and I have received many comments about just how flattering the dress is. I am styling my Madison with coordinating block heels. More of my sewing adventures at
https://www.instagram.com/tarynhaynessmart/
https://www.facebook.com/taryn.haynessmart
---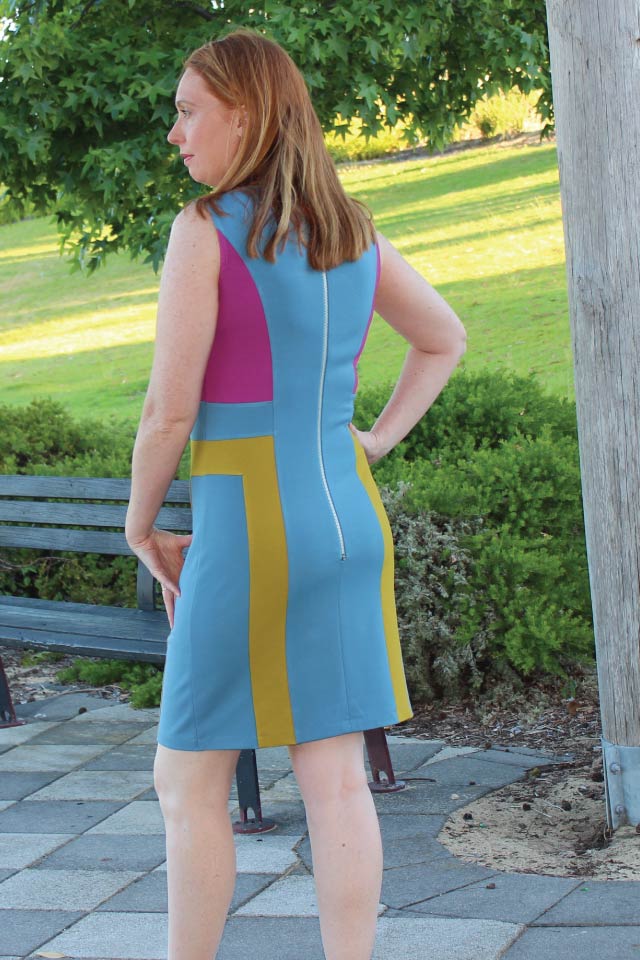 I'm Amanda and I live in Western Australia, because the weather is hot here at the moment I chose to do the sleeveless Version of the Madison dress with the shortest hemline I chose these options so I could wear it to some of my end of year events without melting!
I made my dress out of some Ponte, which I purchased from Knitwit here in Perth, but it can also be ordered online! https://knitwit.com.au/…/knitwit-ponti-di-roma-double…/
I really enjoyed making the Madison, it is a straightforward sew with some striking features which really help to elevate the dress to something special, however I do recommend you take the time to do a fit test garment before sewing with your good fabric, because this dress really looks best when it fits well! (Especially the bust area!)
If you are interested In seeing more of my sewing you can find more of my makes at www.facebook.com/7bobbins , although I will admit it's been a bit quiet over there lately as I have been very short of sewing time!
---
Greetings from Milwaukee, WI, USA. My name is Allison F.
For my Madison dresses I choose the one with 3/4 sleeves and the other with long sleeves for a couple of reasons. First, I like those lengths and next because it had been cold!
My first Madison is a bi-colored, black and white dress. The black fabric is a heavy ponte, as if ponte and scuba had a baby, with a very smooth finish to the fabric. The white is a traditional ponte from Boho fabrics. This dress was to be my toile, as I had yards and yards of the black. But, I love the sophistication of this dress. This dress begs for heels and a nice French twist.
My second Madison is made from ponte all from Boho Fabrics and is a tri-color dress. I decided on mocha, a dusty pink and taupe. I attempt to keep my wardrobe varied and I haven't had anything brown in awhile. I have worn this dress with both a vintage up-do and heels and more casually with darker tights and booties. I love both looks equally.
The most important parts about making Madison are, first make a toile. Second make sure your toile and final fabrics are of the same weight, stretch and recovery. I had some hiccups because my fabrics were not all the same weight. For this dress, it matters. Other than than Madison is a surprisingly easy sew once you make your personal fit modifications.
I have worn both dresses. Must be (just as Ann always is) right on trend. Strangers have stopped me to say how gorgeous my dress is, then are shocked to learn that I made it because my teen daughter always rats me out.
I love have a designer quality wardrobe that I made myself.
You can see my Madison dresses at: https://www.facebook.com/…/Songs-of-Thread…/community/
---

Hi, I'm Shardee from the Netherlands.
The Madison is a must-have for everyone. With the color blocking parts you can turn it into every style you love. I used Ponte in warm fall colors, because I'm in love of the fall. Nature's colors makes me so happy. If you like to see more of my life 😉 follow me on
Www.instagram.com/sdvtje
---
1. Your name and where you live ?
Sonia Latham I live in SW Missouri in the USA
2. Your choice of style for the Madison and why ?
I chose the circle skirt option because I love the flare of the skirt and feel it fits my personal style and body shape well.
3. What fabric did you choose and where did you purchase.
I chose ponte the floral I purchased from Joanns here in the USA, a while back and the solid is from one of our local fabric stores, unfortunately they do not have online retail.
4. What sewing tips can you share when sewing the Madison ?
I would say the biggest tip is to pay close attention to the seam allowances when constructing Madison, it will make a world of difference in your fit.
5. What was your favourite thing about making the Madison ?
I really enjoyed learning how to get the circle skirt pieced together so the panels were every other one (print, solid, print, solid) that took a little planning.
6. Have you worn your Madison yet and what compliments did you receive.
So far only my husband has seen it, I look forward to wearing over the holidays to some gatherings.
7. And how are you styling your Madison ?
I made the circle skirt with 3/4 length sleeves. I love the flare of the skirt😍
Blog – a work in progress
Facebook Sew on and Sow forth – Www.facebook.com/sewonandsowforth
IG www.instagram.com/sewsowforth
---
My name is Stacey and I live on the south coast of England.
I chose the shorter length and and three-quarter sleeves, as it is winter here in England I thought this would be a good option to wear with tights to keep warm!
I used ponte Roma that I bought from my local fabric shop.
My tip for sewing this pattern would be be to take it slow on the corners and use plenty of pins to stop the fabric shifting. Also press everything really well for a polished finish.
My favourite thing about sewing the Madison was after sewing the corners looking at how neat they came out, which was very satisfying!
I have worn my Madison to work, everybody loved it!
I wear my Madison with tights and either boots or heels.
Allsewnupbystacey.blogspot.co.uk
www.instagram.com/all_sewn_up_by_stacey
---

Hello! I am Kristin, from London, Ontario, Canada. I chose the sleeveless Madison, knee length. I always choose sleeveless when I have the option, to highlight my shoulders (and not have to worry about fitting them!). I used ponte fabric, purchased at my local Fabricland store. There are loads of pieces to cut out and keep organized – make sure to label the pattern pieces with the fabric colours – much easier to keep track of when cutting. And don't skip the interfacing at the corner join on the dress! The Madison was my first colour blocked garment – my favourite (and most challenging!) thing was choosing the colours. I have not yet worn my Madison, but will definitely have it on over the holiday season with all the parties. I style my Madison very minimally so I can let the gorgeous dress speak for itself. I wear my favourite black Betsy Johnson pumps with it – and I feel it doesn't need anything else!
---
Hi everyone. I'm Kiran and I'm from Singapore. (On Instagram as @gloopygoo) Hope you all are marvelling in the gorgeousness of all these Madisons. I chose my Madison as a knee length version. I like dresses that just slip on without fuss, throw on a pair of sandals and walk out the door.
I went shopping a month before the Madison tester call came out with the Madison fabrics specifically in mind. I think it's critical to the success of this dress for your fabrics to be of similar weights, so I bought three fabrics of the same design in various colourways. And with regards to styling the Madison, Seeing as this is such a beautiful and intricate design, I found it not necessary to style it excessively. I wear it plain and let the garment speak for itself
My only tip for sewing the Madison is to go slow at the corners. Also look at the Designer Stitch blog for fitting consultation. It's a wealth of knowledge. And if that offers no help to your issues, reach out in the Designer Stitch Facebook group. Ann is always happy to offer some advise on getting the perfect fit for your garment.
---

Hi, I'm Barbara and I live in Northeast Mississippi, USA.
For my Madison, I wanted the knee length. I chose a heavyweight ponte de roma purchased from Slyfox fabrics. When I cut the ponte for the Madison, I mark the wrong side of the fabric with chalk so as not to reverse the pieces. I really enjoyed colorblocking the Madison! So many choices! I wore my Madison to my grandson's Military graduation, and received many compliments.
I paired my Madison with a pair of knee high boots. https://www.instagram.com/ninjabreadgirl61/