Good day to you all my sew'ist friends. I trust that you, family and friends are safe and happy.
Today is Part 1 of our rockstar roadies roundups – and this time it is all about our new Marit Shell Top.
And what a fabulous garment she is !
Our new design is an essential wardrobe addition for all as the Marit Shell Top offers great styling, fit and shape to be a true trans seasonal garment.
A classic for all times the Marit Shell Top is a go-to shape that will suit all occasions.
Our Marit Shell Top roadies made a myriad of wonderful tops for themselves in a variety of prints and solid colours.
And each of our roadies look fabulous – as always – in their individual makes.
So I ask that you give our wonderful pattern testers a resounding WOO HOO for all of our Marit Shell Top makes.
They would like to share with you the following.
1. Your name and where you live ?
2. What fabric combinations did you choose and where did you purchase.
6. Have you worn your Marit ? – and if not what plans do you have for your
Marit Shell Top
 ?
And the finer details; (AU/UK) 6 – 30 (US) 2 – 26 (EU) 34 – 58
Cup Sizes – A, B, C, D and DD (E)
On Sale for a limited time only – $9.95(US)
Very Confident Advanced Beginner and Above Sewing level.
---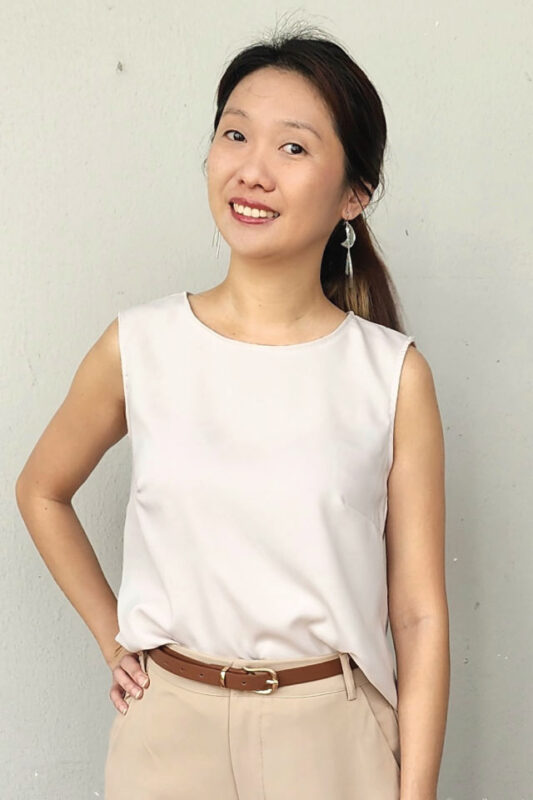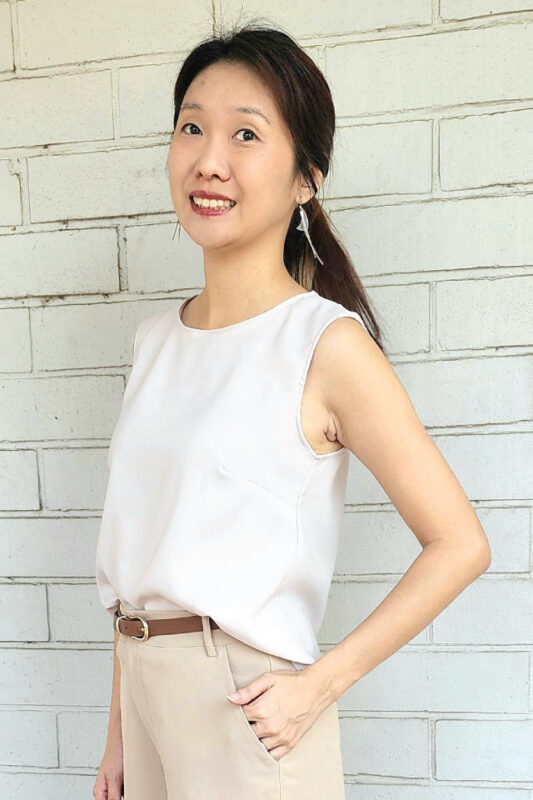 Hello everyone! I'm
Huike
from Singapore. I made my Marit shell top in a very soft drapey polyester so that it looks just like retail wear office attire and indeed, nobody could tell it was me made!
My husband asked if I bought a new office wear top so I consider this an absolute win. It's very lovely wearing this with a pair of office pants and I bet it will look great paired with skirts as well!
The next one I'm thinking should be black because we always need staple tops for the office afterall!
---
Hi, I'm
Josée
from Ottawa, Canada. I'm happy to showcase my Marit tops. It's such a simple and beautiful pattern that is a must for every pattern collection. The Marit is a lovely slow sew that can be sewn in one sitting. As a timeless piece, it can be worn in any setting, from casual to formal depending on fabric, colour and styling choice.
I made two sleeveless versions with scoop neck using fabric from my stash. The first one is vintage silk from a repurposed sari and my second one is a woven viscose, from local fabric flea markets.
Here's a tip on how I trace my darts on shifty fabric: I cut out the bodice dart from my paper pattern and trace the outline on my fabric. For the bust darts, I cut one side and fold the other to create a flap then I trace the outline once the front is cut.
Not only is Marit a great cami, it is the perfect bodice for a shift dress. Simply elongate the sides down past your hips to your knee, sew side slits and it's done. My third Marit is an up-cycle of a striped maxi dress I already owned but that did not fit. Now, it's a beautiful summertime Marit cocktail dress that brings me pleasure. I've already worn my Marit as casual wear and to go out with family and friends. I'm already planning many more including one with ruffled shoulders in all the pretty viscose fabric.
---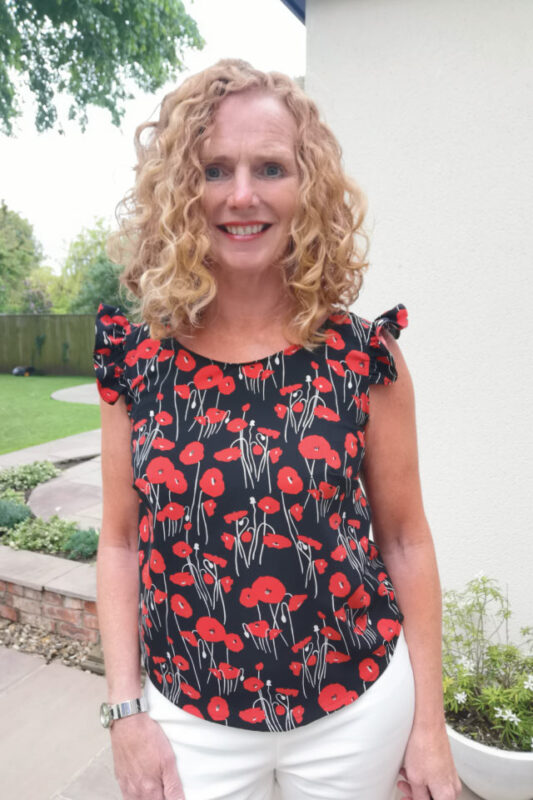 Hi, I'm Diane from the UK
I used a lovely viscose fabric from a local independent store which was perfect for the Marit tank. The fabric drapes really well and was lovely to sew. The instructions are very clear as usual and there are so many options that it is hard to choose just one so I am sure will make lots of these. It is worth doing a toile to get the fit right for your shoulders, bust and armskye and make sure you choose your size off the High Bust measurement as indicated in the pattern.
This is a beautiful pattern and is very versatile whether you want something formal for work, casual or glitzy for a night out. I made the ruffle sleeve version with the scoop neck in size 2B mid length.
---
Hi everyone, here is
Marieke
from the Netherlands.
I love sewing actually everything and especially garments that needs a lot of concentration, but sometimes it is also really nice to have a project that is quick with a satisfying result.
Well, that is the Marit top!
With cutting and sewing you are finished in less then an hour! (And even when you are a beginner it is still a quick pattern and fun to make)
The next thing I love is sewing with wovens. There is nothing more satisfying then pressing open seams and be able to get a perfect fit from a piece of non stretching fabric that hugs your body and is so comfortable.
Well, that is the Marit top.
The 3th thing I love is a good basic pattern that goes with all the fancy skirts, pants etc in your wardrobe. Wear it in Summer on a hotpants, under a blazer, jacket or pair it with a good jogger. It will always fit!
Well that's the Marit top.
I worn it recently while I was picking up my daughters from school and an other mother came to me and asked where I bought that top. Ow, I made that myself (smile, smile)
Well, it is my Marit!
I used viscose fabric for mine, which is flowy and has a good drape and is perfect for upcoming Summertime!
I can give you only this advice: measure correctly, search for the right fabric and enjoy your new top (or 2, 3, 4 )
---
My name is
France L
and I live in the Ottawa area in Canada.
It was love at first sight for the Marit pattern!
This top is a classic, a timeless piece for any wardrobe for any season. You just have to vary the fabric choices accordingly and pick one of the many different versions offered.
I wore my Marit fresh off the machine for a relax night out and also many times at the office under a jacket or a cardigan.
I made the middle length with scoop neck at the front and back. I followed the pattern without making alterations and completed all the darts – that is 8 – for a fabulous fit.
I cut a 3B in 1m of a polyester faille I had been hoarding for a few years in my stash and it came from Fabricville.
Marit with all its possibilities will be used again and again in the future.
---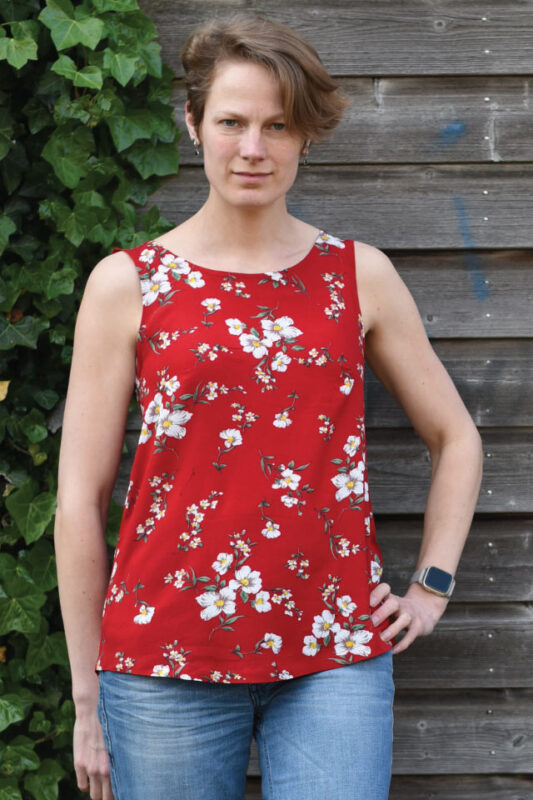 Hi All, this is
Brenda
from The Netherlands.
For my first Marit I used a light cotton (green/black fabric) and for my second I grabbed a bigger scrap of viscose (red). Both fabrics are bought at www.driessenstoffen.nl. Since the Marit is such a simple and quick sew, I don't really have tips for you.
I opted for some sleeveless Marit's, with a scoop neck. I was missing those in my wardrobe so Ann had perfect timing with this pattern. My next one will be one with the ruffle. As for alterations I only lengthened the red version because that is how I prefer my tops.
---
My name is
Elise
and I live in Queensland, Australia. I made a V neck flutter sleeve Marit. This top is a super easy sew and the final product looks really professional. I used a light cotton fabric which gives it a nice crisp look. I already have more in the planning to get my wardrobe stocked and ready for summer later in the year. .
https://www.instagram.com/seweliseium/
---
1. My name is
Meredith
and I live on the northern beaches of Sydney, Australia.
2. I made two tops, the first (white) one is a cotton I have had in my stash for over 10 years, the second (blue) one is a cotton sateen from Nerida Hansen Fabrics. It was a remnant piece (only 70cm), and so was super happy that I could get a top out of such a small amount of fabric
3. When sewing the Marit, make sure you stay stitch neckline and armscye as they can stretch, and also take your time with the bind, marking quarter points and use LOTS of pins
4. My White Marit is the sleeveless version with high round neck, and the blue Marit is the sleeveless version with V neck. I used all the darts (bust, front and back) for both versions as I love how perfectly they make the fit of the top.
5. I graded the top with my usual alterations from bust to hip which was easy to do. No other alterations.
6. I'm looking forward to summer so that I can wear my Marit Tops. I know it is going to be the perfect 'go to' top for my summer wardrobe.
7. One of the testers lengthened the Marit into a dress and I'm thinking that I might do the same when summer comes around.
8. My Instagram page is
https://www.instagram.com/sew_mere_makes/
and I have a blog on the Minerva Site
https://www.minerva.com/people/1150385
---
Happy to see y'all over here because there's something fabulous new in the DS shop.
Marit top named after the gorgeous Marit, my sewing friend, so I had to make some! Easiest top to fall in love with and it has so many options, so there's definitely a version or multiple versions you'd like too.
I made two! The shortest length in a blueish viscose with scoop neck and v split, capsleeves and I skipped the waist darts front and back so it's a wide and airy top, which combines perfect, I wear it with my mom jeansshort and some chuck's for an easy look.
My other version is a flowery viscose with a lacey layer underneath in a vneck.
I left the lace hem as the selfedge for a nice finishing. Paired with a more dressy short and pumps it elevates so easily!
I've thrown both of them into my suitcase to enjoy them on our family trip.
Want to see more? Check out my Instagram:
---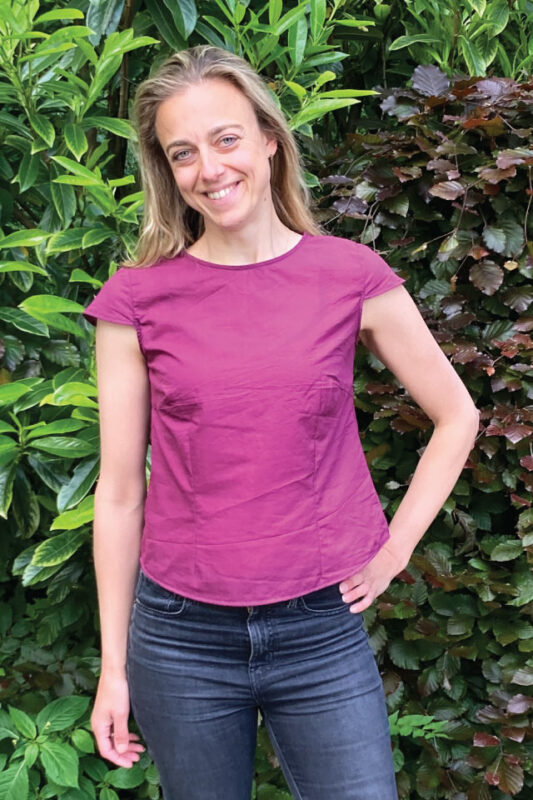 Hi! I'm
Sandra
from the Netherlands. I made two Marit tops: one from a thin cotton (sorry, don't know the name) and the other cotton poplin. It's a fast an easy project. I love the style: I can wear this to work for example but also at home or at a dinner. I didn't do any alterations. For my posture it was better to not do the high neckline. The scoop neckline looks better. So many options to choose from! I already cutted a new Marit top to combine with a nice pants .
---
Hi, I'm
Stephanie
from Oklahoma in the central United States. I made 2 version of Marit. My toilie was a red poly cotton blend that I made with the mid length vneck to see if I wanted any personal body changes other than my typical grading. I was happy with my fit and so moved on the the double layer with some silk panels I had bought from Mood several years ago. Because I didn't want to break the panels I omitted the diamond darts to allow for a little more flow. Marit is a quick sew and go got both tops done in an afternoon and they are great additions to my business casual wardrobe. I can style it casually with a pair of shorts or use it as a layer under a cardigan or blazer for work
---
Hello to all. My name is
Taryn
and I live in Cape Town, South Africa.
I used a printed satin from my fabric stash for my Marit top. When hemming the cap sleeves, I hand-basted the narrow hem in place before machine stitching to ensure an even finish. I chose to do the longest top length with high neck, cap sleeve, and waist darts in both front and back. I typically grade out from bust to hips selecting my pattern size based on the recommended measurements. I have worn my Marit but as it is currently winter, it hasn't been on full display. It is a great layering piece too and perfect for the office. This is a great pattern to have on hand and I will certainly be making more trying out every option there is. Follow me for more pics at
https://instagram.com/creatazzly
or 
https://facebook.com/creatazzly
---