Greetings to you my friends and welcome to Part 2 of the Marit Shell Top Rockstar Pattern Tester Roundups
I see by my web site stats that you were all totally wow'ed by yesterdays installment of our roadies and I guarantee it will certainly continue today.
Our Marit Shell Top is a timeless piece that offers a modern approach to feminine dressing. The new Marit Shell Top will see you through all occasions, throughout all seasons.
The Marit Shell Top is simply a sophisticated and simple touch of ESSENTIAL style.
So off we go my friends – please shoutout for our Rockstar Pattern Roadies in Part 2 of the Marit Shell Top Roundups.
And don't forget Part 1 if you haven't already visited with our roadies from yesterday – Part 1 of our Marit Shell Top Rockstar Pattern Tester Roundups.
They would like to share with you the following.
1. Your name and where you live ?
2. What fabric combinations did you choose and where did you purchase.
6. Have you worn your Marit ? – and if not what plans do you have for your
Marit Shell Top
 ?
And the finer details; (AU/UK) 6 – 30 (US) 2 – 26 (EU) 34 – 58
Cup Sizes – A, B, C, D and DD (E)
On Sale for a limited time only – $9.95(US)
Very Confident Advanced Beginner and Above Sewing level.
---
Hello I'm Ashley Riley a sewist from Central London, England, UK.
Today I have here to share the amazing new Marit top. I used a non stretch crepe that has a lovely summer print and really shows off the top. I got this fabric from a facebook group Snapdragon Fabrics Community they are in the UK.
My tips would be to read the measurements chat to make sure your making the right size plus there is also different cups to get the best fit. Also make a trial run in old fabric but same weight as your good fabric. I went for the ruffle sleeve option which is really cute.
I styled my Marit with my Page skirt also a Designer Stitch pattern both make a great summer outfit.
I made the shortest length as I'm only 5 foot with was the perfect length for me, I plan to make many more and try out the other sleeve options.
---
My name is
Synthia
and I live in Central Ca. Love both my Marits. I made two versions, a v-neck, double layer with the cap sleeve, and I used voile fabric for the outer layer and a sheer fabric for the inner layer. The other Marit, I made a v-neck sleeveless, single layer. I have enjoyed wearing both Marits for the nice summer weather, here where I live. Tip, have fun creating this Merit shell design. I did need to grade down the center front about 1/4″, this way the v-neck point would lay flat. I did sew up a 3rd Merit to wear for a later time. Thank you Ann for another fun design.
https://sewsynsewn.blogspot.com
https://www.facebook.com/Synthia20000
---
hi all, I'm
Shardee
from the netherlands. I used a mix of viscose/linnen for my marit. It's really flowy fabric. And it wears so soft
I bought it at the local market on Wednesday.
I wear my marit with a denim skirt, but it can be classy with a colbert .
The marit is a quick sew and the look of it can be chanced by sewing the front darts.
---
I'm
Lindsie
from the Philadelphia area! I used a rayon from my stash for my top version, and a cotton shirting from Mood for my dress. One hack that made things a bit easier for the dress version was cutting the back on the fold instead of sewing the placket — totally doable for the scoop neck option, which I used on both my top and dress. I needed a 5″ full bust adjustment, and I also had to play around with the waist darts a bit to find an ideal fit. I'm really excited to try a v-neck next!
Blog:
sewbusty.com
Facebook:
https://www.facebook.com/sewbustcommunity
IG:
instagram.com/sewbusty
---
hi all!
Marit
here, making… Marit! Isn't it crazy? I am deeply in love with this comfortable allround shelltop. Fancy with a skirt and heels for the office, or casual with jeans! I have made a viscose one with flutter sleeves and a silk double layered sleeveless.
I still have to more tops in the wait, it is just so versatile!
---
Hello, I am
Allison
from the Milwaukee, Wisconsin area. I made the Marit Shell for my teen daughter.
Marit is great for a variety of wears with a wide range of options. I made Megan's from a very light weight linen with a small embroidered white flower. My fabric was obtained from my stash and gifted to me from a friend. I almost did not save it because there wasn't much. Very glad I added it to the stash, as it was perfect for this pattern.
Marit is a very easy sew. As always take new measurements and make a fit piece. Then make every a whole closet full of tops.
Megan hasn't worn it out in public yet, as she is working at a day camp which means wearing things she can get dirty. For the photo she styled it with a lightweight crinkle skirt and a bright chiffon scarf for a pop of bright color. The scarf also works well for some added coverage in the cool evenings. We definitely plan to make more of them.
---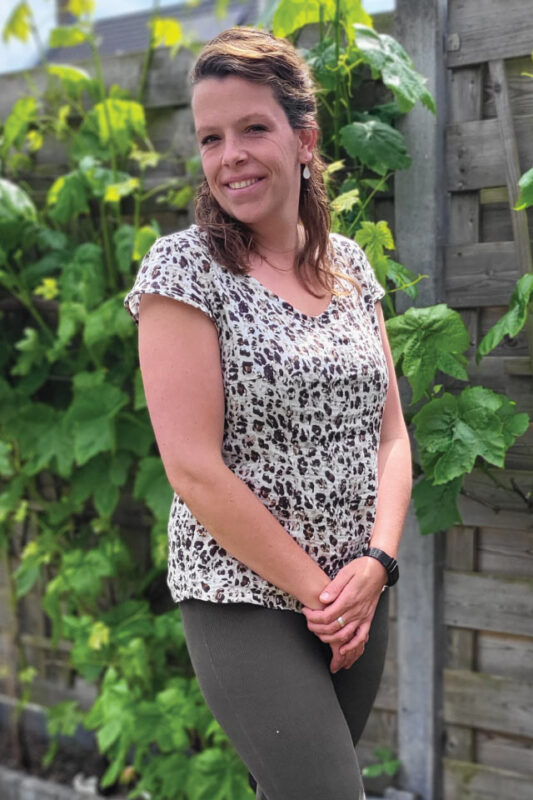 Hi, I'm
Jackie
from the Netherlands. I loved making the Marits. If decided to make summer versions from double gauze and viscose for a breeze light fit. When you follow the instructions for picking the size you will have a perfect fitted garment. The darts are quite some work but gives a very nice fit. I needed to deepen out the armhole with with the sleeveless version because it was a little to tight. It's a very versatile pattern and love making it.
---
Hey, I'm
Mieke
from Belgium.
I used a crêpe fabric from La Maison Viktor which was in my stash for a while. The Marit top was the perfect project for this beauty.
I don't have a specific sewing tips because the instructions are very clear. Just take your time when you sew the neck and arm bind for a neat finish.
You can combine so versatile. I was wearing the top on my jeans, shorts and a dressy cotton pants.
I did my normal alterations that I always have to do. The armholes were lowered by 2.5 centimeters. I went for the scoop neckline, ruffled cap sleeves and the longest cutline.
I was already wearing my Marit top on my shorts (finally the sun is shining in Belgium) and everyone loves it. I think this will be my most worn piece this summer.
---
hello! My name is
Sue
and I live in South Dakota. My Marit is made in a lightweight non-stretch woven that's been in my stash for quite a while. I believe I purchased it from Greenstyle Creations. Using a lightweight fabric is so important so you get that lovely fall from the shoulders.
When making this top, it is so very important to carefully check the placement of the darts on your body. Carefully sew and press every step of the way as well.
I love my Marit for all the styling options! It looks great with jeans, under a jacket, and with a skirt.
My only alteration was to make a slight sloping shoulder adjustment.
I have worn my top numerous times and gotten nice compliments from people I've never met.
I would love to make the double layer top with the outer most layer in lace and the inner layer in a solid. I also purchased some beautiful lightweight linen so I'll be making several more of these!
I hope to see you there!
---
I am Girl in Uniform
Lieve
from Ghent in Belgium. I made the Marit in a beautiful viscose crepe from Lady McElroy. The top has a lot of options, but I opted for a simple V-neck, sleeveless, mid-length version. The darts at the front and back ensure a beautiful fit. I just did a sway back adjustment. Summer has just started here in Belgium, I will definitely wear this often! Do you want to know more? Follow me on
www.girlsinuniformblog.com
or on
www.Instagram.com/girlsinuniformblog
——————————-