And a happy holiday weekend my lovely sew'ist friends from Phillip Island. We are celebrating Australia Day this weekend and the holiday tourist crush is well and truly on at Phillip Island.
Today I would like to share with you our first part of the Olivia Bralette-Knickers-Briefs-Panties Tester Roundup.
🔥🔥🔥 Sensual, Sexy and Smokin' Hot 🔥🔥🔥 is how you will feel when you make the Olivia yours !!!!
For a Confident Advanced Beginner and Above Sewing Level the gorgeous Olivia is a stunning 2 piece soft lingerie set that can be made in a myriad of stunning luscious fabrics.
Offering a fabulous size range along with cup size choices the Olivia is a garment that suits everyone
The finer details : On Sale for a limited time only – $9.45
(US) (AU/UK) 6 – 30 (US) 2 – 26 (EU) 34 – 58 . Cup Size – B, C, D, DD(E), F
https://designerstitch.com/shop/olivia-bralette-knickers-briefs-panties/
So my friends get ready to be absolutely BEDAZZLED with our amazing roadies – Part 1 – and their STUNNING Olivia's !!!
I have asked each of my roadies to share with you the following:
1. Your name and where you live ?
2. Your choice of style for the Olivia and why ? (ie leg heights etc) And what changes if any did you do to the pattern – ie splicing etc
3. What fabric did you choose and where did you purchase.
4. What sewing tips can you share when sewing the Olivia ?
5. What was your favourite thing about making the Olivia ?
6. Have you worn your Olivia yet and what compliments did you receive.
7. And how many more are you making ? What plans do you have ?
8. Social media URLS
Love to you all xx
Ann at Designer Stitch. xx
---
Hi my name is Ashley R and I'm from London.
I have made the cheeky high leg front and back and love them, I also took off 1.5 inch from the height to lower the waist to sit where I liked them, I'm also small on the top but the b cup fitted lovely.
I choose to use stretch lace and velvet to make my Olivia set. The fabric was from a Facebook group called Coalville Fabrics but only post in Uk.
The only sewing tip I have is when sewing lace take your time and use a zigzag stretch stitch.
My favourite this about this set is that it makes you feel sexy 😊 This pattern was pretty simply to make if you follow the instructions you won't go wrong!
I have worn my Olivia set a few times now and have to say my partner hasn't complained 🤣 I also had a few friends ask for a set for themselves that must be a good thing!
I plan to make many more in lace and I think a red pair would be perfect for Valentine's Day!
Instagram: https://www.instagram.com/madebyashleyriley/
---
Hello! My name is Kelly and I'm from sunny California, USA.
Having a larger chest usually presents a few hurdles with bralette patterns, but when Ann announced the sizing for the Olivia I jumped at the chance to test it!
I made the bralette first and was so pleased with how well it fit (8 DD). The knickers I did a few trial pairs of to get the fit I wanted – I blended a size 6 out to an 11 waist, which was quite straightforward to do. I've made 3 sets so far with a 4th on the way, so I've had a chance to try most of the leg heights – and they're all great!
For my pleather & lace set I skipped the elastic binding – the pleather has enough structure not to need it. It's so fun to play with lace for the cups with a solid fabric for the rest. I also added a scrap of the lace at the leg seam on my thigh – just sewed it to the back side, easy-peasey.
I've also used scuba, dbp, and mesh for other sets – they all work well. One tip – if you've never used foe before, practice on some scrap fabric first!
I love how involved my husband became in the process of picking out laces and different fabrics 🙂 They have definitely been his favorite makes that I've sewn! And I just love how feminine they make me feel 💕
You can find more of my sews on Instagram!
https://www.instagram.com/kellygonthierart/
---
Howdy! I'm Mary N and I reside in Oklahoma, USA.
For my Olivia I chose to do the high waisted undies with the boy leg cut. This cut gives off a very vintage vibe which I totally dig. I ended up taking about 2″ off the bralette since I have a short torso and my bra and undies were overlapping otherwise. I also created contrast panels on the undies to match what I was doing on the bralette. I lined everything in nude powermesh to add a little more support and to have all seams enclosed. Something else that I found I liked better was sewing the leg holes and waistband elastic in the round meaning I attached the elastic after the side seams were already sewn.
For my fabric I chose a beautiful deep green stretch velvet for the main body and a stretchy black mesh with a black velvet scroll pattern for my contrast pieces. The black mesh was already in my stash and the green velvet I found on Amazon (only $5 a yard!).
I really enjoyed making this set! I'd never made any sort of undergarments before so this was a real learning experience but I picked up some new skills along the way.
I've really only worn my Olivia set for my final pics so far but I'll definitely be lounging around, being fabulous in the future. I've shared some of my favorite photos on my social media and already gotten so many compliments! One commenter even said they'd kill for me 😆
I do want to make more sets either for myself or others. My sister has already asked for a set of her own after seeing mine. I'm also thinking of trying a few hacks and additions to the existing pattern. I'm seeing straps and cutouts in my future 😊
Facebook: www.facebook.com/mnseamstress
Instagram: www.instagram.com/mnseamstress
---
Good evening lovelies. I'm Melissa from Colorado, USA.
I'm so happy to be among the amazing testers that enjoyed creating all of these dazzling Olivias.
I sew for my adult daughters and myself and we are all curvy ladies. Each of us had different changes, my Olivia chose the modest highest leg knicker and I spliced in star printed stretch velvet for sparkling fun ! Her bralette required shortening in the back due to her sway back and I stablized her straps with woven bias tape for additional support for her large cup size. I added the same beautiful velvet to her knickers to create her lovely set.
My Chelsea chose red burnout velvet and I spliced it in on both garments as well. I shortened both her bralette and her knickers at the waist. She is also wearing the highest modest leg cut. Both girls are wearing an F cup and I used a weightier performance knit to provide additional support as well as stabilizing their straps.
I've made several additional sets and all are beautiful, including one that I lengthened to a full cami in lace.
All of my fabrics were pulled from my stash but are readily available at Hobby Lobby and Joann's.
I chose my fabrics because the large cup sizes needed the support that the foundation fabric provided and I chose the velvet, because who doesn't need Velvet undies😊.
Truthfully my favorite thing about making the Olivia is that Ann has provided me with an incredible pattern in a size and cup size that is not available anywhere else that I know. That along with her generous guidance and encouragement is priceless!
Each of my girls love their Olivias and look forward to adding more to their wardrobes.
Thank you Ann for your trust, encouragement and love, you truly are an inspiration!!!
Http://Facebook.com/ Melissa.deeg3
---
Hi, I am Synthia LG, I live in Central California where it is very cold at the moment, not sunny California as we know. I love the Olivia set so much that I sewed up 4 sets and I am using them as undergarments because they are very comfortable to wear. I used a 220 gsm cotton lycra fabric for 3 sets, and activewear knit for another set. I did not use elastic of any type but did use very narrow bands, (3/4 wide). I also used power mesh for the bralette cups. An important tip is to make a muslin first for fit then adjust the pattern to match the changes, you'll have a master pattern to use over and over. I do plan on making more sets, one for every day of the week, with the boyshorts cut. Great design Ann Grose.
https://sewsynsewn.blogspot.com
https://www.facebook.com/Synthia20000/20000/
---
Hi my name is Amber, and I live on the Gold Coast Australia.
I chose to style my Olivia with black stretch satin and purple lace; the satin from a RTW slip and the lace from Tradeways @ Yatala. I did the highest cut front and back as that is more my style; I also spliced to add some interest to the underwear. I did my splice so that it lined up with the bra panelling as per the bra pattern. I did fully line my bra for support and used 20mm elastic for the straps.
I sewed this almost entirely on my overlocker; using a sewing machine zig zag for the top stitching. I did cut my bra cup elastics 1″ longer than recommended, and pinned with 0.5″ over hang both ends; this helped me get the elastic sewn on nicely.
My favourite thing about sewing the Olivia? well that's private 😉
I do wear it often as PJs; it's sooo hot and humid here so these bralettes especially help with the horrid boob sweat, are light and cool to wear in the evening, plus I'm breastfeeding so it offers easy access and also holds breast pads in place for overnight leakage.
I have plans for future sets in cotton Lycra fabrics for comfortable night wear. I will hack to add a skirt to make a nighty 😁
---
Hi everyone! My name is Kristin, I am from London, Ontario, Canada.
I chose to do the mid leg cut on the Olivia – it was the perfect height for me. I am not a lace and floral type gal, so my Olivia tells a bit of a different story than the others. I used bright and fun cotton lycra for the entirely of the garment (from my local Lens Mills Store), no lace or netting type fabric.
My best advice is to take your time with the elastic for a professional finish – rushing through elastic only ever results in disaster!
My favourite thing about making the Olivia was finally have the "perfect" pair of underwear.
I wear my Olivia any time it is clean – my absolute favourite and most comfortable set.
The next Olivia I make will be in swim fabric – will make the most perfect bikini!
---
I'm Sarah C I live in Virginia
I made all three versions of Olivia panties. I think the boy legs were my favorite. For my final version, I used wide elastic lace for the waist elastic and the band on the bralette. So pretty!
I used an old modal spandex shirt for one set, and some cotton lycra from another project for some others. Great pattern for scrap busting and upcycling!
Take your time on the elastic, it gets easier after the first pair 😉
They are easy to assemble and NO WEDGIES!
Yes, my husband is a fan… haha
I will be replacing my underwear drawer with Olivias.
https://www.instagram.com/yarndoggiedog/
---
My name is Vaida, I'm from Vilnius, Lithuania. Trying to sew my own lingerie has been on my list for quite a long time – and starting with Ann's pattern was a very good idea, because her patterns always are very precise and with perfect instructions. I made high leg front and cheeky high leg back for my finals, in some stretchy lace fabric bought in local shop (and cotton jersey for the gusset). As for the bralette, I used the same lace fabric and cotton jersey for the cups for extra coverage. I also made a test version out of regular cotton jersey and while knickers are in my drawer, bralette was "kidnapped" by my eldest. And – she asked to make one for her and for her friend (and that's a biggest compliment!).
My advice: always make a toile! And be extra careful when attaching elastics, do not overstretch!
I totally see more knickers and a couple of bralettes in my future "sewing life". I'll probably try to sew a swimming set, too :). Anyway, with Ann's pattern one have unlimited possibilities.
My IG account https://www.instagram.com/vaidab/ .
I'm still to shy to show my pics, but I'll try to persuade my eldest :))
---
Hi girls!!
1)I'm Anabel from Buenos Aires, Argentina 🇦🇷
2)I Chose modest high leg style, high waist(Nice belly living with me) and had to trace since size 7 for waist till size 5 for the hips measure… I am a 7 cup d size for bralette.
3) I bought "lycra de seda" I think it would be some like "silky lycra" there, in a local store, and chose its stamp because I love flowers and I wanna use it as swimwear/tankini, too😉
4) Take special care when sewing the edgings elastics and when pulling it and keep "without stretching" the fabric… (sorry for my basic english🙏🏽)
5) my favourite thing was to find a beautiful fit for the bra!!!🤩
6) yessss! The perfect fit(here un argentina you dont have the choice to male a perfect fit for brassiers, there are generical sizes like 85cm/90cm/95cm/100cm, and women like me(I have 112 for bust, have got to use sporting bras, or nursing ones😵🥺)
7) I have 3 more on plan to sew🙌🏽❣️❣️
8-
Www.facebook.com/Annie.Cruzcivit
Www.facebook.com/Civitana
Www.instagram.com/civitana
Thank you Ann very Much!! And all the support girls in testers group!! I really love the experience🥰🙌🏽❤️
---
I am Valentina from Carrollton Texas.
For my Olivia, I chose to make the cheeky leg cut. The pattern fitted me right away and I didn't have to make any changes.
For my white with hearts set I used a cotton lycra jersey from Fabric Fairytales.
For my black and white lace one (it's a print not actual lace) I used cotton lycra jersey from Jumping June Textiles.
It's important to make sure that seam lines are matched as not the outer edges. Especially for the bralette neckline. Take your time to align well.
I also found that I prefer to close the leg holes before applying the elastic.
I love how quick it is to make and how comfortable it is.
I have worn both my set multiple times. Mostly the bottoms. I haven't received any compliments as people don't see them. By hubby thinks they look great.
I plan to make a few more bottoms.
Instagram: Instagram.com/the_engineer_seamstress
---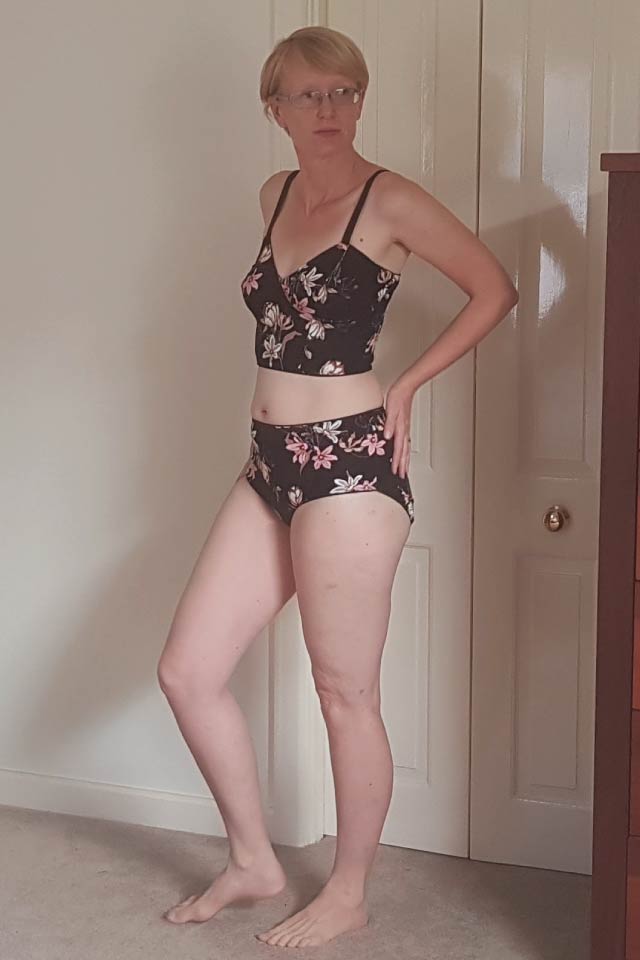 Hey, it's Narelle from Perth, Australia. I made the modest mid leg knickers as that line best matched my favourite knickers. The changes I made were lowering the knickers waistline by 2 inches and shaping the upper cup area to match my curves. My fabric is a lightweight jersey from Spotlight. Olivia is for personal use only to make me feel amazing.
---