Greetings my lovely sew'ist friends and WOO HOO – Get ready for some stunning-ness …the 2nd installment of the Paige Skirt Roadies Roundup is here.
Our blog posts allow me to showcase each of our roadies and for you to read each of their stories – none more so than for the Paige Denim Skirt.
And the best thing about my roundups ? – is that you get to know these wonderful women in more detail. I love and adore each and everyone – they are the top-most tier in the world of pattern tester professionals.
If you have missed yesterdays post – Paige Denim Skirt Tester Roundup Part 1 here is the link my lovelies xx – https://designerstitch.com/paige-denim-skirt-tester-roundup-part-1/
The Paige Skirt is more than your basic standard style and shape. Make a splash for work or play in this sweet a-line skirt that offers great styling and fabulous panel details. The Paige Skirt has been cleverly cut so that it sits flat over the hips whilst still giving the look of a fuller skirt.
The finer details : On Sale for a limited time only – $8.25 (US)
multi-sized pattern :
(AU/UK) 6 – 26
(US) 2 – 22
(EU) 34 – 54
Advanced Beginner/Intermediate Sewing Level.
https://designerstitch.com/shop/paige-denim-skirt/
So lets continue the Paige Denim Skirt Tester Roundup – Part 2 – and love to all of my amazing testers. xx
And they would like to share the following with you all :
1. Your name and where you live ?
2. Your choice of leg width of the Paige Denim Skirt and why ?
3. What fabric did you choose and where did you purchase ?
4. What sewing tips can you share when sewing the Paige Skirt ?
5. What was your favourite thing about making the Paige Skirt ?
6. Have you worn your Paige Skirt yet and what compliments did you receive.
7. And how are you styling your Paige ?
---
Hi, I'm Ashley R from London. I really love Paige and choose the shortest length as im only 5 foot and wanted it just above my knees which it does. I used a non stretch navy denim more like jean denim which i got from a uk facebook group called Coalvillefabrics at a good price.
My only tips on sewing Paige would be to read through the tutorial and take your time no need to rush. Paige tested me a little with top stitching as i don't do it often but you have to do it as Paige won't look the same without. I would used a brighter thread so they stand out.
I love the shape of the pocket and who don't love pockets. Paige has been out a few times now the weather is warmer and i got asked what shop it got it from which made me feel really good knowing i made it. Paige can be styled with heels for a night out or sandles.
https://www.instagram.com/madebyashleyriley
---
Hi my name is BreeAnna L and I live in Dunlap, TN, USA. I chose the longest length of the skirt because I don't like my skirts too short, since I have long legs. It ended up being too long, though, with the standard hem so I hemmed it at 2″ instead and absolutely love the wide hem. I chose a colored denim fabric because I love the weight of denim but also a pop of color! I was also super excited to be able to use all of my "scraps" from my circle skirt I made a while back thanks to the construction of the Paige. My fabric came from Nick of Time Textiles ( https://nickoftimefabric.com/col…/denim-solid-woven-fabric).
My biggest tip while sewing the Paige skirt is to make sure you follow the instructions closely! Ann does an amazing job of explaining just what you need to do to make the skirt look the very best!
My favorite thing about making the Paige skirt was piecing all the different parts together and topstitching all of them. I'm lazy when it comes to top stitching so this was a great way to get me more comfortable with it, plus the detail it adds is amazing!!!
I have worn my skirt a couple times and I've had people compliment me saying that it fits well and looks great on me. I styled mine with a loose v-neck tshirt tucked in and sleeveless camo vest over it.
Social media:
Facebook: https://m.facebook.com/hillbillyhobbyfarmdunlaptn/
Instagram: https://www.instagram.com/hillbillyhobbyfarmhandmades/
---
My name is Elise and I am from Queensland, Australia. I absolutely love this skirt. Whenever I tell people that I made it they don't believe me. The top stitching and pocket details give it such a professional finish. The length I chose was 50cms, I just really like when structured skirts finish at the knee.
I made my Paige out of Cord from Spotlight. Living in Queensland, cord is perfect for winter, not too heavy not too light.
I have been styling mine with long sleeve top, boots and stockings on the colder days. Paige is really versatile and can be worn all year round. If you are using a material like Cord, be careful not to loose your top stitching. I had to lengthen my stitches so they did not disappear. I also used a contrasting colour so they would stand out. I already have another one planned. In fact I just hear the washing machine bell indicating that my denim is ready to hang on the line. Yeay.
---
Hi everyone! I'm Kee from Melbourne, Australia. I made my Paige skirt out of maroon cord with white top stitching (my toile) and brown wool with black satin lining and red top stitching. I chose the mid-length for both skirts so I could easily wear both skirts casually and at work. Make sure you don't start top stitching the side seams until you've tried on your garment – I cut out a size 4 to match my hips, but I was able to get a really nice fit everywhere else by pin fitting on my body.
The Paige is quite an easy sew with great detailed instructions – my favourite part being the pocket construction. It was so satisfying cutting into the seam allowance, folding over the pocket and front piece and creating a nice taut corner (this will make more sense when you start making your own Paige 😜).
I wore both my Paige's to work and received heaps of complements from everyone – they loved the fit, the pocket detail, the top stitching and the tie belt. Even though it might be a "plain" skirt at first glance, there is just so many beautiful details!!
I style my Paige with a cropped linen top (sans belt) and ankle boots for a casual look. For a more formal work look, I pair my Paige with a tucked in turtleneck so I can wear the tie belt and my favourite black leather jacket. The possibilities are endless with this transeasonal beauty!
You can find me styling my Paige, along with my other sewing makes by visiting https://www.instagram.com/thekeetoacraftylife/
---
Hello, I'm Kirstie from Kent, UK.
I made two Paige skirts and I'm total in love with them. One in a 10oz denim and the other in a cotton twill. One of the stand out features of this skirt is the top stitching, choose a contrasting colour and invest in some top stitching thread, it is slightly thicker and stands out beautifully against the fabrics.
The Paige is a really good easy sew, and the instructions are well written with helpful diagrams. my one tip is to read and re read the instructions when adding the pocket panel to the center front panel. Make sure everything is marked and take time when sewing, trust me when this panel turns perfect it's one of those really pleasing sewing moments!
I love everything about this pattern the fit, the design, I have worn it multiple times now and everyone has said how good it looks, it can be worn with flats and a cute T for a more casual summer style or with heels and statement shirt for a perfect date night outfit!
You can find all my Paige skirts on my instagram at https://www.instagram.com/cutting_thread/
---
Hello I'm Girl in Uniform Lieve from Gent in Belgium. I wanted to make a dressed yet spicy Paige, so I opted for 50 cm length. That way it falls a bit above the knee, but it stays neat and tidy. I made the skirt in middleweight blue jeans from Textielstad. Lovely light for spring and summer, in a beautiful blue. I chose black topstitches because I wanted a classic look. If you want it a bit more modern, you can choose a contrasting colour, but beware: every deviation catches the eye.
So make sure you stitch slowly and precisely so that your stitching stands out in a good way. The Paige is not difficult to make at all. Don't be put off by the many pattern pieces or the special pocket in the front. If you follow the instructions step by step, you will have a good result anyway.
I already wore the skirt a few times and every time I get compliments from my husband. I don't see many other people during this corona crisis… but I don't need compliments to know that this is a 'masterpiece'. You can combine the skirt in different ways. I chose a festive blouse with flowers and heels, but yesterday I wore it with a hip t-shirt and sneakers. That works too!
More photos and information can be found on www.girlsinuniformblog.com
or www.instagram.com/girlsinuniformblog/
---
Hi, here is Marieke from the Netherlands.
I am the proud owner of three gorgeous Paiges! For every Paige I used a different fabric: wool, terlenka and denim. I topstitched them all with contrast color thread and I used 2 threads through the needle to get the effect/thickness as denim thread.
I love, love, love the fit, the look and the silhouette the skirt is giving.
I worn mine already a couple of times and I combined it with a simple tshirt, a blouse, a top, my favorite combination, with the Sylvia and worn it with boots, high heels, sneakers and, and, and.
It's not only a versitale skirt, it's transeasonal too! Although I am happy the Summer is coming, I can see this skirt with boots, a turtleneck sweater and, and, and 🙂
When sewing your own Paige, make a toile first and enjoy the topstitching!
It isn't a difficult skirt, but it's a super relaxed and satisfying sew. Take your time and enjoy!
You can always have a look at my Instagram page too. Https://www.instagram.com/jongdesign
---
Hi! My name is Michelle E, and I live in the United States.
I ultimately chose the 60cm length Paige, because I love that length. It's perfect for everything.
I used a woven duck from Hobby Lobby for one of my skirts and pleather from Joann's for another. I thought about denim (and that certainly would look so beautiful) but I've had so many denim skirts in my life I wanted something a little different for myself.
The best advice I can give you is to pay attention to the pocket corners in step 4 and 5. They really make or break the skirt.
My favorite thing about making this Paige was the bright pink topstitching I got to do on one of my skirts! It doesn't show well in photos, but looks great in person. I love that it's a such a fun detail.
Find me on Instagram at @meeisele.
---
Hi, I'm Shardee from the Netherlands and I'm addicted to the Paige skirt 🙈
I made 2 already and have ordered new fabric for another 3 😱.
The Paige is beautiful in all kids of fabric, I made them of wool and in fake leather. The fake leather is absolutely my favorite one.
Because I wanted the Paige to be the eye catcher, I wear a simple shirt on top of it.
The fun part I found topstitching. I really makes a big difference in the look of the skirt.
If you like to see more of my work and a bit of my private stuff, follow my instagram www.instagram.com/sdvtje
---
Hi, my name is Sonia L and I live in SW Missouri with my husband and fur baby, Dune.
I chose the longest length for my Paige skirt as this is the length I feel most comfortable. So far I have made two Paige skirts one is a denim and the other is a light to medium weight woven. These were both purchased at my local fabric shop unfortunately they don't have any online resources.
The biggest sewing tips that I have is 1. pay close attention to the seam allowances for each step. 2. When you're sewing your pockets make sure that you're paying close attention to snipping out the corners it will make for a nice flush corner with no puckering.
My favorite part of sewing the Paige skirt was the zipper insertion it really adds a touch of class.
I love to style my denim page with a pair of boots and a nice bolero jacket and at tucked in tank or T-shirt. I like to dress up the pink Paige a little bit more and wear a black blouse tucked in so that the tie can be featured.
Blog – http://www.sewsowforth.com/?m=1
Facebook – https://m.facebook.com/sewonandsowforth
IG – https://www.instagram.com/sewsowforth/
---
My name is Valentina and I live in Carrollton, TX, USA.
I made 2 Paige skirts during testing – one was my toile which was 50 cm, and after trying to it on I decided that I would like it shorter, so I made my final one 45 cm.
I used a denim fabric that I purchased from Joann Fabrics.
The skirt is not hard to sew. The tricky part is to get the sharp pocket corners. When sewing the pocket, I left me needle down when I got to the corner, then I rotated my fabric, clipped the corner of the main skirt piece (front middle), and continued sewing in the perpendicular direction. The trick is to make sure you stop and start at the exact same spot, and you clip directly across from that spot.
My favorite thing about this skirt is the huge pockets and all the top stitching. I love topstitching so this is heaven for me.
I haven't worn the skirt yet, unfortunately. I don't go out and I live in leggings and sweats nowadays.
For styling, I think it will looks great with flats and sandals, and since the skirt is solid color, I can wear a top with a print.
My Instagram is @the_engineer_seamstress
Instagram.com/the_engineer_seamstress
---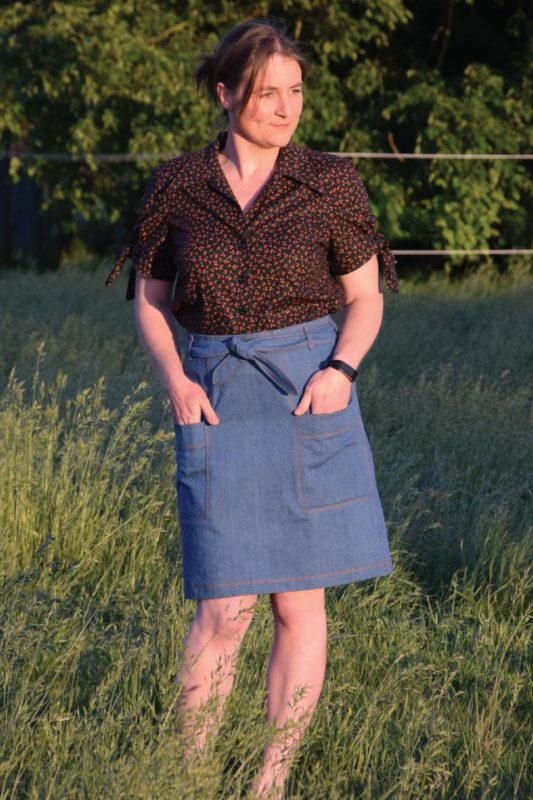 Hello I'm An Ca from Belgium. I made a Paige in knee length because That's my favourite skirt length. I Made it in timeless blue denim.
My favourite things about this pattern are the topstitching and the beautiful higher waist.
My best tip for sewing Designer Stitch patterns is to always follow the instructions because they explain every detail from the sewing process.
I styled my Paige with the vintage blouse for a perfect outfit to go to my kids at school. If you like my work you can see more of it on my blog: http://flaxfieldsewing.blogspot.com