Ding Ding !!…lol…welcome to my first installment of the Remi Cami Top and Dress Pattern Tester Round-up. As always I love that you take the time to come over and read what my amazing roadies share with you. As you will know from past blog posts I adore and appreciate everyone of them and they play a massive part in the process of releasing a new sewing pattern.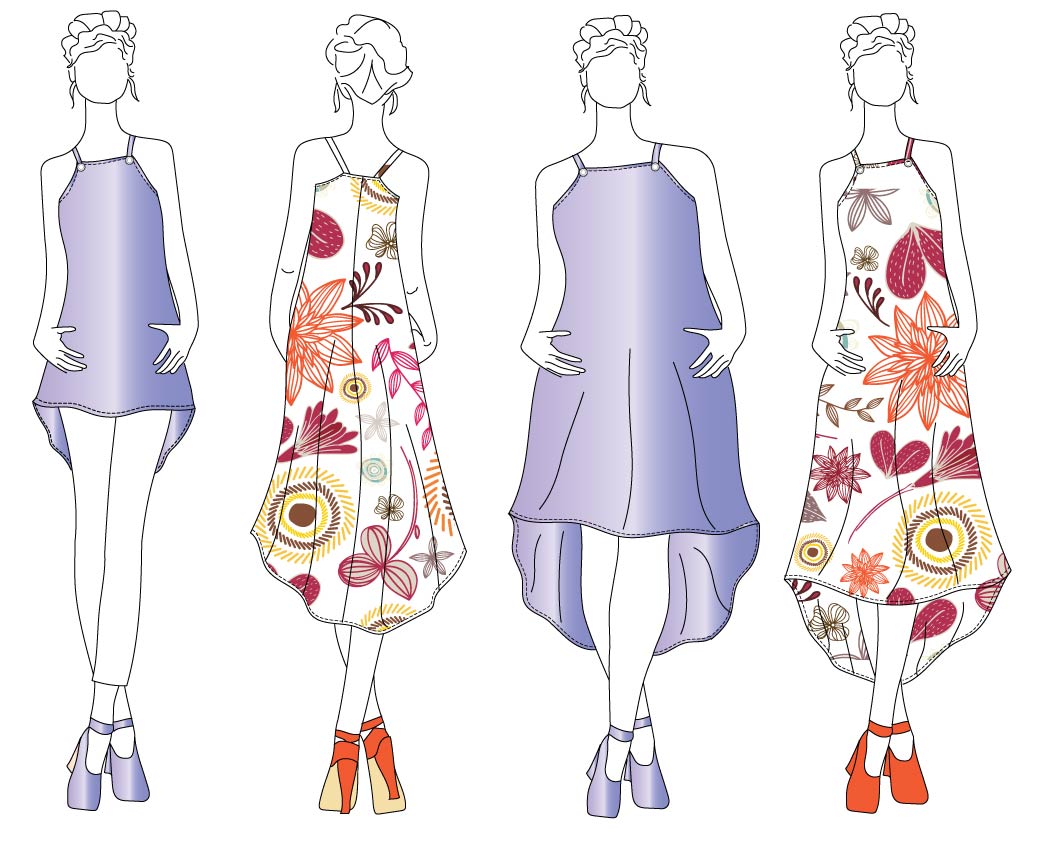 The Remi is a gorgeous Cami shape Top or Dress that is so easy to wear yet so elegant. Offering 3 lengths – High Thigh, Above Knee, and Midi the Remi is suitable for all figure types with its half circle back and will look absolutely fabulous in your chosen soft and flowing fabric The Remi Cami Top and Dress is an elegant easy wearing shape suitable for all figure types. With a high squared front and lower back – along with a bias cut 1/2 circle back body – the Remi is a floaty and very easy to wear style. Make your Remi in a soft and flowing Rayon, Silk or Georgette type fabric to fully maximize the gorgeous ethereal vibe the Remi emulates.
The finer details : On Sale for a limited time only – $7.95 (US) (AU/UK) 6 – 28 (US) 2 – 24 (EU) 34 – 56 Cup Sizes Included – B, C, D, DD (E)
So let us now get underway showcasing my amazing roadies and their equally extraordinary Remi's.
And I have asked them all to share with you:
1. Your name and where you live
2. Your choice of style for the REMI and why ?
3. What fabric did you choose and where did you purchase.
4. Given that it is quite a simple garment to sew what tips can you share when sewing the individual garments parts ?
5. What was your favourite thing about making the Remi.
6. Have you worn your Remi yet and what compliments did you receive.
7. And how are you styling your Remi ? 8. Social media URL'S
---
My name is Andrea and I live in Annapolis, Maryland. I made the cami length version of the Remi in a rayon challis fabric from Joann Fabrics. The most time consuming/difficult part of making the Remi was cutting the back pieces on the bias and making sure the fabric did not slip—l used a lot of pins! For photos, I styled my Remi with a pair of wide leg linen pants, but it also looks nice with shorts and jeans. My favorite part of the Remi is the way it flows and catches the breeze while it is being worn! My Instagram is https://www.instagram.com/andreashpuntoff
---
Becca from Northern Florida. I chose the cami length for 2 reasons. The first was that it was the perfect length to pair with jeans or slacks for that fun night out and second to focus on a beautiful gradient turquoise fabric I had purchase last year in Sri Lanka.I felt it was the perfect length to really showcase the color change. I really truly think this is one of the fastest and easiest patterns I have ever made. Especially for the finished product. I mean WOW each one of them is stunning! I did learn how to do rivets for the first time. I love learning new things….So I wore this right after I finished it on a girls night out. They LOVED it and I felt amazing. So stylish but it was also fun with the way it floated in the breeze. That night I wore it with white skinny jeans.
---
My name is Catherine C and I live in St-louis-de-blandford Québec Canada. National capitale of canneberies 2. I love gorgeous street style and everyday clothes. 3. I used Georgette because it was one of my favorite fabric on my stash. I love new stylish of vertical line also. I bought this fabric 6 months ago at La grange du tissus ( tissus en ligne) 4. Very easy and fast to sew. 5. I loved To put eyelet for my first time 6. My friend told me I look like a fashion girl at our last girls night out. 7. I wear it with skinny jeans, legging or short. Thanks Ann Grose for that beautiful tank
---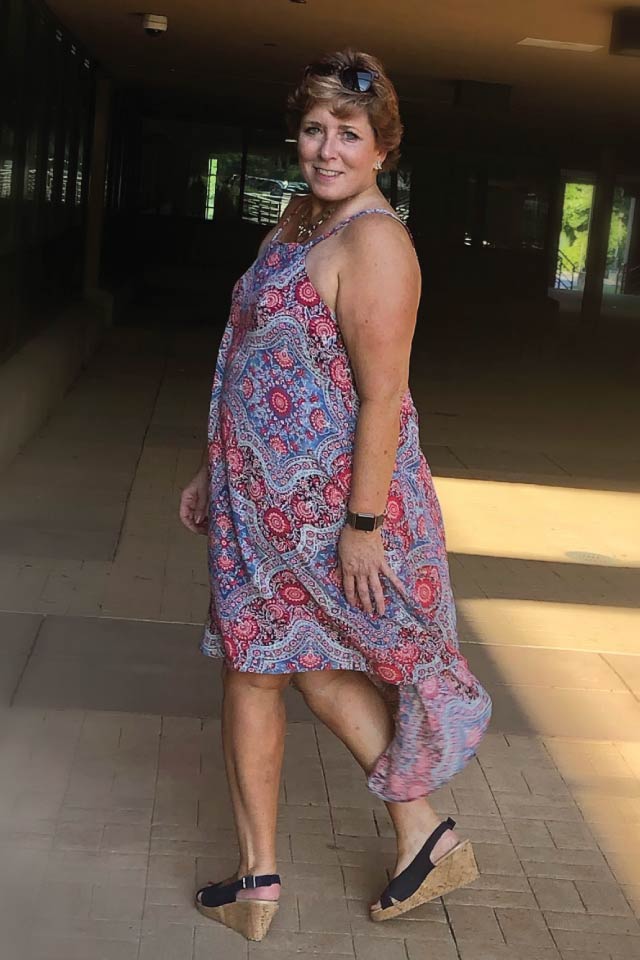 Hi I'm Dawn from Lancaster, Pa. I chose both the cami and knee length dress as I love both of them. I used rayon crinkle for both which I purchased at JoAnn Fabrics( my place of employment ). It's a super quick and easy stylish pattern . I love the grommet details added to an easy pattern. Have worn it out to dinner and my bf said how nice I looked. I wear the top with crop denim and espadrilles and the dress with wedge heels. Such a fabulous pattern with great details and instructions
---
My name is December O'S, and I live in South Florida, USA. I chose the midi length for the Remi because I wanted something perfect for the beach this Summer. My fabric is a gorgeous Rayon from Joann Fabrics. I had never sewn eyelets before this so my tip for that would just be to place a practice one on scraps of your main fabric first. My favorite part of making this dress was the gorgeous flowy fabric I got to use. I wore my Remi to the beach recently and my sister requested I make her one next! I style my Remi with sandals and minimal jewelry. IG: https://www.instagram.com/decembwar/
---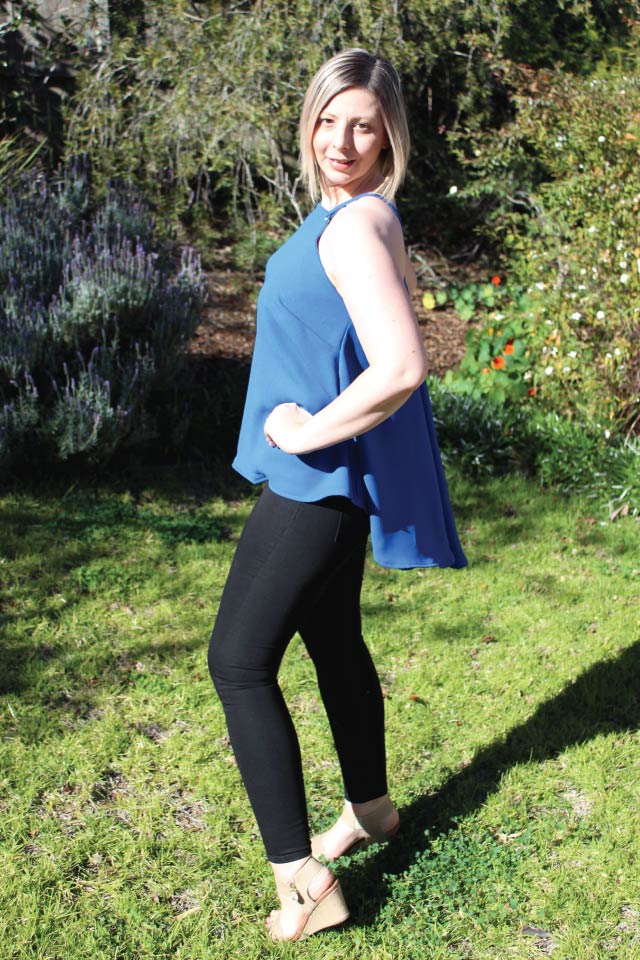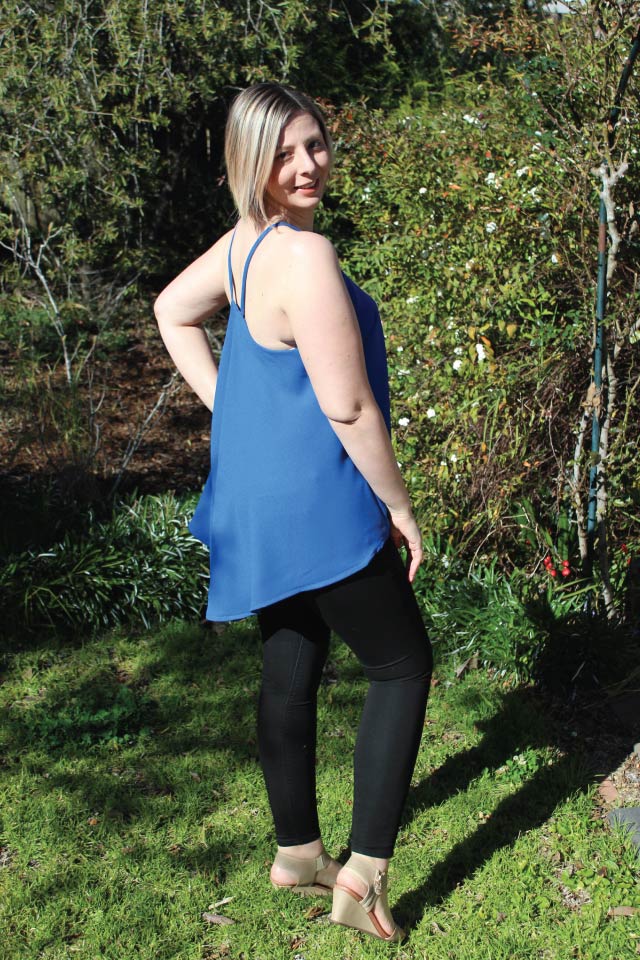 Hello, my name is Elise G and I live in Toowoomba, Australia. I made the Remi Cami because it is currently winter here in Australia and I thought the top would look amazing paired with a jacket, pants and boots for a night out on the town. I have made my Cami from a beautiful electric blue Gerogette from Lincraft. I love that it holds it's structure slightly. I loved how simple the pattern was to make but because of the 1/2 circle back cut on bias and the grommets it has a very professional look. My tip is to make sure you are accurate with your seam allowance otherwise you may have issues when sewing in the lining and be careful not to stretch your back piece as it is cut on the bias. I can't wait until summer arrives so I can take this beauty out and show off all the back details. https://www.instagram.com/seweliseium/
---
I am Gabz J from New Mexico, USA. I sewed up the top version of Remi. I love it because I am a bit short and this version is like a mini dress for me.. I used Rayon fabric for this project from Fabricmart. This pattern is very easy to make but it could be tricky when you use very light and super drapey fabric. The only thing that I can say is—- Ppppiiiiinnnsss and lots of Ppppiiiiinnnsss. My favorite part when making Remi are the grommets. I wore my Remi with a huge hat at the park and many of the parents asked me where I bought it… They said it looks great.. If ever you wanna see my other creations, please follow me at www.instagram.com/itsewcolorful or subscribe to my blog https://itsewcolorful.wordpress.com , you may also like my fb page www.facebook.com/itsewcolorful
---
Hi, I'm Genevieve G and I live in Johannesburg, South Africa 🇿🇦. I chose the make the Cami length because I knew that I could pair it with so much. I was blessed enough to be given fabric by a friend when her mom passed and I used some if this beautiful, vintage fabric to make my Remi. It's very soft, so I thinking a type of Rayon Challis. My tip is to practice on some scrap fabric before putting in the grommets. This is such a beautiful garment that it would be a shame to ruin it by not putting in the grommet properly. My favorite thing about making my Remi was watching that beautiful silhouette take shape and using my very special fabric. As it's winter here and cold, I haven't had a chance to wear mine yet but I'll be wearing it often come summer. I'll be styling mine with either jeans or shorts and cute sandals – pretty much something I will live in. I need a dress too now. Https://www.instagram.com/gegiegrossmann
---
Hello ladies, Inge from Belgium wearing my Indian summer Remi dress. When I saw this soft silk green fabric I knew this was a match made in haven, I love the feeling of this soft and flowy fabric. The dress is easy to sew, my challenge was the slippery silk fabric, the seam of the skirt is time-consuming but you can always use a rolled hem to sew even quicker. My favorite part of sewing this dress, all of the dress because it's ready before you know it :-). I haven't worn my dress yet but the comment on my pictures make me blush so again well done Ann Grose. Styling this dress is so easy, wearing slippers, a summer head and a wicker bag it's the perfect shopping dress. Wearing heels and a clutch you can walk into a restaurant and turn all heads….. You want to see more of me? https://www.instagram.com/madame_stof/
---
My name is Johanna A and I live in Fort Lauderdale, FL. I made the above the knee length because it's a good length for me since I'm short. I used a cotton fabric from Hobby Lobby. I don't really have any tips since it was so easy to make. I would suggest to follow the instructions on the grommet packaging for a clean finish. My favorite part about making the Remi was how quickly it came together. I also like the strap detail with the grommets. I have not worn my Remi out. I did receive a lot of compliments when I was taking my photos. 7. And how are you styling your Remi ? With a chunky necklace, and wedges.  https://www.soveryjo.com/…/the-remi-cami-top-dress-a…/ Facebook: https://www.facebook.com/soveryjo IG: https://www.instagram.com/soveryjo
---
Judith WB, Hi I am from New York City. It is boiling here this summer and this is the perfect dress for these hot days. I made the knee length dress out of Georgette fabric that is fully lined. I fell in love with this fabric from Elfriede's Fine Fabric. They are located in Colorado and were so helpful when I was looking for the perfect fabric. This dress is easy to sew and even the grommets were simple to install. However the Georgette fabric , was challenging. It was slippery but well worth the effort. One trick I learned with this fabric was to iron the interfacing on the fabric before cutting the pattern piece. This way the piece did not stretch and stayed the correct size. Also, take your time when sewing with slippery fabric and keep doing a fit test. I love the flow of this dress. I sent a picture to a friend , her son is getting married, very high end wedding and she said "Oh I must wear that dress, it is gorgeous." I feel beautiful and even sexy in this dress which is not easy at 64!
---
Rachel W, Sault Sainte Marie, MI USA. I chose the midi style since it is my favorite length of dress on me. I feel like I can throw that length on and wear it for any occasion. The fabric I chose was labeled a rayon challis but it crinkles up more than challis usually does for me. I bought it from Stitchin' Pretties. Ann's tip to attach the interfacing before cutting the facing pieces is good thinking! I never would have thought of that. I love how fast and easy it came together. It is a rewarding but easy sew! I have worn it and people tell me it's a cute/lovely dress. I am lazy with styling and usually just where it with some matching sandals but I would love to also get a cute sun hat to wear with it and wear it to festivals/farmers markets. Www.instagram.com/she.sews.sew.much
---
Sarah C, Virginia Beach VA 1. knee length dress because I love not having to match a top and bottom 2. this is the lightest weight cotton I could find on my honeymoon, found it in a little antique shop in Manteo, NC This was my 2nd garment with grommets, they were super easy to install, I was surprised! how quick and easy it is to sew 3. my mom loved it, and my husband said "that one's the winner!!!" with some heart eye gif when I sent him a pic in a text haha by the pool with my sun hat 😎 https://www.instagram.com/yarndoggiedog/
---
Hello! I'm Tamara from Belgium and I made the Remi Cami dress above knee length because for me it's the perfect light summer dress style. This chiffon fabric was waiting for this project, dark with subtle dots. As the fabric is a bit translucent I fully lined the dress which is just as easy. It's an easy sew but your fabric may be flowy and then it's best to use lots of pins. If you choose fixed bands, make sure to try on the dress before adding the lining/facing so you can adjust when needed. It's amazing how I was able to make a fully lined dress so quickly and I loved that. I think my dress is perfect to casually wear on a hot summer day, but for my pictures I styled it with high heels and a shawl and I felt ready for an evening out! https://www.instagram.com/lunatiek/?hl=nl
---
Hi there. My name is Taryn HS from Cape Town, South Africa. I chose the Remi midi length dress as I just love a longer length flowy dress. I went with a viscose floral fabric which I picked up at a local fabric store which sells fabric pieces by the weight. When I saw the navy floral peeking out from the pile, I held thumbs hoping that there would be enough meterage for the dress. Simple doesn't mean don't pay attention. As the fabrics for this pattern are lightweight, they can shift easily so careful cutting and pinning is essential. Be sure to mark the pattern pieces clearly (especially the centre back which I got mixed up on my first go and stitched the back side seams together instead. I only realised my error when the side seams did not match up). My favourite part about making Remi was the French seams (love the finish it gives) and then putting the grommets in as this was something I had not done before. I did enlist the help of my hubby for this part (and was sure to do a test one first). It is still winter for me at the moment so sadly have not been able to wear it as yet except for the tester photos which have already received some glowing comments from friends (and some begging to take orders). I can't wait to wear this in summer with strappy flats for a casual daytime look or dress it up with gorgeous heels for summer parties and date nights. But being a rather impatient sort, I might have to experiment with a fur jacket and boots for a winter styling option. More about me and my creations and moments of inspiration can be found at: https://www.instagram.com/tarynhaynessmart/ https://www.facebook.com/taryn.haynessmart
---
Rachael S – FL, USA Above the knee dress, I love how this dress flows and makes my legs look so long.This fabric is a chiffon/georgette type (is that even a thing)? I bought a mystery box a while ago and it was in it. Facings always give me problems with being too wide/small but I took my time and made sure that I cut the D cup facing and the D cup dress and all was good! I have to remind myself not to rush. This is such and easy sew and it is great because it accentuates my body while hiding my tummy! My sweet adorable 4 year old told me, "Mama, you are so pretty." My sweet sarcastic 12 year old said, "great, I have to go take your pictures now don't I!" 😂 I honestly think this dress can be worn anywhere dresses up or down, it is so comfortable. https://www.instagram.com/rsarafin