Hello my friends and a happy Tuesday to all of you. Another sunny day here in Australia but with a chill to the air – but glorious !!!!
And a big WELCOME to Part 2 of the Callie Pinafore Dress Tester Roundup Part 2. As usual I am blown away by your amazing reaction to the new Callie – everyone is just loving the modern but retro feel of the design that is such a hot trend at the moment.
And as you know I am so so proud of my roadies and their tester team – they are all such good friends and are really supportive of each other. Did I say I was PROUD…lol….xx
If you missed yesterdays post be sure to read the Callie Pinafore Dress Pattern Tester Roundup Part 1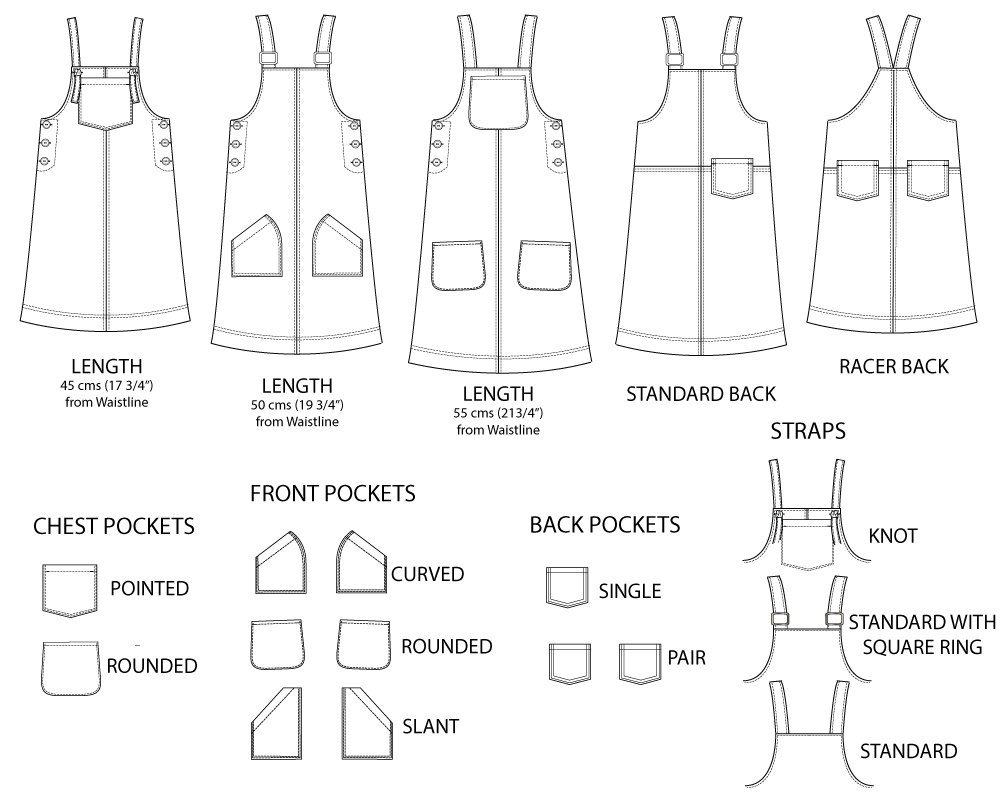 The Callie Pinafore Dress  is for a sewing level of Intermediate Sewist and Above.
On Sale for a limited time only – $8.95 (US)
multi-sized pattern : Women's
(AU/UK) 6 – 28, (US) 2 – 24, (EU) 34 – 56
Cup Sizes – B, C, D, DD (E)
https://designerstitch.com/shop/callie-pinafore-dress
So with further ado !!!!… here is part 2 of the amazing tester roundup of the Callie Pinafore Dress
Cheerio my friends.
Love to you all. xx
Ann at Designer Stitch.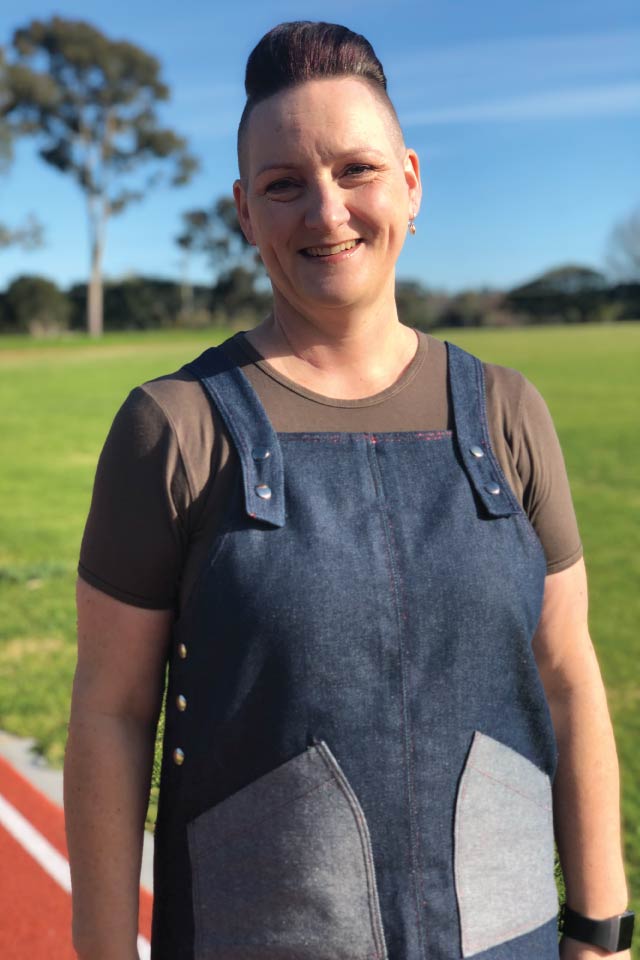 Hi, I'm Kim from Melbourne Australia so decided to make the new DS pinafore dress (The 'Callie') in Denim as thought would be great with a long sleeve top and some tights under it in this cool weather. I made the standard back but will def be making the racer back for my wardrobe in the near future and think I would love to try it in a good quality Linen for summer. I did the standard length which sits just above my knee which is a bang on trend length for a pinafore dress. I used a metallic contrasting red thread for top stitching as who doesn't love a contrast stitching on denim! I also did my pockets with the reverse side of the denim fabric to add some uniqueness to my Callie. My machine is playing up with button holes but used some great press studs instead which I love. I had to read through the side button are instructions a few times and very pleased that I made it through that section without my unpick, it can together perfectly.
---
I'm Kristin, from Ontario, Canada. I chose the mid length, racer back style – I always choose a racer back if I'm able to highlight my shoulders. I used a lovely printed denim from my local fabric store. My best advice is to read all the directions before even cutting anything else – and to take time and care when top stitching! My favourite thing about making the Callie was the options. So many to choose from in this pattern. I wore my Callie to a friend's engagement party – and everyone there was floored that it was handmade. They couldn't believe it wasn't from a high end store. For right now, I'm styling my Callie with a tank and sandals as it is summertime finally, however once the cool weather returns I'll be wearing it with my boots and a sweater.
---
My name is Lone and I live in Denmark.
I choose the racer back version of Callie because I like the more slim look on the back.
I made my Callie in denim. I love denim and I love the way top stitching looks on denim.
Top stiching is my favorite thing about sewing Callie, but it is also the thing that needs the most attention. A garment can be very well made, have a great pattern or fabric and still not look nice, if the top stitching is off.
My advice for great top stitching is to make sure your stitches are nice and even, you might have to play with the tension, and to make long stitches. Very long stitches. When you topstitch it is usually in places with many layers of heavy fabric, eg denim, making your normal stitch length for sewing appear very short.
And lastly of course; take your time. Sew slow. Enjoy the process??
I like to wear Callie with a fitted t-shirt. It is going to be great for Summer, but also with longer sleeves and boots for colder weather.
Blog
https://sewnbylone.wordpress.com
Facebook
https://www.facebook.com/lone.thomsen.92
IG
https://www.instagram.com/lonelot
---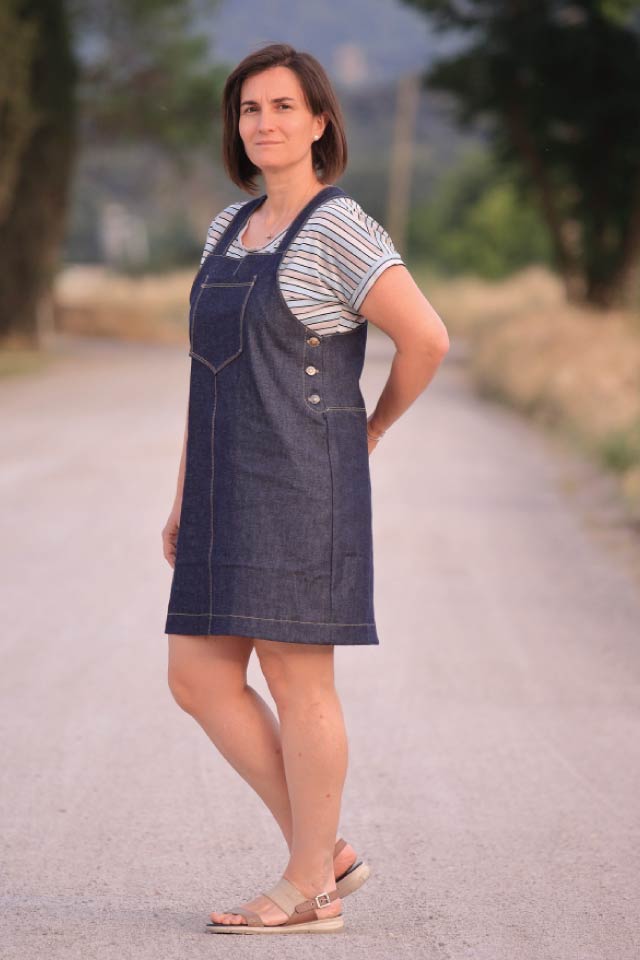 Hi! Maria here! I'm from Barcelona in Spain. I chose the racerback and medium length with just one back pocket because I like minimal and simple garments. I also prefer single dark colour fabric instead of floral or striped so I chose dark denim for mi Callie pinafore that I bought in Traetela shop. Because I used a denim fabric, topstitching was the only step that needed a bit of patience, but it was worth it.
I hadn't have a pinafore for a long time, maybe 30 years or so, and I enjoyed sewing it because it was my first handmade pinafore ever. And so, I have worn it twice this week pairing it with a bright coloured t-shirt and workmates only had good compliments for me.
www.madebymanagir.com
http://www.instagram.com/madebymanagir
https://www.facebook.com/pagemadebymanagir
---
Hi, I am Marieke and I live in the Netherlands.
When I saw the drawing of the Callie, I immediately saw the possibility to style it in a 100 ways!
I made two short versions with knotstraps (thisfar) and by using different fabrics, the result is so different!
The one I made from jeans is 'my everyday' pinafore. I am wearing it with s tshirt, fitflops or easy shoes.
In the winter I can see myself with a turtleneck sweater, thick thights and ankleboots.
My other Callie I made from a thin woven. I am not sure, but it could be Cambric.
This pinafore is making me feel sexy! I could use it for work, but with an off shoulder shirt it has a totally different effect!
It isn't a difficult dress to sew, but I took my time and enjoyed it to cut, iron, measure and topstitch it all in place as neat as possible. It doesn't matter, it is all working out: I used a coverlock for 1, a twinneedle, but sewing 2 rows next to each other was the most I liked.
That will be my advice to you as well: enjoy the sew. ?
Go through the instructions secure, don't miss a step and you'll manage!
Yes, I got several compliments already. Of course about the fit, but most of them of the professionell look of it. It isn't an hour sew, but it is worth it every minute.
You can have a look on my Instagram as well, I like to post some of my (other) makings as well.
https://www.instagram.com/JongDesign/
Or have a look here:
https://jongdesign.wordpress.com
---
Hi, Its Meiling here from Perth, Australia.
I went with the tie straps, normal back and slant pockets. I loved the way the tie straps looked, funky and on trend.
I used a cotton duck fabric from Spotlight in Australia.
Some tips when sewing would be to take your time when doing topstitching, and when doing the side button parts.
I love how great the Callie makes you feel and is perfect to style for summer or winter! I will be styling with tights and knee high boots for winter and a long sleeve top underneath.
I have not worn my Callie yet but hubby did ask why I wasnt wearing it out after taking pics for me ??.
You can find me sharing on my page at www.facebook.com/sewaholiccreationshttps://www.facebook.com/melissa.deeg.3
---
Hi, Melissa from Colorful Colorado, USA. I chose the Short Callie with curved pockets for my fashionista 22 year old. We used a medium weight chambray from my stash that I'd purchased from a local tailor. Callie is a fun and versatile sew but we faced a little difficulty in fitting due to her curvy figure. However, shaping the front and back seams and adding a little cured bust dart( see Ann's Blog for details) made all the difference!!!! Don't let the top stitching scare you, Topstiching is fun!!! I really enjoyed making Callie, she is a fun, trendy little number that compliments her curves like no rtw ever could! She has worn it to work in the fashion industry and always receives tons of compliments! today she is wearing Callie with a little t and berkinstocks/ converse, because who can decide, but she loves it with colorful ankle boots and a lovely felt hat as well. Thanks Ann for a fun sew! https://www.facebook.com/melissa.deeg.3
---
Hi, I'm Rachael from sunny Florida and I chose the the racer back Callie. It is full summer right now so I chose a mustard linen fabric and I made the longest length because I'm 5'10" and spend a lot of time chasing toddlers!
My advice for sewing the Callie is to slow yourself down and enjoy the process. The facings seem overwhelming but once I did them the first time the second time was a breeze. I also recommend pinning and trying pockets before sewing. I had to adjust pockets on mine because of my body proportions.
This look is completely timeless but trendy at the same time. The first time I wore it I had compliments from (GASP) teenagers, as well as multiple people. I love yellow and blue together so made a blue and white striped dolman to match!
www.instagram.com/rsarafin
---
Hi there, I'm Shardee from the Netherlands.
I love retro style, with a little touch of the modern time ??
The fabric I used is a chanel look fabric. With different colores.
When you are sewing take you you time, top stitching is so important
And the favorite part of sewing is finishing ?? because you can finally wear the beautiful dress.
And if you like to follow me, you can do it here ????
Www.instagram.com/sdvtje
Www.creashars.blogspot.nl
---
My name is Stacey and I live on the south coast of England.
I chose the shorter version and the racer back because I really love the look of that style!
I used a sturdy non stretch denim fabric which I bought from my local fabricland shop.
There were times when I felt like it was going to take forever to finish my Callie, there was lots of switching backwards and forwards for top stitching threads, which was very time-consuming but ultimately well worth the effort! Just take it slow, don't rush and you will love the final result when you get there!
I spent a lot of time doing flat felled seams with double top stitching for my Callie, it took ages, but I just love how it looks inside and out! Overall it was a very satisfying sew.
I have worn mine a few times and everybody says it really suits me and looks great on!
I style mine with just a simple tee underneath, for a casual look.
allsewnupbystacey.blogspot.co.uk
www.instagram.com/all_sewn_up_by_stacey
---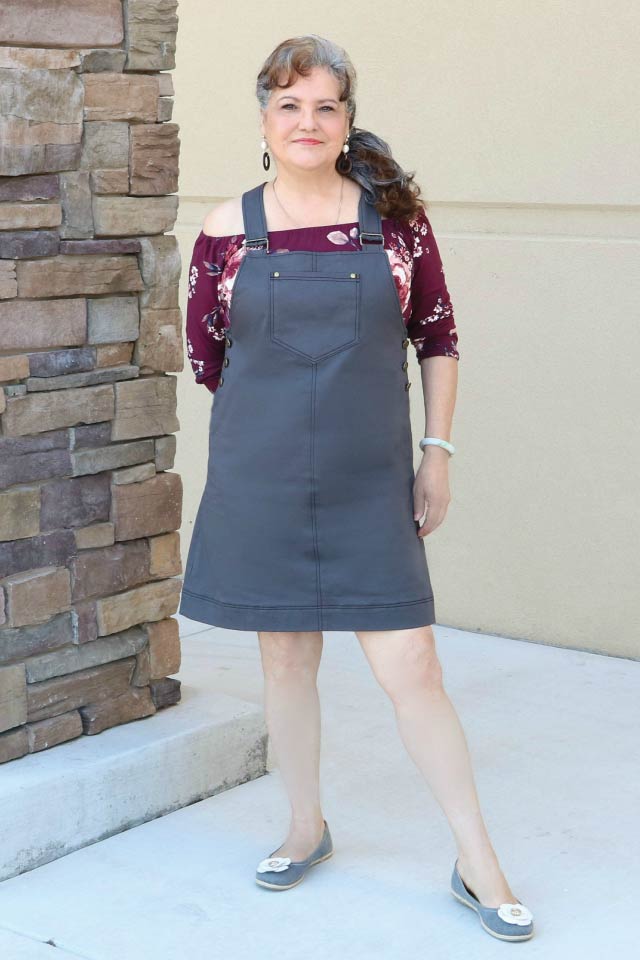 My name is Synthia, from Central California. I enjoyed sewing up the Callie Pinafore dress because i have never worn a dress like this, the beauty of testing, gets one to step outside the box. I sewed up the racer back Callie with back pockets and one bodice pocket. I chose the racer back for a more modern/edgy look. I decided to use a light weight denim fabric and I used bronzed colored rivets and connectors for the straps. The Callie is not a fast sew, you must sew a muslin first, a must. Also, sew your top stitching very slow, it won't be perfect, but one must strive for a nice finished look, and iron…iron…iron, as you go, to avoid a home made look. I wore my Callie out and was asked where did I purchase it, my friend really liked the final look and fit. Thanks Ann Grose. https://sewsynsewn.blogspot.com/…/callie-pinafore-road…
https://www.facebook.com/Synthia20000/
---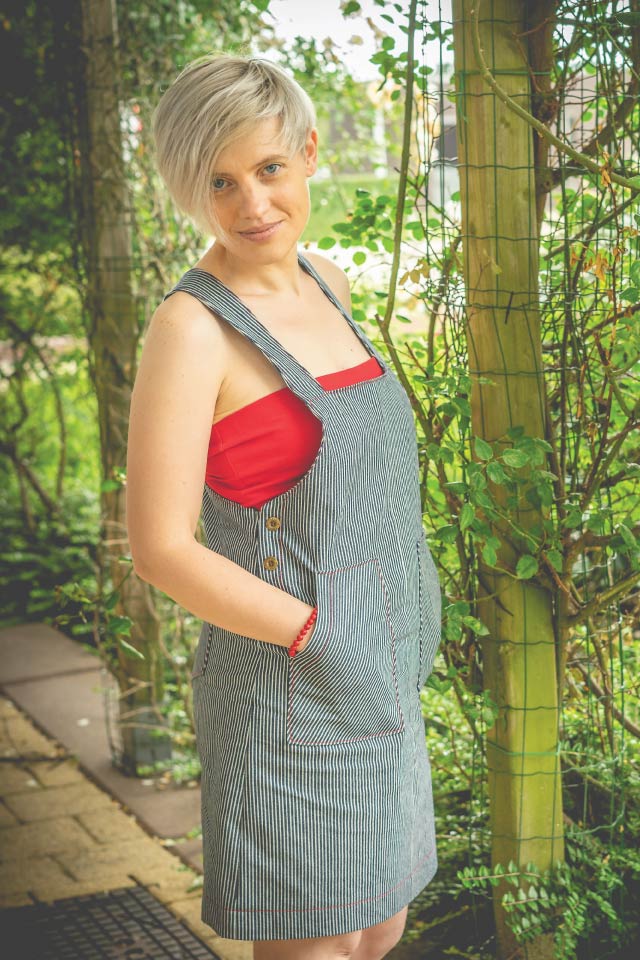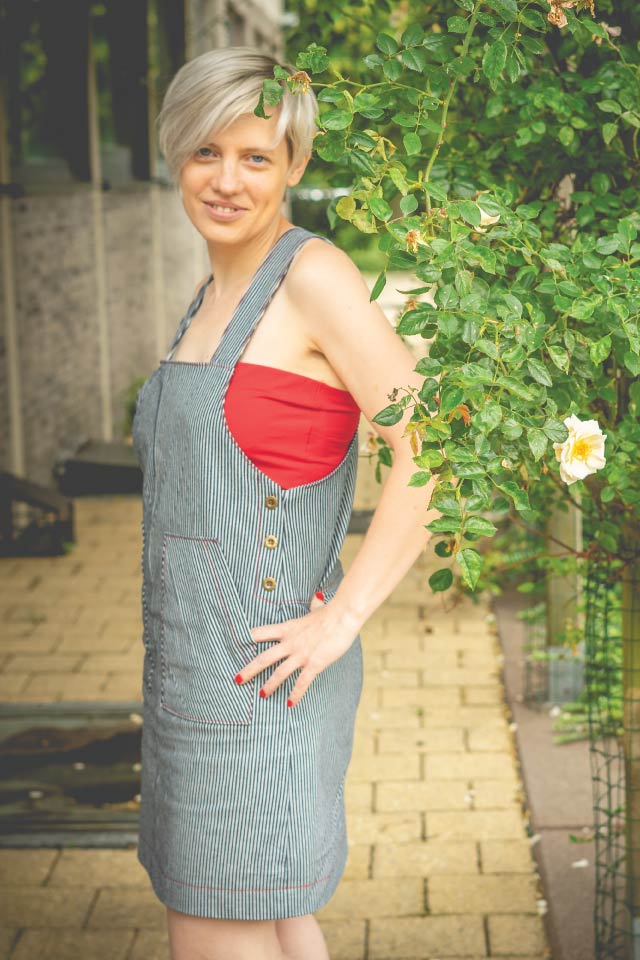 Hello, it's Tamara from Belgium here! I wanted my Callie comfortable, sporty but feminine. I immediately loved the racerback look but had a hard time deciding between the different pocket options as they're all lovely. I think the red bandeau top is definitely giving the look a bit of sexy, the sneakers make the look sporty in a trendy way. I found this wonderful striped denim at a local shop (https://stoffenschuur.be/webshop/zoeken/denim-oshkosk).
I was surprised that it didn't take me too long to sew up the Callie, but I took my time to do some nice topstitching to give it the best possible finished look. Make sure you take your time for the topstitching! I loved playing with the fabric and the pocket pieces cutting them cross grain so those pockets get more attention.
You can find me on Instagram: https://www.instagram.com/lunatiek/?hl=nl
And on Facebook https://www.facebook.com/lunatiekblog/
And on my blog: http://lunatiek.blogspot.com/
Lots of love and have a fun sewing time!
Tamara
---
Taryn HS from Cape Town, South Africa. I kept my choice of Callie simple (standard back, above the knee (50cm cut line) and a front chest pocket to accommodate the weight of my fabric. I went with a wool-type plaid fabric I purchased from a local Cape Town store (Focus Fabrics) as I wanted a winter version.
With the choice of a plaid, I added the complexity of stripe matching to my sew. While not perfectly matched, I am not unhappy with the overall result. With a bulkier fabric the facings and side openings were a little tricky. I had used the main fabric for the facings as well which added bulk – next time around I would use a lightweight fabric for the facings for a crisper finish.
The pinafore dress is in all our clothing stores in South Africa so having the opportunity to work on a me-made version I really enjoyed. On its debut to the office, I was pleased as punch to receive the comment "Ooh, I almost bought that dress yesterday, but it was so expensive." Yet another home run for Ann at Designer Stitch. As it is winter, I am styling my Callie with long sleeved sweater or blouse and my black knee-high boots. I'm also testing the Tween Callie right now and can't wait to see our mommy and me Callie's side by side.
Feel free to follow my sewing (and life) adventures at
https://www.instagram.com/tarynhaynessmart/ or https://www.facebook.com/taryn.haynessmart
---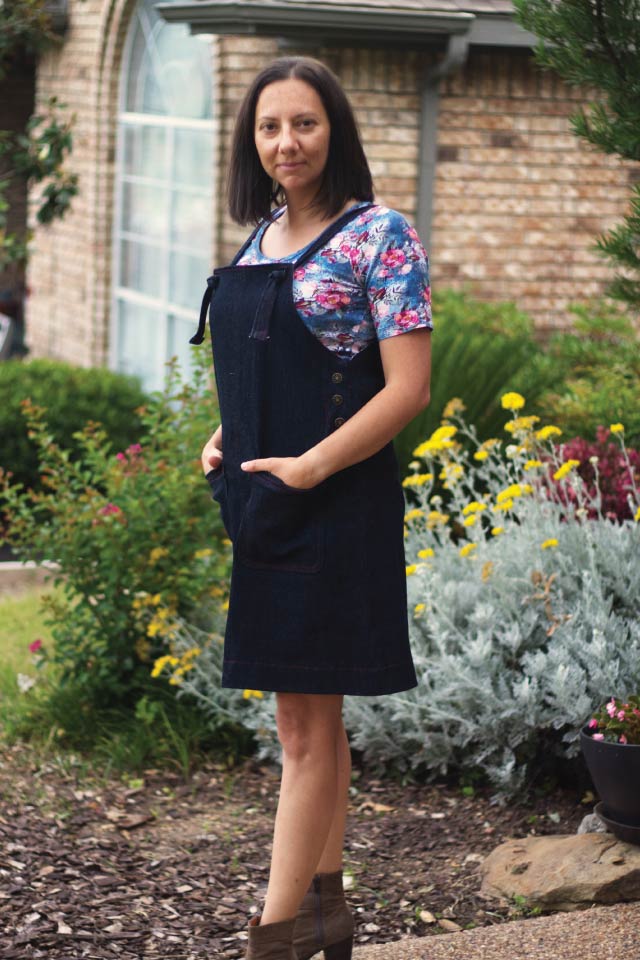 Valentina from Carrollton Texas
I made the mid length standard back with knot straps. I wanted it short, but no too short, so I can still run after the kids and do all the other mom stuff. The back was just a random choice, and the straps as well. I want to try them all.
It was a bottom weight denim from Joann Fabrics in the USA.
The button holes were most challenging for me. I've made a lot, but my machine doesn't always cooperate so it always take me a while to get them setup and made. It's always good to practice on the same fabric (and interfacing) before going to the actual garment.
All the topstitching. I looove topstitching.
Only to take pictures. Temperatures are in the 90s here so I avoid denim at the moment.
Little scarf in the fall will be perfect, and boots of course!
Instagram.com/the_engineer_seamstress
---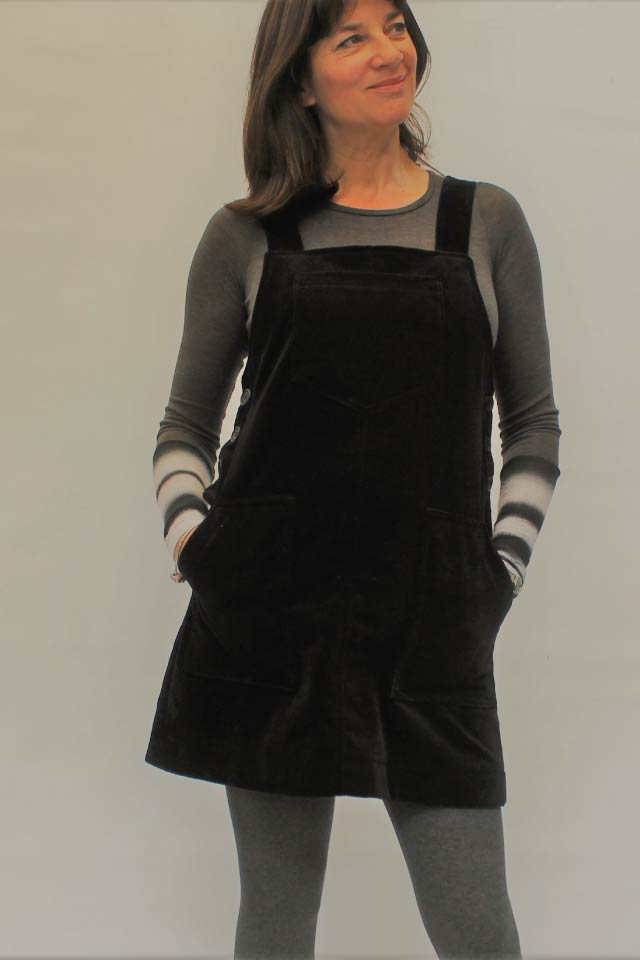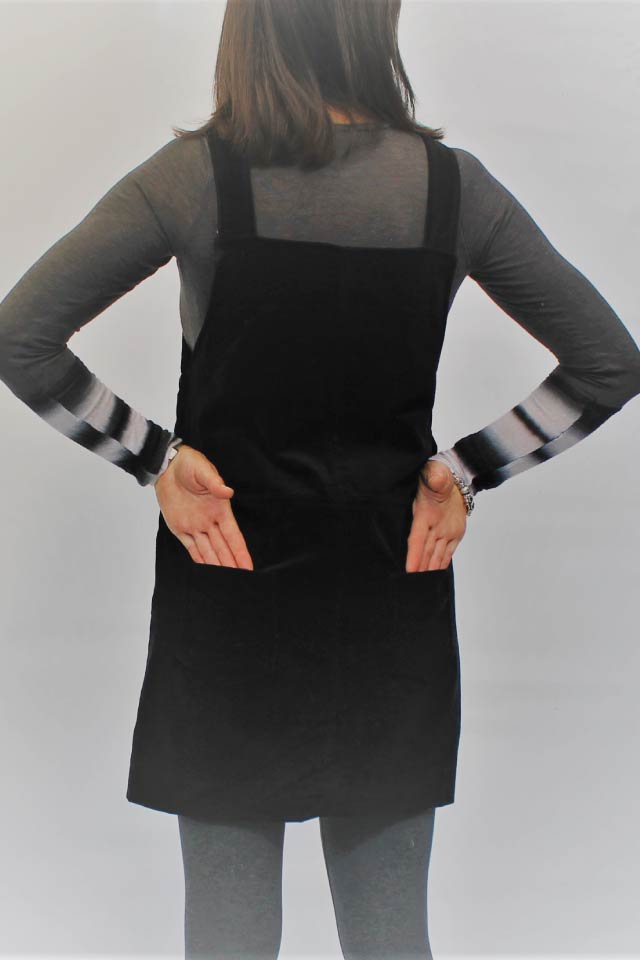 I'm Megan from Perth, Western Australia. It's winter here so I used black cotton velvet from my stash for a stylish and snuggly look. I knew I would be wearing my Callie with leggings and boots so I went for the shortest length to show off some leg (I'm about 5'9). I'm wearing a bodysuit (the Nettie from Closet Case Patterns) to keep me extra warm. This is such a cosy and comfortable outfit. I love it!