Good day to you all my friends. And welcome to our Tali Blouse Pattern Tester Roundups.

Our roadups feature all that is fabulous of our pattern testers – and their gorgeous Tali makes.
The Tali Blouse features an intricate twist detail on the front of the garment – but while looking intricate it is actually very very easy to sew.
The design features a front band that forms part of the front twist, back yoke, curved hemline with a choice of 3 sleeve styles – bishop or traditional short sleeve to buttoning cuffs – or a 3/4 length sleeve.
The Tali Blouse is such a fun make – while it may look complicated to make it actually isnt. if you follow my step instructions you will be amazed as how easy it actually is to form this wonderful interesting twist front.
No front fastening but the twist and drape form a perfect crossover.
So lets start the pattern testers roundups and you will also read that the Tali Blouse is quite an easy sew but yields amazing results.
My friends lets all give these fabulous women a resounding WOO HOO !!!
They would like to share with you the following:
1. Your name and where you live?
2. What fabric combinations did you choose and where did you purchase.
3. What sewing tips can you share when sewing the Tali?
4. What was your style choice for the Tali?
5. What fit alterations did you have to make to the Tali?
6. Have you worn your Tali yet and what compliments did you receive.
7. Any plans for future combinations of the Tali?
And the finer details; (AU/UK) 6 – 30 (US) 2 – 26 (EU) 34 – 58
On Sale for a limited time only – $9.75
Very Confident Advanced Beginner and Above Sewing level.
Tali Blouse
---
Hello everyone, Camelia here with my versions of the Tali blouse.
I used a soft polyester satin with a gorgeous print and a Minerva Exclusive challis. Both of these worked perfectly, but I think I love the most the challis version as it feels so amazing on the skin.
I made both blouses with the fuller sleeves, I adore the volume of those sleeves in combination with the high cuff.
For the Tali, I made no test garment as I know my standard changes in Designer Stitch patterns, so I did those before cutting the fabric.
Choosing the right fabric is actually the most difficult part. I will say a soft silky satin or a challis ( to make it a bit easier to sew are the perfect choices. As a tip: interface a bigger piece of fabric and cut your pieces that need interfacing from that.
I have a small tutorial on how to gather the sleeve and add the cuff, with some tips that you can use for the collar too! You can find the tutorial and a full review on my channel https://www.youtube.com/watch?v=uffMpnEEFRk
This is such a great shirt, so fun to make and wear !
You can find me also on
IG https://www.instagram.com/calcedoniasewing
Facebook https://www.facebook.com/calcedoniasewing/
---
Hello I'm Ashley R from London.
Today I'm sharing the lovely Tali twist blouse, which I used a soft viscose from @abcfabric.
My sewing tips would be to read the measurements chat to make sure you're making the right size but also make a trial run in old fabric but same weight as your good fabric. I styled my Tali blouse with a pair of jeans for a more casual look but could also be dressed up too. To get the perfect fit I raised my bust dart by half inch and took 1 inch off the length as I'm only 5 foot and wanted it to sit at the right place and love how it fits my body frame. I've worn my blouse for lunch with friends and got lots of nice comments on it. I can see myself making more and even trying to add more length and try it into a dress.
IG: https://www.instagram.com/madebyashleyriley/
FB: https://www.facebook.com/sewashley.co.uk
---
Hello all Brenda here. The Talli blouse is an absolutely must have for this upcoming season! It is a fun garment that you can easy wear to every occasion. Wear is on a jeans, dress pants or a skirt, all is possible.
Like, almost, every pattern by Designer stitch, I make the same personal adjustments to the garment. This resulted in a perfect toile. I will however make more of this blouse in the future.
My version is made from viscose and I picked the Bishop sleeve style.
What will be the option you pick?
---
Hi! I'm Sandra from the Netherlands. I love my Tali twist blouses. ❤️
I made two of them. One in poplin cotton and the other in viscose.
My style was to make something nice to wear to work.
I lengthen 2,5 cm because I'm a bit taller.
Already worn the blouses different times and have had nice compliments .
Definitely will make more blouses!
https://www.instagram.com/sandra_wilbrink_sewing
---
Hi, I'm Josée and am from Ottawa, Canada. As soon as I saw the Tali, I knew I had to make it. It has such a lovely and intricate design with the front twist and curved front seams. I'm a big fan of button down shirt and this blouse felt like it was a fun flirty version of one. It's even better because the front placket requires no buttons. I opted to make the classic sleeve version with regular cuffs in a viscose polyester blend from my local Fabricland. I wanted a solid colour with a bit of a sheen to really highlight the twist. This fabric, with its bright tangerine colour and thick white cross grain thread, giving it a subtle linen look, was perfect for the Tali.
I made a size 2 with the following fit modifications: I shortened the sleeves by 6/8 inch and I brought the shoulder seam in by 1/8 inch. The sewing was a bit difficult because of the slippery fabric. It's very important to respect the grain of fabric to avoid puckering and unsightly seams. Precise cutting is essential. I cut each of my pieces individually, even those that were mirrored. Another tip is to staystitch the neckline to avoid distortion. I also used fine pointed pins and discarded all those with dull points. Pressing as you go is your best friend. As usual, the tutorial is top notch. It was my first time sewing a classic sleeve placket that comes already split into two pieces (not the usual one piece with 6 folds and a cut) and it was a game changer. My placket came together so nicely!
I love wearing my Tali with jeans for a relaxed stylish look or with dressier pants for a classier look.
Go get the Tali. You won't regret it. It's a one of a kind pattern that is a must have.
For more of my sewing, go check my IG at https://www.instagram.com/couds_moi_ca/
---
Hi, I'm Barbara from Northeastern Mississippi in the USA.
The white and blue stripe Tali was made using a polyester Dobby fabric from my stash. The teal is a polyester satin fabric from my local Hobby Lobby store.
Sewing tip: If you're using a slinky fabric, block fuse interfacing technique is a must.
I made both of my Tali blouses with 3/4 sleeves option however, I have plans to make a silk Tali with tailored sleeves in the near future.
A forward shoulder alteration was the only alteration made to my Tali blouses.
I have worn my striped Tali and received many compliments.
IG:https://www.instagram.com/ninjabreadgirl61/
---
Hi, I'm Karen and I live in Belgium. I made my Tali from off white satin. I bought it as a dead stock fabric from Xandres. I already made beautiful trousers with the same fabric and the plan was to make a matching blouse. This were Tali came in the picture.
If you make Tali, take your time to finish everything neatly. I didn't make any alterations, but next time I would choose a more stable and less slippery fabric.
Besides the satin pants, I think I will wear Tali with a jeans for work or a pencil skirt on a night a out.
I love to share everything I make on https://www.instagram.com/_sewkaren_
---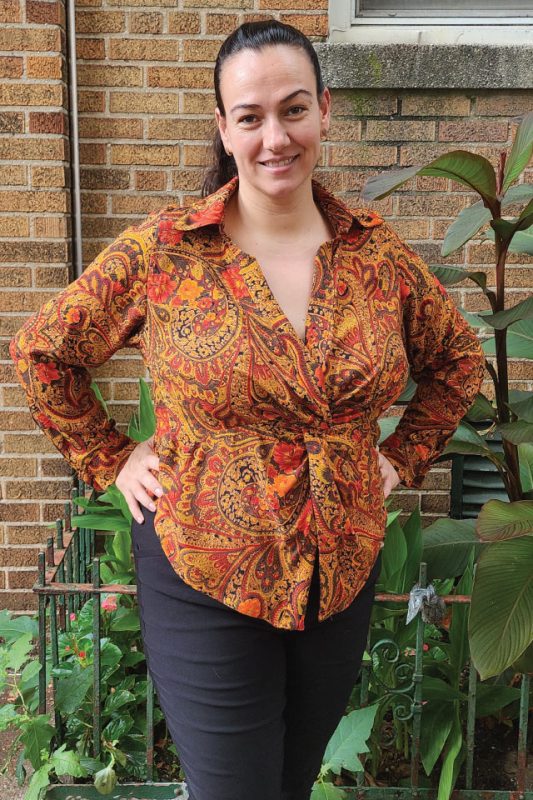 My name is Ksenija and I currently live in New York City.
My Tali twist blouse was made out of gifted fabric that was flowy enough but still had a bit of structure to hold some shape. I knew from the beginning that I had to make a shirt out of it so this was a perfect opportunity.
I made my Tali version with tapered sleeve but would definitely like to try other options.The great thing about this blouse is that, depending on the fabric you choose, it can be so many things, dressed up or down, your choice.
The only change I had to make is narrow the shoulder part a bit by taking about one inch.
I didn't have a chance to wear it in public yet but the weather is slowly getting cooler so it will happen very soon!
https://www.instagram.com/a_girlwithanaccent/
---
Hi happy sewers. I am Synthia from Central Ca. My Tali, I made 1 and will make more. This design is beautiful dressed up or down. I made my Tali from Satin fabric . I wanted the front twist to be the dominate feature of the Tali, and it shows nicely. I won't lie, I struggled with the Tali, finding the correct fit, but I was determined, because I love the satin look for a night out. It took me a few tries to obtain the fit that I was happy with, I started out with 1 size too big. With the Tali it's really important that you go by your measurements and grade up or down where needed. It would look nice a size bigger to get a Boho look, (my next Tali). My Tali turned out very nice, I paired it with a Saki skirt (not in shop). Be creative with the Tali, make it your own, make it you. Great design Ann Grose. P.s., no matter the age, when you wear nice creative designs from DS, heads do turn, lol. https://sewsynsewn.blogspot.com
---
Hello, fellow sewing enthusiasts! I'm Christine, and I call Wellington, New Zealand, my home for the last 7 months.
My quest for a twisted blouse pattern couldn't have coincided more perfectly with the opportunity to test the TALI pattern.
I chose to make my TALI in size 5C, grading it up to size 6 at the waist and back to size 5 for the hips. I made a slight alteration by raising the dart point by half an inch, but I left everything else unchanged. The fabric I used is a luxurious and flexible viscose crepe called 'Dune' from Atelier Brunette, which had been tucked away in my stash for some time, waiting for the ideal project like this blouse.
My goal with the TALI was to create a versatile piece that I could wear to the office or for special occasions, easily dressing it up or down depending on the bottoms I paired it with.
I recommend checking the finished garment measurements when choosing your size, and it's also beneficial to thoroughly review the instructions and follow each step closely.
If you'd like to see more photos of my creations, including this chic TALI blouse, please visit my Instagram account: https://www.instagram.com/tinah8172.
---
Hi everyone, I'm Mirianne, I'm French but I have been living in Canada for 4/5 years. For my Tali blouse I used a crepe from Fabricville that I have had in stock for around 2 years. It was my first tailored shirt placket and I was a little confused. I recommend taking time to sew Tali, and being very precise (but have fun!). And most importantly do a toile before sewing your beautiful fabric. I had to shorten the sleeves and the bottom. I wore my Tali blouse at the office and my colleagues told me that it was a great job which looks very complicated to sew. I would love to see a satin version, maybe for Christmas time. You can find me on Instagram: https://instagram.com/mirianne20
---
I'm Jen from North East England. I used a fabric I bought from someone's destash it's a polyester blend with lovely drape, that suits the Tali blouse fluid design. I initially loved the design (hence applying to test) but as I was making it I wasn't sure it was going to be me. How wrong I was I loved it as soon as I put it on. I made the size 3 based on my upper bust measurement 36 inches my full bust is 38 inches. I used the A cup. My husband my number one critique (in a good way) loves how it looks but more than that I feel lovely wearing it to. Slightly flirty the billowing sleeve that I accidentally but the cuffs on upside down, happy accident at I love the way they look, with just one button detail. I'm can't wait to make another without the roomy errors in this one, that no one else can see! Perfect paring with jeans.
You can find me on Instagram : https://www.instagram.com/jenlegg_teescreatives