Hello again my friends and welcome to Part 2 of the Yasmine Pattern testers Roundups.
I am sure you were all delighted yesterday when you read the first part of the Yasmine Dress Pattern Tester Roundups.
The choice of fabrics – for their Yasmine – that our pattern testers – chose was such a fabulous and colourful array.
Prints of all colours and all size prints very dominated our roundup yesterday.
And as you can see the above image there are quite a few options to choose from when making your own Yasmine.
So lets continue our Yasmine Roadies Roundups with Part 2 of the series.
They would like to share with you the following:
1. Your name and where you live ?
2. What fabric combinations did you choose and where did you purchase.
3. What sewing tips can you share when sewing the Yasmine?
4. What was your style choice for the Yasmine ?
5. What fit alterations did you have to make to the Yasmine ?
6. Have you worn your Yasmine yet and what compliments did you receive.
7. Any plans for future combinations of the Yasmine ?
---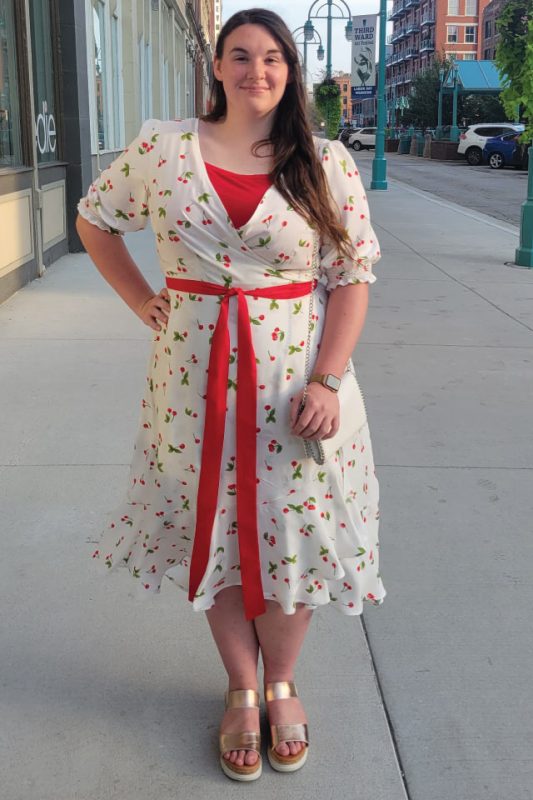 I am Allison from Milwaukee, Wisconsin. I made a grand total of 4 Yasmine dresses. I definitely have one more planned.
I sewed for both myself and my teen daughter. To insure you love your dress, begin by taking current measurements, use the chart to find your cup size, then make a fit piece.
Starting with my daughter, Megan. Her fit dress is made from a vintage yellow gingham that my mom passed to me when she cleaned out her stash. Megan is tall (5′ 10″) and very high waisted. Her dress needed a 1.5″ sway back adjustment. In order for her dress to hang as intended, I added the 1.5″ to the hem of the back flouce, grading to the original flouce sizing by the side seam. Megan also has long arms, so even though we choose the smocked short sleeve option, I added length to get the right balance for her long arms. I added too much for the fit version, so I had to remove some for her final dress.For her final I used a very light rayon from Hobby Lobby. The fabric is white with a cherry print. I felt like the dress needed an accent, so I made the ties red. Sets off the dress with perfection. She was hoping to wear her fantastic red heels, unfortunately she has a severe ankle sprain, so paired with her rose-gold flatforms (I keep learning new words )
For my dresses the fit is a bright red with floral print rayon fabric which I purchased from online. I forgot from which online store. I also added length to the smocked, long sleeve version, but also too much. I needed a much smaller sway back adjustment, so I did not add any additional length to the skirt. Everytime I wear this dress I get lot of compliments.
For the final I used a black fabric, synthetic blend with some crinkle which was designer deadstock. So, I had to size down by about half a size and reinforced the waist with elastic to keep it from stretching out too much with wear. The first time I wore this dress I dressed it up with heels for a banquet. For photos I dressed it down somewhat with different shoes and a simpler cami. I love the versatility of the dress.
This is a fantastic dress. Not a super fast sew and takes a lot of fabric. The results are totally worth it! I have recently spied a piece of fabric that would make a a fantastic fifth Yasmine. Hope you love this dress as much as we do.
---
Hi, I'm Beck from Melbourne Australia and I had the pleasure of testing the new Yasmine wrap dress. I made two dresses in testing and I love them both. My fit adjustments for the dress included grading up for my waist and using a larger sleeve and armscye. I lengthened the short sleeves on both my dresses to end at the elbow. My knee length dress was made with a rayon from my stash and my midi length dress is a bamboo rayon. I love how elegant and feminine I feel in these dresses and I look forward to wearing them as soon as the weather warms up.
---
1. Your name and where you live ?
I'm Bonny B and I live in the Netherlands.
2. What fabric combinations did you choose and where did you purchase – make sure you add affiliate link to fabric seller if you are able
I made 2 yasmines, both in a viscose fabric.
3. What sewing tips can you share when sewing the Yasmine ?
I found the interface much easier then the binding. And don't let the shirring scare you!
4. What was your style choice for the Yasmine ?
I made the 60cm with flounce.
5. What fit alterations did you have to make to the Yasmine ?
I first made a size too big plus a cup too big. So I scaled down on the top and made the shoulders more narrow too.
6. Have you worn your Yasmine yet and what compliments did you receive.
Not yet, saving them for our summer holiday but my partner didn't believe I made it.
7. Any plans for future combinations of the Yasmine ?
Yes making it with long sleeves and more! I need more!
8. Social media URLS: https://instagram.com/bonnybonansa?igshid=MmIzYWVlNDQ5Yg==
---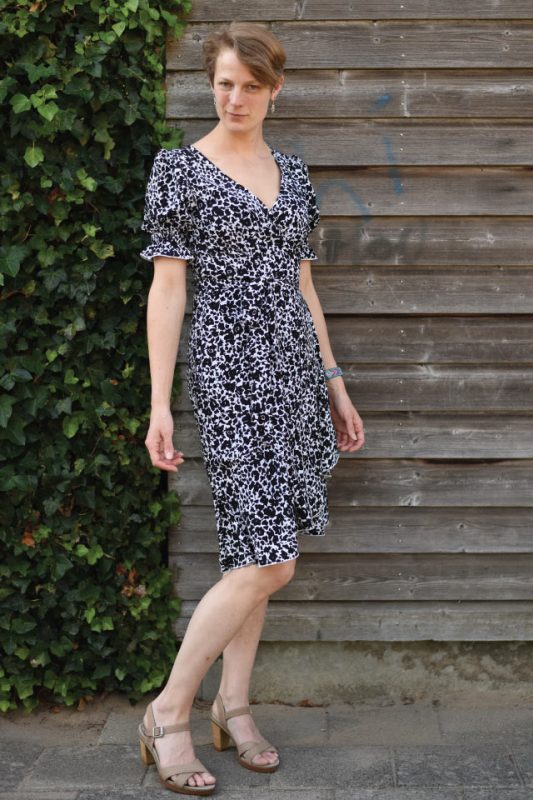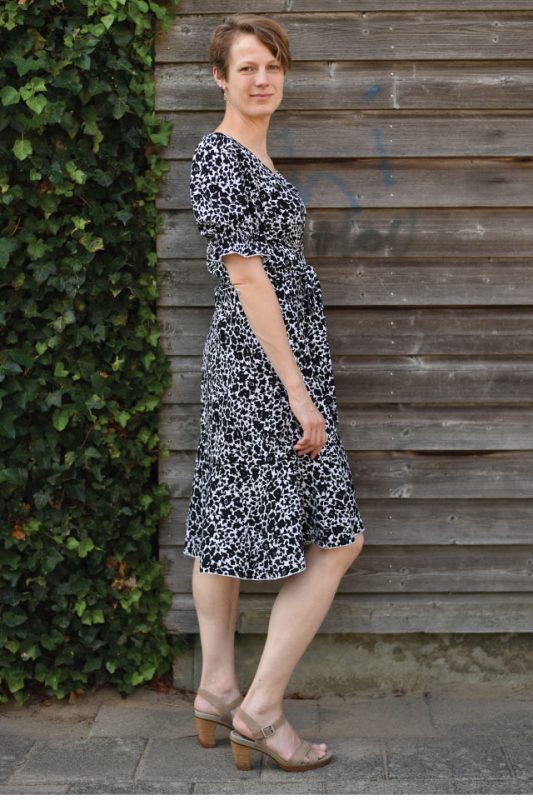 Hi all, this is Brenda from The Netherlands.
When Ann made the pre-announcement for the test of this dress I jumped on it. Literally, because I would be on holiday during the test. Glad I was when she said it was ready for testing and I could make it before my holliday. I did and even got to wear it on my last office day before I left.
Due to the holiday I only made one version up to now, but I sure am going to make more of this dress because it is so comfortable. I even plan to hack it into a top. This dress is a classic and you can wear it casual but also at work (with a cami under it). I only did my usual alterations to Designerstitch her patterns, no other where needed.
The fabric I used is a satin viscose that I got at www.driessenstoffen.nl
---
Hi All, my name is Genevieve and I live in England.
I used this gorgeous Viscose Challis that was gifted to me from Minerva.com.
My top tip for sewing this gorgeous dress is to take it slowly and pin and iron iron iron.
I chose to make short sleeves, midi length. I'm just loving this length at the moment and I wanted to special summer dress.
My dress is a size 3 D bust graded to size 5 at the waist and hips. I also used a size 4 across my shoulders.
I have worn my Yasmine and received so many lovely compliments. I really feel like a princess in this dress.
I 100% will be making one for winter, I think Yasmine should be worn all year round.
HTTPS://www.instagram.com/gegiegrossmann
---
hi I'm Jackie and live in the Netherlands. Absolutely love this Yasmin dress made out of viscose. It's the perfect fit for me and got lots of compliments. Did have to make some alterations, the waistline was to high and the sleeves 'fell' off off my shoulders. Want to make a dozen more.
---
Hi! I'm Sandra from the Netherlands.
I'm absolutely in love with my Yasmine dress. I love everything about this dress: the cross over, the sleeves, ALL of it. I used viscose fabric.
The alteration I did was: adding 2cm in waist and 2cm to the skirt as I'm a bit taller than average.
I wore this dress several times, also with my husbands birthday. Most people couldn't believe I made this myself.
I will make more Yasmine dresses . I will call this 'Sandra dress' .
HTTPS://www.instagram.com/sandra_wilbrink_sewing
---
Hi! My name is Sonia and I live in SW Missouri in the United States with my husband and fur baby Dune.
My Grandmother taught me how to sew by hand when I was very young. In my 20's a good friend taught me how to sew on a machine and I was hooked!
For my Yasmine I used light weight chiffon fabric from a local warehouse who unfortunately doesn't sell online. The biggest tip I can recommend for sewing Yasmine is to make your toille in the same type of fabric that your final garment will be. Also take your measurements as it will ensure a great fit.
I shortened the skirt and ruffle a few inches as I am 5'1″
Yasmine will be a great addition to your wardrobe!
You can find me on the following social media platforms:
Www.facebook.com/sewonandsowforth
IG: www.instagram.com/sewsowforth
My Blog
Www.sewonsowforth.com
---
hi I'm Stephanie from Oklahoma, USA! I used a blue sheer organza from Joanna that I lined for my Yasmine. I did my typical swayback adjustment for the dress and graded for my sizes and tadah! I went for the shorted length with long shirred sleeves. We've been traveling, so I haven't had an opportunity to wear my yasmine out yet, but I'm sure I'll get lots of compliments once I get home and wear her out! You can see my yasmine and other makes at instagram.com/scrapsandscissortails
---
Hi, I am Synthia and live in Central Ca. I love Boho inspired garments, and the Jasmine dress reminded me of a Boho dress. I made 2, both are made from a rayon type fabric, I love wearing natural fibers. Both my Jasmine are at the midi length, 1 sleeve is made with the long sleeve shirred option and the other dress is a long sleeve cuffed option. I made the black flowered one to wear for my birthday in October. At some future time, I will se a longer version Jasmine, I love long dresses. Tips; do make a muslin to adjust for your size, maybe you need to grade different sizes, and iron, iron as you go to get a clean finish. Especially wash and iron before cutting your fabric. Love this dress Ann, another great design. https://www.facebook.com/Synthia20000?
---
Hello I'm Tina from California! I absolutely love my Yasmin and I know you'll love yours too! My favorite feature is the shirred details on the sleeves and the flounce on this dress is worth all the extra fabric! I used a chiffon from Joann's Fabric and the only adjustments I had to do was shorten for my height.